Hickstead, England—July 29
Team Germany won the last leg of the Furusiyya FEI Nations Cup™ Jumping 2016 Europe Division 1 League on an afternoon of tension and thrills at Hickstead. And the result sent them rocketing up to third place in the final league standings, behind Ireland in runner-up spot and the Netherlands at the head of affairs.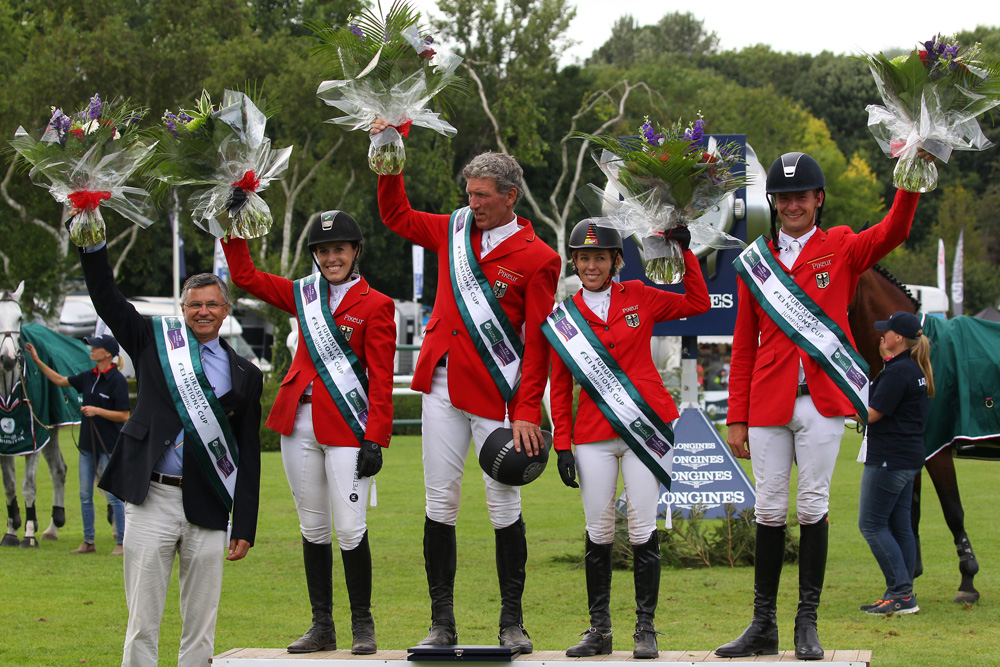 The German team of (from left) chef d'equipe Otto Becker, Janne Friederike Meyer, Ludger Beerbaum, Meredith Michaels-Beerbaum and Patrick Stuhlmeyer celebrated their dominating win in the Furusiyya FEI Nations Cup. Photo by Bob Langrish
The U.S. team of Lauren Hough, Lillie Keenan, Paris Sellon and Katie Dinan rallied from a rough Round 1 to tie for fourth place in the hard-fought class.
"To come back from last place after Round 1 is spectacular," said U.S. chef d'equipe Robert Ridland enthusiastically. "It is the unique aspect of a Nations Cups second round. It often doesn't ride the same because you aren't riding the same horse; the horse either knows the course and tends to speed down the distances or he is tired. It's a new ballgame. Today, we kept plugging away and fighting for every jump and it paid off. It was exciting because it is a glimpse of our future with Lillie and Paris competing in their first Nations Cup at the five-star level."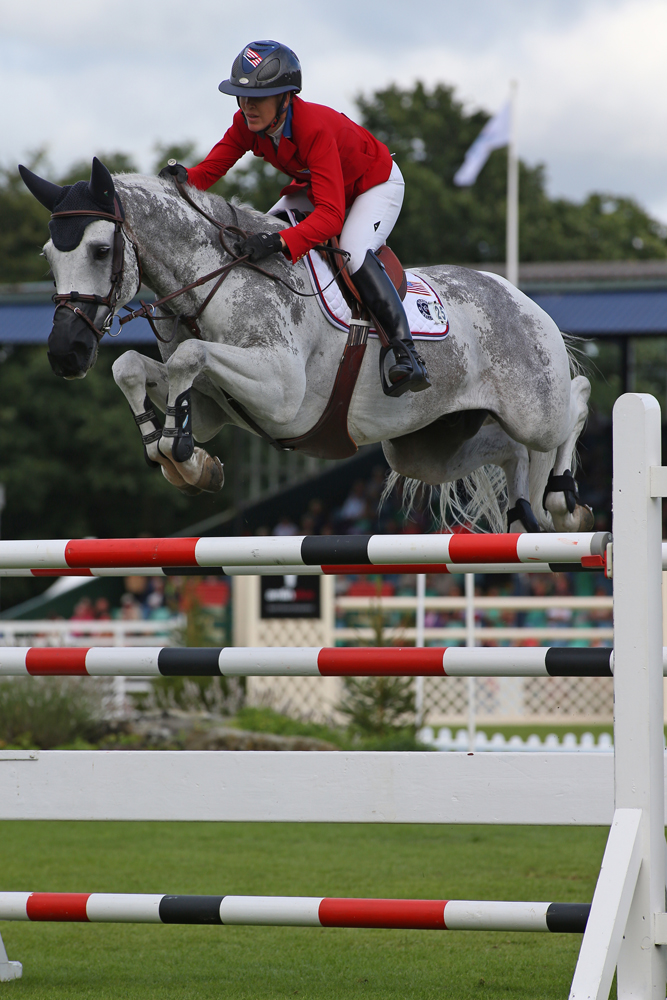 Lauren Hough on Cornet 39. Photo by Bob Langrish
Each of the U.S. riders had an error in Round 1, with Keenan, Sellon and Dinan all have one rail. Riding as the team anchor, Hough had a tough eight-fault round with Willow Grace Farms' Cornet 39, who was balking in the atmosphere of the International Arena. The 12-year-old Oldenburg gelding had an uncharacteristic stop at Fence 5, but Hough rode determinedly to finish strongly, even though they also collected 4 time faults. The U.S. team sat in eighth place on 12 faults at the end of Round 1.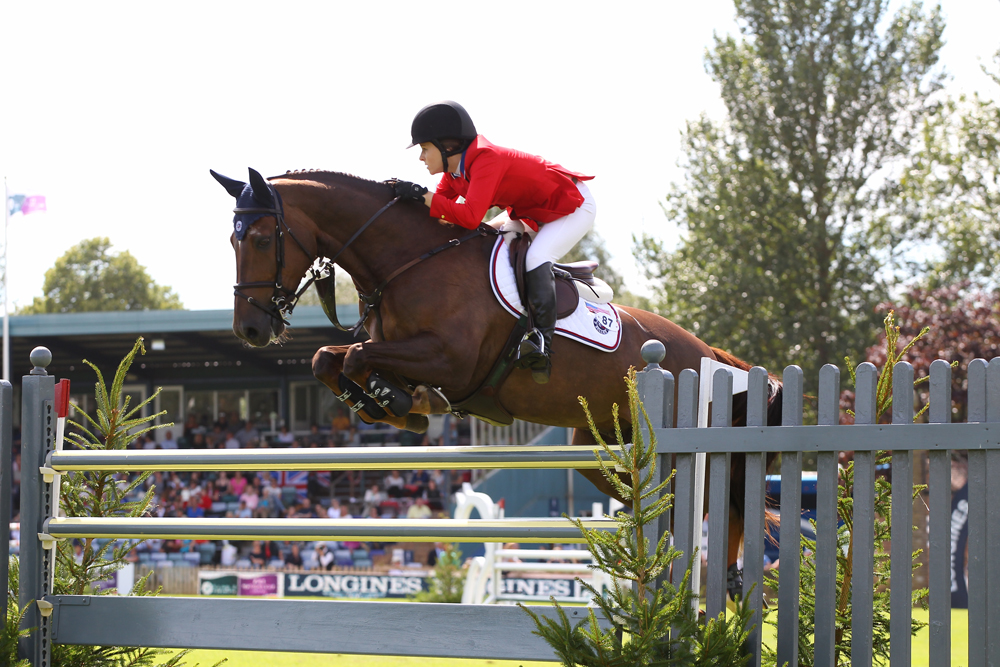 Katie Dinan on Dougie Douglas for the U.S. team. Photo by Bob Langrish
The pressure was on in Round 2, and the U.S. combinations fought hard. As the pathfinders, Keenan and Super Sox easily delivered a clear round. Sellon and Adare had another unlucky rail for 4 faults, but Dinan and Dougie Douglas had a clear round to keep the U.S. hopes alive. Last to go for the team, Hough and Cornet 39 closed out the Nations Cup with another solid clear round, allowing the team to finish on its Round 1 total of 12 faults.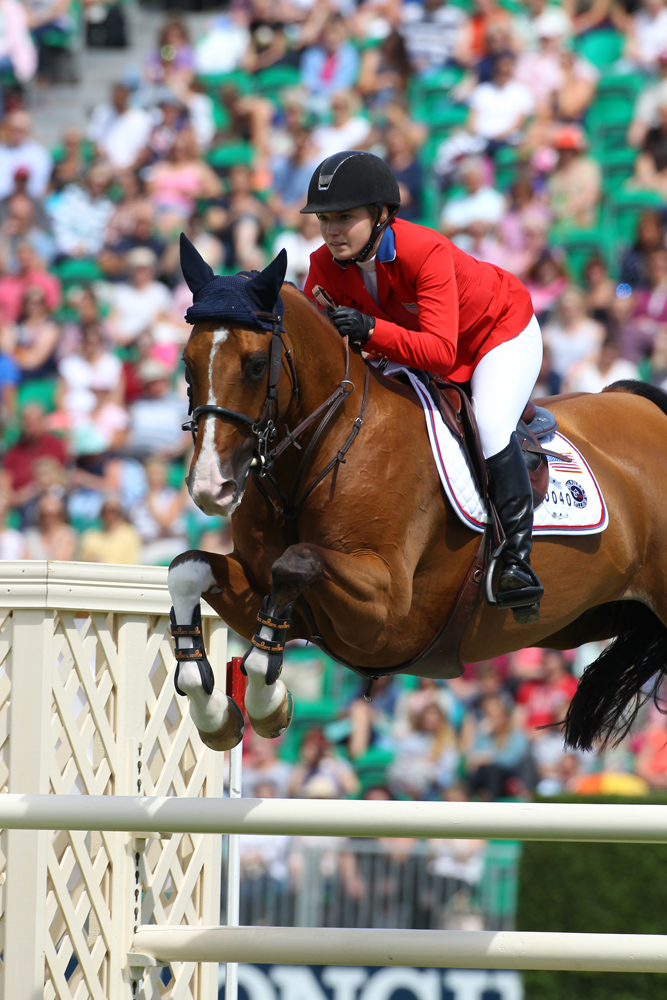 Lillie Keenan on Super Sox. Photo by Bob Langrish
"It's my first time jumping in a five-star Nations Cup and my second time at the senior level. I was lucky to take part in the developing tour a few years ago and do my first senior Nations Cup in Slovakia; it was a great learning experience," Keenan said. "I'm extremely grateful for this opportunity; I believe you learn by doing. Today my horse was fantastic. We just had a toe on the tape at the open water in the first round and came back to go clear in the second round. I think I could have had a double-clear round if I had gotten him a bit closer to the water, but I am thrilled with how today went."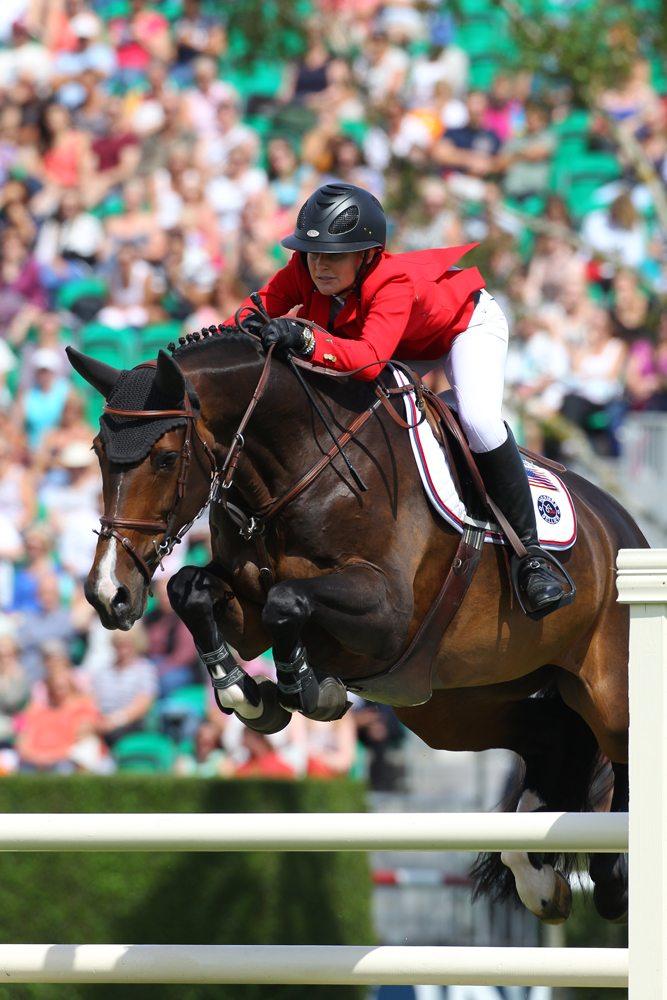 Paris Sellon on Adare. Photo by Bob Langrish
The Dutch team, on the other hand, saw their hopes dashed in Round 2. Sharing the lead on a zero score with the Germans at the halfway stage they fell apart in Round 2 and finished tied for seventh with Italy. The British lined up sixth on their home turf while Switzerland slotted into joint-fourth with the USA. Last year's Furusiyya champions from Belgium managed to produce two double-clears but still had to settle for tying for second with the Irish.
In the end the Germans finished with just a one-fence advantage, but the result was more convincing than that because anchor rider, Ludger Beerbaum, never had to jump a fence with Chiara all day. "I am not sure if I really deserved the win to be honest as I couldn't go out there and prove it. Thanks to my three teammates that looked really strong," he said.
Unpredictability
There's always an element of unpredictability about competition at Hickstead as the massive arena and its big, bold fences can be intimidating to both horses and riders. Added to that is the undulating ground and a 4-metre-wide open water that is definitely not for the faint hearted. But the Germans made it look easy in both rounds and the Dutch kept pace with them up to the halfway stage.
There wasn't a lot separating the eight nations at the halfway point, the Americans trailing the rest of the field with 12 faults on their account, while the Swiss carried 8 and the Irish, Italians, Belgians and British were all just a single fence adrift of the leading Dutch and Germans.
The Americans rallied brilliantly with three clear rounds second time out and the Swiss added just 4 to complete on a total of 12.
The double-clear round—one of five on the day—provided by Anthony Condon and the stallion Aristio underpinned the improvement for the Irish who ended up also adding just 4 more to their scoreline.
The Italians however, on a high after their sensational victory in Dublin seven days ago, came crashing down when their star of the Irish fixture, Lorenzo de Luca, had to retire with Ensor de Litrange. The 12-year-old gelding who was double-clear to help secure that Dublin victory before going on to add the Dublin Grand Prix title lost his jump later on the track, and de Luca pulled him up after collecting 12 faults.
That would be a problem, because all three of his team-mates collected 8 faults each to send Italy plummeting down the leaderboard.
The Belgians meanwhile held firm despite a 10-fault effort from Catherine Van Roosbroeck whose miscommunication with Gautcho Da Quinta at the first element of the double at 10 led to a stop that had to be added to a rail. Niels Bruynseels (Cas de Liberte) and Karel Cox (Cor van de Waterhoeve) were both double-clear however, so only the single error from Olivier Philippaerts (H&M Challenge de Begijnakker Z) at the Hickstead planks had to be added to their tally.
Lost Their Grip
The British lost their grip with single errors for both Ben Maher (Diva ll) and Tim Stockdale (Fleur de L'Aube) and double errors for Jessica Mendoza (Spirit T) and Scott Brash (Hello Guv'Nor) but the biggest surprise was the deterioration of the Dutch who went from zero to 28 faults with a series of expensive rounds.
Pathfinder Wout-Jan van der Schans made it all the way to the final oxer before hitting that with Aquila SFN, but all of his three teammates collected 12 faults each, and the open water played a major role.
Johnny Pals' Fernando took a long-distance dislike to it this time out and also hit the penultimate vertical, while Ruben Romp's round with Audi's Teavanta ll included a foot in the water and mistakes at the second element of the following double as well as the last fence. And then Jur Vrieling's VDL Glasgow VH Merelsnest, who had put in a huge, spooky jump at the water first time out, threw in an objection at it this time, and although his Rio-bound rider got him over it at their second attempt, they also hit the first element of the double.
In comparison it was a breeze for the Germans, with Meredith Michaels-Beerbaum's fabulous grey, Fibonacci, soaring round the track with effortless ease both times out while Janne Friederike Mayer and her feisty gelding Goja, did likewise. Patrick Stuhlmeyer's Lacan hit the oxer at 7, but that single fence on the floor would not send Ludger Beerbaum into the ring. The result was already in the bag, and it was Team Germany right on top.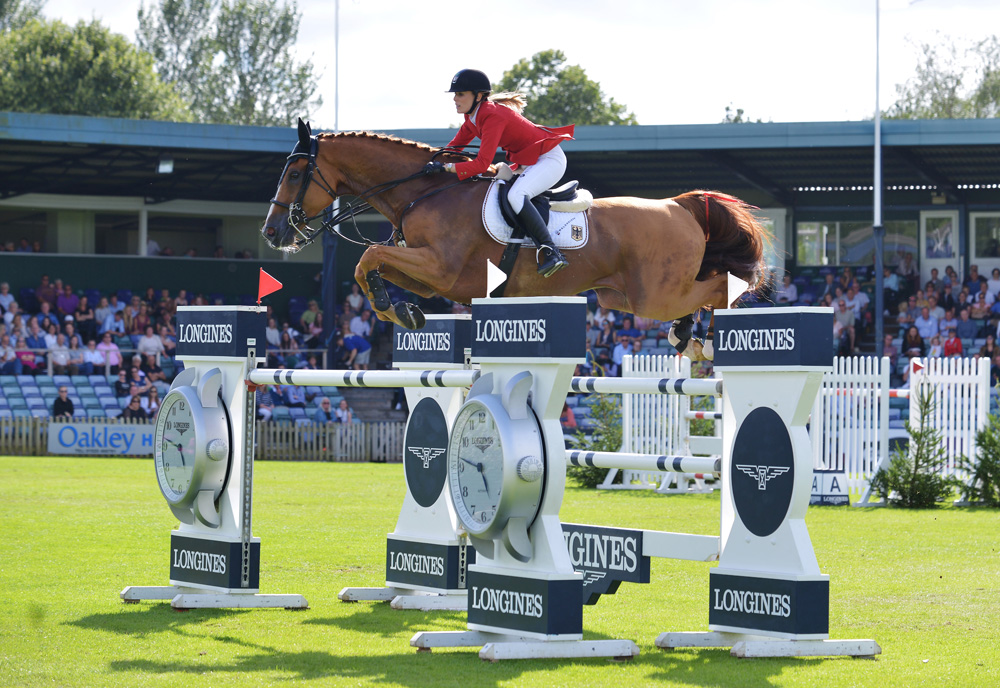 Janne Friederike Meyer on Goja 27, who put in two clear rounds to help Germany win. Photo by FEI/Sebastian Oakley
Beerbaum said, "we were under some pressure as we didn't have such a great Nations Cup season before coming here. The other two results we had were average so it could have easily been that we would have missed out of the Final. When you see today's performance, it is a really big relief to know we are going to Barcelona and we are all very happy and satisfied to have qualified." The Furusiyya FEI Nations Cup™ Jumping Final in September is a big target for all the top horses and riders.
"We were on the borderline as far as qualifying for Barcelona was concerned so we needed a strong team here and we and came up with it!" said Michaels-Beerbaum who described jumping Fibonacci as "almost like you are flying over the fences!"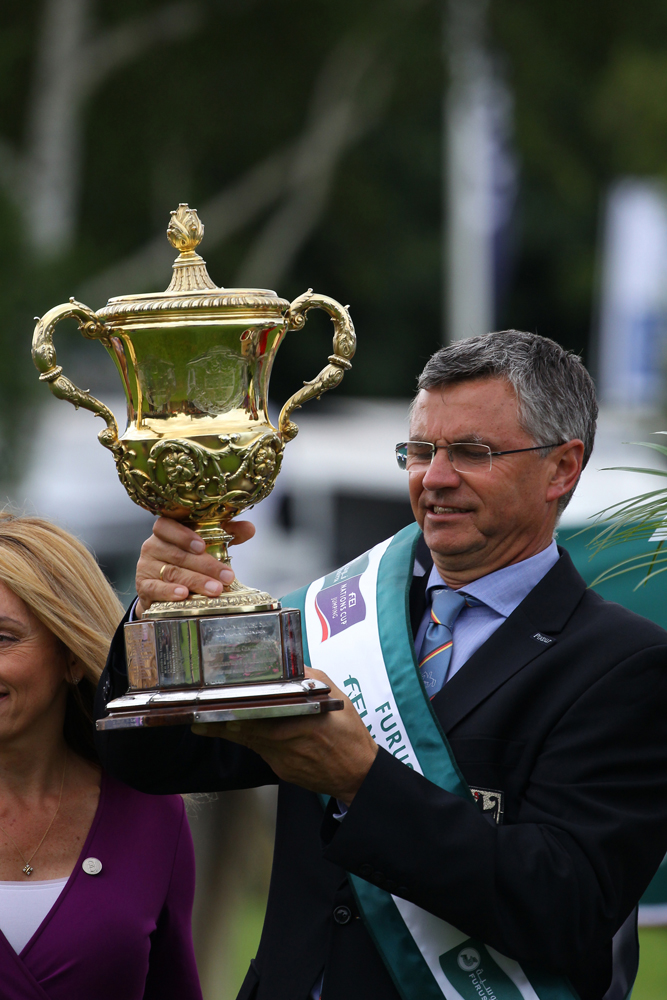 Otto Beck hoisting the Hickstead Furusiyya FEI Nations Cup trophy. Photo by Bob Langrish
German Chef d'Equipe, Otto Becker, was a happy man this evening. "Yes it was fantastic for us today. I am very happy and pleased with my team. Meredith opened the door for us in in a difficult situation [as pathfinder], Janne with a double clear and Patrick with a clear in the first round. Ludger was disappointed in not being able to jump in the beginning but now he is happy! We were under pressure with points for the standings, but all the guys here really did the job and deserved the victory today" he said.
Result:
1. Germany 4 faults: Fibonacci 17 (Meredith Michaels-Beerbaum) 0/0, Goja 27 (Janne Friederike Meyer) 0/0, Lacan 2 (Patrick Stuhlmeyer) 0/4, Chiara (Ludger Beerbaum) DNS/DNS.
2. Ireland 8 faults: Molly Malone V (Bertram Allen) 4/4, Diaghilev (Billy Twomey) 0/4, Aristio (Anthony Condon) 0/0, Golden Hawk (Shane Breen) Ret/0.
2. Belgium 8 faults: H&M Challenge vd Begijnakker Z (Olivier Philippaerts) 4/4, Gaucho Da Qinta (Catherine van Roosebroeck) 8/10, Cas de Liberte (Niels Bruynseels) 0/0, Cor van de Wateringhoeve (Karel Cox) 0/0.
4. USA 12 faults: Super Sox (Lillie Keenan) 4/0, Adare (Paris Sellon) 4/4, Dougie Douglas (Katherine Dinan) 4/0, Cornet 39 (Lauren Hough) 8/0.
4. Switzerland 12 faults: LB Eagle Eye (Christina Liebherr) 4/4, Capuera ll (Nadja Peter Steiner) 4/0, Cordel (Claudia Gisler) 0/8, Pollendr (Werner Muff) 4/0.
6. Great Britain 20 faults: Dive ll (Ben Maher) 4/4, Fleur de L'Aube (Tim Stockdale) 0/4, Spirit T (Jessica Mendoza) 0/8, Hello Guv'Nor (Scott Brash) 4/8.
7. Italy 28 faults: Casallo Z (Piergiorgio Bucci) 4/8, Ensor de Litrange (Lorenzo de Luca) 0/Ret, Ares (Emilio Bicocchi) 4/8, Antonio (Gianni Govoni) 0/8.
7. Netherlands 28 faults: Aquila SFN (Wout-Jan van der Schans) 0/4, Fernando (Johnny Pals) 12/12, Audi's Teavanta ll (Ruben Romp) 0/12, VDL Glasgow VH Merelsnest (Jur Vrieling) 0/12.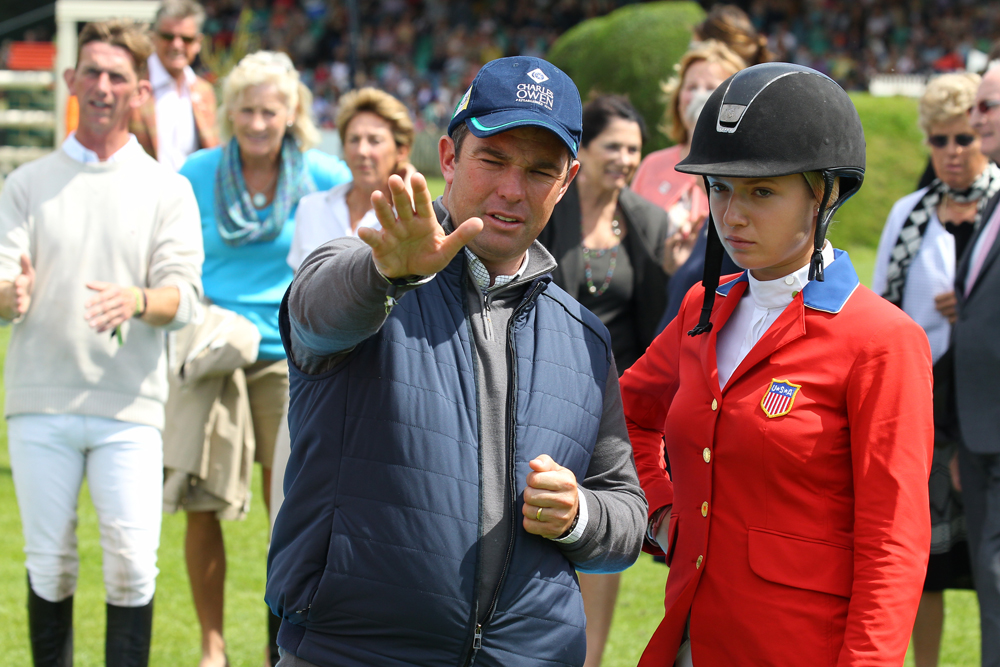 Cian O'Connor (left) walked the course with U.S. rider Lillie Keenan. Photo by Bob Langrish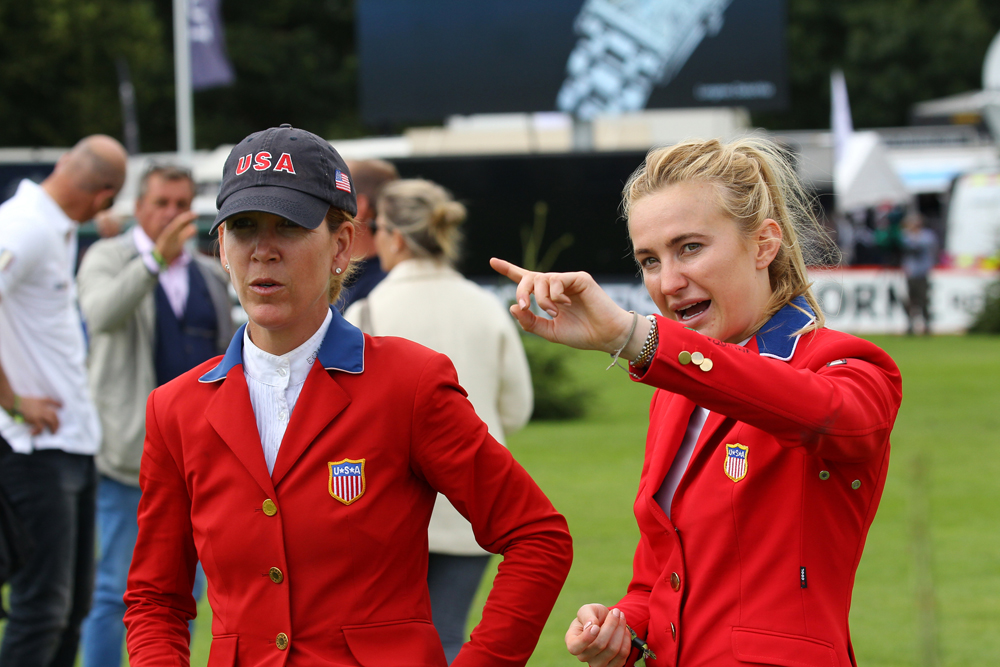 U.S. riders Lauren Hough (left) and Paris Sellon discussed the Hickstead Furusiyya FEI Nations Cup course. Photo by Bob Langrish