Pratoni del Vivaro, Italy—Sept. 17
The standings in the FEI Eventing World Championship underwent a great shuffle following cross-country. After being so dominant heading into the competition as reigning Olympic and European champions, Great Britain faltered. They had a 6.9-point lead following dressage, but after second-placed Laura Collett and London 52 had a run-out at the final element of 7ABC, the Pratoni Slide and Targets, she became the drop score. Tom McEwen and Toledo De Kerser added 4.8 time penalties to their 25.6 in dressage to slide the team into third.
Germany seized control of the leaderboard with three foot-perfect rounds from Sandra Auffarth (Viamant Du Matz), Julia Krajewski (Amande De B'Néville) and Michael Jung (fischerChipmunk FST) for an overnight total of 76.1. The United States moved into second with a team total of 77.4.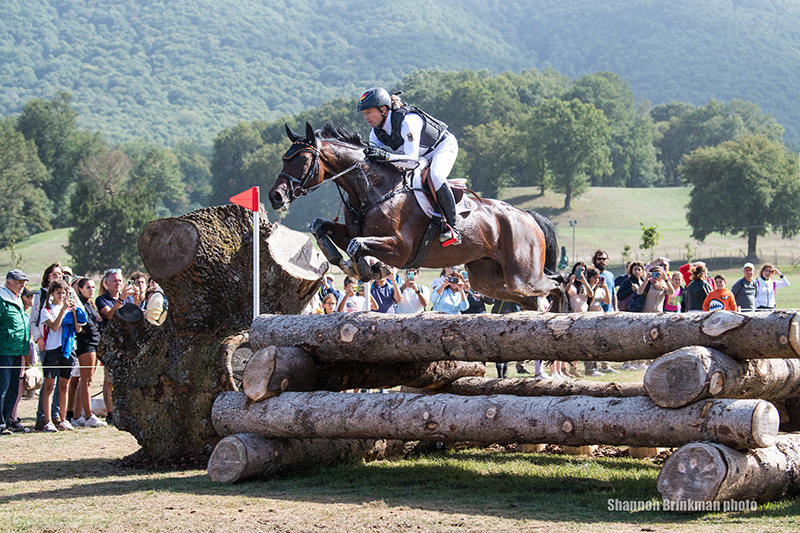 Though Jung and "Chipmunk" had a couple of scrambling moments on course, they finished comfortably inside the time of 9 minutes and 50 seconds to head into the final phase on a 18.8.
"I feel very happy;  fisherChipmunk is an amazing horse. Like yesterday in the dressage and today in the cross-country, [he] is a machine," Jung said. "[In] the warm-up, [he was] playing, jumping right, left, with the flying changes, and it's just amazing feeling for the rider when you have such a powerful machine and still in the end he is so super galloping. You have the feeling he can do everything again, and this is just a great feeling."
Jung had been critical of Giuseppe Della Chiesa's course in the lead-up to cross-country, feeling that it was a shame not to use a larger section of the property as some of the twists and turns made it hard for horses to develop a good rhythm. His opinion didn't change after his round.
"This is not great for championship, but in the end the course is tricky," he said. "The beginning is nice. You have a nice open gallop but then the middle part is very, very tricky—turn left, right, forward, collect, up the hill, down, angle—and this is very difficult for the horses to, with this speed and gallop, still be so quick in the reaction and concentrate and keep the brain on.
"You got a little bit the feeling when you get out of that and you have a longer gallop and then the horse thinks, 'Whew, OK, now finish,' but then you still have to do two, three minutes. So you definitely have to try to keep the motivation and the power in the horse that they don't think too early that they are finished, and that's a bit tricky thing here this time."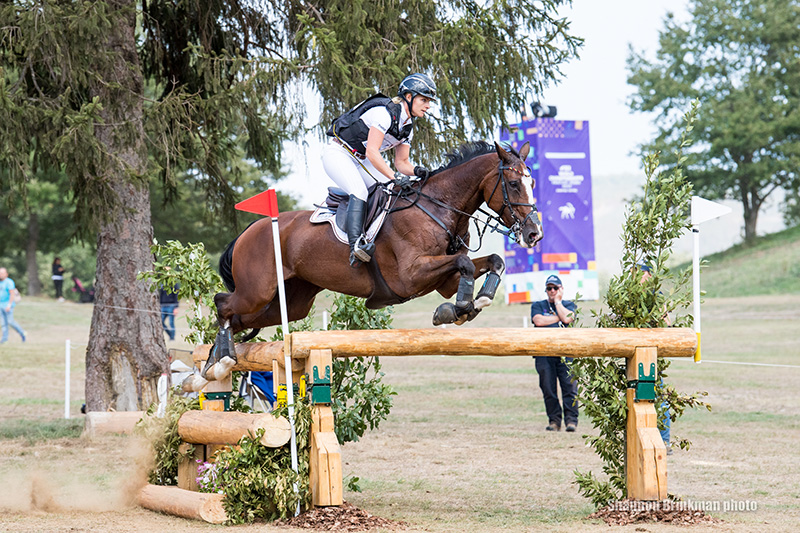 Krajewski moved into fifth with a fast clear on her 2021 Tokyo Olympic gold-medal partner.
"She's just an absolute … machine. For me, the coolest horse," she said. "She's got such a character, and she's super honest, genuine yet clever. That's what I love most, she would never just run into a fence. She's not the genuine horse which you can just throw into the fence, and they don't manage because they're too honest. She would pay attention. But she would always do what I point and that's super cool. I think it's maybe about time we do a bigger five-star."
Auffarth also made a huge jump up from 38th to 14th, and she felt the course suited her horse's way of going, as he goes a little bit like a downhill skier.
"You're always looking for the inside turn or inside line. I've never had a horse like him before," she said. "And that made it easy for me. Sometimes I just have to move to the left, he goes to the left; I don't have to ask him. That made it for me easy. And that is why it felt for me, cool. And then it makes fun. But I think when you come over that point and cannot come back, then it makes no fun."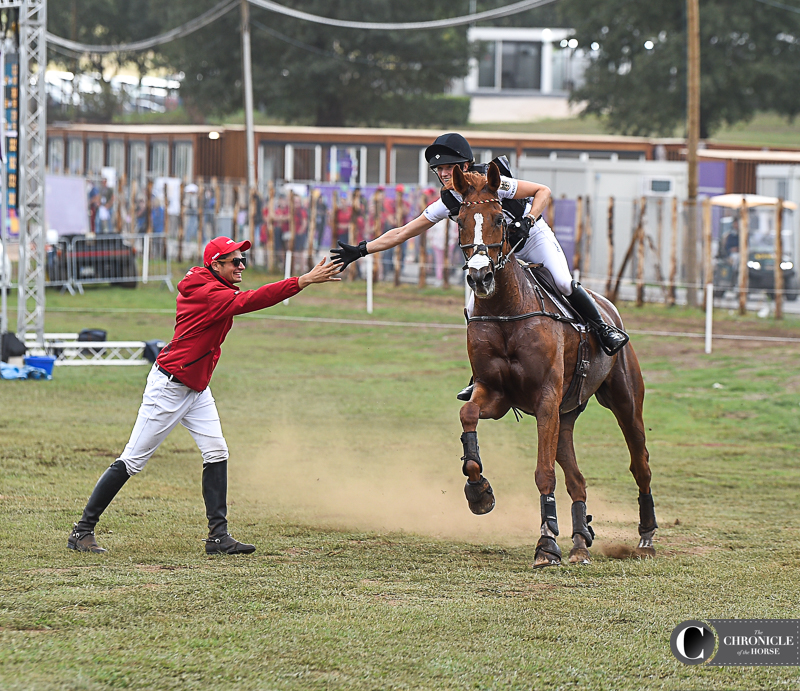 The fourth team rider, Christoph Wahler on Carjatan S, was first out on the course this morning and earned 9.6 time penalties. Like Jung, he wasn't pleased with how the course rode.
"I was tied up quite quickly because of all the turns. He jumped amazingly well, over everything that I've put him in front of," he said. "And I think then he just got a bit tired and had to play it safe with one or two routes where he just didn't feel bouncy enough and powerful enough in the canter to ride the direct lines. But in the end, it is what it is.… I would have liked to go faster. But today I couldn't."
Fast And Clear For U.S.
The U.S. riders were very clear on what they wanted to do today. Be efficient and as quick as possible without making mistakes. With all five riders clear and three inside the time, they came home feeling happy with the result.
Perhaps happiest is Tamie Smith, who came in one second under the time with Mai Baum to sit in third heading into tomorrow's show jumping.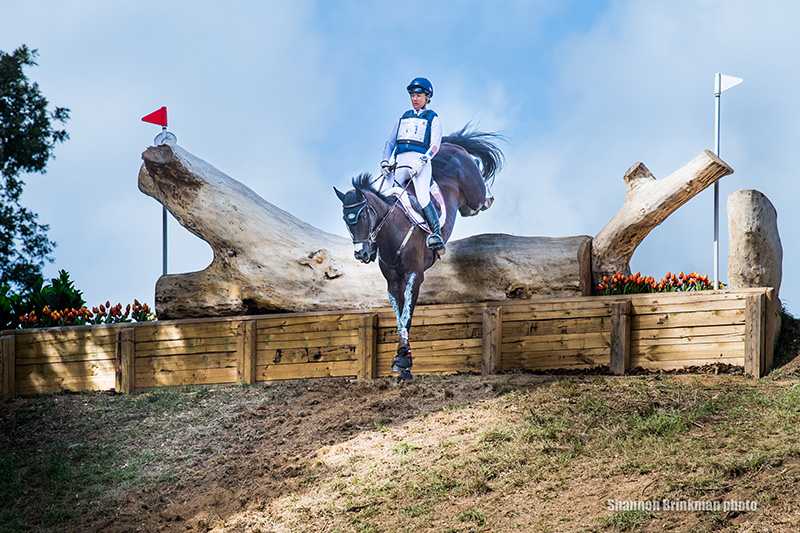 "He and I have such a great partnership now," she said. "He felt strong getting towards the end. You know, this is a hard course for those horses. I said to [coach] Erik Duvander the other day, I was like, 'I think it's gonna be hard for our five-star horses because the jumps aren't big, but they're super technical and twisty, and you lose rideability.' But he's such a good jumper and the striding kept getting shorter and shorter. And so I had to wrangle him in a couple times. But he was right there. He was just on it. And super, I'm really pleased.
"I didn't really want to get six going down that slide [at 7ABC]," she said. "That was a little like, 'Waah!' but the six was right there. And he's just got a massive stride. And he saw it, and it was phenomenal. I'm actually glad he did it. It's always fun to leave one out and have it work."
Boyd Martin headed into cross-country in a three-way tie with New Zealand's Tim Price and Great Britain's Ros Canter on a score of 26.2. All three of them made the time, so it came down to who was closest to optimum time to determine the standings. Price thought he was in a good position coming in one second under, but Martin bested him by finishing spot on the optimum with Tsetserleg TSF to sit sixth.
"I'd like to say I just timed my round perfectly but I was just going as fast as he goes, so I thought it was right on the time or one second over, one second under, so when I heard him announce that it was right on the time it was a big breath of relief."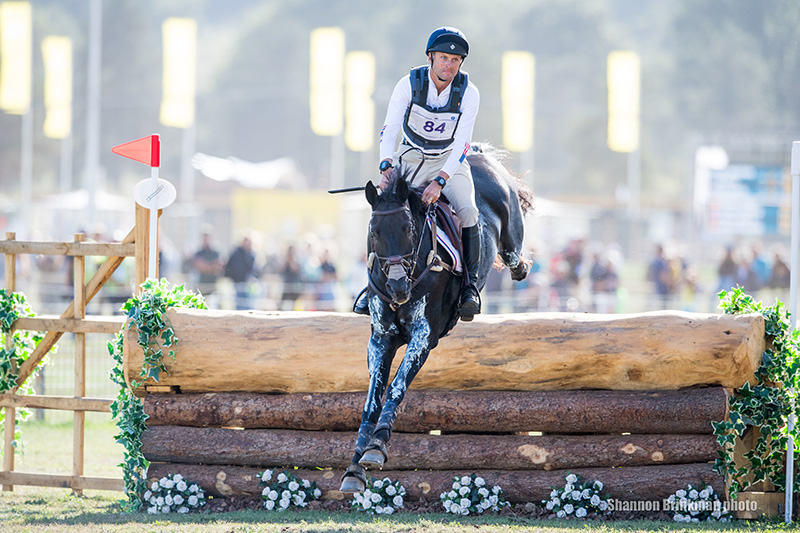 Martin said this track didn't suit "Thomas" as well; he does better with long gallops like they see on five-star tracks like Land Rover Kentucky, where he can settle into a rhythm.
"Here it was sort of like Tokyo where it's a bit of turning and stopping and starting and some of it is a bit weird by the end of the day, but I have to give the horse his credit," he said. "He just tries and tries and tries and it's his best attribute. With a horse that's done as much as he has, just a legend."
Will Coleman and Off The Record were first out for the team, and they accrued just .8 time penalties to sit in 11th overnight.
"He was really good. I thought he answered all the questions very confidently," he said. "You know, he's kind of a bulldog out there. He takes the bit, and he really wants to go. But I was really pleased with just how sort of almost arrogant he was out there. I mean, he was really strong and was almost like he was telling me to let [him] out a bit. It was cool."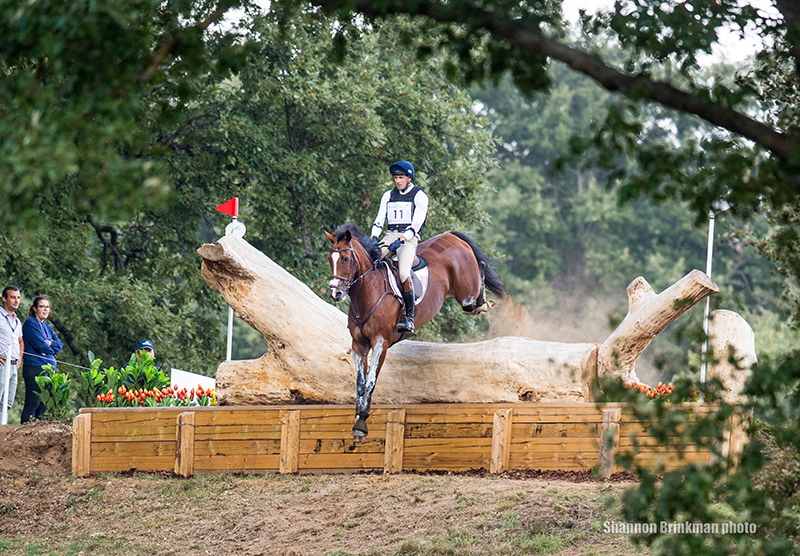 This is Lauren Nicholson and Vermiculus' second world championship together, and they finished the course with 5.6 time penalties to move up to 18th.
"I know him really well;  he knows me really well. I know he'll throw in a trot step if we're in trouble. And I knew all the questions were there for him. It was more for me trying to hammer at the time from the get go, because he doesn't have a huge gallop. The course for me was more about chasing the time than the actual fences. Those all felt like they came up pretty well for him. But I'm glad to have it done.
"It's always a different kind of pressure riding for the team, and you still want to be toeing the line of being gutsy, but try not do anything stupid that's going to affect the team," she said. "So I'm just very glad to have it done. And Coleman has it done. And that takes a lot of pressure off."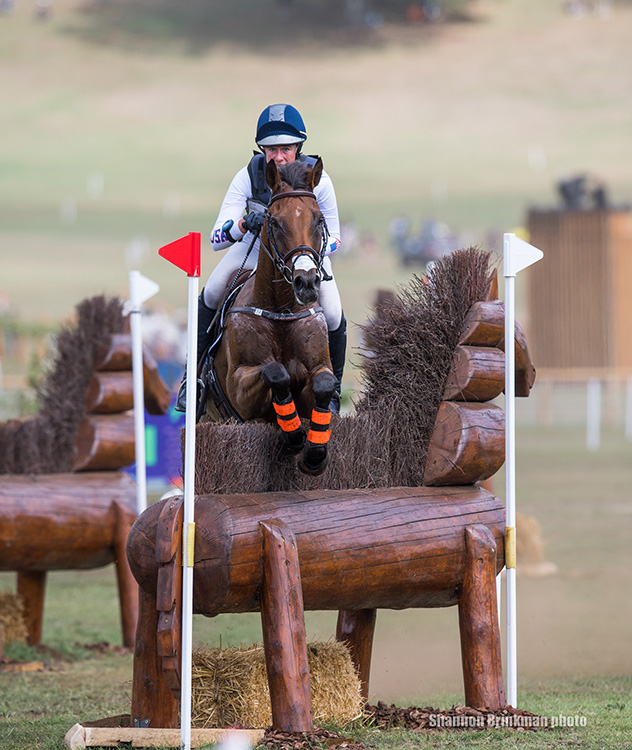 Yesterday, individual rider Ariel Grald said that Leamore Master Plan would shine on the cross-country, and that proved true. The pair impressed in their championship debut, turning in the fastest round of the day, 10 seconds under the time to move into 17th from 50th.
"This is this horse's best phase, and I'll be honest, I tend to play it a little bit safe with him," she said. "I know he's a good horse, but he's so strong, and he has a huge stride, and I just, early in his career, had some mistakes on cross-country just because of his stride getting away from me. It's taken me a bunch of years, and honestly him doing a bunch of five-stars and finally having something big enough for him to go, 'Ooh, this is impressive!'
"But he was really good," she continued. "I mean, from the slide he was just great. He started off a little keen, and I wanted to go quick, and I knew I shouldn't tug, and I let him—sort of rattled a couple of jumps because he was just jumping at them and he's used to me protecting them a little bit. I just had to trust in his carefulness, and then by the time he did the slide, I was like 'We're good; rock on!' "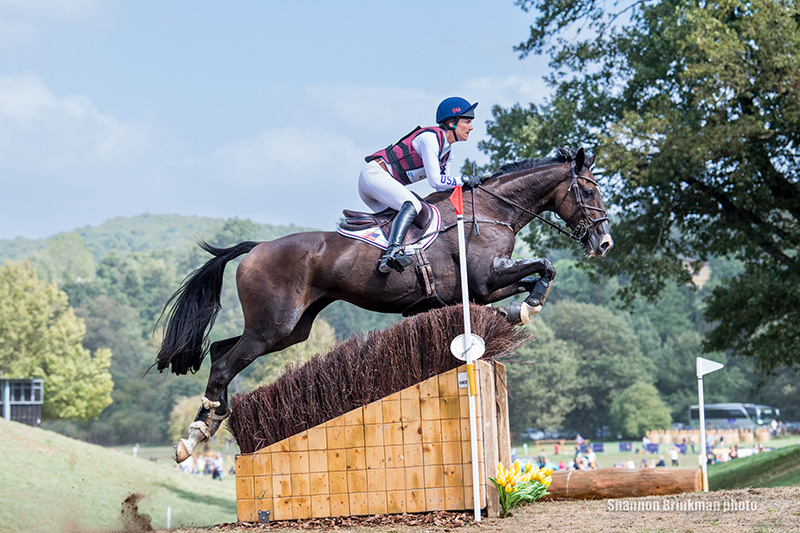 The U.S. team has employed Ian Stark to advise on cross-country, and he was pleased with what he saw today.
"The riders have been brilliant to work with," he said. "They've been so receptive, and you know they're all hungry for it, and they have just risen to the challenge.
"They did give me a lecture saying we don't want pep talks," he continued. "And I said no, the only thing you'll be told from me is to bloody get a move on and do the time. They have been amazing, they have been exceptional. All five of them clear cross-country; it's brilliant. Three inside the time; it's fantastic. I think it looks good for the future."
Sitting just 1.3 penalties behind Germany, it would be tempting for the U.S. riders to feel overconfident, but Martin cautioned against that.
"Luck comes into it a bit," he said. "The conditions, the courses. You're proud to be an American, we've hung in there and, you know, ups and downs, highs and lows. We're far from finished yet. We've got a massive day tomorrow and good to have five clears, it's just a sigh of relief. I think in the past it's been a bit of everything but today it just seem to come together."
Bright Spot For The Brits
While it wasn't the day the team wanted, Great Britain did have a bright spot in 25-year-old Yasmin Ingham's ride. She's competing as an individual in her first championship on Banzai Du Loir and added just 1.2 time penalties to head into show jumping in second on 23.2.
"I've had a fantastic round on 'Banzai.' He's an incredible horse to ride cross-country; he just has so much range," she said. "And he's very athletic and easy on his feet. So through the combinations, he was very clever. And on the galloping stretches, it felt like there was so many gears, so it was really exciting to come back just a little bit over the time. But a great clear round from him. So I'm very proud. He's probably not quite seen hills like that before, so it was interesting that he coped so well. And he's still finished with lots of energy in the tank. So I'm really looking forward to tomorrow and the show jumping phase."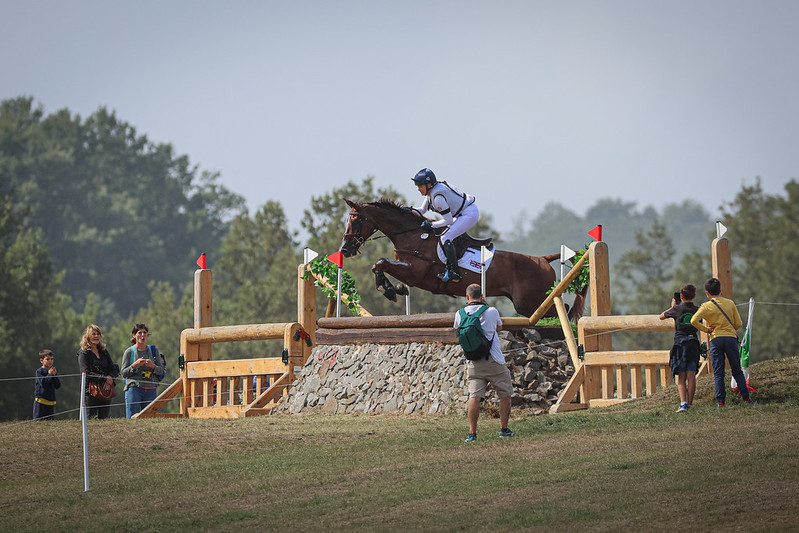 Ingham finds it a bit hard to believe that she's in such a great position at her first championship.
"It was always a dream to come and win a medal," she said. "I know the horse Banzai, he's more than capable of producing the three phases and so well, just to bring them together on this event, was the plan. And I really hope that we can keep it together tomorrow, and hopefully be up there on the podium."
Fast Facts
• Eleven horse-and-rider pairs finished the course inside the time.
• Seven combinations were awarded 11 penalties for breaking a pin.
• One rider, Germany's individual Alina Dibowski and Barbados 26, was awarded 15 penalties for missing a flag.
• Three retired on cross-country.
• Seven riders fell. Two needed medical attention. France's Nicolas Touzaint was examined on site and did not go to the hospital. Spanish rider Carlos Diaz Fernandez got stepped on in his fall and did go to the hospital for an X-ray but was reported to be OK.
• Thirty-two riders had one refusal, and two were eliminated for three refusals. Fence 7C, the second skinny at the bottom of the Pratoni Slide, caused the most problems with eight refusals.
• Two riders were eliminated for missing a jump.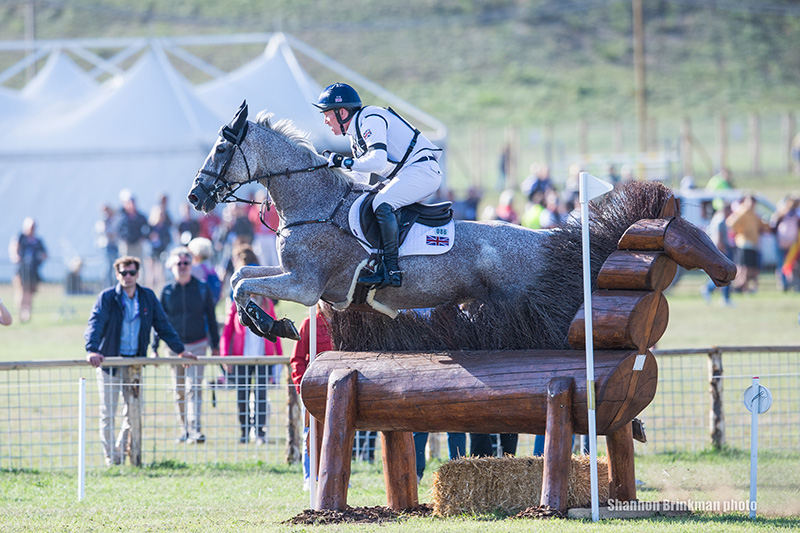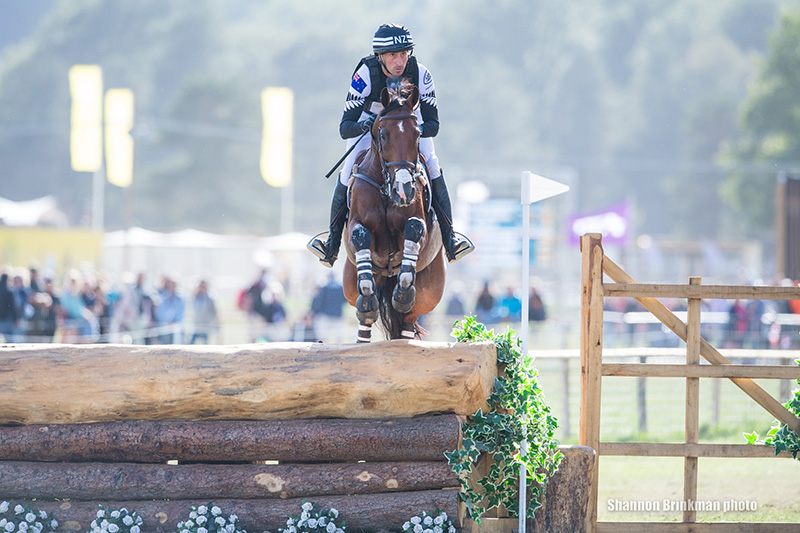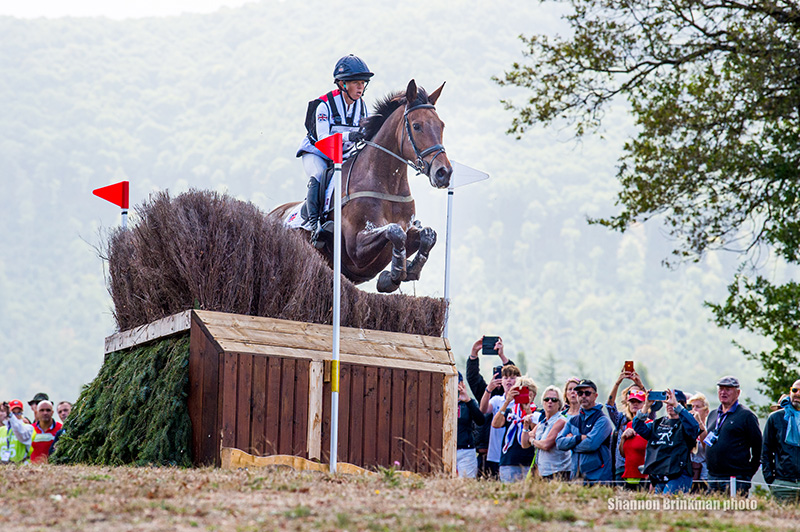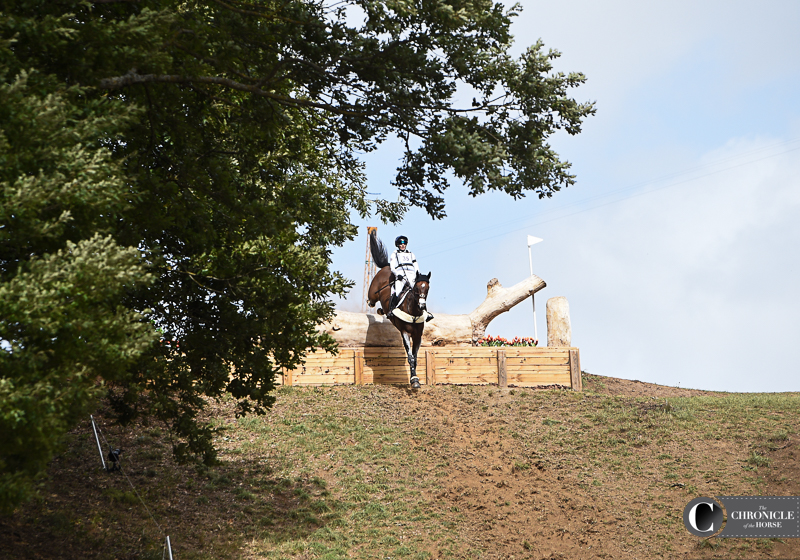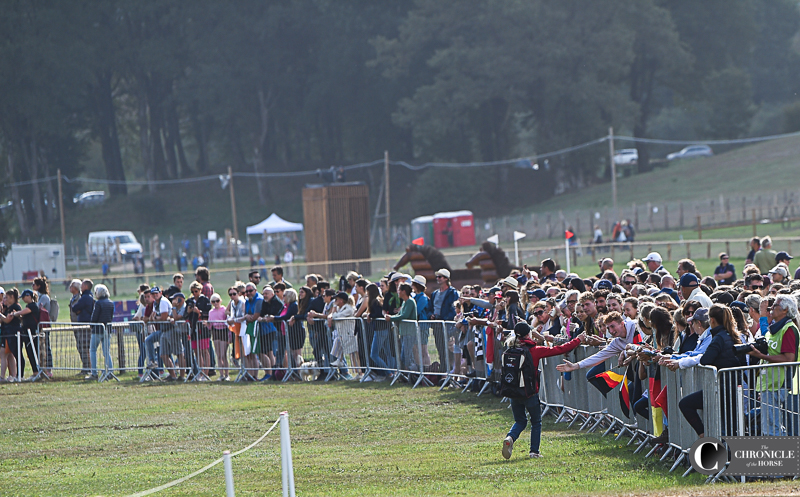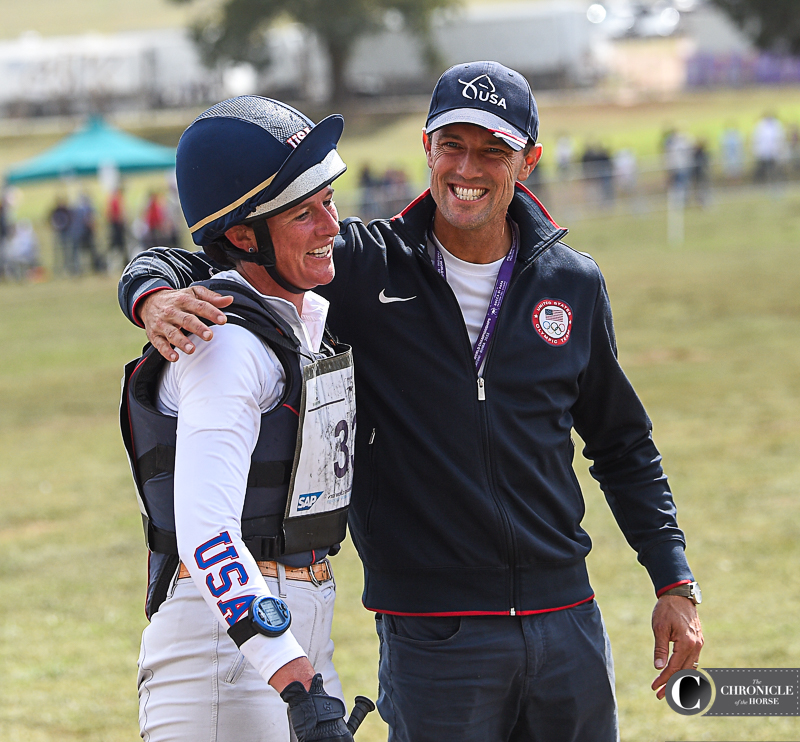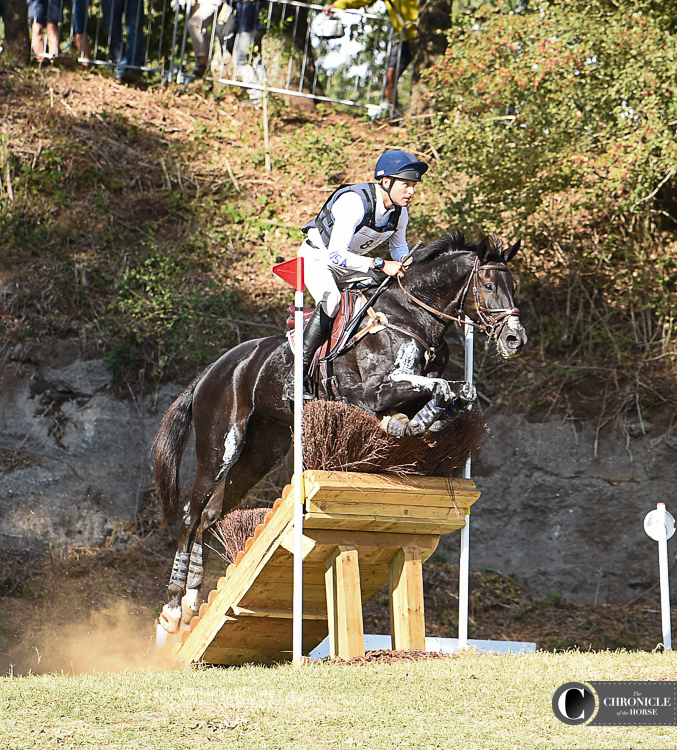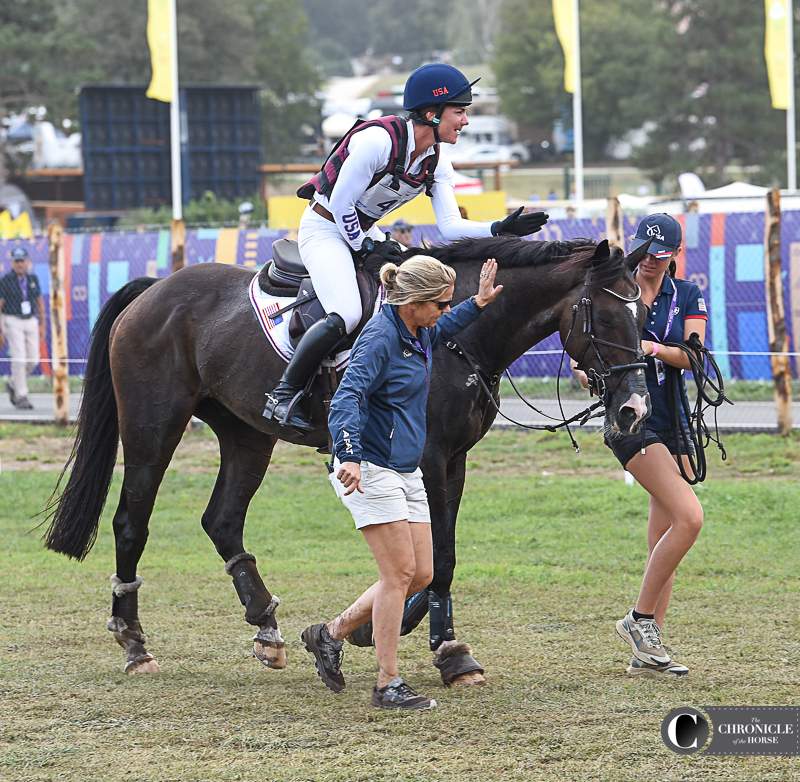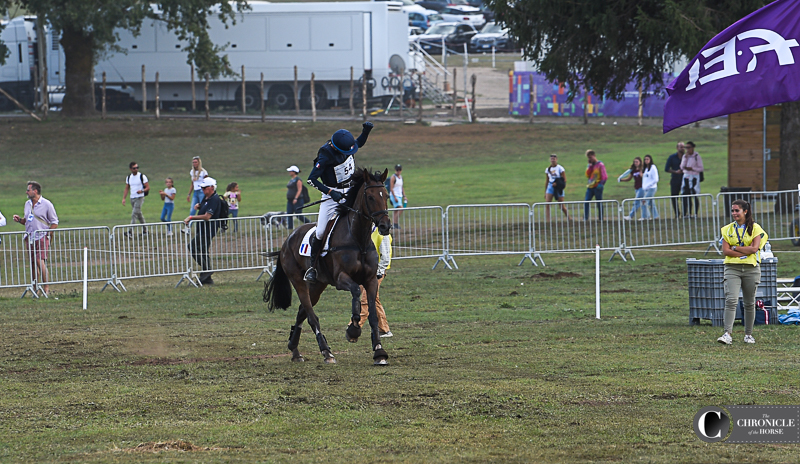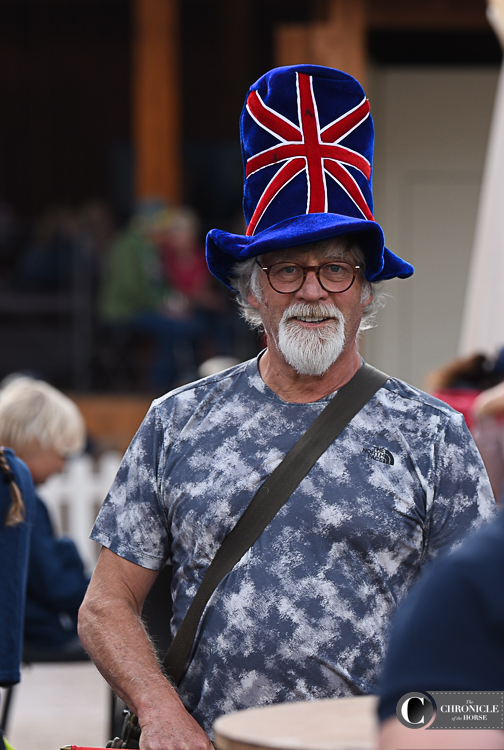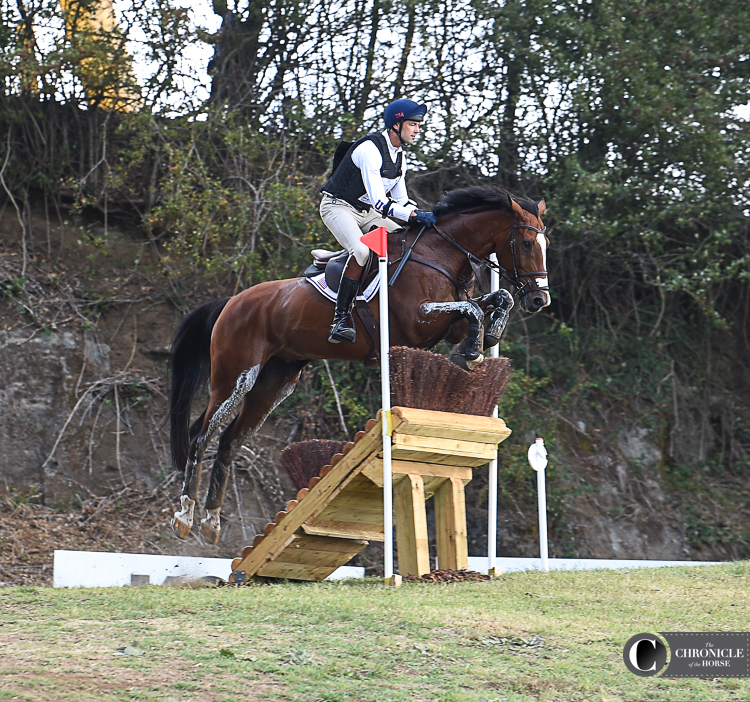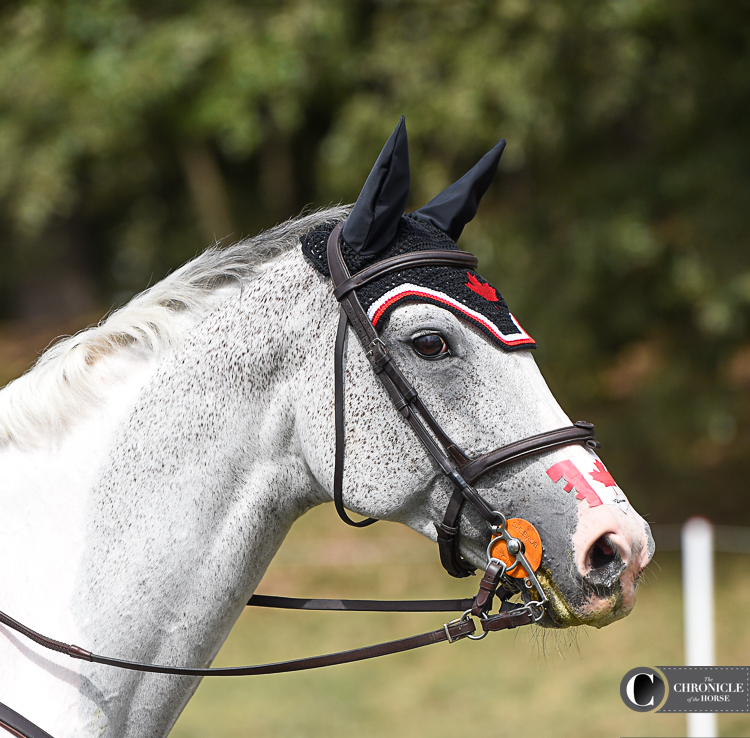 The Chronicle is on site to bring you interviews, photos and stories daily, so follow along at coth.com. We'll have full analysis from the competition in the Oct. 10 issue of The Chronicle of the Horse magazine.
Results and order of go can be found here.

Tags:
2022 FEI Eventing World Championship
,
Amande De B'Néville
,
Ariel Grald
,
Banzai du Loir
,
Boyd Martin
,
Carjatan S
,
Christoph Wahler
,
fischerChipmunk FRH
,
Julia Krajewski
,
Lauren Nicholson
,
Leamore Master Plan
,
Mai Baum
,
Michael Jung
,
Off The Record
,
Sandra Auffarth
,
Tamie Smith
,
Tsetserleg TSF
,
Vermiculus
,
Viamant du Matz
,
Will Coleman
,
Yasmin Ingham