But Gina Miles, of the United States, breaks their hold for the individual silver medal.
Looking for even more in-depth coverage? Click here to visit our online coverage section of the 2008 Olympic Eventing competition, complete with daily news reports from Managing Editor Beth Rasin, photo galleries by Assistant Editor Molly Sorge and blogs from Olympic riders and grooms.

The German eventers waited four long years to bring back the gold that they'd earned, then lost, in a long, drawn-out controversy at the 2004 Olympic Games. That gold medal was finally determined days after the event in a courtroom, in favor of the French.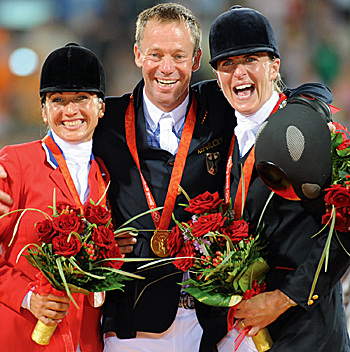 But in Hong Kong, China, Aug. 9-12, a different attitude prevailed as a joyful German team—Hinrich Romeike, Ingrid Klimke, Frank Ostholt, Andreas Dibowski and Peter Thomsen—simply outrode everyone else on their way to undisputed team and individual gold medals. The Australians were second and British third as the U.S. team dropped to seventh.
The double-gold medalist, Romeike, who was a member of that 2004 German team, said that controversy—when Bettina Hoy went through the show jumping start timers twice and cost them team gold—is behind them. "Everyone in our sport is friends again," he said.
Although he was elated with his wins, Romeike was exceedingly modest. "The team gold for us is very precious, but I was talking with our friends from Australia, and I said if today five of five scores counted, the Australians would have won," he said. "A medal is a good thing; it means you've done well, and you're happy and go party with your friends. Life's a rollercoaster, and you just have to ride it."
Romeike, 45, a full-time dental surgeon in Nübbel, works from 7:30 a.m. to 1 p.m. and again from 3 p.m. to 6 p.m., then rides after work. He said his patients and staff watched the action live on a big screen at home. Other than Marius, he has just a few horses, including a 3-year-old full brother to his striking gray.
Romeike heard about Marius while on a skiing trip in Austria with his friend Hans-Werner Ritters, who bred Marius. He asked to ride the gray Holsteiner by Condrieu for his birthday, and one year later, when Marius was 5, Romeike bought him. "I really liked his silhouette, his outlines," said Romeike.
Throughout the week, long before he'd won two gold medals, Romeike's adoration for his 14-year-old, gorgeous gray was obvious. They've now competed in two Olympic Games, a World Championship and three European Championships together.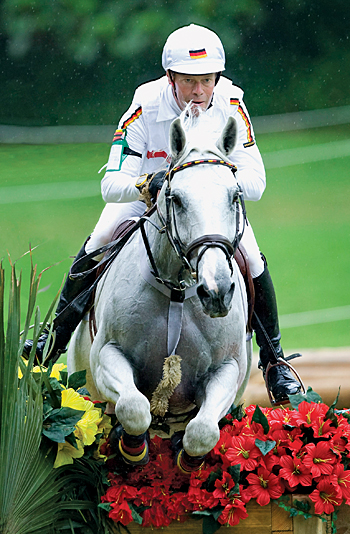 "I would be nothing without this horse," said Romeike, whose gelding has a calm intelligence about him and a beautiful jumping style. "I always have the impression that his last [cross-country] round is his best round, and it was again his best today. Every time he does it. I don't know how, but he does—thank you Marius. I'm very thankful to possess such a wonderfully magic horse."
Although they were disappointed not to win the gold after winning the dressage, the Australians (Clayton and Lucinda Fredericks, Shane Rose, Megan Jones and Sonja Johnson) had to admit that their silver medal represented quite an accomplishment, since three of the five members were based in Australia last year during the equine influenza outbreak. The virus caused a lockdown on any equine movement from August of 2007 until January of 2008, and horses weren't competing again until March.
"The flu set our programs back a long way," said Rose. "The Australian Sports Federation drafted money [to help the team], and it's a great credit to Sonja, Megan and me [to have gotten here]."
The Fredericks are based in England but didn't receive any less fanfare from the enthusiastic Australian supporters in the crowd.
As winners of the Badminton and Burghley CCI****s (England), Lucinda Fredericks and Headley Britannia were hot favorites. They led after dressage, but Lucinda wasn't able to let "Brit" go at her usual clip on the twisty cross-country track. Time penalties dropped her from medal contention, but Lucinda wasn't upset.
"My horse had to work very hard, and I'm grateful to her, and I had a great time," she said. "I'm very proud to be on the Australian team, and I think it's the first time a husband and wife have earned a medal for Australia."
A Fairytale Finish For Miles
For a while, it looked as if Germany could sweep all the medals, but Gina Miles' two perfect show jumping rounds for the United States ensured that wouldn't happen, as she took the individual silver, and Tina Cook of Great Britain jumped up to third.
The story of Miles' road to an Olympic medal reads like a movie script—she'd dreamed of the Olympic Games but had never competed at the advanced level before Thomas Schulz and Laura Coats of Creston, Calif., offered her the ride on McKinlaigh as a 5-year-old. They'd seen him as a 4-year-old at the Young Event Horse Championships at Punchestown (Ireland) and were immediately taken by him.
"I've developed him since he was young, and what an honor to ride him in an Olympic ring," said Miles, 34. "He took me to my first advanced, first three-star, four-star, World Equestrian Games—to have everything come together and do his best at an Olympic Games is an amazing feeling."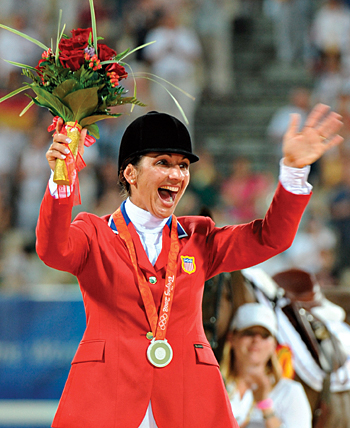 But there have been some bumps in the road for Miles, including a tough time for McKinlaigh at the 2004 Burghley CCI**** (England), where he struggled in the extreme heat. Then in 2006 she brought him back to Rolex Kentucky and retired on course when he bled. But she never lost faith that her horse belonged at the top, continuing to make him better and better. She first earned her red coat at the 2002 WEG (Spain), and she earned her first medals last year at the Pan American Games (Brazil), where she took the team gold and individual bronze.
"I've worked for this moment for a really long time," she said. "McKinlaigh and I grew up in the sport together, and this is the culmination of all my dreams, of all the ups and downs of the sport of eventing and of life, of staying on track and coming back another day—an Olympic medal is tremendous.
"I wish my teammates could have been here with me, but they were all supporting me," she added. "I felt good the entire competition. I had a plan and stuck to it, and that made all the difference. I've always known he's the most amazing event horse in the world, and I'm happy to see him shine and let everyone know what an amazing animal he is."
Hong Kong also marked the first Olympic Games for Cook (née Gifford), who competed on many British WEG and European Championships teams in the 1990s, winning team gold at the 1994 WEG (the Netherlands), but the Olympic Games had always eluded her.
She was the traveling reserve in 2000 but didn't compete, and after that Games, she thought her opportunity had slipped away. She had two children in the interim and has scaled back her competition to just three horses. Her Miners Frolic, 10, was the greenest member of the British team, having never competed in a four-star.
"He means the world to me," said Cook. "He's a fantastic horse, and this is what you dream about for years and years."
The Next O'Connor Star Rising
Karen O'Connor knew these Games would be a challenge for Mandiba, a 9-year-old Irish Sport Horse by Master Imp, who'd been called up from the U.S. reserve list two days before shipping to Hong Kong from England. He'd never attempted a four-star before, yet he started the weekend within 11 points of the leader in dressage.
Olympic Eventing Tidbits
• Pawel Spisak, 26, of Poland impressed with his performances on Weriusz. They had a sensible but stylish cross-country round, then jumped two double-clear show jumping rounds to move up to 19th overall. Both times after exiting the show jumping arena, Spisak jumped off and kissed his lovely bay gelding on the nose.
• Two horses on the German team shared the same sire. Ingrid Klimke's Abraxxas and Andreas Dibowski's Butts Leon are both Hanoverians by Heraldik and were bred by Friedrich Butt.
• The French team lost Jean Teulère's Espoir de la Mare to lameness before the start of competition, then Galan de Sauvagére was injured before the start of dressage and was withdrawn by Nicolas Touzaint. Down to three team members, they lost one more when Jean Renaud Adde and Haston d'Elpegère fell at the fourth fence on cross-country. But Didier Dhennin posted a bright spot for the team with two double-clear show jumping rounds, which moved him up from 11th to sixth. As he finished his second round, he galloped wildly around the ring, throwing his arms, tossing his whip and giving the French their first chance to cheer.
• Individual medalists Gina Miles and Tina Cook are both mothers of two. Miles has sons Austin and Taylor, and Cook has a daughter and a son, Isabel and Harry.
O'Connor had two run-outs on cross-country—at the influential triple brush at fence 9 and the pagodas at fences 27-28—but jumped boldly around the rest of the track.
"Mandiba in so many ways stepped up, but the arrowhead after the brush became more than what he was comfortable with," she said.
"Having done that, I thought he became a lion for the rest of the course," she added. "I'm disappointed and frustrated, yet what a horse for me and the U.S. for the future; he can do it all. There's no telling how far he can go."
He proved her faith in his abilities with just one rail down over Leopoldo Palacios' and Steve Stephens' show jumping course.
"I'm so excited for [Rolex] Kentucky next year, I can't even tell you," she said.
At the age of 50, O'Connor is showing no signs of slowing down. She's now looking forward to
preparing Joan Goswell's Mandiba for the 2010 Alltech FEI World Equestrian Games. But even as she moves firmly ahead, she hasn't forgotten the horse who's become her most famous partner—Theodore O'Connor, her 2007 Pan American Games individual and team gold medalist pony who was a favorite for these Games before a barn accident claimed his life in May.
O'Connor wore a bracelet made from "Teddy's" tail throughout the weekend. "I thought about him a lot," she said. "That course would have had him written all over it; those turns wouldn't even have been tight for him."
Becky Holder is also looking to the future with Courageous Comet, who had a stellar dressage test but had a run-out at fences 20-21, the angled dragons, then incurred an extra 40 penalties for a technical second refusal when they accidentally crossed her path on re-approach. She plans to give him an easy fall, then bring him back to Rolex Kentucky in the spring. "We'll be working on our dressage and show jumping so
we'll be ready for [the WEG] in 2010," she said.
Bad Luck For Dutton
U.S. anchor rider Phillip Dutton posted a strong cross-country ride on Connaught, earning just 19.6 time penalties. "He's not a terribly fast horse, but he went as quick as he could on the day," said Dutton.
He was disappointed with the two rails he rolled in the team jumping round on Connaught, who he said was distracted by the lights. "Coming into fence 1, he wasn't concentrating; he was looking at everything apart from the jump," he said. "He was still going high but not focusing on where he was going."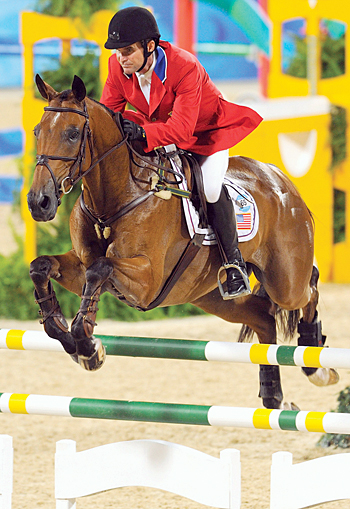 He came back in the second round to jump flawlessly, only to be disqualified for inadvertently breaking a new rule by using a pair of weighted boots on Connaught's hind legs. The boots were found to be over the weight limit of 500 grams set by the FEI in February of 2008. According to Jim Wolf, U.S. Equestrian Federation Executive Director of Sports Programs, the boots weighed just over 700 grams each. The rule change is a jumping rule modification that also applies to eventing.
"We should have known about it, but we didn't for eventing," said Wolf. "Our federation owes Phillip
an apology for not making him aware of [the rule change]. It's our federation's responsibility to make sure
the athletes know the rules. Phillip was unaware of the rule and certainly was not trying to give himself an unfair advantage. But the rule is on the books, and we're abiding by the rule, and Phillip is taking it on the chin."
Without the disqualification, Dutton would have finished 13th.
Sadly, the event is likely the last major championship for Bruce Duchossois' Connaught, a 15-year-old Irish Sport Horse who also competed at the 2006 World Equestrian Games (Germany) and won the 2008 Rolex Kentucky CCI****, among many other top placings.
"We'll see how he comes out of this, but he's getting to the end of his career," said Dutton. "He's had a great life for me, and we'll re-evaluate him when we get home."
---
Poggio's Brilliant Career Ends
Amy Tryon's bid for a medal at her second Olympics came to an end at the 10th cross-country fence, The Birdcages, when Poggio hit the fence with his front end and stumbled on landing.
"I don't know [what happened]; I'd like to watch the replay. In my mind, I had a good shot out of the turn," Tryon said. "He caught his right front and slipped before the table. He landed and stumbled, and I thought I'd saved it, but then he stumbled again."
Under the new Fédération Equestre Internationale rules, Tryon couldn't complete the course after a fall, even though she and Poggio were both fine. "That's all right," she said of the rule. "It's in the best interest of the sport."
Sadly, Tryon had already decided that this Olympic Games would be Poggio's final event.
"He's given me 10 fantastic years, and to run him again would be for me and not for him, and that's not the right decision," she said. "He deserves to be retired when he's sound and fit, so he'll come home to Seattle and live on my front lawn."
Tryon said the event was the only three-day Poggio hadn't completed in his career.
Two Legends Of The Sport As Mary King of Great Britain pulled up on cross-country, she put a hand to her face to stop tears of joy. "I was just feeling so lucky, at my old age, to still be enjoying it and loving every minute," she said.

A long-time staple of the British team and two-time Badminton CCI**** (England) winner, King has now competed in five Olympic Games and added a team bronze to the team silver she won in 2004.

"A couple of years ago I was very apprehensive [about the Games being held in Hong Kong]," said King, 47, who finished 11th on Call Again Cavalier. "I thought I was being greedy, wanting another Olympics, and that it wouldn't be in the horses' interest to compete in Hong Kong. But the test event [held in the same facilities, at the same time last year] gave us all tremendous confidence. It was a fantastic experience, the organization of the whole event. The Hong Kong people have been so friendly, and so was God on cross-country day."

Two-time individual gold medalist Mark Todd's return to eventing provided an extra dimension to these Games.

He'd retired after earning an individual bronze medal at the 2000 Sydney Olympics but was lured back in January of this year. Despite having switched his focus to race horses and not having jumped in eight years, he nevertheless made the New Zealand team aboard his new ride, Gandalf.

He finished 17th with the 10-year-old New Zealand Sport Horse, but his rides were enthusiastically followed. Now he said he'd like to go on to the 2010 Alltech FEI World Equestrian Games in Kentucky.

"I really enjoyed the process," said Todd, 52. "I think I might have another go. The horse is a world-class horse. If I keep going I will have to look for more horses. So when I get home I will decide on it."
"It's a disappointing way to finish, but I can't complain; he's given me so many opportunities," said Tryon, whose appearance at the 1999 Pan Am Games (Canada), 2002 World Equestrian Games (Spain), 2004 Athens Olympics, 2006 WEG (Germany) and these Games were all aboard the 16-year-old Thoroughbred.
But Tryon said she wouldn't have done anything differently in hindsight at fence 10 or at any point in Poggio's preparation for his final championships.
"He's been fantastic all spring," she said. "It could have happened a thousand different times and not have had him land and stumble. He has two stud holes in his boot and a little cut above his boot, so maybe his hind leg came up and hit his front—I don't know. I can't second-guess it."
She hopes to continue a relationship with Mark Hart and his wife, Carol, who own Poggio in conjunction with Tryon and her husband Greg.
"Mark has supported me through so many years. He called me once and said, 'You don't know me, but my daughter loves horses, and I'd like to help you any way I can,' " recalled Tryon. "We've joked that he needs to buy me another horse or become the team doctor, because we can't lose him. He's such a special person."
She will run her team reserve horse, Leyland, at the Blair Castle CCI*** (England) in late August and then return to her Washington home, where she said she's spent only three days since January.
---
An Eight-Minute Olympic Course
Years of hard work and research went into creating an Olympic cross-country test that could be held in August in Hong Kong and still ensure the welfare of the horses, and those efforts paid off with a successful competition at Beas River on Aug. 11.
"The horses were tired, some more than others, but all did finish well," said foreign FEI veterinary delegate, Dr. Leo Jeffcott, who tracked the weather for August in Hong Kong for three years in conjunction with the Hong Kong Weather Observatory and put his heart and soul into making the competition work. In the end, the weather didn't play a role, with temperatures around 80 degrees, a steady light rain and a humidity of around 70 percent as a record 24 nations took part.
In addition to the climatic challenges, designing an Olympic course and running the logistics of the event in a part of the world where three-days don't exist was no small task.
"Just one eventing competition has been held in Hong Kong, last year, and to run an Olympic Games here is an amazing performance," said Ground Jury President Martin Plewa. "It was very safe and very good, and I'd like to congratulate all the riders, who were aware of their responsibility and the welfare of the horses. It was a good Olympic competition, and it is a good sign for the Olympic future of eventing."
There were 68 starters—60 horses completed, with four eliminations for falls and four for refusals, with no one coming close to the time.
The only injury was incurred by Magnus Gallerdal of Sweden's Keymaster, who suffered a hairline fracture of a pastern bone in the right front leg. He underwent surgery the following day, Aug. 12, at the Hong Kong Jockey Club and was recovering well on the 13th.
Course designer Michael Etherington-Smith said the course rode just as he'd expected. "I'm not the least surprised that no one made the time; I never believed anyone would make it," he said. "The riders did a good job and should congratulate themselves on being extremely sensible."
Although each of the past three Olympic Games has featured increasingly shorter courses, technical delegate Giuseppe Della Chiesa doesn't necessarily anticipate this short a track in future Games. "This course was for these Olympics, in these conditions," he said. "This was the right decision; it was a challenging competition that worked well."
While the event presented a much-needed positive image of the sport to the world, not everyone was completely happy with the course or how it corresponded to expectations.
Capt. Mark Phillips, chef d'equipe of the U.S. team, said he was surprised when he arrived to find an 8-minute course in a CIC format, with the jumps spaced every 110 meters.
"This format is very difficult for Poggio, who is an exceptional CCI horse," he said. "It's more difficult when you have to go faster in a CIC format, and we didn't realize coming into this that it was a CIC format. We found out when we got here. They said they didn't want the lesser nations to under-prepare their horses. But as chefs we were very upset. If you're preparing for an event, you need to know what you're preparing for."
Although the day was generally acknowledged as a huge success for the sport—with no serious falls or horses in distress—Phillips thought it could have turned out differently.
"We were extremely lucky. The riders had to go at a flat chat, and I don't think that looked particularly attractive," he said. "The good people ought to be able to make it look easy. If it had been hot, it could have been very ugly."
But in the end, sensibility seemed to prevail. Etherington-Smith offered as an example the ride of Alena Tseliapushkina of Belarus, who jumped around a cautious, well-planned clear with 59.6 time penalties.
"Today was a huge step forward for the sport," said Princess Haya Bint Al Hussein, president of the Fédération Equestre Internationale and member of the International Olympic Committee. "There was no other option than to have the result we had here."
Beth Rasin
---
Looking for even more Olympic coverage? Click here to visit our online coverage section of the 2008 Olympic Eventing competition, complete with daily news reports, photo galleries and blogs.