Lexington, Ky.—Aug. 13
When Lillian Geitner trotted into the ring on Farewell for the medium green pony over fences class at USEF Pony Finals she wasn't feeling too much pressure.
"Basically [I wanted] just to stay calm and not to get too worried about it because I wasn't really worried about winning or anything," said Geitner, who was sitting seventh before the jumping phase. "I just wanted to go and have fun."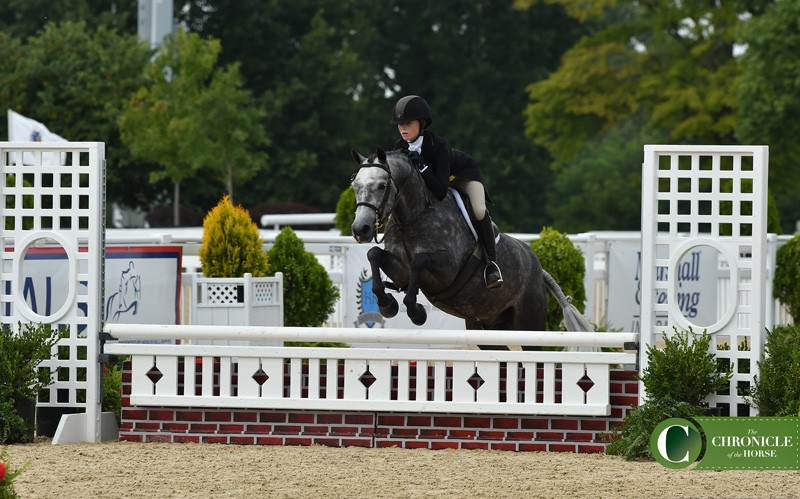 Geitner did that and more, nailing her jumping round to bring the championship tricolor back to Aiken, South Carolina. Olivia Sweetnam and Mapleside Forget Me Not topped the jumping class to claim the reserve ribbon.
Geitner, 14, is in her fourth year coming to the championship, but this is her best result yet. She said her favorite thing about coming to Pony Finals is "all my friends being here and the atmosphere of everyone cheering you on."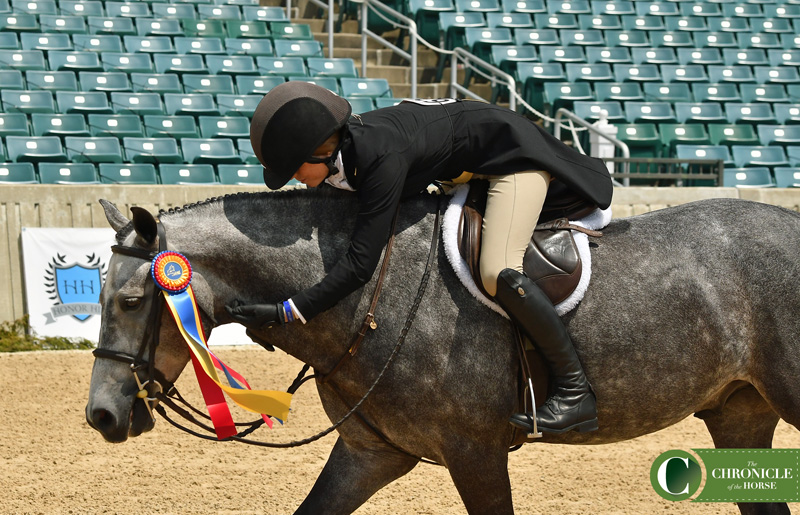 Geitner paired up with the 7-year-old pony of unrecorded breed and breeding earlier this year.
"My husband [Daniel Geitner] found him in France," said Cathy Geitner, Lillian's mother and trainer. "He's got some people over there that we buy a lot of horses from. They knew we had a daughter that rode and asked him if we would ever want a pony. They sent us a video of him and we liked what he saw. He came over in the end of February. He did his first horse show the 2' at [HITS Ocala (Florida)]. The very next week we put him in the greens and I think he qualified for Pony Finals the first show."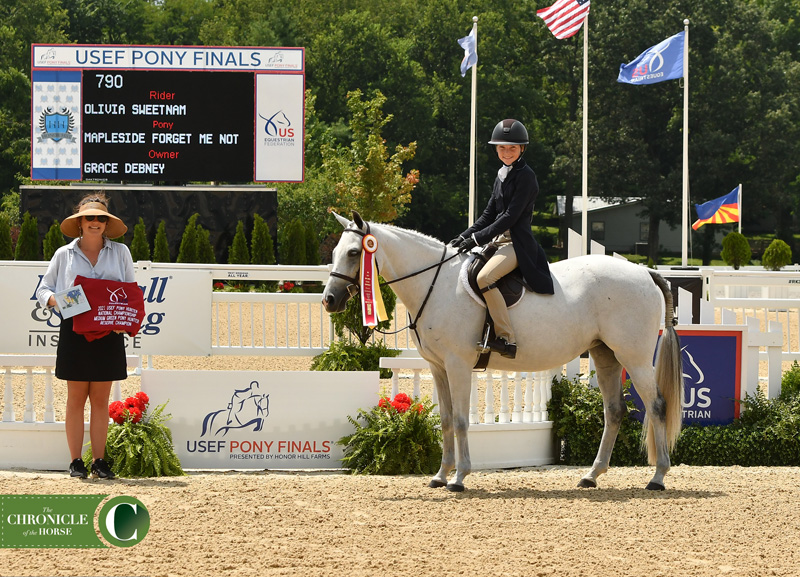 Cathy and Lillian agreed that it can be difficult at times for Lillian to train with her parents. But Cathy wouldn't have it any other way.
"I've been training her since Day 1 so I feel I know what it takes to get her to the ring," said Cathy. "I know how she operates mentally and try to set her up in the best mental state possible to go in and perform. We really haven't been training hard this week. We've been just trying to stay very relaxed. She did the golf cart parade last night which they [finished] in the top 10. We could have just gone home with that and been happy. We've been trying to keep it low key and low stress. I think it worked in our favor because she walked in feeling very confident and having a great pony helps, one that you know can go get the job done."
Lumiere Shines In The 2020 Medium Green Division
Susannah Morrell considers herself something of a green pony specialist. This marks her third year competing at USEF Pony Finals, and every year it's been aboard a green mount. But she made this year extra special when she piloted her own Lumiere to the 2020 medium green pony division championship over Madeline Rubin and Briar Field Farm's Royal Street.
"I haven't won here before so it's pretty exciting," said Morrell of her championship.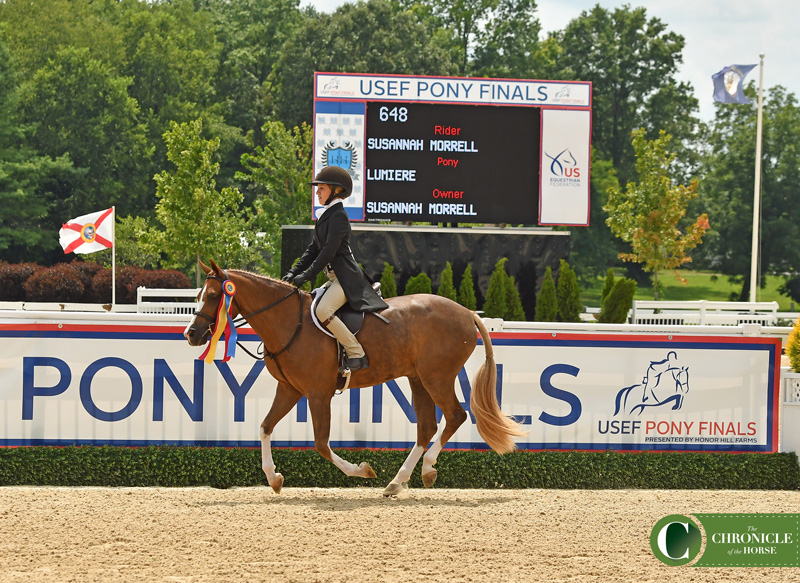 Morrell and the 8-year-old Welsh cross by Rosmel's Scarlet Legacy paired up about a year and a half ago, and Morrell said it's been a bit of a journey getting him to become a Pony Finals champion.
"We had to work on being together with our pace and getting our canter where we want it and being comfortable," said the 14-year-old from Lakeland, Florida. "The biggest thing is being comfortable in the ring.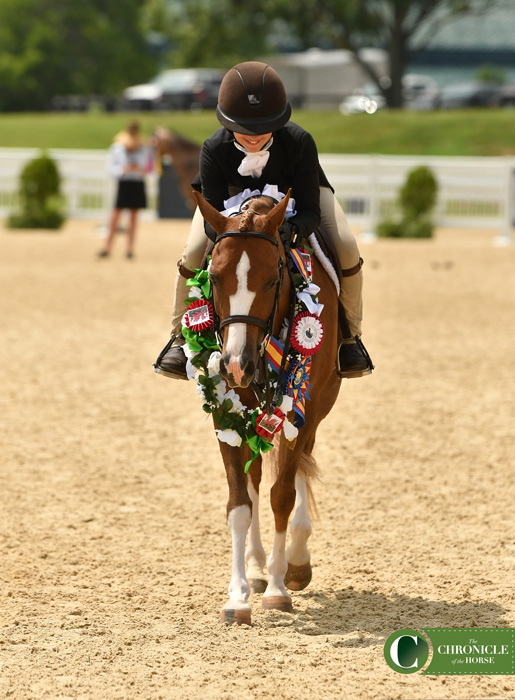 "[He had to] learn to relax and be happy with where he is," she added.
Morrell trains with her mother Shannon Morrell of English Oaks and also Bibby Farmer Hill. Both were on hand to train her in Kentucky.
"At home my mom rides him a lot for me and I ride him too," said Susannah. "We split it half and half. She can get a lot done because she's stronger."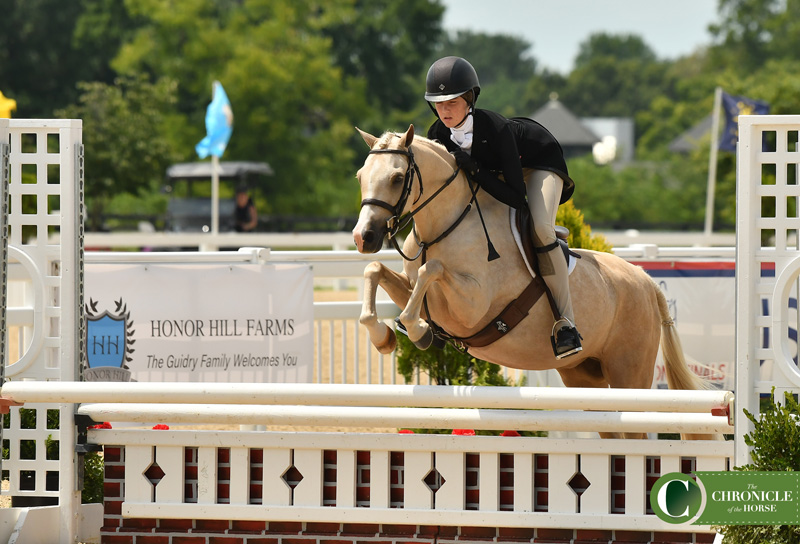 Susannah moved up from fifth to the top of the class after a winning jumping round. She said during her over fences trip she concentrated on organizing around the turns, especially since the ring isn't a traditional shape.
Susannah and Lumiere will be back in the ring on Sunday for the USEF Pony Medal.
"He's a good medal pony," she said. "He does a lot of good turns and he's very handy. That's one of his specialties."
A Schedule Shift
Thunderstorms rolled into the Kentucky Horse Park midway through the large green pony over fences class, prompting a delay as participants willed the lightning and thunder away. But when it persisted for over an hour with no end in sight organizers opted to move the last 39 rounds of that class—along with the entire 2020 large green pony over fences class—to tomorrow morning before the medium pony over fences class. Competition kicks off at 7 a.m.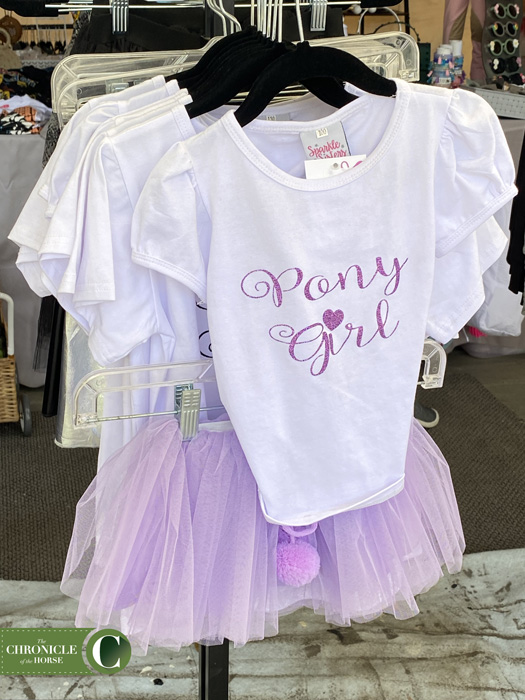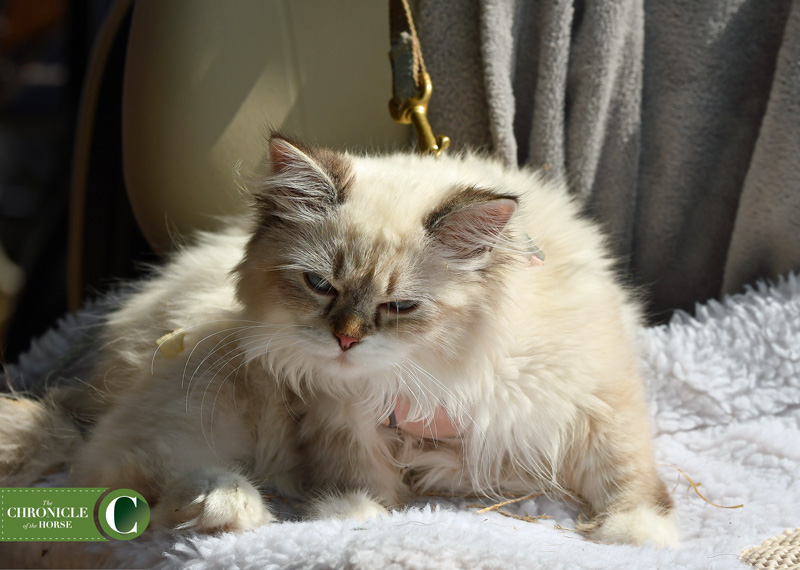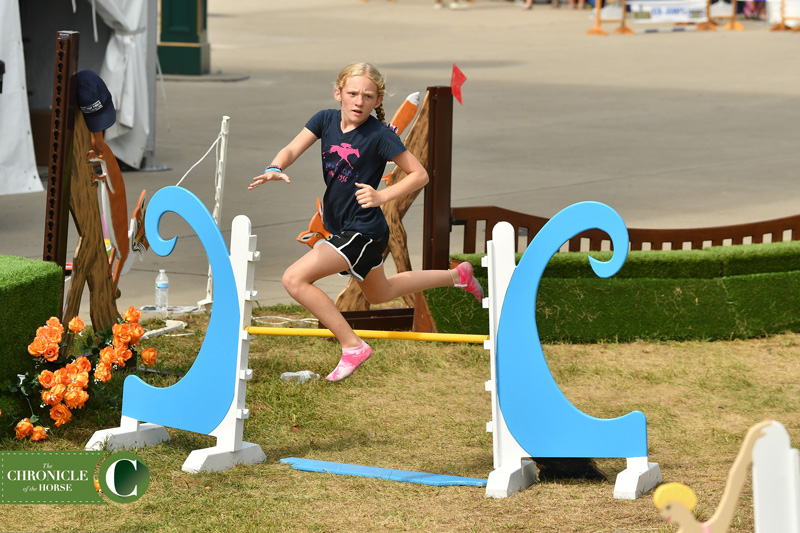 Want more Pony Finals? We've got stories about special competitors here. You can find results at Shownet.biz. Plus make sure you're following The Chronicle of the Horse on social media @chronofhorse.