Wellington, Fla.—Feb. 3  
The grand prix jumpers got booted out of their usual Saturday night slot in the international ring at the Winter Equestrian Festival for a good cause—tonight costumed teams of riders will jump for various nonprofits in costume in the Great Charity Challenge. So the $205,000 CSI**** Net Jets Grand Prix was instead held on the massive grass derby field across the street from the main horse show.
The turf was perfect for a fast galloping track and Israel's Daniel Bluman ran away with the win aboard his partner of the past eight years, Sancha LS.
Nine horses from the original start list of 40 qualified for the jump-off and Bluman nearly botched his chances to win at the very start of the short course.
"I wanted to take a risk from [Fence 1] to 2; I wanted to try to do one less [stride]," Bluman explained. "I don't know if I achieved it or not—I lost my concentration and nearly ended up in the standard of jump No. 1, but that was one risk I planned to make."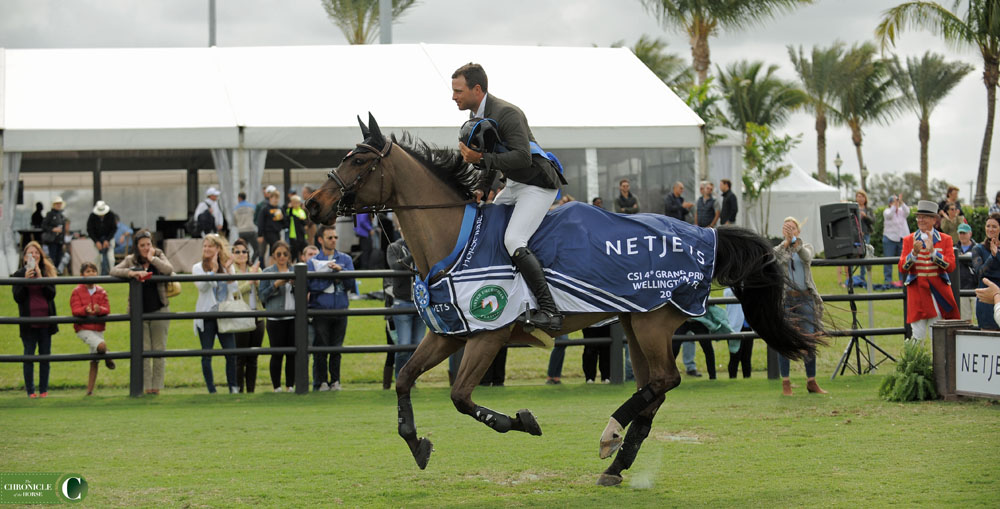 Bluman had the benefit of watching second-place finisher, Beezie Madden aboard Con Taggio, jump off before he went in the ring.
"Rolling back as tight as Beezie did was going to be impossible," Bluman said. "She's one of the best rollback riders in the world; she did a masterpiece there, but I did one more stride there and just galloped full speed to the last combination and knew Sancha would back away from the oxer and it paid off."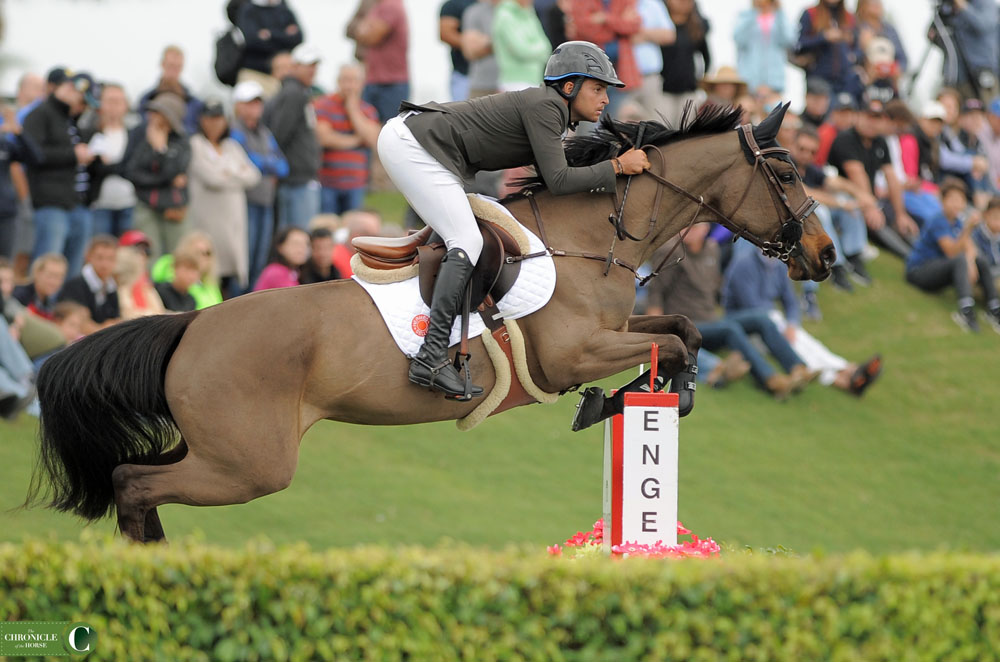 Beezie's New Horse
Madden was up on a relatively new ride for longtime owner Abigail Wexner—Con Taggio. The 9-year-old Oldenburg gelding didn't look at all fazed as he jumped around his first 1.60-meter grand prix with Madden to finish up in second, and the generally stoic Madden was all smiles coming back in the ring to collect her ribbon.    
"He's won a few 1.45-meter [classes], and he's done a 1.50-meter [class], but this is for sure his biggest class and I've never gone that fast over this big of fences with him," Madden said. "But he has a lot of experience going fast, so I just decided to have fun with the jump-off and he was fantastic."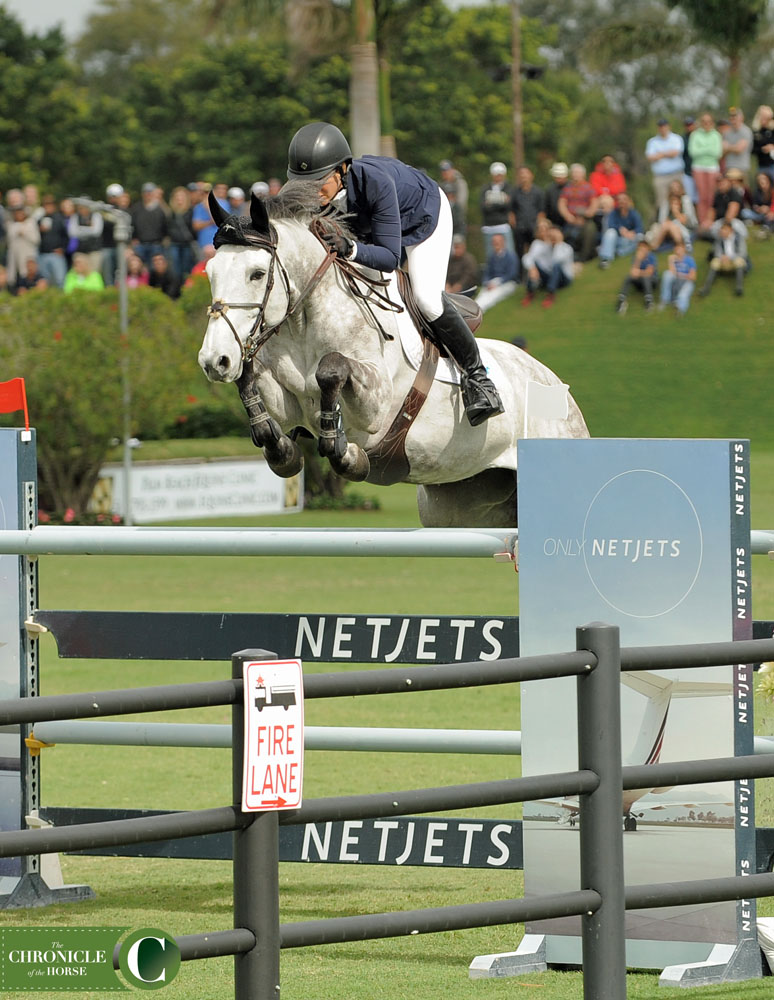 Madden can't really tell you where you'll see this horse next, because his performance in this class was a bit of a game changer.
"You might spot him in some five-stars, we'll see," Madden said. "We didn't know what to expect today, so we'll make a plan from here."
Indigo Is 18? Doesn't Feel A Day Over 5!
Indigo and Engle have been jumping around grand prix classes for about as long as Madden's young mount has been alive, but you wouldn't know it from watching him jump around, and Engle says he definitely isn't feeling it.
"He thinks he's like 5 or 6 mentally," Engle said. "I haven't shown him in a big class in a long time, and I wasn't actually planning on doing this. I was just going to see how it went since he is 18, but he just felt so good at home I thought I'd give it a shot.
"He doesn't owe me a thing, so if he feels like doing it fine, and if he doesn't I'll walk out," Engle said of her plan. "He's done more than I could have asked for during his life, and he's 18 but he feels really solid and sound and fresh so I thought I'd give it a shot."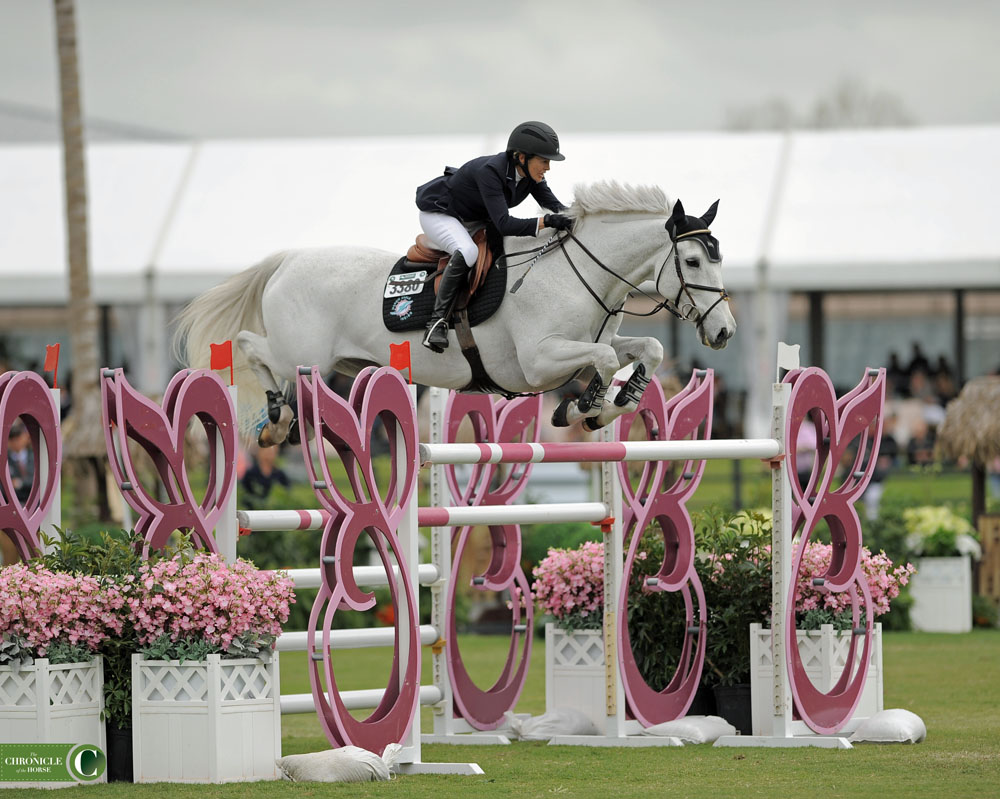 Engle is not in charge of Indigo's retirement plans—he is!
"He'll let me know when it's time to retire," Engle said. "When I went back out there for the prizegiving it felt like he was ready for another round. He has more energy than all my young ones put together. I've never had a horse with his energy, and he genuinely loves it. When the trailer pulls out he starts whinnying because he wants to go with them, I feel almost bad leaving him at home. So he'll let me know when he wants to stop."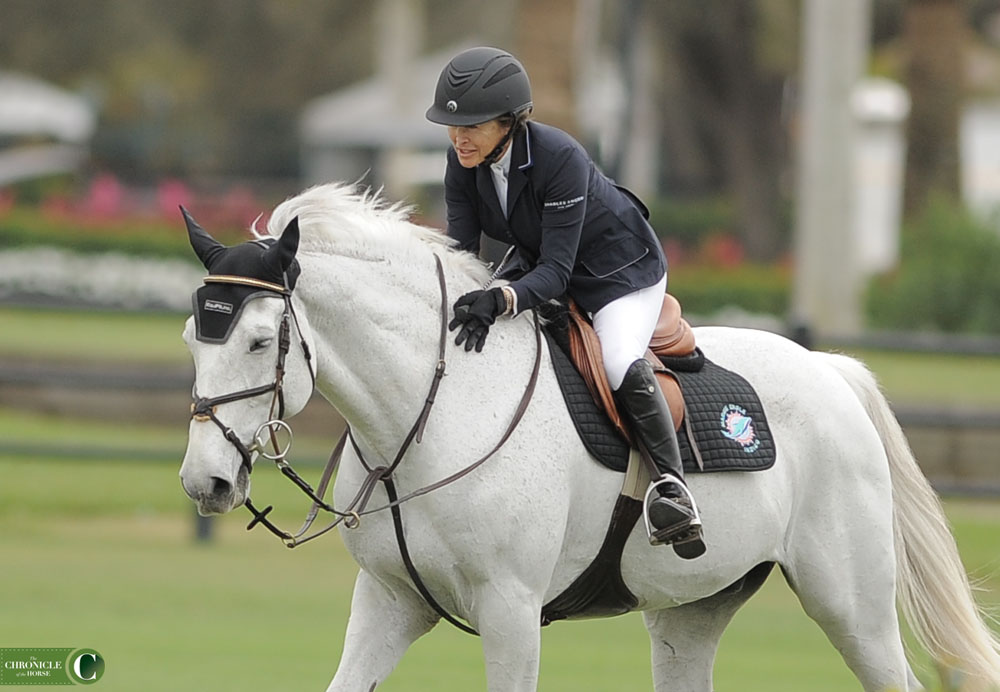 Why The Veterans Of Horse Sport Have The Upper Hand
A sponsor in the press conference pointed out that in most sports, athletes don't get to have a very long and storied career. Riding is different—Canadian Olympian Ian Millar is in his 70s and still giving everyone a run for their money in the grand prix classes—and Madden and Engle pointed out it can actually be quite advantageous.
"You see a lot of people in this sport that do it at a high level into their later years," Madden said. "I think that's because the young people, they can maybe beat us on a little bit of ambition or bravery or something like that, but I think we make up for it in experience, especially when it comes to managing the horses, trying to peak for the championships, and picking horses things like that it really helps."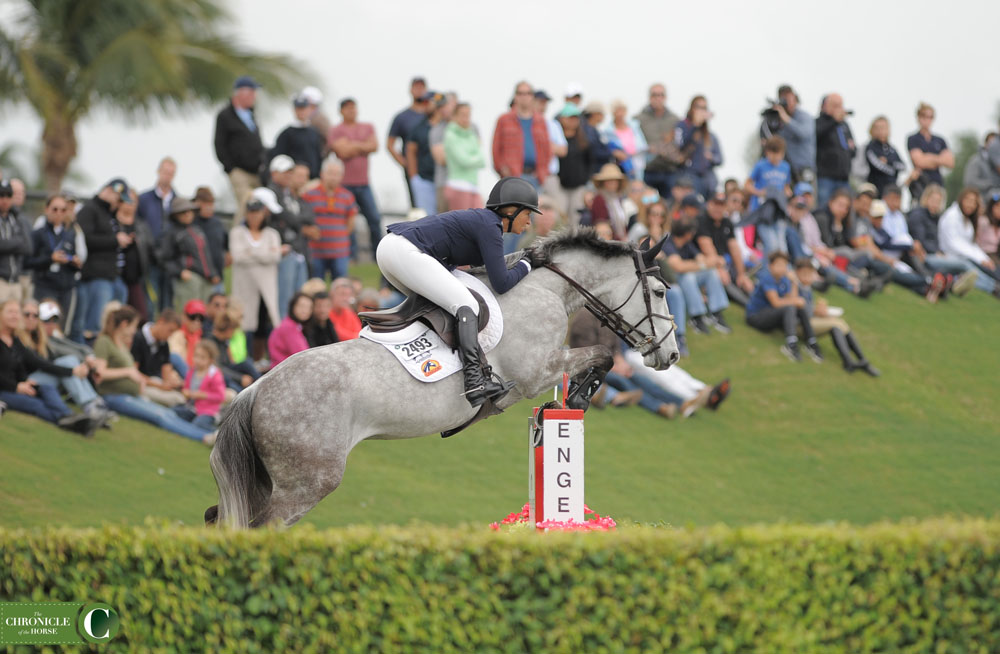 "I know when I was younger I made a lot more mistakes," Engle added. "Like trying to run in every class and just going too much. I also think as you get older I've needed to work out more than I used to and do more physical therapy, but I think mentally if I had this experience when I was younger it would have been very helpful."
Who Jumped It Best: The Open Water
The open water is the odd child in the jump family—the small wall at the front is only a foot off the ground, but the 20-something-feet wide open stretch of water can cause many a rider problems. Here are a few pairs that just soared right over it.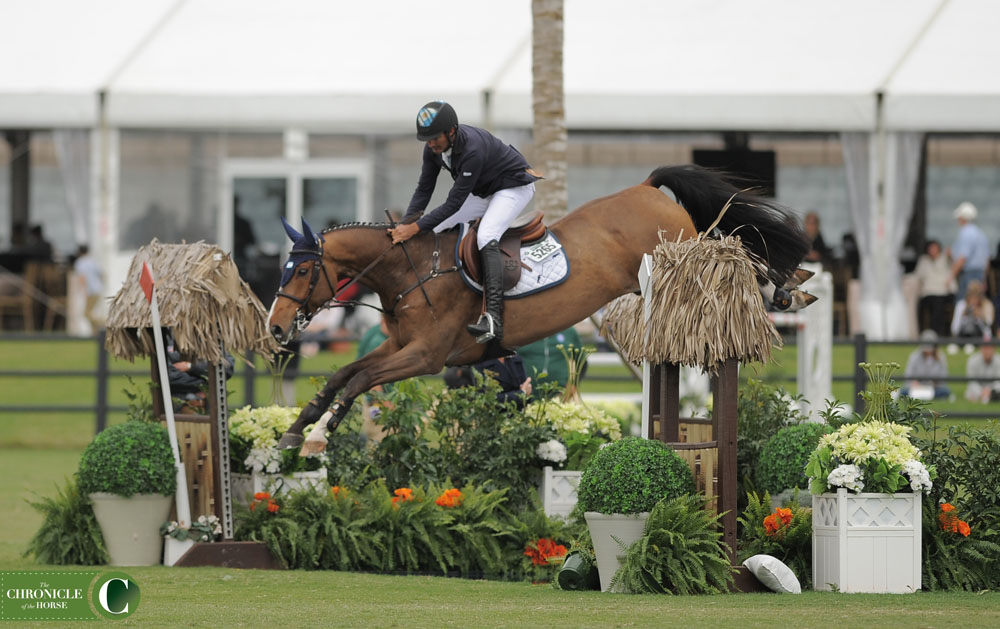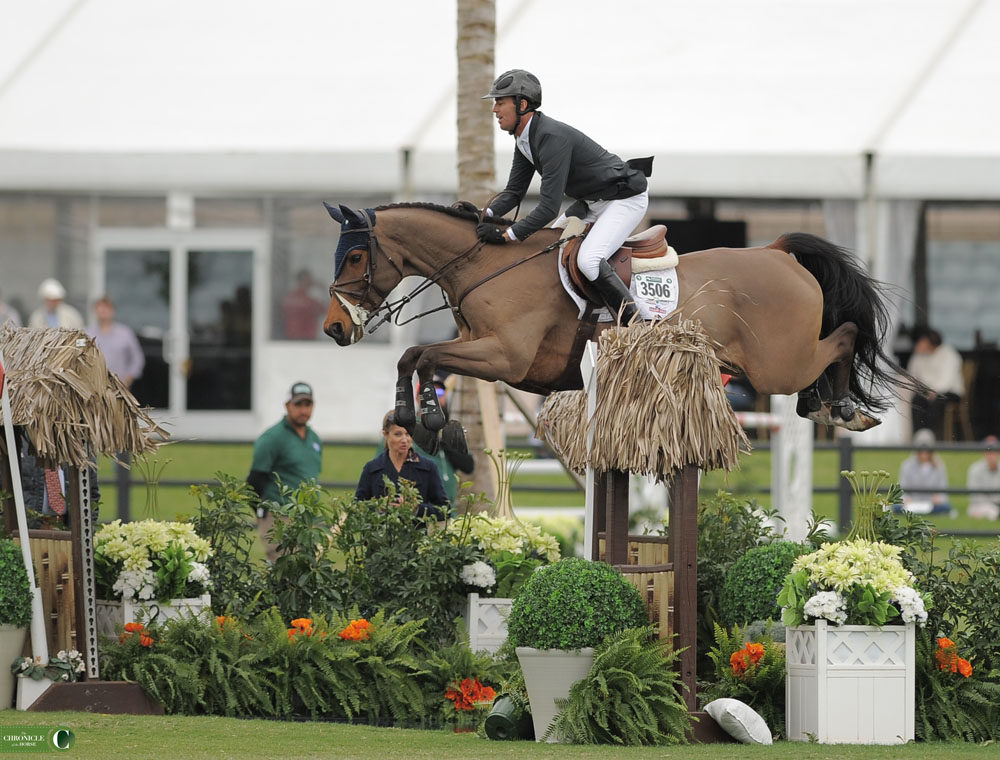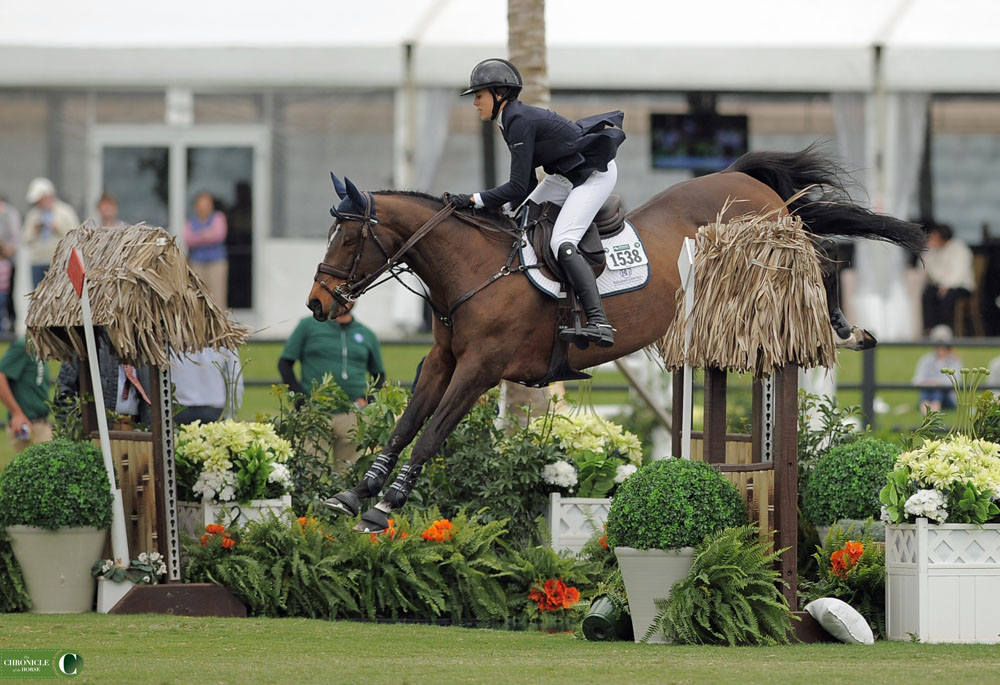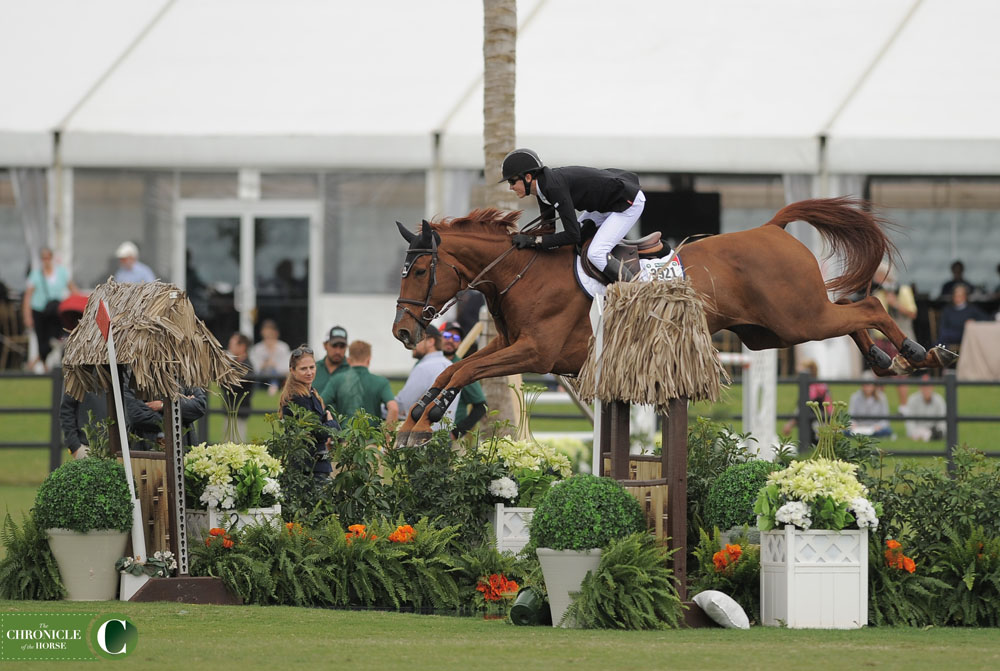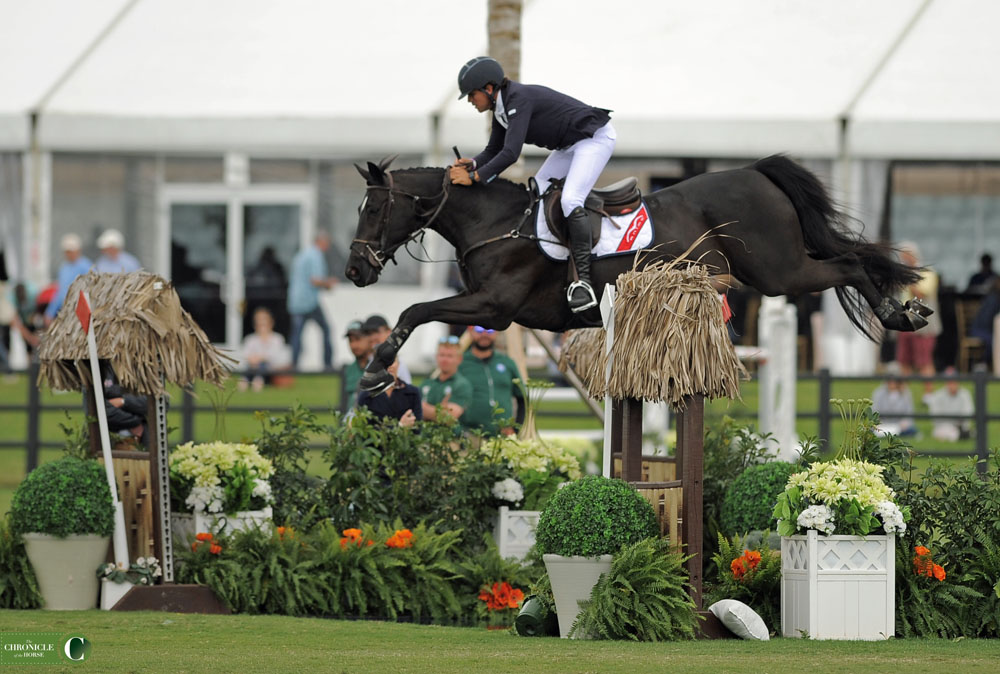 Click here for full results.