Heather Morris and the Trakehner gelding won the CCI* last year—and returned to win the CCI** this year.
When Heather Morris purchased Genial in the spring of 2006, he'd had some specialized training in dressage and show jumping.
Originally imported from Germany by show jumper Pato Muente, the Trakehner gelding was then sold to eventing's dressage guru, Olympian Mara Dean. Morris purchased him from Dean, through Liza Horan.
And on Nov. 1-4, Morris put all three phases together to win the Galway Downs CCI**, in Temecula, Calif.
"He's my kind of ride," said Morris, 28. "I didn't have the best time on him in the beginning; he needed someone tough because he was a little difficult and stopping. But I grew up on a horse that stopped a lot and kind of know how to ride the tough kind."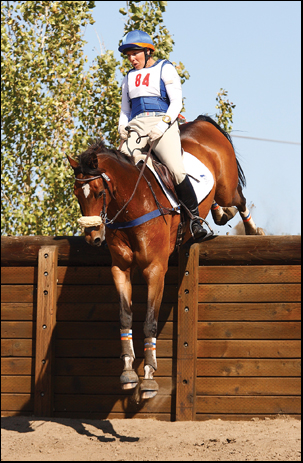 Morris said the 8-year-old, owned by Kambala Land LLC, can also be spooky. "But his flatwork was great, and he'd done the 4'6″ jumpers," she said. "To have a horse with scope, to have an issue to work with is just a little project. It didn't worry me too much."
Morris won the dressage at Galway over 24 other horses in her division on a score of 46.3. "He's just lovely on the flat; Mara has done such a great job with him," said Morris. "His head was there, and the atmosphere didn't get to him. I had a lot of fun in there riding him that day."
Adding 1.6 time penalties for finishing 4 seconds slow on Ian Stark's cross-country course didn't threaten her lead, since second-placed Nicholas Cwick also incurred time penalties, dropping to third.
"I loved what Ian did [to the course]," said Morris. "There were not a huge amount of changes, but I loved that the big questions came in the middle of the course and the end was just to get the horses home. The last minute was all let-up fences."
Morris said Genial did get tired as he galloped around the sandy course. "He doesn't really have the stamina to go 8 minutes; in horse trials 6 minutes is long for him," she said.
As a result, she worried about the second water, as well as a bounce bank combination with a one-stride at the top. "I knew if he was tired there, he'd have to reach to make the second bank and not make the one-stride," she said. "I realized he was tired and had to take the option."
She also took the longer option at the second water. "He jumped in so big I was off my line coming out," she said.
Morris had been having steering problems with the hackamore she'd been using cross-country, so she tried a double bridle for a while, but that didn't make him happy either. So she was relieved to find that going back to the hackamore did the trick this time.
Morris was thrilled with Genial on Sunday in the show jumping, where he produced a double-clear round to win by more than 6 points over Leigh Mesher on Mar De Amor.
"He was awesome in show jumping; he tried his heart out," she said. "It was a good-sized track, and he was just amazing."
For Morris, who works for Mike Huber in Texas, the win was the biggest of her career. Near the California town she grew up in, Galway Downs seems to be a lucky event for Morris, who won the CCI* with Genial the year before.
Although wildfires swept southern California the week before the event, Morris kept in contact with her parents, who live 15 minutes from Galway, about the severity of the fires in that area. "I wasn't too worried about [the fires]," she said. "You learn to deal with them, as long as they're not too close."
Morris doesn't plan on moving Genial up to advanced in the near future. "He's still learning to do intermediate," she said. "It's taken me all year to get the success we had [at Galway]. It's been a little tough, but all three phases finally came through."
High Hopes
Tiana Coudray found her Galway Downs CCI* winner as a 4-year-old, but it's no accident that she chose him. Ringwood Magister is by Master Imp, also the sire of Coudray's advanced horse, King Street. She imported Ringwood Magister from Ireland.
At Galway, Coudray was pleased to stand second to Kristi Nunnink and R-Star after the dressage in the short-format CCI*.
"He's really good on the flat, but he has a lot of blood in him," she said. "I was just trying to keep him settled in the ring."
Coudray, 19, of Carmel Valley, Calif., enjoyed Stark's cross-country. "It was a lot of riding forward and jumping big jumps," she said.
If anything, said Coudray, show jumping has been her horse's weakest phase, so jumping double clear to take over the lead on the third day was a thrill. Nunnink dropped two rails and finished fifth.
"He's difficult between the fences so I've been playing with different bits and bridles to keep him balanced," she said.
She settled on a double bridle with a figure-eight noseband. "He's very sensitive, but when he gets disorganized, you need that curb," she said. "He has very long legs and doesn't always keep them working on one body."
Next year, she hopes to move him up to the two-star level. "He's a very good-looking horse," she said of the 6-year-old dark gray. "Everything is how you'd like it to be. Everything has worked well together; he is so balanced."
As a working student for Derek and Bea di Grazia, Coudray attends school over the Internet. She and "Finnian" also won the one-star at Twin Rivers (Calif.) this year.
"I have really big hopes for him; he has everything he needs to be an upper-level horse," she said.
Coudray chose not to enter the long-format CCI*. "I didn't think he needed the extra chance of getting hurt," she said. "I feel like I really need to save this horse, and I didn't want to take the risk."

Worth The Drive
Therese Washtock drove 40 hours from Summerland, B.C., and it paid off with a victory on Chesterland in the long-format CCI*. Her perfect round moved her into the top spot when overnight leader Max McManamy lowered one rail and had 1 time penalty on Beacon Hill.
McManamy won the award as the division's top junior/young rider, and Beacon Hill won the fitness award. Galway Downs was the second long-format CCI* Washtock, 43, has contested on Chesterland this year.
"He's mostly young and mostly green, and he had an absolutely fabulous cross-country round in the one-star I did at Rebecca Farm in Montana in July. And it's been hard to replicate ever since, so I thought I would try itagain," said Washtock. "And this was the best steeplechase ride I ever had."
Washtock bred Chesterland, 8, and she also bred his sire, Another Wild Night. She'd hoped to develop her own breeding program by standing Another Wild Night at stud, but in the year after Chesterland was born, none of her six broodmares conceived, and the stallion developed fertility problems. So she gelded Another Wild Night.
"I call Chesterland 'the immaculate conception,' " she said with a laugh.
Washtock, a former Olympic rider for Canada, said that Galway Downs is an important competition for her and other Canadian riders: "I have to come to events like Galway Downs to keep my skills sharp enough to be competitive, and by the influence of Ian Stark's cross-country design, we get a taste of what we'd find if we were competing in Europe."
Beth Rasin