Rookie professional Angel Karolyi scores his first grand prix win with the renowned Galant.
Though riding a well-seasoned and well-known horse, Angel Karolyi didn't let the pressure of that fact affect his performance during the Aiken Spring Classic Masters.
Partnered with McLain Ward's Galant, Karolyi emerged as the winner of the $25,000 Aiken Spring Classic Masters Grand Prix, held in Aiken, S.C., April 27, also marking his first grand prix win.
"I'm absolutely going to keep showing him now. He's one of my top horses!" Karolyi said with a laugh.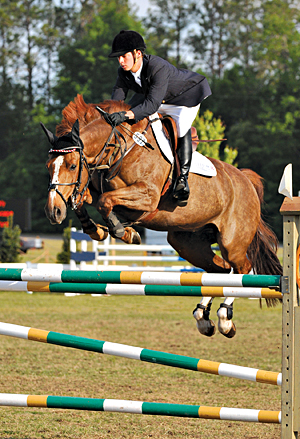 Originally born in Caracas, Venezuela, Karolyi, 21, was raised in Monterrey, Mexico, where his family owned and operated a breeding farm. A student at the University of South Carolina-Aiken, Karolyi was introduced to Andrea King of Millstream Inc., and immediately jumped at the opportunities she offered, especially the chance to ride Galant.
"McLain sent him to us to have fun with him and retire him," Karolyi said.
"I was fortunate because Andrea is good friends with him, and she helps me find horses to ride."
The 16-year-old Galant, whom Ward rode to top ribbons at shows such as the Hampton Classic (N.Y.), the Pennsylvania National and the Devon Horse Show (Pa.), wasn't an easy adjustment for his new rider.
"He's definitely tricky and difficult," Karolyi said. "His jump is phenomenal, and he's very careful. He knows what he's doing."
Karolyi showed Galant during the winter circuit at HITS Ocala (Fla.) and had the opportunity to work with Ward, who competed at the Winter Equestrian Festival (Fla.) a few hours south in Wellington. "He gave me great advice with figuring out how to ride him across the ground, always keeping my left leg on him and using my right rein," he explained.
With Ward's advice and King's training, Karolyi and Galant quickly moved up from the level 4 jumpers to mini-prix classes and later began contesting the grand prix ranks. After placing second in the $25,000 Cherry Blossom Grand Prix at the Atlanta Spring Classic (Ga.), Karolyi felt confident to win when he arrived in Aiken.
Even though his rides aboard King's Sea Cloud 2 and Paxton Mendelssohn's Noble Carthago resulted in rails in the first round, Karolyi returned to the ring and was determined to have a clean round with Galant.
"After the first two, I thought, 'I'm riding good but not good enough,' " he said.
Even with the slick footing from the rain showers earlier in the afternoon, Galant never faltered through each of Karolyi's demands. Watching Daniel Geitner and Hardin Towell turn in fast rounds before him, Karolyi knew it was going to be a close jump-off.
"I went in to win. Daniel, Hardin, they're really fast riders, and both of them were very fast and clean," he said. "It was a win or lose situation for me—even with the footing, it was a really fast jump-off."
Karolyi's game plan paid off, as he turned in a time of 41.79 seconds, shooting him to the head of the class. Towell, riding sister Liza Towell-Boyd's Rockefeller, finished in 43.92 seconds and Geitner rounded out the top three on Sympa in 44.65 seconds.
"It's been only four months, but a lot of good things have come with him," Karolyi said of Galant. "I have a lot of goals, and I've been meeting smaller ones. I want to go to the top and give everything my best effort. Andrea is helping me with that."
A Challenging Victory
Finally Farm's Liza Towell-Boyd isn't new to winning, but taking the top call in the $10,000 ASG Software Solutions USHJA International Hunter Derby did mark her first derby victory. Aboard Roger and Jennifer Smith's Castello, Towell-Boyd topped both rounds to pull ahead of Gary Young's two rides, Torch Song and Colorado, in the featured hunter class of the Aiken Spring Classic Masters, April 23-27.
"I've never done something like this before, so it was great they sent him to me just for one class," she said. "He was great, and the second round was a blast!"
Castello (Cassini I—Toccada), an 11-year-old Holsteiner, has been Towell-Boyd's partner in the past. The
pair successfully competed in the first year green division, and Towell-Boyd also won the prestigious Kathryn G. Clark Challenge of Champions at the Blowing Rock Charity Horse Show (N.C.) in 2005.
"I knew he would step up to the plate," she said of the gelding. "You have to have a horse that has some experience…he did lose some focus when he would pass by the bank, but he picked right up and went for it."
Towell-Boyd earned scores of a 90 and 95 in the first round for tackling the challenging options, including inside turns and long gallops to fences. Watching Young return in the second round, she knew she was going to have to turn in a flawless performance to stay at the top.
"My plan kept changing since I had to go last," she said. "Gary went all for it and had nothing to lose. He galloped straight up the gate, opened it, and galloped away. He did everything so excellent, I knew I was going to have to be sharp."
Young received the maximum 10 bonus points for his bold efforts, including tackling the bank jump. Towell-Boyd opted for a different route and chose the post-and-rail fence instead, which she deemed much trickier. "That option was hard because the split rail comes down easily. I knew since I didn't jump the bank I was going to have to go faster and take tighter turns," she said.
She didn't receive as many bonus points as Young, but the 8 added to her second round scores of an 85 and 94 secured the win. She didn't believe the victory was sealed, either.
"I felt like everything was good, but you don't take a deep breath until you hear the final score," she said with a laugh. "Gary made me work!"
Young finished second with Torch Song and third with Colorado.
With more than 30 starters in the class, Towell-Boyd felt honored to win for Castello's owners, who are based out of Tryon, N.C., and Wellington, Fla.
"Roger and Jennifer had a lot of fun watching the class. It seems like something people thoroughly enjoyed," she said of the exhibitor party accompanying the class. "I think it's a great idea that people have come together and are doing this. I'm definitely going to be looking at the schedule to do more."
Ribbons Throughout The Ranks
Adding to Finally Farm's accolades, Molly Gardner won the small junior, 15 and under, championship with Georgetown. Though she didn't compete in Florida during the winter circuit, Gardner didn't miss a beat when she returned to the show ring in Aiken, winning two of the over fences classes for the tricolor and the junior hunter classic.
"Grace Socha showed him [Georgetown] down in Wellington, but he didn't make it back in time for any of the Atlanta shows, so last week was our first time back together," Gardner explained.
Georgetown (Lancelot—Vina), a Dutch Warmblood, was purchased by the Gardner family from Shane George during the Winter Equestrian Festival in 2006. He originally showed in the first year green division with Erynn Ballard before Towell-Boyd took over the reins and continued competing the gelding while Gardner showed in the children's hunters. Six months later, Gardner moved up to the juniors.
Gardner, 15, cited Georgetown's "adjustability" for her consistent rounds. "He can go to the long one or he can jump from the deep one easily. He's got a long stride, but he's also very flexible," she said.
"It was great because the junior hunters showed all week in a field, so they got to open their strides between the jumps. It's a really fun show for the kids," Towell-Boyd said of her students.
With the help of the Towell family, Gardner also shows her other two large juniors, Orient and Fiyero, who was Towell-Boyd's winning partner in the $42,800 AHJF Hunter Classic Spectacular during WEF.
Though her three horses are different, Gardner's overall goal is "to be prepared to ride each one with precision."
Riding since she was 7, Gardner began competing on the circuit when she was 10 in the medium pony division. She made the jump to horses when she purchased Orient two years later. He's remained one of her favorites of the three she rides.
"For Orient, it's more equitation, while Fiyero it's trying to be graceful," she said. "Georgetown, he's the most different because he's smaller, so I have to switch my eye."
Based in Charlotte, N.C., Gardner commutes to Camden, S.C., each week to ride Georgetown and Fiyero.
"Liza trains me and Jack [Towell] trains me, so it's great. I love the family atmosphere with them," she said. "Both Liza and Hardin get on our horses and ride them, so they can let you know their weak sides. They all have their different ways of explaining things and showing me how to improve."
She doesn't make the two-hour commute alone, either; Gardner is joined by her two sisters, Maddie and Anne, who show in the children's hunter and children's jumpers, respectively. During the week, the sisters train with Jason Schlotterback of Finally Farm North, outside of Charlotte.
Beth Johnson