Lexington, Ky.—Nov. 10
The walk from the barns to the Alltech Arena at the Kentucky Horse Park can be a daunting one. You're at a national championship and the indoor ring is known for having a lot of atmosphere—add in sub-zero temperatures and a pitch black sky and it's become a lot harder.
But Melanie Montagano knew that Ga Deva was bringing her A game for the U.S. Dressage Finals.
"I'm walking her down here, and it's dark," said Montagano, "And it's freezing. It's like 27 degrees out, and she's walking so fast and so determined, and I said to my mom, she is laser-focused. She has a game face."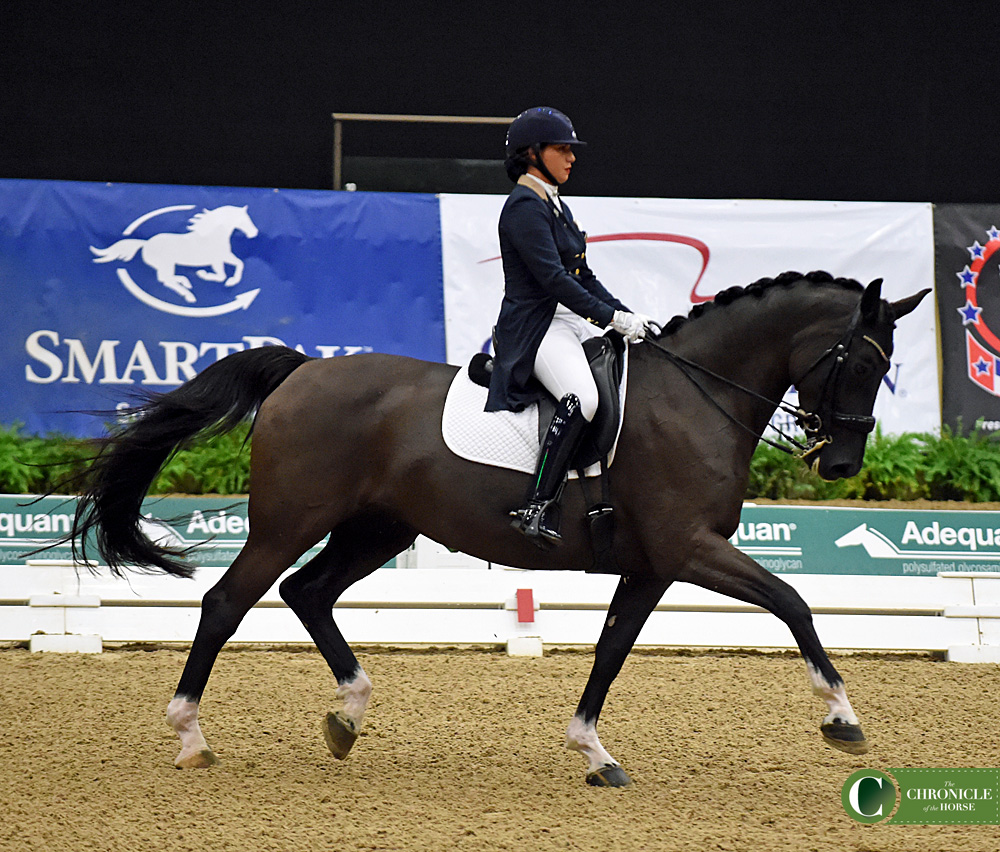 That lazer focus paid off when the pair earned a 65.30 percent in the open Grand Prix championship to take the win over Laura Noyes-Putnam and Galveston.
It helps that Montagano knows her 17-year-old Dutch Warmblood by Gambol so well. She purchased the mare as a 6-year-old, and they've achieved every major goal together: bronze, silver and gold USDF medals, junior, young riders and the Brentina Cup.
"It's a journey for sure," said Montagano. "It hasn't been a smooth ride all the way, but she's amazing. She's my soulmate, so I wouldn't change anything about it. The hard times and the difficult times only make this moment really special."
Montagano, 26, is a newly minted professional. She got her undergraduate degree in pre-veterinary science, and worked for a feed company for 1 ½ years before turning her focus to building her training business just a month ago.
"It's hard in Wellington [Fla.]," she said. "You're one of many fish in a pond, so I'm not discouraged yet. After this hopefully that boosts me up a bit. I want to do the CDIs this year. We'll see after a couple months. For any young professional there's always a bit of a challenge, but we're not giving up."
Combining Work And Play
As a small animal veterinarian, it's not often that Kristy Truebenbach Lund gets to completely focus on her horses. Even though she's 1,000 miles away from the practice she operates with her husband Scott Lund in Boca Raton, Fla., she's still taking work calls and answering emails in between her championship rides.
"I'm very lucky to have a wonderful husband] that fills in for me," said Kristy. "He goes to work early when I go ride, and then I do the late shift. I've gotten really used to technology to view x-rays and videos, so a lot of it can be done long distance."
Despite the hectic schedule, Kristy pulled out her second win of the finals with Akvavit. Yesterday they topped the adult amateur Intermediaire II, and they followed that with a win in the adult amateur Grand Prix on a score of 64.80 percent. They have one more chance at a tricolor tomorrow in the Grand Prix freestyle.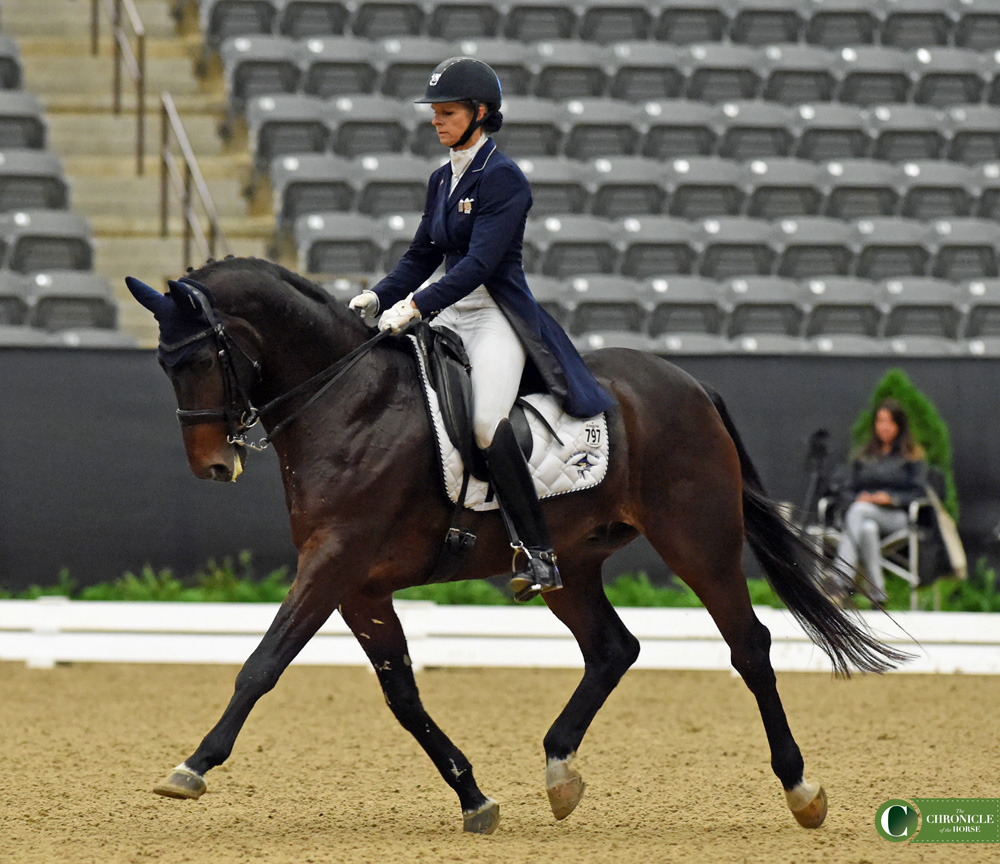 Kristy paired up with the Spanish Warmblood (Silvester—Onni) back in 2011 when he was still doing third level. They've attended the finals twice before, but this year marked their first victory.
Despite the win in the Intermediaire II yesterday, Kristy still felt the gelding was a bit too hot, so she took a new strategy going into the Grand Prix.
"I got up really early and rode him this morning, even before I had my coffee," she quipped. "That seemed to help take him down a notch where I could finally get him to focus. I feel like I now finally have that connection where I can let him go but I couldn't get that yesterday because he was so hot in the indoor. Today I got that during the ride so he was listening and he was doing everything he was supposed to. We had a couple of rider errors but otherwise he was phenomenal today."
Custer Rides A Whirlwind To An Emotional Win
When Lehua Custer entered the ring on F.J. Ramzes, she felt like she had someone special looking after her. Custer's trip the U.S. Dressage Finals has been a bit of a whirlwind. She didn't planning on going to regionals or finals, but through the encouragement of some supportive friends that helped her raise enough money to send Ramzes east, she made the trip.
Then shortly before she was supposed to fly out to Kentucky, life threw her a curveball. A longtime friend and client Ambra Bisconti passed away unexpectedly.
"I want to dedicate this to her," Custer said through tears. "It kind of put a damper with things, but I felt her with me this whole time. She was supposed to come and cheer us on. So that was tough, but we kept going."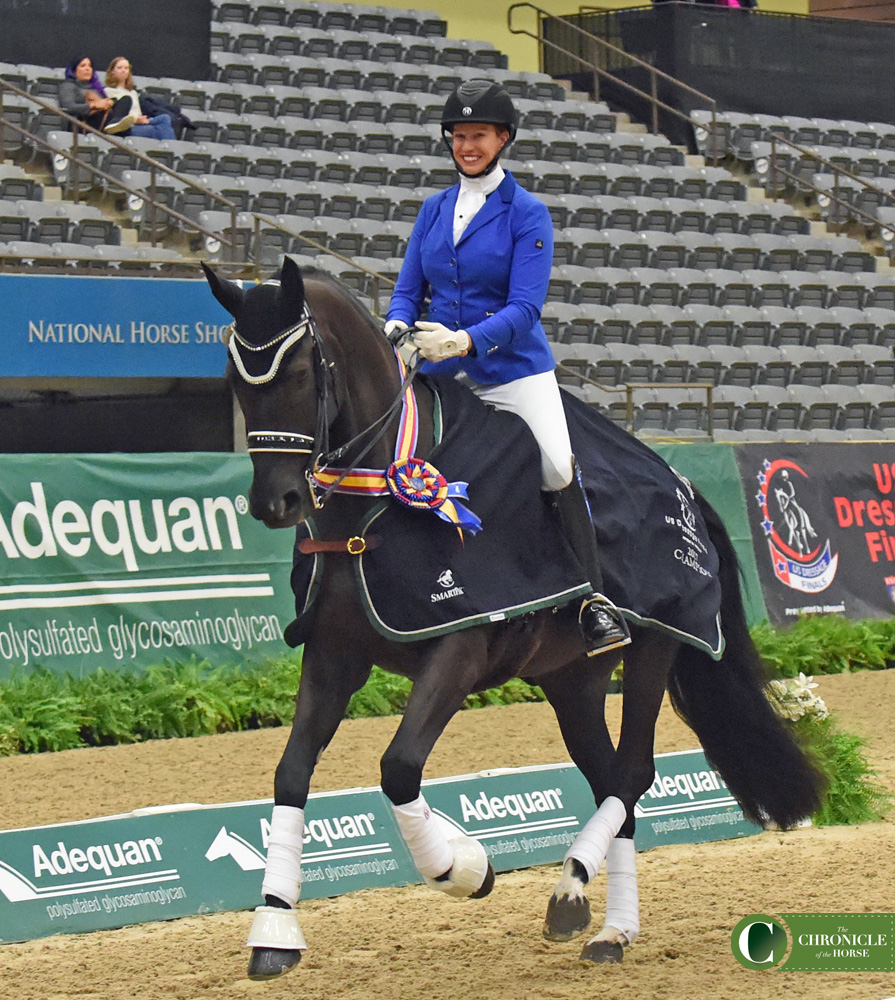 With the emotional strain of losing a friend and the whirlwind of attempting to get a trip to Kentucky organized on short notice, Custer wasn't sure how things would pan out, but Wendy Sasser's 7-year-old Dutch Warmblood gelding (Juventus—J. Rambiance) came through, winning the third level open championship on a 72.99 percent on a blustery, cold morning at the horse park.
"I couldn't feel my fingers," said Custer, who's based out of North Hollywood, Calif. "My coach came to warm me up and kept telling me to half halt, and I had no idea if I was or not. We think under 65 is pretty cold, so this was a surprise. The class was a draw from 8 from 11:30 [o'clock] and all of us from my group were praying for that 11:30 ride. I got 9, so the sun was just barely peeking through, and we were frozen, but he came through for me. He was a bit frightened of the warm-up with all the horses, and once we got him to the show ring he knew his job and I rode most of the time."
(You can read more about Custer and Ramzes here)
Other champions today included: 
Adult amateur Intermediaire I: Elma Garcia and Wenesa (68.99%)
Open training level: John Mason and Savannah SWF (75.07%)
Adult amateur fourth level: Maia Barnes and Bevica (69.88%)
Adult amateur second level: Casey Blum and Eschaton (70.84%) 
Open Intermediaire I: Heather Blitz and Praestemarkens Quatero (70.87%)