The demonstration riders and more than 160 auditors took quite a bit of knowledge away from the Adequan/USDF FEI-Level Trainers Conference West, March 14-15 at El Sueno Equestrian Center in Somis, Calif. One of the sport's top dressage judges, FEI Judge General Stephen Clarke, was joined by FEI five-star judge Lilo Fore to lead the conference.
The eight accomplished trainers and competitors chosen as demonstration riders were mounted on horses that varied from 5-year-olds aimed at the FEI Young Horse competitions to a Pan American Games horse.
Clarke, who has officiated at four FEI World Equestrian Games and two Olympic Games, specializes in developing young professional trainers. He introduced his plan for the two days of test riding and coaching by pointing out that few horses are without weaknesses, calling out Valegro as an exception. And those horses with few mental and physical weaknesses must also still have correct training to earn medals.
On the other hand, most horses have far more potential than we bring out, he noted. "A rider and trainer likely will put limits on the potential by compromising in the training," Clarke said.
Riders will either hold the horse in a balance instead deal with a runaway problem or continually kick while the horse ignores the aid and is on the forehand, behind the leg and supported by the rider's hands. In dressage, this way of going will not bring high marks. "Reaction must come first, and only then can you develop rhythm, balance, thoroughness and even suppleness," Clarke said.
Further, he pointed out that even training that does not limit the horse's potential is not always carried through to competition. "Riders go to a competition to win and to produce the best at the stage they are at. Yet we've all won gold medals in the warm-up arena," he said.
"There is no one I respect more than Stephen. He is one of the most decent people I have met in my life," said Olympian and FEI four-star judge Charlotte Bredahl-Baker, who rode in the conference. "He is an incredible human being, a team player, classy, and always thinking of the riders, the horses and the sport."
Clarke's humanity showed through with each rider when he expressed appreciation that they brought their horses to him and was not hesitant to demonstrate enthusiasm for their progress.
Today's article will cover the lower level horses in the event ridden by Amelia Newcomb, Cyndi Jackson and Sarah Lockman. Tomorrow will follow up with higher levels ridden by Sandy Savage, D'Re Stergios, Bredahl-Baker, Sabine Schut-Kery and Jan Ebeling
Newcomb, of Simi Valley, Calif., brought her own Gatsby (Sir Donnerhall x Jazz) looking forward to Clarke's view of the FEI 5-Year-Old test, which he explained is designed to assess the quality of the horse and the elements that will allow him to develop to his full potential.
Fore added that in these tests the judges want to see the desire to go forward. "The horse should be proud and go forward in a nice energy and even connection. We want to see the canter is adjustable and collectable which is important for the future," Clarke said.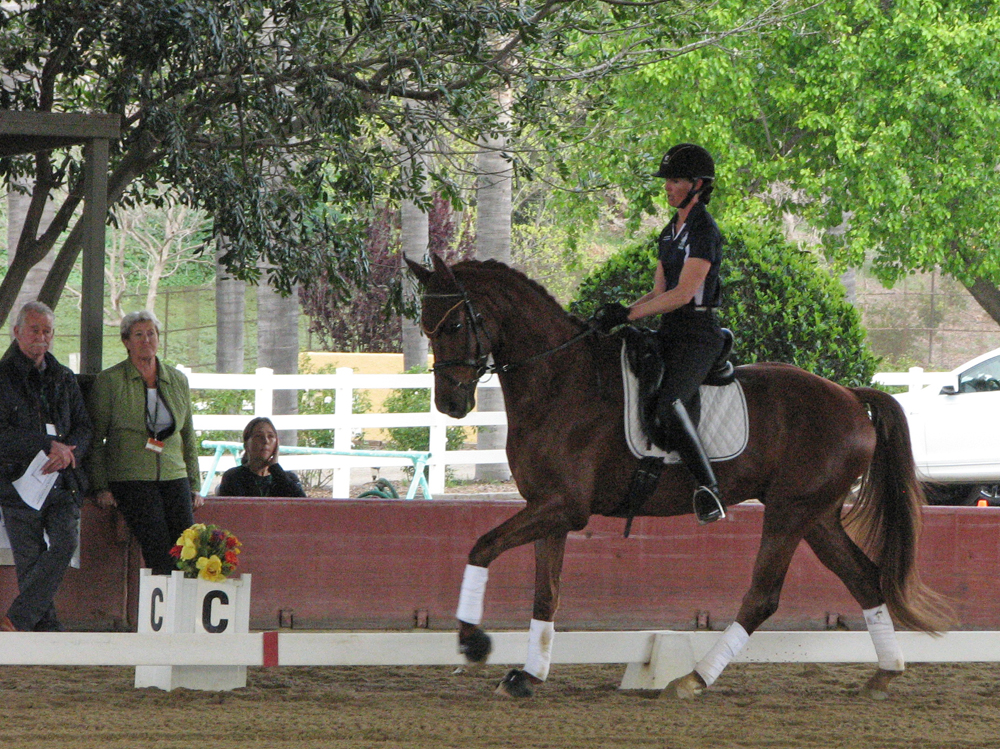 Amelia Newcomb on Gatsby
With eyes on training the young chestnut herself to Grand Prix, Newcomb won praise from Clarke for her seat. Gatsby was admired for his natural walk, "not exaggerated overstep. We want our judges to reward natural, correct movement," said Clarke, who suggested that she could improve shoulder freedom in the walk by improving overall suppleness and engagement. More importantly, while the horse's rhythm and tempo was "absolutely correct," Clarke was concerned that she was holding Gatsby into position to the inside. He preferred that the horse react to her leg bay moving his inside leg to the outside rein to improve suppleness.
The second day for the tall, lanky Dutch Warmblood started out testing if he was supple and stretching over the back, "so you know if there are limits," Clarke said. He provided exercises to teach the horse to fill up the hollow side by moving off the left leg and going into the right rein. "When he is a Grand Prix horse, you will still have to look after the left side, but none of us will be able to see it."
Riding Schuttler Stables' Sir Amour, by Sandamour, who was recently purchased at Germany's PSI Auction, Jackson of Glendale, Ariz., recalled having ridden with Clarke when she was 12 and a demonstration rider in a new test symposium.
The handsome black gelding impressed the audience with his energy, elasticity, and natural, unforced impulsion. "He makes you look at him and think, 'Wow!' " said Clarke, who expects more in the future from the 5-year-old. "You need to think of all horses as future Grand Prix horses so that you be sure the basic training is correct. Otherwise, you limit the horse."

Cyndi Jackson on Sir Amour
After Sir Amour and Jackson performed the FEI 5-Year-Old test, Clarke and Fore commented on the horse's tight back. "He needs more confidence to take you forward. He needs to keep the shoulder up and the nose out. He seems not sure about what he should do," said Fore.
As a result, the pair worked on keeping the poll up with a more even contact and a slightly longer rein to allow the nose out, and exercises to develop uphill carriage with confidence.
Clarke suggested in the canter lengthenings to bring him back in shoulder-fore. "Correct him and then you leave him alone when you can—that's training," he said.
As he asked all the riders at the end of their sessions, Sir Amour was to stretch forward and down, but only as much as he would stay in two reins. "He would rather drop the contact so he does not have to use the back muscles as we want," said Fore, who even suggested letting him have a "friendly pull on the reins." Seeking the contact is what will build the bridge between the hind and the front.
The effect of the session was quite apparent when the horse returned the next day with better uphill carriage, open in the throatlatch and with better relaxation over the topline. After a stretch, Clarke said, "To me that's super basics. You watch the big ones; they do this kind of thing. They check that the horse is relaxed mentally and physically, they stretch, post. In the warm-up they are not checking if they still have this or that movement. The horses need to either stretch through forward and down, or be up in the bridle. I call in between the halfway house mode and it makes me crazy."
As with Newcomb, he asked Jackson to slightly change the positioning from one side to another while she rode counter-canter down the long side. Always looking to the future, this acted as preparation for flying changes. "I don't think we could see much better that these two young horses, showing they have a future," Clarke said.
Sarah Lockman of Foothill Ranch, Calif., had a challenging first day of the conference followed by a much improved second day aboard the 6-year-old Dutch Warmblood Floriana B. Lockman's partnership with Jae Chaney's gelding is new. "I'm thrilled. He is so smart. He learned he could go soft and forward. Some people said I was brave to bring him, but he is a future FEI horse, and we're going for it," Lockman said.
The gelding's issues were demonstrated with dramatic tail swishing, croup-high flying changes and a short left hind at the walk. By Day 2, the differences were remarkable. He moved straighter, much more forward and even-strided, and the tail had quieted considerably.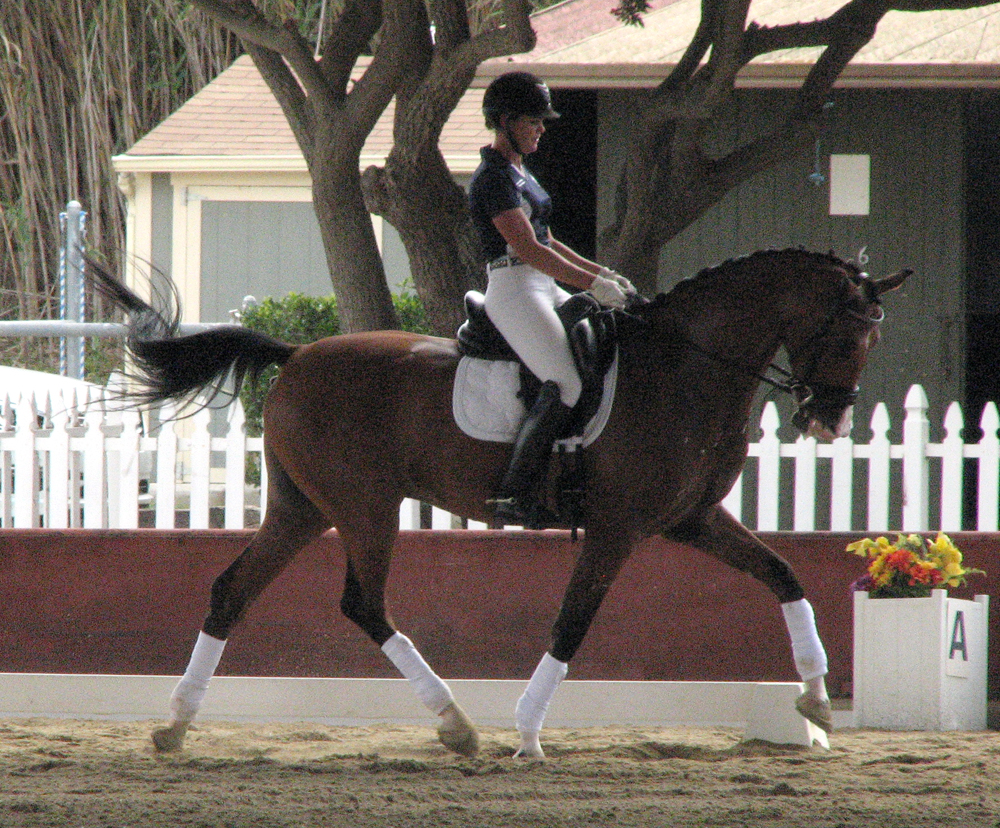 Sarah Lockman on Floriana B
"This is an athlete. You can see the potential," Clarke said. "But you can't take his balance onto his hind legs if he is not on the aids. First, he has to honestly react to the aids, and then be rewarded by relaxation of the aids. You can't slow him down or he will be utterly behind the aids. You can't be conned into pushing and shoving. If he is behind the aids, he has to react and when he does, you sit like a little mouse. Transitions are the name of the game. If he doesn't react, gallop. The mouse part is most important. Don't look for perfection. Look for honesty."
The two judges discussed how they react to tail swishing and teeth grinding during a test. Both look at these manifestations as symptoms of the horse's frustration. "If I don't see anything else with the grinding I don't mention it. But if the back is stiff or something else shows, I will mention it," said Fore.
"The score is the whole picture, not the tail swishing or teeth grinding," said Clarke.
During the question-and-answer period, Clarke addressed the horse's unevenness in the walk. "Regularity is No. 1, but loss of regularity comes from various causes. As a judge you have to differentiate between a training issue and a veterinary issue," he said.
In his customary polite and gracious manner, Clarke thanked Lockman for showing the "unfinished product" and ended the second day on a positive note. "Today he is keeping balance and engagement in transitions to the canter and not throwing his croup up. He has accepted many things. Good riding. The way you rode him doesn't allow him to be tricky and complicated," he said.
Tomorrow, check back at www.coth.com for a report on the upper-level horses and riders in the Adequan/USDF FEI-Level Trainers Conference West.