I came to Florida with Johnny half-heartedly on the market. At 8 years old he was showing proficiency at all the third level work and with talent for piaffe and pirouettes, and he'll be a Grand Prix horse one day, but as much as I adore him, Danny is the better horse. And being my own owner means sometimes having to make some tough choices.
So Johnny was on the market, with the acceptance that with one flying change that was still green, he didn't quite fit the mold of schoolmaster, and that at 8 years old he didn't fit the mold of young talent either. His perfect person would have to fit pretty narrow parameters—someone competent enough to bring a horse up, but wanting something just outside of the Cowboy Up For Teenage Misbehavior stage. And if he didn't sell this year as a baby third level horse, he'd sell in 2018 as a baby Prix St. Georges horse, and—to be frank—for way more money.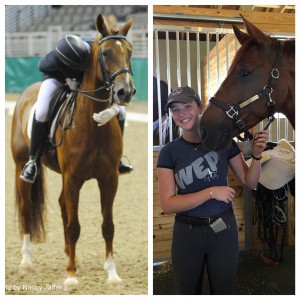 I also came to Florida dreading a choice I knew was on the horizon. Wonderful, stellar Ella has given me so much, not just in terms of competition achievements, but in terms of knowledge, in skills, in experience. But at 16 years old, wonderful gem that she is, we'd realistically gone as far as we were going to go together. And the wise choice was to put her on the market as well, while she still had more years to offer, to maximize her next person's time with her.
But I dawdled. I was too late to hit the first of the Florida season purchasing windows. I find that most people come down to Florida to shop for their next partner in the first two weeks of January, and in the last two weeks of March.
So when Ella hit the market in February, and most of what I got were calls from tire kickers, from people who strung me along only to announce she was too old (she didn't turn 16 all of a sudden, guys), or that Johnny was too tall (he didn't reach 17 hands all of a sudden either), or—my personal favorite—that they were looking for a horse that could piaffe 15 steps with no whip that had also never spooked in its life, and that required no veterinary maintenance. Good luck and godspeed, y'all.
By mid-March I was starting to panic. The reality of horse sales in the United States is that you can spend a fortune flying around to see one horse here and one horse there, and that there are two places in the world where it's convenient to see a lot of FEI horses at once: Wellington, Fla., and Europe. I was afraid that Ella would be a very difficult sale from Virginia, not because she isn't the most wonderful creature, but because a potential buyer from Omaha or Albany or Phoenix wouldn't want to get on a plane to DC to just see her.
But sometimes, the Universe works in mysterious ways.
A trainer I knew socially at best reached out to me about Johnny. She had an amateur client who'd ridden through her fair share of young horse nonsense, having evented as a younger person, and bought almost all of her life's horses at 3 or 4. She wanted to get to Grand Prix, and wanted to train something up, but didn't want to suffer through the baby horse stage anymore.
And oh, by the way, did I know of any horses that would be suitable for a Young Rider wanting to, one day, move up to U25s?
I got a little prickle down my neck. We set up times for introductions. Johnny was a rockstar, and they even got to see him sing his cheerful way through his third level tests, as well as calmly and reasonably work off the trailer at a venue to which he'd never been. Ella showed her young lady one tempis, piaffe and passage, all for the first time.
Vettings were scheduled. The inevitable silliness of a cosmic plan with a sense of humor made a guest appearance—Johnny had a close encounter of the thrush kind, and during Ella's pre-purchase exam, we kept blowing fuses at the barn while taking X-rays, and we had to take the second half the next morning at another farm.
But in the end, Johnny and Ella both sailed through their vetting, both by veterinarians described as "tough to impress," including this being said about Ella: "If you're looking for a horse at this age with better x-rays, good luck. In fact, she's got x-rays that would be great for an 8-year-old!" (A major hat tip to my crack veterinary team at Virginia Equine Imaging, and behold, the power of a great maintenance program!)
And in the final cherry-on-top—Ella's new mother, Eliza, will join me in Virginia for a few months as a working student, to learn Ella from the source, and to make a bid at the NAJYRC before returning back to New England.
In a world gone mad, in a part of this business I absolutely loathe—selling horses is my personal ninth circle of hell—I could not possibly have dreamed up a better situation for either one of my wonderful, darling horses. The matches are terrific. And I know that both Ella and Johnny will be cherished for who they are. Is there anything else we could want for our charges?
All this came very much just under the wire, as we begin the Mass Exodus back home with the first van load leaving this morning, then working student Lauren, the remaining three horses and I driving back Tuesday and Wednesday. But sometimes, wonderful things in life are worth waiting (and losing sleep, and stress eating every carbohydrate in South Florida) for.
SprieserSporthorse.com
Lauren Sprieser on Facebook