This story has been updated.
Switzerland's Martin Fuchs was rightly proud when standing atop the podium as winner of the Longines FEI World Cup Show Jumping Final in Leipzig, Germany, today. He came so close to clinching the trophy at the last Final in 2019, but finished second behind his compatriot and three-time champion Steve Guerdat.
"I've been a couple of times second in championships and you obviously have it in mind you could be second again with the best riders in the world coming after me today," Fuchs said.
But in the end he and the Dutch Warmblood stallion Chaplin were the only ones in the leading pack to stand firm in the closing stages. Over two rounds of tough jumping today, only three of the 30 starters left both courses intact. Fuchs was one of those, as was Sweden's Jens Fredricson, who finished third behind The Netherlands' Harrie Smolders who claimed the second step of the podium.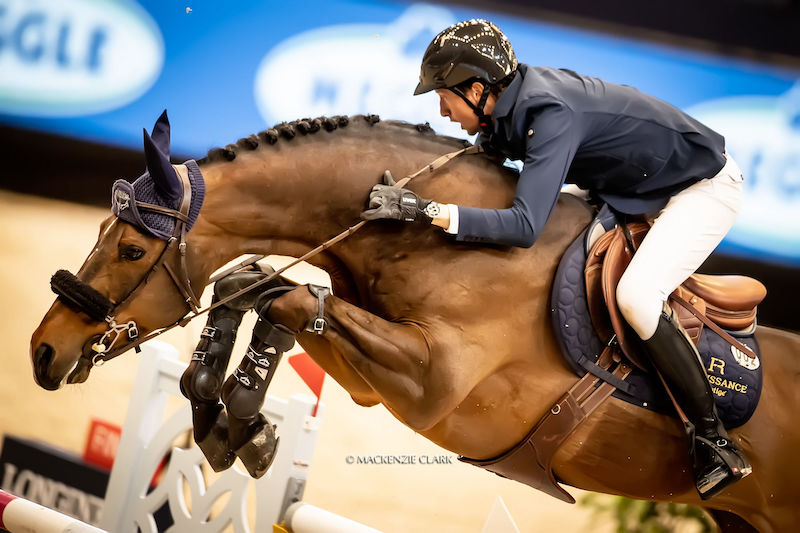 America's McLain Ward held the lead as the final day began, but a first-round error with Contagious left the 2017 champion vulnerable. He shared a 4-fault tally with Smolders as the second round got underway, with Fuchs stalking the two of them carrying just 5 faults into today, and on level pegging with young British star Harry Charles riding Romeo 88.
But a pole off the first element of the triple combination in the second round saw Charles lose his grip, and when Smolders' gelding, Monaco, clipped the following vertical, Fuchs quickly moved up the order.
Ward had no leeway now when last to go; any mistake would see his advantage unravel. When the 13-year-old gelding lowered the middle element of the triple combination and also the white planks three fences from home, Fuchs had it in the bag, becoming only the fourth Swiss rider in the long history of the FEI Show Jumping World Cup series to hold the trophy aloft.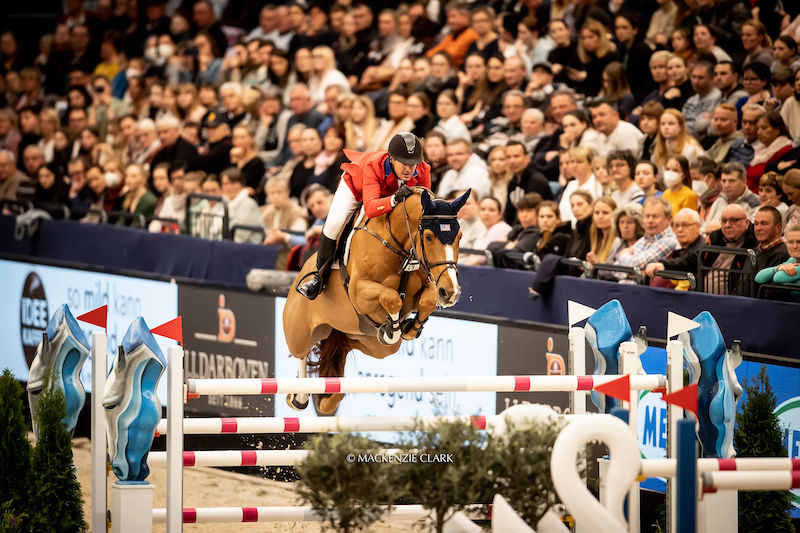 "It's really disappointing of course," Ward said. "I thought Contagious jumped great and unfortunately, he stumbled or lost his footing in the combination and fell through B, and after that when you're focused on winning, not much else matters. It's a sport of variables and he took a funny step and jumped too low, which isn't a normal mistake for him, but you know that's a part of the sport and it's unfortunate when it happens in that moment."
Fuchs rode Chaplin in Thursday's first competition but swapped for The Sinner in Friday's second leg. "After having a rail down on Friday I wasn't so sure I had made the right plan. But then I was still sitting in third place so I thought two clear rounds with Chaplin on Sunday and we'll be on the podium," he said.
"That I end up winning this prestigious and historical competition obviously is a dream come true. All the best of the best riders' names are written on this trophy and now to add mine is fantastic!" he added. He is the second member of the Fuchs family to win it; his uncle Markus Fuchs took the title with the brilliant Tinka's Boy back in 2001.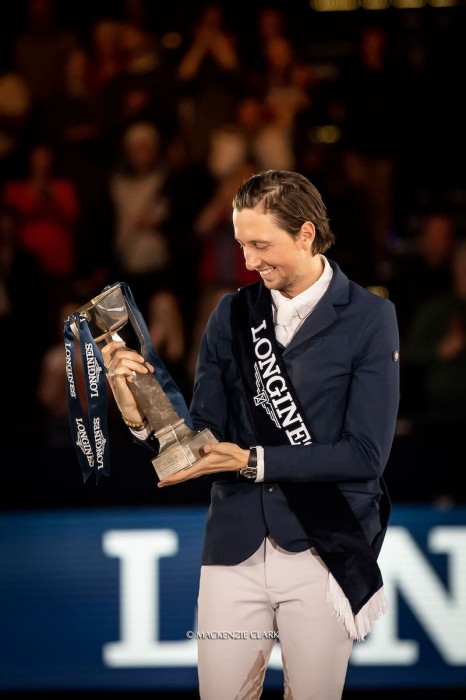 After losing the lead he'd claimed on Thursday, Fuchs said he was initially quite disappointed. "When I came out [of the ring] on Friday, I walked to the warm-up and was pretty upset, but then Steve said 'Congratulations, now you must win on Sunday after what you did today!' " he said. "In hindsight, when I looked at the video of my round I was very happy, though obviously I was a bit lucky that I ended the course with these 4 points. It was a good plan that Chaplin had two days of rest and came back today to produce two clear rounds."
Today was Smolders second time to finish in the runner-up spot; his last was partnering with Emerald back in 2016 when Guerdat posted the first of his three wins. But the Dutchman was delighted with his horse this afternoon. "This was his first championship and I wasn't sure how it would be. We knew he could do it one day, but over three days it's a totally different story. He was coping with it very easily so I think this won't be his last championship," he said.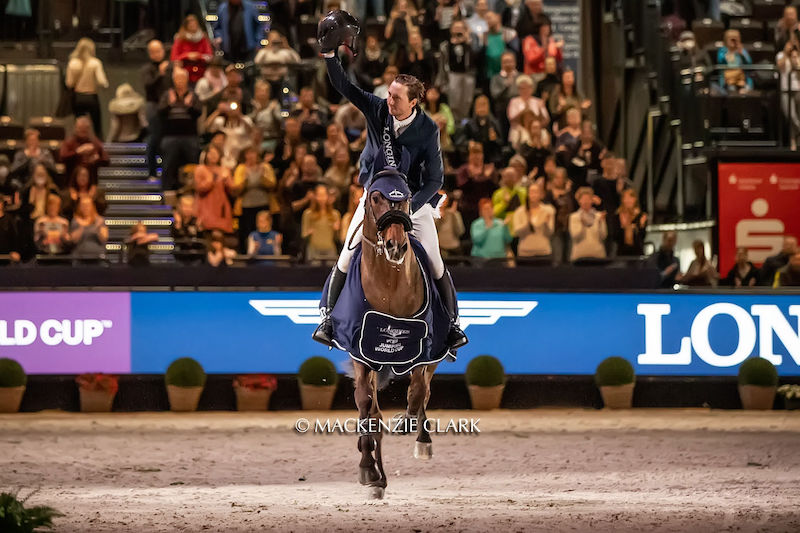 Meanwhile Fredricson also had plenty to celebrate. The older brother of Swedish phenomenon Peder Fredricson never touched a pole today, and although others may have been surprised to see him on the podium, he wasn't a bit surprised himself. He was lying ninth as the day began, and he and his horse, Markan Cosmopolit, were in spectacular form.
"I had great expectations actually and I enjoyed every second, it's fantastic to be here doing what I love!" he said.
He describes himself as a "hobby rider" but his résumé would suggest he's long been a serious contender with a lifetime of international successes behind him. "I work at Flyinge and Stromsholm, I'm responsible for the next generation of riding instructors in Sweden," he explained.
His last time at an FEI World Cup Final was on home ground in Gothenburg (Sweden) in 2013, and he admitted he's made quite a few changes to his riding style since then, partly due to the influence of his younger brother, Peder.
"I had the advantage of watching him going up to World No. 1. We talked almost every day, so even if I wasn't at the shows I was there mentally," Jens said. "I followed his thinking and his development and I tried to do the same things, and I've changed a little bit my approach to the fences and I now have a horse with very big scope. So I can sit a bit more still and have a better style. Before I used to throw my heart over and then we went over together; now when I look at the videos of my riding and it looks quite OK!
"I'm blessed that I have such good contact with my little brother. One of the most fantastic things in our sport is that I'm 55 years old and getting better every day. If I was running 100 meters I would be less good every day!" he said with a laugh.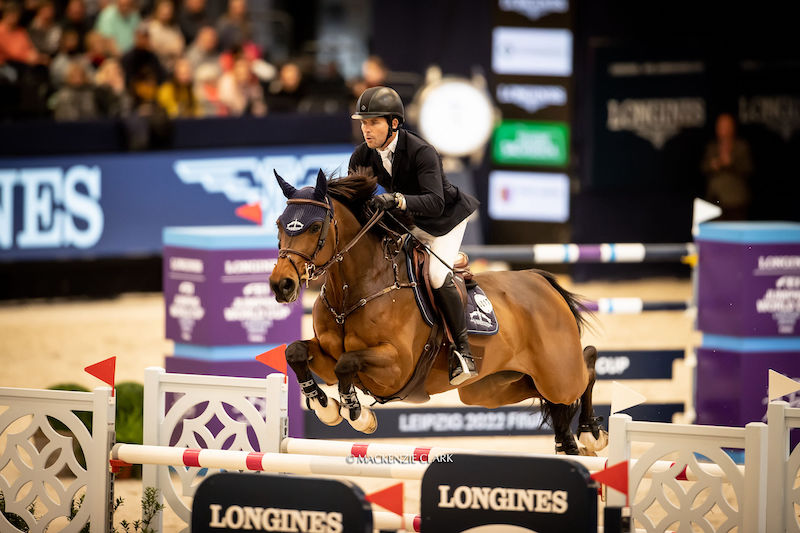 He also pointed out how great it is to see the younger generation rising through the ranks. "You want young riders coming up, there are some in their 20s like Jack [Whitaker of Great Britain] and Harry [Charles, also of Great Britain] and others. It's important to have positive young riders coming along with good horses, that's how the sport develops and gets better," he pointed out.
Fuchs of course is one of those, three months shy of 30 years old but already one of the very biggest names in the sport. Over the last five years he has rarely been off the podium at any of the majors, taking individual silver at the 2018 FEI World Equestrian Games (North Carolina), runner-up at the last World Cup Final in 2019 and following with individual European gold that same year before taking team gold and individual silver at the FEI European Championships in 2021. Today he topped all that by taking the trophy every rider treasures, the Longines FEI Show Jumping World Cup.
And he did it with the big, brave and charming Chaplin who he called "the horse of my heart!"
Many of the Swiss rider's biggest wins were achieved with his brilliant gray Clooney 51, who he described as "a superstar and the most talented horse I've ever had." But Chaplin is also quite special, he said.
"He is just the biggest fighter; he doesn't have the ability that Clooney has, but at the end he always gives everything," Fuchs said, adding that the 15-year-old stallion by Verdi TN started breeding last year and so he has just started receiving photos of his first foals.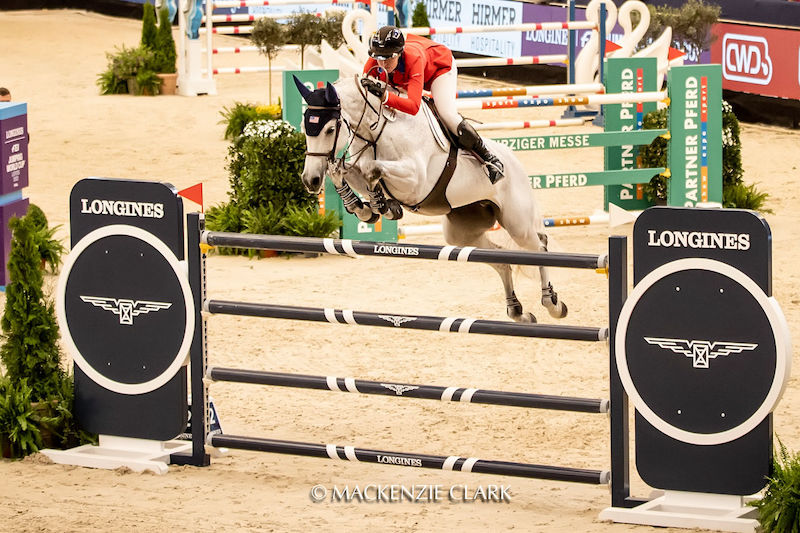 U.S.-based rider Conor Swail placed eighth for Ireland aboard Count Me In. Hunter Holloway also finished in the money aboard Pepita Con Spita, placing 16th. Aaron Vale placed 20th with Elusive, giving the U.S. three riders in the top 20.
As for the other Americans, Katie Dinan and Brego R'N B finished in 21st on 25 total faults, just ahead of Misti Cassar and Mylord Cornet who completed the weekend with 27 faults for 23rd place. Schuyler Riley and Robin de Ponthual took 24th overall on 29 faults, while Kristen Vanderveen and Bull Run's Prince of Peace finished on 33 faults for 27th place.
Alessandra Volpi and Berlinda produced a beautiful double-clear round on the final day of competition but were eliminated due to a trace amount of blood found on the horse's flank following their round.
Important Links: Schedule and results / All of the Chronicle's coverage / live stream (paid subscription)