If you were a horse-crazy kid whose savvy parents figured out that barn time could be a potent bargaining chip, then you know exactly why it makes sense to pair horses with reading in an effort to improve childhood literacy.
Instead of promising time in the saddle in exchange for doing chores or finishing homework, Saddle Up and Read, based in Wendell, North Carolina, uses horses to encourage children—especially those of color—to get interested in reading. Its founder, Caitlin Gooch, 28, a self-described Black cowgirl, grew up on her family's horse farm in Wendell and knows about the magnetic draw of equines firsthand, as well as the paucity of opportunity for children of color to interact with them.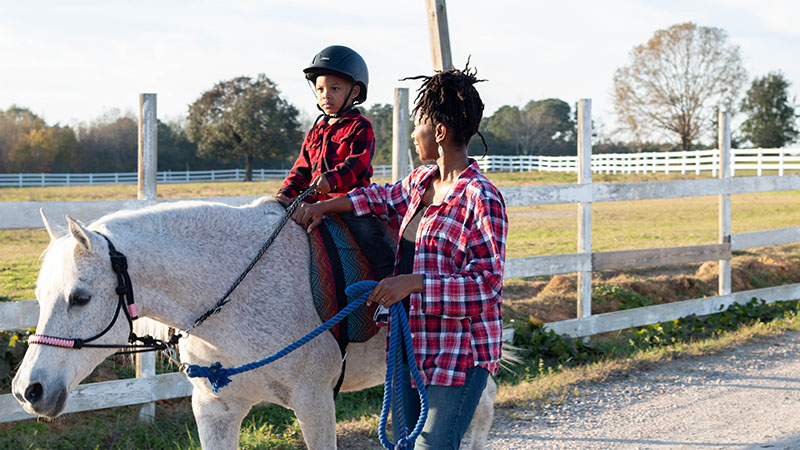 The idea sprouted in 2017, when Gooch, who was working at a Boys and Girls Club as an educational coordinator, noticed how some children struggled with reading, routinely failing simple spelling tests.
The kids were all mesmerized by the photos of horses she showed them on her phone, so she used the horses as an incentive—if kids did well on their spelling test, she told them, they could come to her father's farm and see the horses.
It worked.
"I just had to think outside the box to make [reading] seem fun," Gooch says. The excitement about meeting the horses made the learning process seem less like a chore.
After that, Gooch started looking at literacy statistics, and she was heartbroken by what she found. In her own community in Wendell, statewide in North Carolina and across the country, Black children consistently lagged behind their peers in literacy rates, which were already poor in North Carolina, where only about two-thirds of fourth-grade students had partial mastery of reading skills appropriate for their grade. And this was despite a statewide program to promote reading launched in 2012.
After her first informal experiment with the children she worked with, she approached the Wendell Community Public Library about a partnership. They concocted the idea of a raffle in which all children who checked out three or more books in a month would be entered. Five winners received a horse pillow and an invitation to the Gooch family farm, where they petted and groomed the horses and read to them.
The reaction to the initial raffle spurred Gooch to make things official, and she launched Saddle Up and Read in 2017. It became a 501(c)(3) nonprofit in 2019.
Crystal Mitchener is the current manager of the Wendell library and saw firsthand the children's reaction to the raffle last year during Black History Month.
"When it comes to kids, anytime you can do something with animals, it seems to get their attention," Mitchener says. "To me, anything that's positive that's going to make kids read, it's a great idea."
Librarians made sure to take advantage of that excitement by having books about horses available. The goal is to make reading a habit for kids, one that will carry them throughout their lifetimes.
"So you make it fun, you make them excited about it," Mitchener says. "That can help you turn a child's mind to, 'Maybe I don't have to be on the internet all day playing Minecraft; I could read this book about a horse instead because I'm going to this really cool farm.' "
The library partnership is just one of many efforts Gooch has undertaken with Saddle Up and Read. Gooch does book giveaways at schools, church groups and community events, often accompanied by a miniature horse. Kids get to see and pet a living, breathing horse (often for the first time in their lives) and walk away with a few books to read.
Children can also read to horses at the Gooch family farm, in much the same way that many animal shelters have kids read to the cats and dogs—it's empowering for shy readers because the animals don't judge; they just listen.
In addition, Saddle Up and Read maintains a library of books featuring Black equestrians, and at events where Gooch reads to groups of children, they'll learn about people who actually look like them, and the stories of their history with horses.
The issue of representation—where children see themselves in the characters they're reading about—is a prime motivator for Gooch, who grew up around horses in a community of Black equestrians, attending trail rides with hundreds of other Black riders. She has authored a coloring book featuring Black equestrians and also co-hosts the Young Black Equestrians podcast, which she launched in February 2019 with her friend Abriana Johnson.
There's no missing the overwhelming whiteness of most equestrian endeavors, but it took the death of George Floyd at the hands of a Minneapolis police officer in the summer of 2020 and the widespread protests for racial justice that followed to force frank discussion in the horse community at large.
"[People are] realizing that when they show up at their barns, there are only people who look like them; there's nobody else," Gooch says. "They want to see things change in the horse industry."
Saddle Up and Read was in its second year of operation as a nonprofit in 2020, a small organization with minimal funding but big plans. As the equestrian community started soul-searching, suddenly Gooch found herself fielding all kinds of inquiries, attention from the media and offers of help.
"The horse industry started to find Saddle Up and Read once everything happened after George Floyd, because they felt like they wanted to hear more from Black equestrians. So that's when all of that started, the influx of support," Gooch says. "Nobody prior to that really paid attention. It took that unfortunate event for people to want to hear from Black equestrians."
Gooch welcomes the support. Judge and trainer Sissy Wickes helped arrange the donation of a truck through Caves Farm in Maryland, and with the addition of a donated horse trailer from Kentucky, Gooch now has the ability to travel with horses (and books!) in tow to more underserved communities.
The Fédération Equestre Internationale featured Saddle Up and Read in a story on its website. Donations arrived from Dover Saddlery. Top riders like show jumper Beezie Madden, hunter rider Amanda Steege and Grand Prix dressage rider Lauren Sprieser posted videos of themselves on social media reading books that feature Black equestrians aloud to their horses and encouraging their followers to donate to Saddle Up and Read.
And then, in December, there was Oprah.
She retweeted a photo Gooch had posted on Twitter of Saddle Up and Read's new donated truck and trailer, along with a promise of a donation. Since then, Saddle Up and Read has been featured on the national news program CBS This Morning and CNN. com.
Gooch, who lives in Chesapeake, Virginia, along with her husband, who is in the U.S. Navy, and their three young daughters, has been struggling to keep up with the newfound attention. Although she had been commuting to Wendell every weekend for Saddle Up and Read activities, she's scaled that back for now. The family will soon be moving back to North Carolina, she says, which will make it easier to maintain a full schedule of Saddle Up and Read events.
Gooch's ultimate goal is to have a facility where the organization can operate, with lots of activities centered around reading and horses, and capabilities to handle kids with special needs. She also hopes to have additional chapters in other cities, spreading the love of horses and of reading to children who otherwise would never hear that message.
For now, she's happy that the organization has wheels and can reach more children. Its website, saddleupandread.org, lists a number of ways to donate, including an Amazon wish list with a variety of book titles that feature characters of color. They're also in need of donated children's saddles, Gooch adds.
---
This article originally ran in the Spring 2021 issue of The Chronicle of the Horse Untacked.
If you're just following COTH online, you're missing so much great unique content. Each print issue of the Chronicle is full of in-depth competition news, fascinating features, probing looks at issues within the sports of hunter/jumper, eventing and dressage, and stunning photography.
You can subscribe and get online access to a digital version as well as the print magazine, and a subscription comes with our lifestyle publication, Untacked. Or you can purchase a single issue or subscribe on a mobile device through our app The Chronicle of the Horse LLC.
What are you missing if you don't subscribe?