When Angela Carter brought a 4-year-old draft horse off Craigslist, she was taking a gamble that the greenbean would someday replace her retiring lesson horse. The Ohio-based trainer never would have predicted he would carry her to all three of her USDF rider medals and vault her into social media stardom.
"He was broke to walk and trot; he could barely canter, but he was just not fit enough and not balanced enough to really have [one]," Carter recalled of Romeo. "He didn't know his lead changes or anything like that. And he was very safe: The woman I bought him from had done Civil War reenactments on him; he had had guns fired off of him, and he was cart broke as well."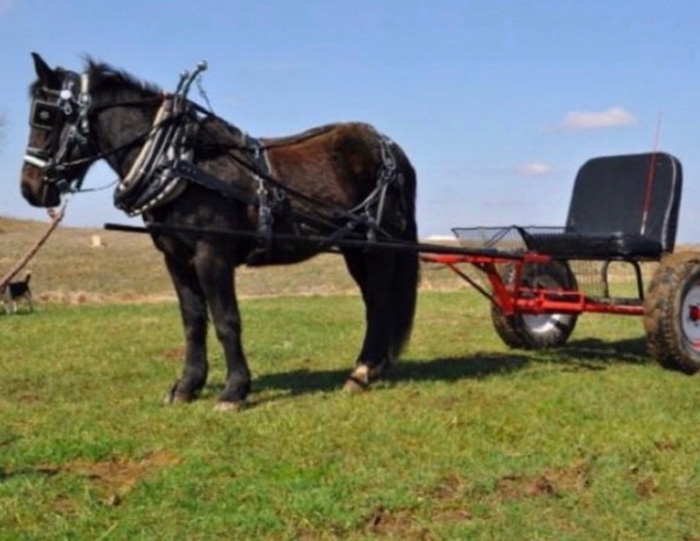 Carter has no idea who the gelding's parents are, but a DNA test she sent to the American Warmblood studbook indicates that he is half Percheron and half Suffolk Punch. "He was an oops baby," she said.
Before she bought Romeo a decade ago, Carter had never brought a horse up through the levels of dressage. Her experience in the discipline was limited to riding her third level schoolmaster who died of colic before she ever got the chance to compete him.
This summer, she and Romeo won their Grand Prix class with a personal best score of 67.71% at the Mid-Ohio Classic II, held July 17 in Johnstown, Ohio.
Carter ascribes Romeo's success to his work ethic.
"As I started to train him [to be a lesson horse], he just continued to excel, and he amazed me at his willingness to learn," said Carter. "I could always tell that his brain understood it, but his body physically couldn't always do it. He was always trying to do what I was asking no matter what it was, but sometimes he would be like, 'I'm just not strong enough to do this yet.' "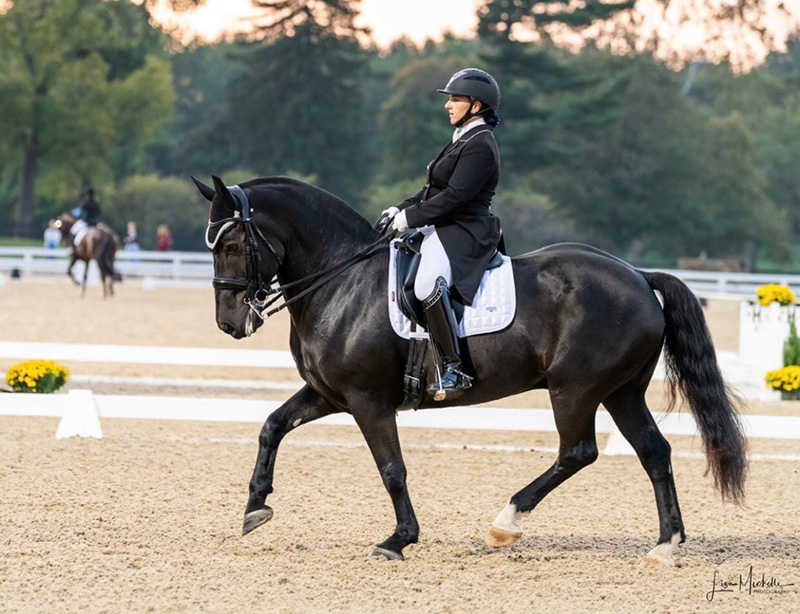 As he progressed up the levels of dressage, he also remained willing to do his intended job as Carter's lesson horse. One of his early students was Carter's daughter, Lillian Harris, now 17.
She showed him in 4-H showmanship and English pleasure classes while he and Carter were working on third level. Romeo has continued teaching lessons throughout his journey to Grand Prix, and he continues to do so.
"He could do a longe lesson right now," Carter said. "I could stick him on a longe line, and he could teach somebody how to post this second. He's fine with that; he doesn't care. He just wants to do something. He's just eager to please you."
He's stayed so willing and eager in part due to Carter's training philosophy of rewarding the effort rather than the result.
"I don't think I've ever overfaced him," she said. "I've never challenged him in a way that he felt discouraged. So he was always willing to try, and I never get after my horses for trying."
The recognizably rotund draft horse's propensity for dressage also has made him something of a viral celebrity. A TikTok account Carter and Harris created as a bit of mother-daughter fun now has 22,000 followers and over a million views. Carter credits its success to Harris' flair for creating content that ranges from clips of Romeo's dressage tests to funny skits about barn drama.
"She is a social media [expert], and she loves doing it, loves doing all of the filming," Carter said of Harris. "She comes up with the ideas for me to do, and she's honestly the one that should take the credit for all of my followers and success. I am just a passenger. I'm just along for the ride."
In 2023, the pair plan to head into uncharted territory: a Grand Prix musical freestyle.
While she works toward that goal with Romeo, Carter is also planning for the future with a homebred Oldenburg colt, Ronaldo, born in June, on whom she hopes to one day compete in the Grand Prix.
"With having the baby that I have now, with him on the ground, I'm a little, in a sense, worried that I should have bred a draft cross," she said. "A part of me goes, 'Man, I think I should have I should have bred the mare to a Percheron.' "
Looking forward to her future with Ronaldo, Carter admits she's thought about putting her now 14-year-old schoolmaster on the market. Ultimately, she decided parting with her Romeo would be more sorrow than sweet.
"I thought about selling him. I thought 'Well, if I'm smart, I'd do it now. Obviously he's at his prime. And I should sell him.' But then I joke, and I'm like, 'I never claimed I was smart,' " she added with a laugh. "He's my first Grand Prix horse, and I just think it would kill me. So I just can't let go of him."