Wayne, Ill.—Aug. 25
Versitility is in Santa Barbara Dash's bloodline. Her sire, San City, competed at the U.S. Eventing Association's Young Event Horse Championships at Fair Hill (Maryland) in 2011, the same year he won reserve champion in the 5-year-old division at the 2011 Markel/USEF Young and Developing Horse championships, and he went on to compete up to the CCI2*-L level in eventing before continuing in dressage with Caroline Roffman.
Lauren Chumley, Pittstown, New Jersey, bought Santa Barbara Dash, an Oldenburg mare (San City—Barcarole, Baroncelli), as a 3 1/2-year-old with the intention of eventing her, and the mare continued the family tradition by competing in the YEH Championships at Fair Hill as a 5-year-old in 2018.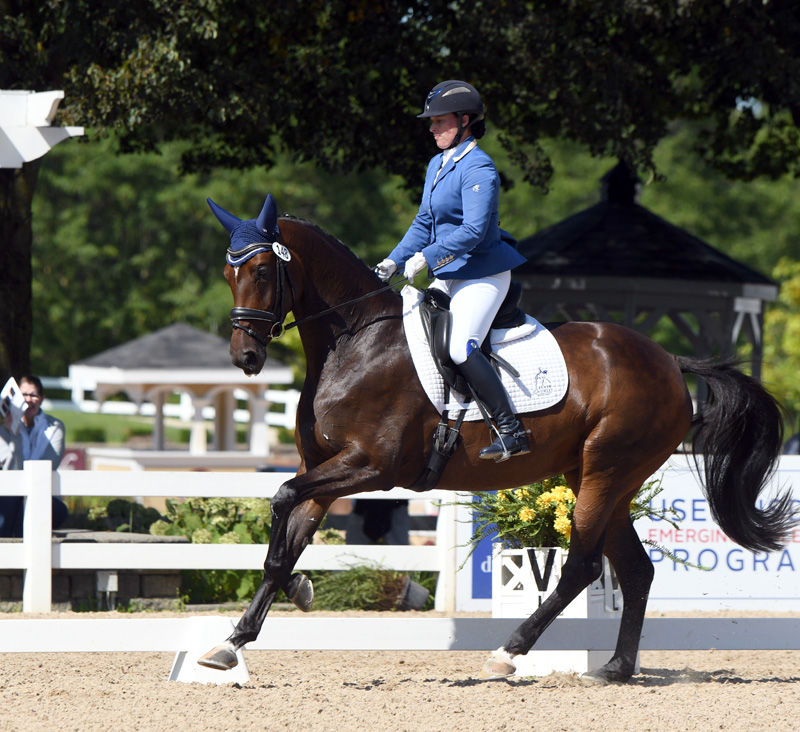 She's since shown a talent for dressage, and Chumley brought her to the Lamplight Equestrian Center this weekend to contest the 6-year-old championship, finishing 12th overall.
She's competed up to training level in eventing, but dropped down to novice to qualify for this year's USEA American Eventing Championships (Kentucky).
"She's a good jumper; I think she's going to be a better dressage horse, but I like to cross train them. I think its fun," Chumley said. "And it's good because she can go in that ring, and she's not concerned with anything. Next year hopefully we do a little fourth level/Prix St. Georges work and go back to training level in the eventing."
Watch Santa Barbara Dash jumping around the training level cross-country at Ocala.
Chumley has been riding both eventing and dressage since 2005, and many of the horses in her string compete in both disciplines. She recently won her first FEI division on another horse, Atlanta B. Santa Barbara Dash's next stop is the AEC where she'll compete in the novice division.
"I think it keeps her happier and sounder," said Chumley. "If your horse can't stay sound jumping 2'6'' it's probably not getting to Grand Prix anyway. I know her so well because I spend so much time with her. You just know their fitness and their soundness so well. The only downside is she's almost a little too fit for dressage!"
Miss any of our coverage? Click here.
For full results, click here.
For the schedule, click here.
USEF is live streaming the event, and tests are available on-demand here.
We'll have much more from the Lamplight Equestrian Center in our Sept. 23 print edition!