Before any hoof indented the grassy field, the crisp British accent rang through the speakers, delivering Pamela Carruthers' trademark statement: "The first fence is a gift." From her golf cart, dwarfed by the expanse of Spruce Meadows' international ring, Carruthers spoke to the spectators as she motored around the monstrous fences in Calgary, Alberta.
The job as a course designer, from Carruthers' point of view, was a teaching position with three pupils: horse, rider and spectator. While she devoted attention to each of them, at this point in the day, she focused on those in the stands.
"She would ride around in the golf carts—'the first jump is a gift'—and then she would go on and explain," said Linda Southern-Heathcott, president and CEO at Spruce Meadows Equestrian Center. "I think that would be my fondest memory of her—just her engagement with the crowd and her belief in what she was doing in educating the crowd. Her passion for it extended so much beyond the athletes. The success of the equestrian sport was very much who Pamela was." Many of the spectators at Spruce Meadows had backgrounds in ranching or rodeo but knew little about show jumping, explained Ian Allison, senior vice president, sport and media services of Spruce Meadows.
"So it was a great benefit for us, when our fans started to come first by the thousands, and then by the tens of thousands, and then by the hundreds of thousands, [that they] would learn that every course was a new and unique test," he said.
Carruthers traveled everywhere from Europe to the Middle East to Tampa, Florida, and to riding clubs in Central and South America. Whether her audience possessed an equestrian background or had only once stroked a muzzle, she wanted to spark curiosity about the sport.
"She gave a lot to the show jumping [by putting a] focus on the spectator point of view," said four-star course designer Leopoldo Palacios, who studied under Carruthers. "To give really a show, to give exciting moments for the spectators. Pamela was a kind of person who loved to create fans for the sport.
"In my opinion, Pamela was the creator of the course designers. She was one of the first course designers in history to be internationally known and brought it to America," he continued. "Pamela was one of the persons that didn't have any economic interest—anything—she loved the sport. And she loved developing the sport out of Europe. She did it all around the world. I think all the course designers of my age, even younger than me and older than me, were influenced from Pamela Carruthers one way or the other."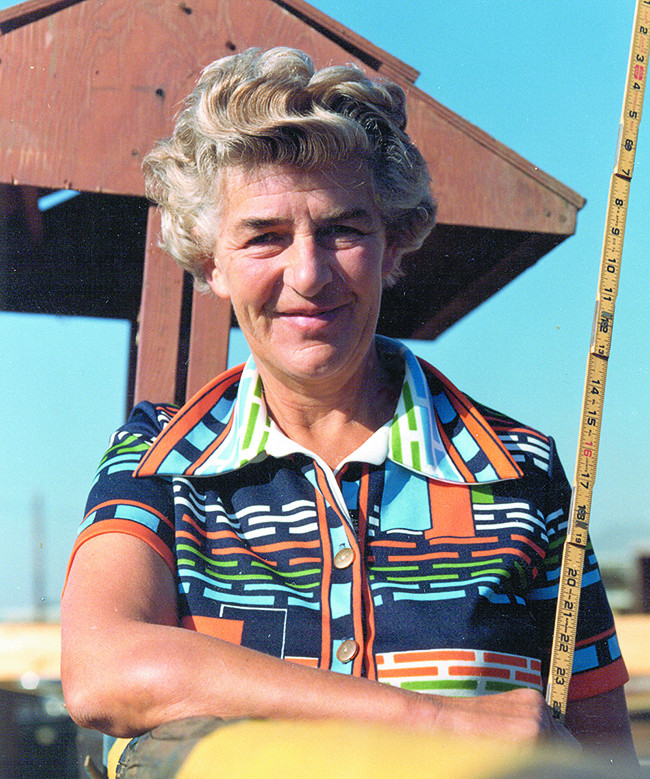 The Problem Solver
The only child to Thomas and Esmé Torrie, Carruthers was born in Edinburgh, Scotland, in 1916 in the midst of World War I—a war that claimed her father only three months later on the Western Front.
Early in her childhood she developed a horse infatuation, the gravity of which much surpassed what her family deemed acceptable. When Carruthers was a teenager, her mother enrolled her in the Ozanne finishing school in the hopes that the change of scenery would put an end to her daughter's obsession.
"At the age of 16 I was sent to Paris to forget horses. That didn't happen," she said in Michael Clayton and Richard Tracey's book "Hickstead: The First Twelve Years."
"Once there," she elaborated to Sports Illustrated in 1969, "I wrote pleading letters to both my mother and grandmother, saying that all the other girls had fur coats, and I needed one, too. So they both sent money for a coat, and I spent it on a 2-year-old racehorse."
With this young horse, she competed in France and enrolled in a course at the famed Cavalry School at Saumur. Though World War II put an end to her time on "the continent," her experience abroad opened her eyes to the creative ways to construct a course—methods not implemented in Great Britain at the time.
"When I returned to England the courses were so dull that I didn't show jump again until Harry Llewellyn persuaded me to buy Galway Boy," said Carruthers in Clayton and Tracey's book.
She started a riding school in Dumfriesshire, Scotland, before moving to Wiltshire, England, to begin a dairy farm with her husband Huw Carruthers. While Huw managed the herd, Pamela ran a horse breeding and schooling business. After the birth of sons Christopher and John Anthony "Tony" Carruthers, she pursued show jumping with a talented young horse named Galway Boy. Though she competed for Great Britain on a few occasions, her gender barred her from Nations Cup competitions.
"Pat Moss was also involved about the same time," said Tony. "The two of them were good friends, and they were sort of competing on an equal basis. They were the first two women in the U.K. to really make a difference. At that time, it was just the way it was. There were certain restrictions, and there was nothing you could do about it. Her big thing was if she had a good horse, and they needed it for the team [to give to a male rider], then she would provide the horse."
With her sons showing some interest in ponies, Pamela dabbled in course design at a local level.
"Where she lived was a big equestrian area, and the families would sort of get involved doing stuff in those days," said Tony. "I think that's when she decided, 'Well, OK, I can do this just as well as anybody.' So, she started doing it, and then people asked from other areas if she would come and do it. Those days, I mean, there was not much thought given to courses. It was basically just put up a bunch of jumps, and let them go at it."
But in the 1950s, the family's fortune turned as a neighboring farm contracted foot and mouth disease.
"It meant that basically all the dairy herd had to be put down, and there was no compensation from the government in those days," said Tony. "Financially it wiped the family because there was a really good dairy herd there, which made good money, then all of a sudden there's nothing. So, tighten your bootstraps and decide what you're going to do." Soon thereafter, Pamela's marriage dissolved, leaving her mostly responsible for raising two sons. She had to make a living, and she turned to course design. Pamela was alone as a woman in a male profession. If such deficits bothered her, she didn't acknowledge it—after all, her situation couldn't allow failure.
"She was always a step-up type person. She didn't ever show her emotions," said Tony. "Horses sort of always had been her life. That was it. She was a very strong person and had to be because she was, for a long time, the only female in the show jumping world building courses."
Beginning Of Something New 
In 1960, British team rider Douglas Bunn grew tired of witnessing the shortfalls of the country's rudimentary system. In the post-war years, England's course design favored light poles that rewarded tight, careful jumping instead of the boldness often required abroad to tackle walls, banks and water jumps. He used his financial wherewithal to form the country's first permanent show grounds, the All England Jumping Course at Hickstead.
His first choice of course designer, Col. Jack Talbot-Ponsonby, declined the position, citing too many commitments. But upon his refusal, Col. Talbot-Ponsonby recommended the relatively unestablished Pamela instead—and Bunn followed through.
"Naturally, the first shows were a great experiment," said Pamela in "Hickstead: The First Twelve Years." "The competitors were apprehensive of the strange permanent fences. The arena party had never worked as such before, and I had very little experience of designing courses for our top horses. We all made mistakes. At that time it was difficult to foresee that Hickstead would become one of the most important centres of jumping in the world, but Douglas always had confidence."
With Bunn's clear vision, the pair created the more formidable elements characteristic of Aachen, Germany, coupled with flowing lines on the grass field. Related distances held no place at Hickstead, as Bunn disliked anything less than six strides. The duo debuted the Hickstead Derby in 1961, modeled mostly after the Hamburg Derby in Germany and incorporating natural elements like a sliding bank and a devil's dyke.
Bunn's daughter Lizzie Bunn recalled the long partnership between her father and Pamela. "I'm sure it can't have been easy at times, as Dad was an international show jumper himself and tended to have very strong opinions on how he wanted things to be done," she wrote. "Dad created Hickstead because he felt Britain needed a permanent showground with the sort of fences that riders were encountering on the continent, and between him and Pamela they created courses that had never been seen before in this country. It's no coincidence that British show jumping went into a golden period soon after Hickstead first opened."
Pamela crafted difficult courses, with solid, wide oxers that tested the horse's bravery and scope. But she never used trappy distances, instead favoring straightforward lines.
"She always told me, 'Leopoldo, don't think too much in the distances. Do the correct distance, and the rider finds the way to make it difficult,' " said Palacios. "You don't see repetition in Pamela's courses; you see different options of riding the courses. You can sit in there [watching] riders do different things and make different solutions of the problem that she put."
Former four-star course designer Linda Allen was another protégé of Pamela's.
"She had a very clear philosophy that you test the riders to the maximum, because by having rider questions, riders become better," said Allen. "But the converse was you don't test the horses to the maximum in every class. In other words, the better question over the course of a season or a lifetime of a horse is having to put lots of pressure on the riders to make good decisions and ride well, but not to punish the horses. [If] a rider made a mistake, or the horse was too green or something, [and] they didn't do it right, [it] shouldn't result in the horse crashing and burning and taking confidence away. She was very big on fair to the horses."
Even though she was out of the saddle, Pamela crafted her tests as if she were looking through the horse's ears. "She was great to work for. I learned everything from her," said four-star course designer Richard Jeffery, who mentored under her starting at Hickstead. "The horses came first with her; that was the great thing. In those days we weren't building the technical courses we're building these days. But somehow the way she laid the courses out, they flowed."
Jeffery had worked with more senior course designers but said he clicked in a different way with Pamela at Hickstead. "With the other people I didn't fully understand their thinking," he said. "When I started working with Pamela, her courses made sense because she was a rider as well. You can ride the courses. Where this other person, it was just some jumps in the ring type of thing. It didn't quite relate in the same way that Pamela could make the whole course become one and encouraged the horses to jump. It's her being a horseman. It was just her natural ability to understand what a horse could do and what a horse couldn't do."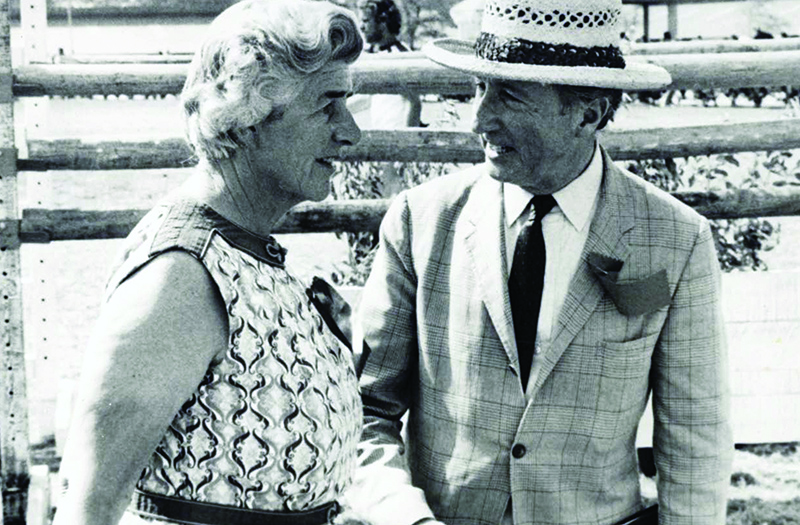 The World's Teacher
As Hickstead quickly became an esteemed event, Pamela likewise rose to renown. The Americans, after riding her courses in England, asked her to design several of the indoor shows starting in the late 1960s. Much like England, the U.S. was looking for individuals to help raise the standard and sophistication.
"When I started doing the jumpers in California, there was no such role as course designer. Somebody put jumps in the ring, and we all jumped over," said Allen. "The show manager would kind of go out there with a pickup truck and set jumps around. I can remember one of the larger shows, somebody going, 'Does anybody have those plans that were posted on the board last year?' You jumped on whatever was set, and I think pretty much all over the country it was similar."
Although the judge decides who wins in the hunters, said Allen, the course designer decides who wins in the jumpers. "Pamela pointed out that the reality is that whatever you're doing at home training is determined by [the rider and the trainer]," said Allen. "Once you arrive at the horse show, and you're entering classes, those people are no longer training your horses. The course designer is training your horses. And so, the better the courses, the better experience your horse got, and the quicker they came along."
In 1973 Pamela began designing the American Invitational at Tampa Stadium in Florida for Gene Mische, and she held that role until 1982. Mische was working to transition American show jumping away from the "touch-and-out" style that dominated the 1950s, and having Pamela Stateside reinforced his commitment to the more universal grand prix system that was debuting in America.
"In the United States and Canada they tend to jump in far smaller arenas, and most people did not realize how difficult it was for their young riders to adapt to our big open spaces in the jumping courses of Europe," said Pamela in "Hickstead: The First Twelve Years." "They are trying to remedy their courses and they feel that all my experience at Hickstead will help."
Jeffery said Mische was on a mission to upgrade the horse shows, and he wanted Pamela to be part of that. "Ron Southern, Gene Mische, Douglas Bunn, [they all] obviously recognized something very much in her style and the importance of having her as a course designer— which in those days, having a woman do that would have been very unusual," he said.
Southern met Pamela through Douglas on a European tour to famed showgrounds in the 1970s. Looking for an international inspiration for his facility, he asked if she'd be on the ground floor of creating Spruce Meadows. Not only did she act as resident course designer for decades and set the foundation for the Spruce Meadows Derby, she also designed three rings and incorporated the natural terrain.
"What she wanted out of the All Canada ring was to use the natural slope and the undulations of the ring itself," said Southern-Heathcott. "She felt that that would teach the riders to ride better because they would have to learn with the differences in the gallop stride if you were going slightly down an inclination or up an inclination. And that would be where the national competitions were, and then she designed the International ring, which is our historic international ring, [and the North American ring]."
Southern-Heathcott believed Pamela was instrumental in advancing Canadian athletes. "She provided these wonderful jumping rings, and she never built courses that were going to defeat the horses," she said. "She built courses to encourage horses and horsemanship, and that was a really big part of Pamela. She not only brought that to the courses themselves; she brought that to our team at Spruce Meadows; she brought that to my parents. Whatever we do we had to build building blocks so that we could continue to excel and to continue to improve and continue to raise the bar to excel."
Though Pamela worked at the most prestigious events in the show jumping world—serving as technical delegate for the '82 World Championships in Ireland and '88 Seoul Olympics—she also dedicated time and expertise to areas where show jumping was still developing, in Australia, New Zealand, South Africa, Venezuela and even Vancouver Island, British Columbia.
"We have the Royal Canadian mounted police who put on a drill deal with horses, and it was going to be in a hockey arena," said Tony, who lives on Vancouver Island. "Somebody said to me that they want us to put on an equestrian event to go with the musical ride. 'Do you think your mother would come and build a show jumping course?' She was at Spruce Meadows at the time, [and] she said that she would. It was all sort of Pony Club and horse club members—local members. She flew down, and she designed the course, and to this day, some people who helped still say they can't get over the whirlwind that came from Calgary."
Paving The Way
Even into her 80s Pamela continued course designing, assisted by her golf cart and her grit, and unfazed by most rider complaints. She knew when to admit a mistake, but she also knew when she was right.
"She understood horses and riders and how to get them to continue to improve," said Allison. "Her expectations were high, and she didn't suffer fools, and she didn't accept what I would call 'lowering the standard.' That's not to say that she was out there to blow everybody's brains out in terms of toughness. But she understood, there were a lot of ways to get the result without it being unfair sport to everybody."
Southern-Heathcott agreed that Pamela wouldn't put up with much. "In toughness she also had a softness, and I think it goes to her horsemanship and her stewardship of the sport," she said. "She wouldn't put up with the riders chirping about something. She would say, 'This is what's happening. This is what we're doing. This is what I've given you, and it was fair. Now march on.' "
She held her position, and the riders rose to her standard, said four-star course designer Anthony D'Ambrosio. "Riding courses of Pamela Carruthers, the riders in that time needed to have a lot of horsemanship," he said. "One of the things that she influenced [was] to modernize the sport, but don't lose the horsemanship. It is something that today I think we lose a little bit. The new generations need to have more horsemanship."
D'Ambrosio said that her courses developed more top U.S. horses and riders. "I would say she probably helped educate our riders to make this country stronger internationally," he said. "The United States has been a major force in show jumping for a very long time, but all the more so because of her influence."
Allen believed that influence was especially true on the West Coast and in the western part of Canada. "I would say the fact that we can compete at all with the rest of the world—if you're going to put credit for it—at least 80-90% of the credit is due to her. She just introduced something that we hadn't seen, and it became the norm," said Allen. "She was the one that persisted and said, 'This is what the sport is, and this is what you need to do.' "
In 1996, she was inducted into the U.S. Show Jumping Hall of Fame and became the first person to receive such recognition without having resided in the States. She received the Fédération Equestre Internationale Special Recognition for Outstanding Services in 2004. In addition to her own work, she mentored four-star course designers like Allen, Palacios, Jeffery and John Doney.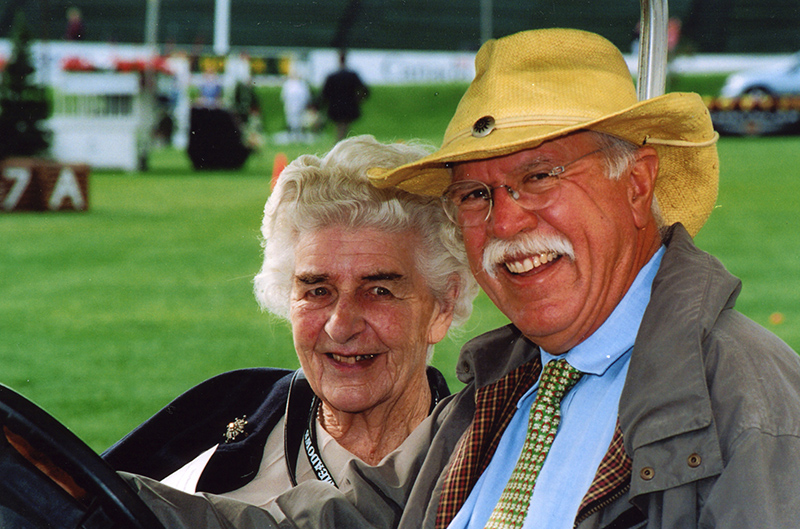 "It was important to her that she wasn't the only course designer," said Southern-Heathcott. "She was instrumental in bringing Leopoldo Palacios to Spruce Meadows. She was instrumental in teaching the other course builders to be successful, what they needed to look for and the balance they had to bring to course designing in having the right course without hurting the horses. The horse was paramount to her. As far as forging the way for women, I absolutely believe that's true. I absolutely believe she maybe didn't even know she was doing it. It was just part of her. She was just that strong woman that that's what she was doing, and she was going to find a way to do it."
To Allen, the fact that she had Pamela to look up to allowed her to pave her own way as the first woman to create an Olympic Games course in 1996.
"She definitely broke the glass ceiling for sure [and] did a great job," said Allen. "I couldn't be more appreciative both for what she taught me and for making what probably would have been impossible without her coming before [a reality]."
Pamela died in 2009 at the age of 93. One of her last requests was to have her ashes scattered in the International ring at Spruce Meadows.
"We didn't have any issues. That's where she should be," said Southern-Heathcott. "Every day you're at Spruce Meadows, that is Pamela. That's the foundation of Pamela. The rings themselves, the jumps, the terrain that we jump on and the playpen [where she used to sit during the classes]—those are all the essence of Pamela."
---
This article ran in The Chronicle of the Horse in our February 22 & March 1, 2021, issue.

Subscribers may choose online access to a digital version or a print subscription or both, and they will also receive our lifestyle publication, Untacked. Or you can purchase a single issue or subscribe on a mobile device through our app The Chronicle of the Horse LLC.
If you're just following COTH online, you're missing so much great unique content. Each print issue of the Chronicle is full of in-depth competition news, fascinating features, probing looks at issues within the sports of hunter/jumper, eventing and dressage, and stunning photography.