On Feb. 19 the U.S. Equestrian Federation announced the NetJets U.S. Jumping Team For FEI Jumping Nations Cup Wellington CSIO4*, which will take place March 3-7 in Wellington, Florida. Bliss Heers will make her U.S. team debut there, so we're bringing you this story from our Feb. 22 Show Jumping Issue. 
When Bliss Heers was a child, she remembers being plopped in front of the television to watch the Grand Prix of Aachen (Germany). The young pony jumper rider was enthralled and immediately announced to her parents: "That's my goal."
A few decades later, the 33-year-old is well on her way. These days it's her parents on the West Coast getting up early to cheer on her rounds in Europe or on the East Coast.
"My mom actually gets my whole family involved," said Heers. "For the last four-star here in Wellington [Florida] before Christmas, both my grandmas, my aunts and uncles were watching. I jumped clear, and my phone was blowing up. All of my family who was watching was texting me to congratulate me. I was so happy to have all that support. I really welled up."
After a strong 2020 season that saw Heers picking up checks across the East Coast, she started 2021 sitting fourth on the Rolex/USEF rankings list as of press time, with her top horse, Antidote De Mars, peaking at No. 1 on the horse list. That's given Heers the confidence to set her sights on her next goal: a pinque coat.
"With 'Antidote' this season I would like to be consistent and competitive, and hopefully we can have a chance at making some teams," said Heers. "I've never ridden on a Nations Cup team, but I'd love to be in that position. I want to keep doing what I'm doing, learning as much as I can, and try to do the best I can with the amazing horses I have."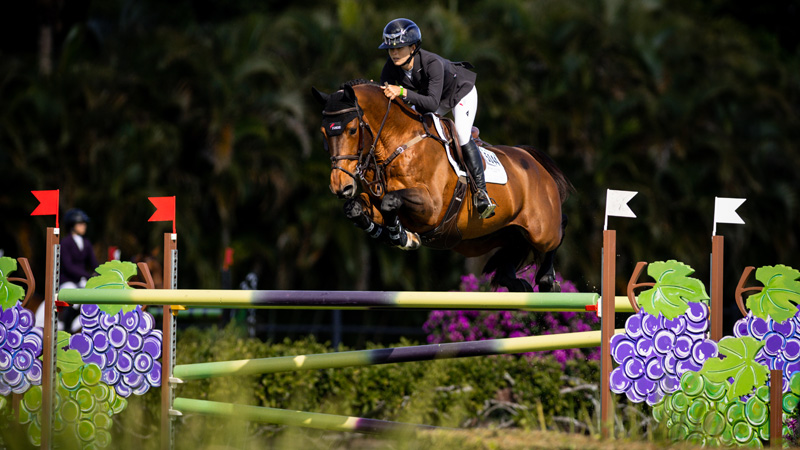 Getting Her Start
Ask Heers where she lives, and she hesitates.
"Where's my home? I couldn't really tell you," she said.
The Encinitas, California, native spent years in Germany and has residency in the Netherlands, but her mail arrives in Las Vegas, and for the past few winters she's called Wellington, Florida, home.
Both of Heers' parents rode as children, and they returned to the sport as adults. Her father, Brett Heers, was a competitive triathlete, and on his long runs he'd be enthralled by a man jumping a horse. That rider turned out to be Damian Gardiner, an Irish show jumper who competed at the 1996 Atlanta Olympic Games, and he and Brett became good friends.
"Next thing you know, Dad starts riding, and his friend has a pony, so of course I got on the pony," said Bliss.
Brett and Bliss' mother, Lorraine Heers, jumped competitively before Bliss dove in, but it wasn't long before she caught the bug. Through Gardiner's friends, Irish show jumpers Eddie and Stevie Macken, Bliss made her first trip to Spruce Meadows (Alberta) as a spectator when she was a child. She returned to California determined that she'd be back with her riding boots. Sure enough, a few years later, she made her debut in the pony jumpers at Spruce Meadows, having driven with her father the 12 hours from southern California to Calgary.
As a teenager Bliss found her way to Hap Hansen, who profoundly influenced her early career.
"He put me on every horse and let me ride from sun up to sun down," said Bliss. "To this day I go back to the things that Hap said. He'd tell me, 'Go with it! Trust yourself!' It was fascinating coming from the jumpers as a kid and running around with my hair on fire, having to be educated about proper position.
"We didn't have a whole lot of money, so we bought horses very young and made money selling them," she continued. "When the first pony sold, we got money to pay for my first horse. With that first horse it was the same story, and I eventually got a fancier equitation horse and a jumper."
Bliss traveled east to compete at the fall indoor circuit in the equitation. While she loved the level of competition, her heart was in the jumper ring. When she aged out of the juniors, her dad sat her down for a heart-to-heart. At the time Bliss was focused on school, excelling in her classes, and she was accepted into a good university. But when her father asked if she wanted to make a go of it as a rider rather than attending university she didn't hesitate to say yes.
To Bliss and her family the next step was obvious: Europe. Never mind that she didn't have extensive contacts there or that her language skills were limited to English and a smattering of Spanish. Her father encouraged her to think of her time in Europe as her university education and an adventure.
So Bliss packed her trunks for a six-week stint, and when that time was up, she called her father and asked if she could stay another six weeks. After that she asked to extend again until that six-week trip turned into six years.
At a show in Arezzo, Italy, Susanne Behring approached Bliss after a round and asked if she'd like to train in Germany with Otto Becker.
"It was pretty incredible," said Bliss. "At that point they had one of the best flat riders in history—Manfred Kötter—there, and he took me under his wing and taught me so much."
She started showing in bigger and bigger classes, including competing Prado K in her first five-star grand prix at Wiesbaden (Germany) in 2012.
"Everyone around me was encouraging me, saying, 'You have a horse that can jump it. It's a perfect opportunity. Let's go!' " recalled Bliss. "I got there and was so nervous. Not because of the riding part, but that horse is, to this day, the spookiest, most difficult horse I've had in my life. I've had him since he was 6, and now at 18 he's still bucking me off. I remember closing my eyes, praying over every fence I can't tell you how many times. But I jumped the grand prix qualifier with 1 time fault, and we qualified for the grand prix where we were clear until the last line."
Riders like Laura Kraut also encouraged Bliss while she was in Europe.
"Bliss is a really hard worker who loves her horses," said Kraut. "She's not afraid to get dirty, and I think all that work is paying off. She's been doing a great job in the States with her plan and program, and she's headed on an upward trajectory.
"She's also a genuinely nice person," added Kraut. "She's been consistently winning and placing on more than one horse, which is always a credit to someone."
Bliss showed horses across Europe for Becker, alongside fellow stable rider Andreas Kreuzer. One of the highlights was getting to ride a young horse named Calle, who went on to jump around at the Aachen CHIO with Meredith Michaels-Beerbaum. Bliss stayed at Becker's for four years before striking out on her own in the Netherlands.
The Day It All Changed
One day in May of 2018 Bliss was trotting a young horse at home in the Netherlands, and it reared up and landed on her. She broke the wings on her L1-L5 vertebrae, dislocated her hip and broke her pelvis.
"I got smooshed," she said.
"God was looking out for me," she continued. "The internist said the last time he'd seen an accident like that with the same breakage they were completely done."
Once she was cleared to fly, she headed to her parents' home in Arizona, where she spent six months recovering.
"That was really hard," Bliss admitted. "I was pretty set in my mind that I was fine. I was fully convinced that I was going to get back on a horse. As soon as they said I could walk with crutches I went back to Europe and immediately got back on a horse. I shouldn't have done that, in hindsight, but I was bound and determined."
While she was rehabbing, first going to physical therapy and eventually moving on to the gym on her own, she started thinking about the future. She decided to spend the winter at the Winter Equestrian Festival (Florida) for the first time. And while Bliss has a special place in her heart for developing young horses, her father pointed out that he'd like to see her have a partner ready for the main ring. So when she was still on crutches, she recruited Stevie Macken, who had helped her find so many prospects, to find a suitable Sunday horse. Stevie suggested she try a special stallion he thought would be a good fit. That horse was Antidote.
Even though Bliss had no leg strength, she and the Selle Français (Diamant De Semilly—Tilda De Mars, Jarnac) clicked immediately, and he seemed to sense that he needed to take special care with his rider. Bliss credits that unusual beginning with the strong bond she formed with Antidote, now 11.
When it came time to get back in the show ring, now as an amateur, Bliss dove in headfirst.
"I pushed myself too early, so I ended up having to slow down quite a bit again," she said. "I used WEF just to get strong, and by the end I was jumping ranking classes."
She paired up with Eric Lamaze that winter, traveling with him to Europe and then to Spruce Meadows.
"If you need confidence, that's the guy to go to," said Bliss of the Olympic champion. "He just has the ability to send you into the ring, and you're going to go win; you have a winning mindset no matter what. It's pretty incredible. For being a little bit timid and insecure coming off the accident—there's none of that."
At Spruce she scored her first five-star win with Antidote when she topped the $56,357 Canadian Utilities Cup over riders like Steve Guerdat and Lamaze. And in Europe she and Antidote jumped in their first five-star grand prix together.
In 2020, Bliss kept moving up the ranks. She applied to get into the first five-star of the season at WEF, fully expecting to be rejected, but she got a phone call Monday night before the competition offering her a spot.
"I was so excited," she said. "Both my horses were clear in every class. At the beginning of that year I was literally saying to myself, 'I don't think it gets any better than this. I've peaked. I need to retire now.' "
By the time COVID-19 hit, Bliss had started working with Michael Matz, and he taught her daily lessons for two months at the start of the pandemic.
"I tried to absorb that and use it all summer long," said Bliss. "The horses really responded well, and I'm proud of myself that I could retain and apply a lot of that information. It was incredible to see the horses develop over the summer and be able to say, at the end of the summer, 'Hey I really learned something.' My horses were jumping well and happy."
Matz said that part of Bliss' success comes from her relationship with her horses.
"One of her strengths is that she's very delicate with the horses," said Matz. "She's not very demanding, and the horses like her very much, and they jump well for her.
"She's willing to learn," he continued. "It's so good that she has respect for everything—she's not a know-it-all. She doesn't get flustered, and I think she's going in the right direction."
A Special Partner
Bliss spent the summer jumping clear rounds at the Great Lakes Equestrian Festival (Michigan) and Tryon (North Carolina) circuits, steadily climbing up the rankings, thanks in no small part to rounds on Antidote.
"He's very intelligent," she said. "All I do is rev him up, send him on his way, and try not to interfere. He doesn't have the biggest stride in the world, so when I get a chance I add up. He's so athletic; he can get himself out of any situation if I let him do his job. Since I've been working with Michael we've been working on flatwork and how to ride the turns better."
When Bliss and Antidote aren't in the show ring you can find them hacking out around the canals in Wellington and working on the trails, as she tries to limit his ring work to once a week. She jokes that everyone in the neighborhood knows her by now.
"It's amazing how fit they get [hacking out]," said Bliss. "I started [riding out] primarily with him, but now I take all of my horses out, even the spooky ones. It's incredible for their minds, and they're so much happier to work. They really want to go out and just enjoy the open space."
While Bliss is realistic about how competitive it is to get on a team, she's been in contact with U.S. Chef d'Equipe Robert Ridland, who's watching her rounds. She plans to keep working hard to prove herself.
"I've always wanted to ride on teams and jump the big sport, so to represent my country would be incredible," said Bliss. "Now that I have Antidote I feel like I have a shot. I've had good horses in the past, but nothing of his caliber—he's incredible. I really look forward to the opportunity if I'm given it. I think some people would be quite nervous, but I'm excited."
---
This article ran in The Chronicle of the Horse in our February 2 & March 1, 2021, Show Jumping Issue.

Subscribers may choose online access to a digital version or a print subscription or both, and they will also receive our lifestyle publication, Untacked. Or you can purchase a single issue or subscribe on a mobile device through our app The Chronicle of the Horse LLC.
If you're just following COTH online, you're missing so much great unique content. Each print issue of the Chronicle is full of in-depth competition news, fascinating features, probing looks at issues within the sports of hunter/jumper, eventing and dressage, and stunning photography.
What are you missing if you don't subscribe?