In this series, the Chronicle follows multiple riders as they seek to fulfill their FEI World Equestrian Games dreams in Tryon, North Carolina, in 2018. We'll check in with them in the coming months as they pursue a team spot to see how they're getting their horses ready and preparing mentally.
In late August, the South African Equestrian Federation named 52-year-old show jumper Lisa Williams and the 12-year-old Hanoverian gelding Campbell (Catoki—Lawina, Laptop) as individual representatives for the WEG. Following quarantine the pair arrived in Belgium this March, and they've been based in Germany ahead of their Sept. 11 departure to the United States.

Williams introduced Campbell to FEI competition in 2014 and has brought him up from the CSI* to CSI***** level. As an amateur, she balances her love of horse sport with family life, outdoor activities and her livestock weighing system distribution business Rudd Products.
---
South Africa is an amazing country despite negative media exposure. Our lives are very outdoor, sport-oriented, [and] as a child, we would go camping down the coast every year and water ski. Now I have a husband and a son, and my memories with them would also be outdoor experiences.
I grew up in Cape Town with non-horse-oriented parents. I had aunts who did show jumping, dressage, and one aunt was a race horse trainer—that is where my interest in horses started.
I did eventing, but I enjoyed the precision required for show jumping, and as a child growing up and a student studying, it required less time. [I'm] an amateur, and I've always ridden because I'm passionate about the horse. I enjoy my career, my business and my free time with my animals.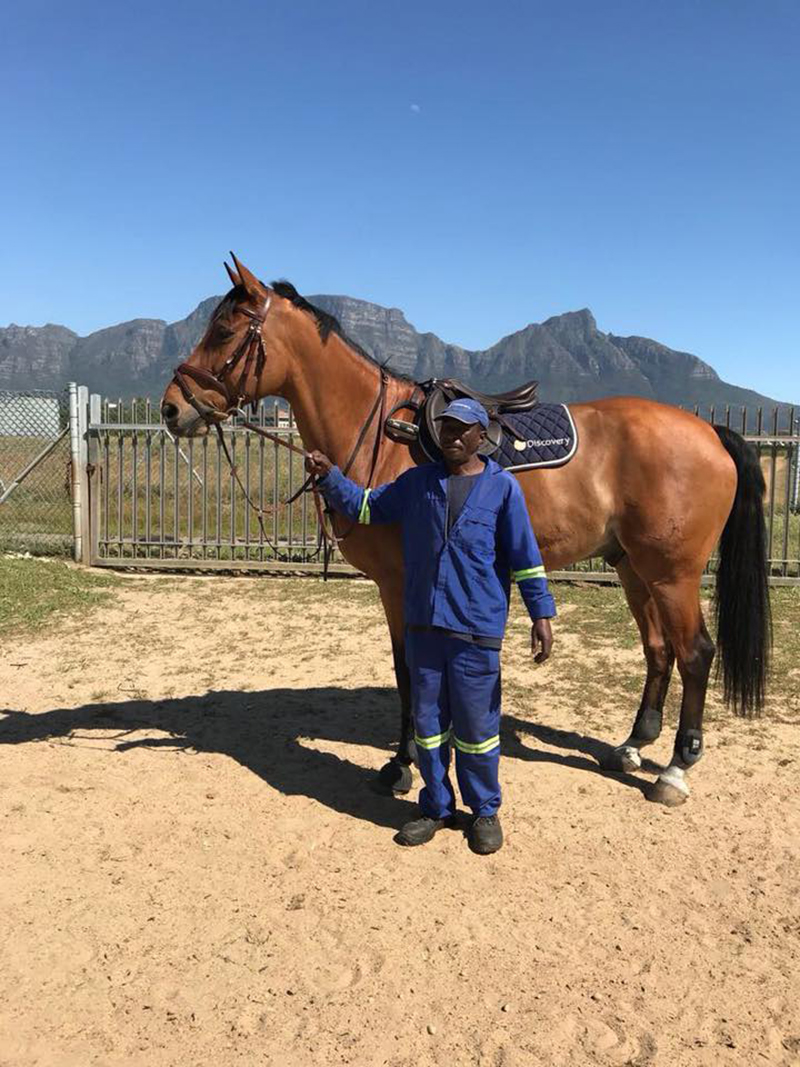 Equestrian isn't very big in Cape Town. If you want to ride, you go north near Johannesburg—every sport in Johannesburg is big. In South Africa the sport is more relaxed than where I am in Europe, but people approach it in a professional manner and love their horses very much.
Up until 20 years ago we [predominantly] used Thoroughbreds; we have a very good racing industry. The Thoroughbreds we obtained were big, strong horses with good jumping bloodlines. It started changing, and we had breeders in South Africa import European sport horse bloodlines, and we've had some very good studs established.
We have a lot of people importing top sport horses for competition in South Africa, so not everyone purchased locally.
Dennis The Menace
South Africa has a World Cup series overseen by the FEI, and we have international course designers who build according to FEI specifications; we jump these classes at CSI*** level maximum. We have a very competitive circuit, very good riders and horses, but we just don't have the exposure to the bigger CSI**** and CSI***** events; we don't have the numbers that Europe boasts.
I was looking for a horse to jump higher levels in South Africa and replace my older horse that I retired. My husband, son, and I went to Germany [with my trainer], and we tried a lot of horses. I found [Campbell] as a 5-year-old, and he arrived in Johannesburg at 6. I don't know why I chose that one; I think horses find people.
He's extremely playful, clever, and because he's so cheeky and naughty we call him Dennis, as in Dennis the Menace—he has real character.
I won the [South African League of the FEI World Cup Jumping Qualifier Series] on Campbell in 2015; I won it again in 2016, and in 2017 I won a World Cup class in June. I [considered] taking him to Europe thinking, 'If he does it so easy in South Africa, there must be a little bit extra that I can ask him for.' I won a World Cup class in August 2017, and in winning that class, I'd won the World Cup Series for the third consecutive year; that's when I decided to try and raise the finances to export him and come to Europe.
I put all the plans together and empowered the staff in my office. I run a lot of the business remotely. My son luckily finished school at the end of 2017, so he didn't need me full time at home anymore. My husband spends a lot of time with me in Europe going to shows.
The Four-Month Journey
[Campbell] went into quarantine in Cape Town on Nov. 1, 2017. The horses flew to Mauritius on Dec. 5 and landed in Liège, Belgium, on March 6.
[The Western Cape] was chosen as the export center because it's primarily [an African Horse Sickness] free zone. There are two mountain ranges which almost seal it off from the northern part of the country. [In 2011, an AHS outbreak occurred in Cape Town.] The disease spread like wildfire; there were lots of sick horses. The European Union closed the export of horses directly out of Cape Town, which was very sad for our sport.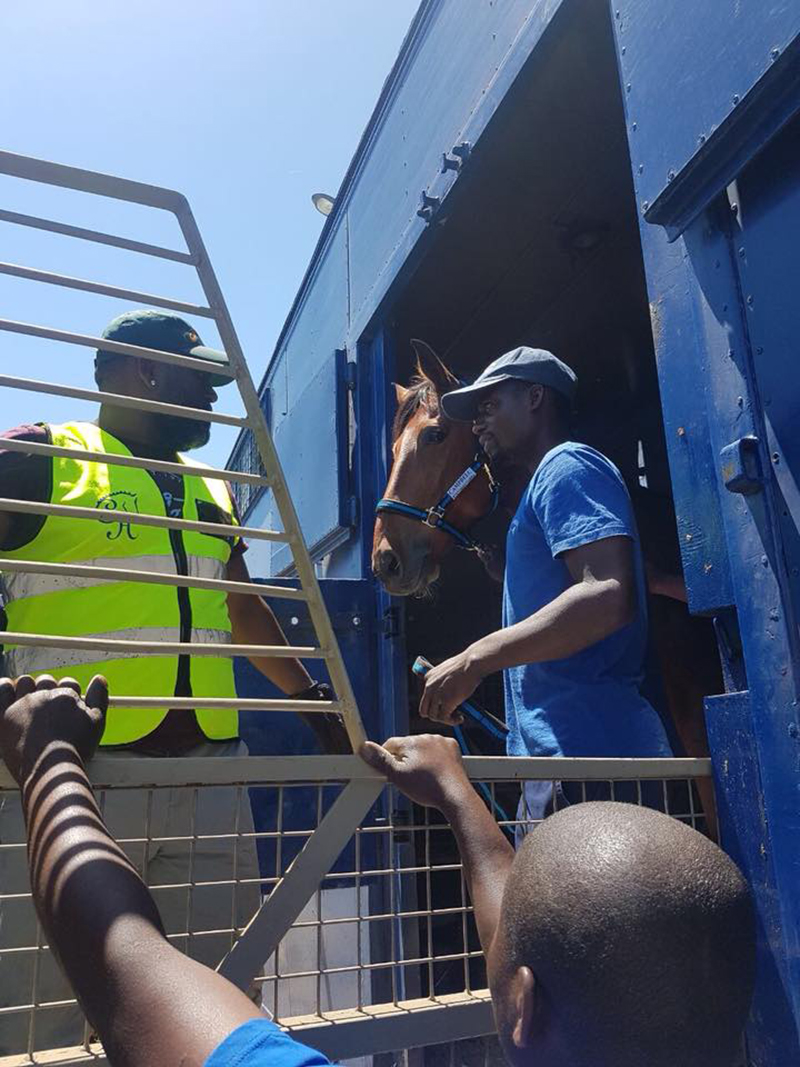 The alternative is to export via Mauritius because [they] accept South African horses. The horses do 21 days quarantine in Cape Town; then fly to Mauritius where they do a further 90 days quarantine. The first 19 days is import of the horse into Mauritius; the last 40 is what is required for horses to export from Mauritius to Europe; and the 50 days in between is the time it takes to get to three months [in Mauritius], so the horses can change citizenship from South African to Mauritian; Europe will accept Mauritian-citizen horses.
The hardship, especially in summer, is [that it's] excruciatingly hot. It's cyclone season in Mauritius, and the humidity can get up to 100 percent. To keep a horse fit in those conditions is short of impossible. We do have a sand track there, but there are no professional facilities like a dressage or a show jumping arena.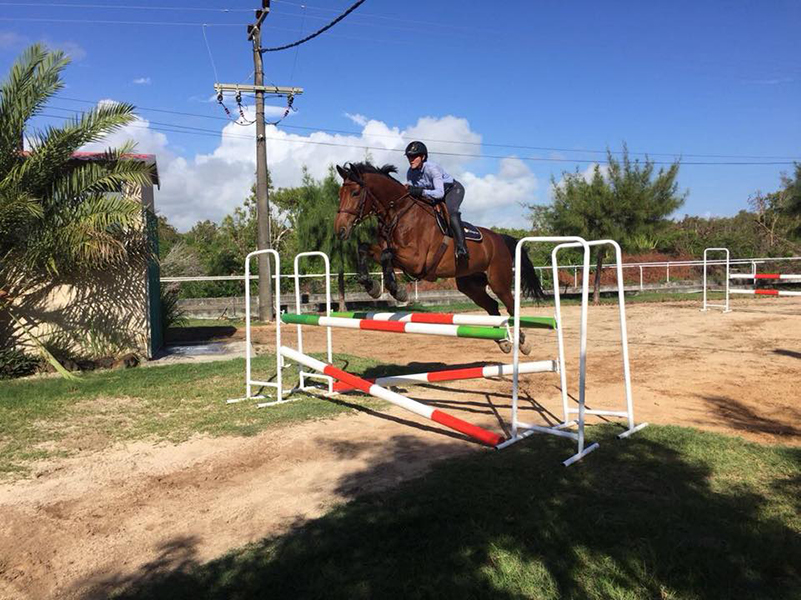 Campbell's Recovery
In Mauritius [Campbell] struggled to breathe. He was chronically ill, had respiratory issue heaves, and he colicked. When he arrived in Europe in winter, he could suddenly breathe and was a different horse; he was happy to be here.
Ordinarily I wouldn't have to worry about the fitness of a horse landing in Europe, but we landed [in] March and leave for WEG on Sept. 11. My horse hadn't competed since September 2017 because once I'd made the decision to export him, I limited my risk of injury [by not] competing at home.
He was about 70 percent fit, and within two weeks we went to Arezzo, Italy, where we started competing again at [the 1.30-meter] level and then slowly up.
I jumped my last big show, the CSI***** Nations Cup in Budapest as an individual; it was my first CSI***** show. He jumped really well. He feels good; we have a little more training on specifics, and then we're as ready as can be.
What I've done is try to get a horse fit and ready to compete at WEG in six months. If I had 18 months I would've been happier, but he's as good as can be expected. We're not going to Tryon to try and win a gold medal; we're going to Tryon to do our best and walk into the stadium proudly.
Life After WEG
When I won the [South African League of the FEI World Cup Jumping Qualifier Series] in 2015—the end of our series is in November, and the World Cup Final is in April—there was no way we could get a horse to Europe, fit for competing, trained indoors, in four months. I wrote a letter to the FEI, explained our difficulties with AHS and the export of horses and asked for a dispensation for South African riders where the winner of a World Cup series can skip a year and compete in the World Cup Final the following year, [giving] us a year to get to Europe. The last series that I won was in 2017, which gives me entry to the World Cup Final in 2019 (Sweden).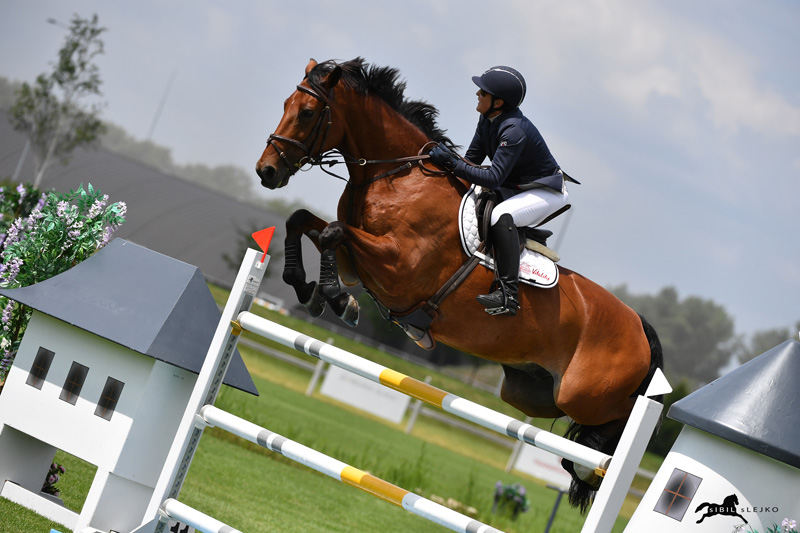 I have illustrated to people that it is possible to come to Europe and do what I've done. I've been very impressed and amazed by the support from South Africa, and I encourage people to do it. I would assist anyone with advice and information on how I've gone about this trip.
We are hoping that by the end of 2018, export out of Cape Town will be available again. It would make life so much easier, and we will see more South African riders coming into Europe.
Catch up with our other Road To The WEG riders:
Dressage rider Olivia LaGoy-Weltz
Para-dressage rider Rebecca Hart
Dressage rider Juan Matute Guimón
On Sept. 16, SportsQuest International LLC will host Day of the African Equestrian, a twilight gala celebrating African participation in the World Equestrian Games. The event will take place at Harambe Farm in North Carolina's Polk County, with ticket sales benefitting African charities and educational institutions. To learn more about the event and purchase tickets, click here. 
The Day of the African Equestrian Concert will take place the following day at the Rogers Park Amphitheater in Tryon, North Carolina. More information and ticket sales can be found here.