Kimberly Harker is a firm believer in giving horses a chance to shine. She purchased plenty of Thoroughbreds directly off the track in the early 2000s, so when she got a call from a friend roughly 12 years ago about a seemingly lost retired race horse, she hit the road to visit the gelding in person.
He'd come from an unlikely source—a stock contractor who Harker called a "real wheeler-dealer type," who supplied rodeos with bulls and bucking horses. The dealer often partnered with Harker's friend to find buyers for horses that weren't working out on the rodeo circuit.
Somehow the Thoroughbred, who was estimated to be about 8 years old, had gotten mixed up in his rodeo string. The dealer didn't know what to do with the gelding, and Harker's friend was hesitant, not working with Thoroughbreds often.
"I loved his face as soon as I saw him," Harker said.
"He was skin and bone, but he had a beautiful face, and he was really sweet," she recalled. "So I said, 'Let me get on and ride him around a bit.' And surprisingly, we jumped a little jump, and he hopped right over that. I think he must have come from a lesson barn in the middle of nowhere."
She gave the dealer $2,000 and took the gelding home, dubbing him "John Doe" along the way on account of his unknown identity.
"He just needed a shot," she said of her decision to buy him. "I know many horses like that."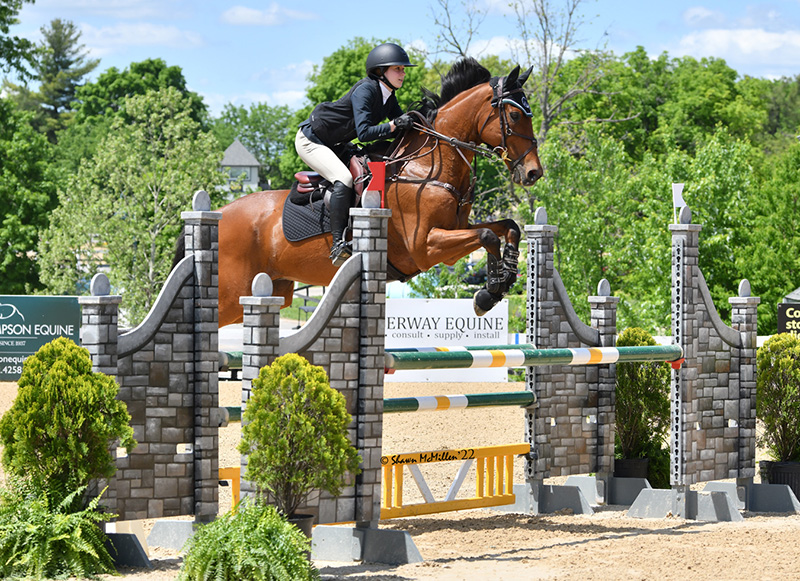 Twelve years later the horse, since renamed Just A Dream, is a blue-ribbon veteran of some of the nation's most prestigious horse shows. "J.D.," now 20, topped a field of almost 30 entries in one of the children's jumper classes at the Pennsylvania National Horse Show in October.
His first trip to Harrisburg, Pennsylvania, was eight years ago, when he and former owner Anika Pirkle won the 2014 $10,000 NAL Childrens Jumper Final.
From The Racetrack To The Jumper Ring
When she first brought J.D. home, Harker knew her instincts about him were right.
"He just had a really unbelievably kind disposition," she said. "I knew that he could be something. He was so kind and wanted to give everything a try."
After less than six months of good care and groceries, J.D. was gaining weight and muscle. He'd started to fill out, and his dull coat was taking on a shiny bay richness. It wasn't long before his kind eye caught the attention of Indiana-based trainer Dave Dorner, who happened to be visiting Florida while shopping for clients. Satisfied with J.D.'s health and training progress, Harker sent him home with Dorner.
But after unseating the rider he originally was destined for—and a few others—things were up in the air for J.D. On something between a whim and a last resort, a 9-year-old named Anika Pirkle hopped on the gelding for a spin.
"He jumped too hard for anyone else to stay on," she recalled. "Everyone that rode at Dave's barn had tried to stay on his jump but couldn't, and I think I was the last person that sat on him, and I was somehow able to stay on."
Pirkle and J.D. quickly found their home in the jumper ring.
"I wasn't ready to switch over to the jumpers from the hunters when I got J.D.," Pirkle said. "So the idea at first really scared me. My parents bought J.D. as an investment, and we were originally just going to sell him after a while."
It wasn't long before Pirkle's mother rechristened J.D. from "John Doe" to "Just A Dream." He was officially part of the family.
"We just ended up clicking so well after our first show we knew we wanted to keep him," Pirkle said. "He's such a good horse, and it was love at first sight. The first show we went to, he just took care of me. The rest is history from there."
A decade of history, to be exact. For much of that time, Pirkle and J.D. dominated whatever division they entered, from the children's jumpers all the way to 1.35-meter classes.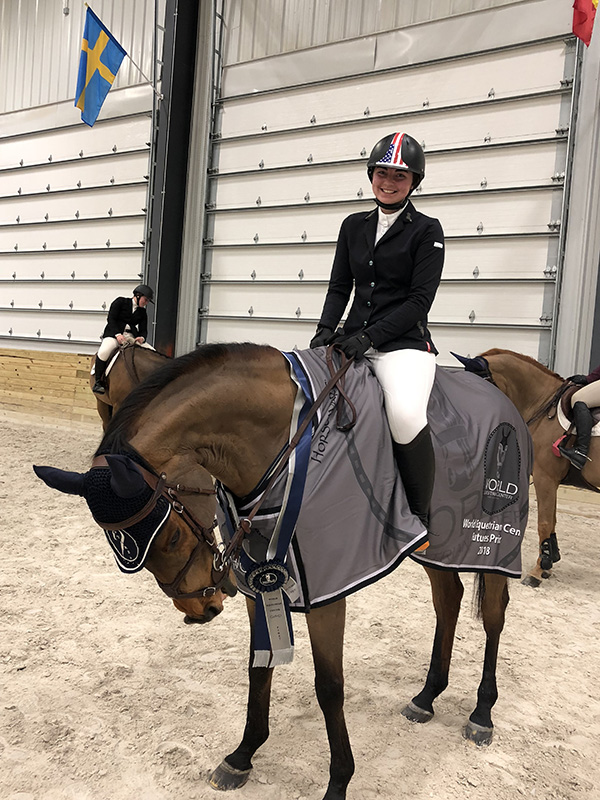 "We started out In like the itty-bitty jumpers," she said. "It took us a few years to get up to the children's jumpers and then a few years to start really winning there. But then once we started winning, there was no beating us. He just knew his job so well. As long as I stayed out of his way and didn't interfere with him, he was such a natural and had such a fast pace compared to the warmbloods."
Over the years, Pirkle and J.D. won big classes in the high children's jumpers, including the 2014 HITS On The Hudson $10,000 USHJA Regional Overall Championship (New York), and the 2015 $25,000 M&S/Team Barber High Child/Adult Jumper class in Ocala (Florida), besting nearly 70 entries.
While they spent most of their time in the high children's jumper ring, they also had success at higher levels too, including winning a 2018 World Equestrian Center-Ohio Winter Classic's $7,500 1.30-meter Futures Prix.
Pirkle eventually was able to make out J.D.'s indistinct lip tattoo. She discovered his racing name, King Cash (King Of Kings—Cash's Pride) and that, to her surprise, he'd won a few races and earned around $25,000.
"I think his racing background helped him be more competitive in the jumpers because, like, as soon as I would turn my head in a jump-off, he's like turning in the air," Pirkle said.
"There were a few times that I fell off in the competition ring, because he would just land off of a jump and be turning—like, before he even landed," she recalled with a laugh. "So he would be turning in, and I would just keep going."
With that racing background came a few quirks that Pirkle quickly learned to accommodate. J.D. isn't a fan of structures that hang near his head, including some stall doors, so he wears a protective bumper over the crown of his head in case he spooks.
And when the buzzer sounds, J.D. knows it's time for the jump-off. He's not shy about being the center of attention in the ring, and he likes to dot his rounds with minor acrobatics.
"He does these little sort of dolphin hops when he gets excited," she said. "Not a real buck or anything; he just hops. And he likes to squeal in the show ring. He'll squeal like a little kid. And he especially did it for me like in the schooling ring. That's usually how we were able to tell that he was ready to go into the ring. Everyone in the schooling ring would turn and stare at us walking in the ring, because he's just carrying on squealing."
20 Is The New 10
J.D. can still be found wearing tricolor ribbons—and squealing and hopping—in the children's jumper ring, though now he's based in Columbus, Ohio, with the Norman family. Pirkle reluctantly parted with him when she left for college.
"There's nothing better than watching him in the ring when the buzzer goes off for the jump-off, and he leaps and squeals, still at 19 years old," said Sherri Norman, who purchased J.D. from Pirkle for her 15-year-old daughter, Ella, last July. "The funnest thing is to watch him in the ring—when he gets excited, if he takes a big jump or if Ella misses the distance, he squeals."
Lest anyone think the handsome graybeard is slowing down, J.D. and Ella won the $5,000 NAL/WIHS Children's Jumper Classic at the Split Rock Hunter Jumper Classic II (Kentucky) in June, after finishing second in the class the previous week.
"He's just so fun to ride and super quick, and he wants to win, too," Ella said. "He's saved me a lot. Sometimes I don't pick a distance, and he doesn't care and finds one for me."
Away from shows, J.D. enjoys trail riding, Ella said, but only with friends.
"He's very quirky, very opinionated and very vocal," Sherri said.
Sherri said J.D. has a home for life with her family. He'll continue to compete for as long as he's happy and healthy, and he will step down to lower fences soon to teach another young rider the ropes in the jumper ring.
"We try not to put too much pressure on him," she said. "We do think he has a lot to teach at the lower levels, and a lot of kids who would really benefit from that. So as long as he's happy, that's what he'll do. We will keep him forever."
"It's really nice to see that the Normans love him so much," Pirkle said. "Because he's absolutely my heart horse. Always has been, always will be. It was definitely the hardest decision I've ever had to make, to sell him. But it makes me so happy to know that he went to such a good home and that they love him just as much as I love him."