In October 2019, local law enforcement asked the Middleburg Humane Foundation in Marshall, Virginia, to take in six horses surrendered by their owner. But Middleburg Humane was in the midst of transferring its existing program to a new facility and was not in a position, at that time, to shelter the horses directly. Instead, Polly Gault, a longtime Middleburg Humane board member, offered to take the animals in at her private farm on a short-term basis.
The six horses—a broodmare, three of her offspring, another mare and a sullen, depressed chestnut pony gelding—arrived at Gault's Marshall property with a familiar story: An aging owner in failing health became unable to care for the horses. All of them were significantly underweight and in need of medical care, but the intake veterinarians were careful to warn that the pony, in particular, was "unrideable and unpredictable."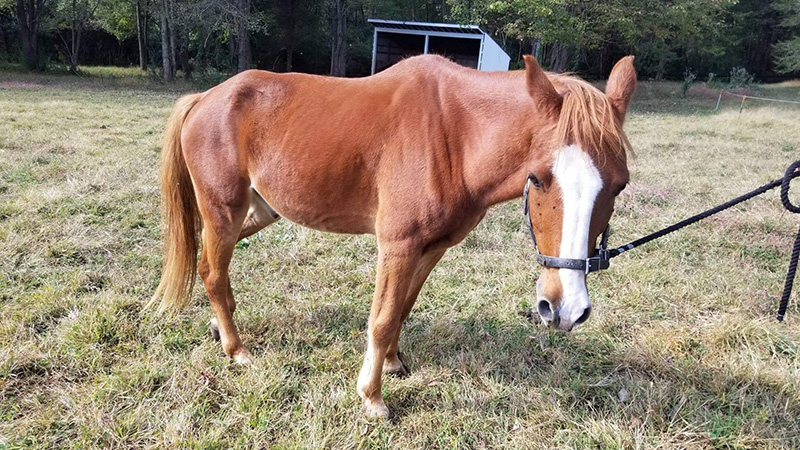 Molly Savage, a friend of Gault's and Middleburg Humane volunteer who was at the farm to greet the new arrivals,  browsed through the paperwork that came along with the animals. She saw that the roughly 14-hand pony was a Welsh Cob and noted he had changed hands multiple times since 2008, even passing through some auction houses along the way. Yet she struggled to reconcile the sad pony standing before her with what the veterinarians had said about him.
"I just thought, this doesn't match," Savage said. "So, I spent some time with him, and I said to Polly, 'I think there's something more to this pony.' "
When animals are surrendered to Middleburg Humane, often their names are changed to signify their fresh start. Savage named the pony Crackerjack, because she believed he could be like the surprise at the bottom of a snack box.
Savage searched extensively through databases and other show results to see if Crackerjack appeared anywhere under his former name, but nothing came up. Comparing Crackerjack's teeth with his paperwork, they guessed he was in his mid to late teens, and based on the number of times he had changed hands, they ultimately assumed he most likely had been a lesson pony.
In the months to come, as his various neglect-related physical issues were treated and resolved, Savage noticed a significant improvement in Crackerjack's attitude.
"He started perking up, and there was something behind the curtain," she said. "He just blossomed into this fun superstar, and brought life to the barn."
In particular, Crackerjack bonded with Gault's primary riding horse, a chestnut mare named Belle.
"Belle is kind of a loner," Savage said. "She is a lovely mare, but she didn't have a buddy. Immediately, she and Crackerjack are best friends. They match in a lot of ways; he's her little mini-me. They go everywhere together. Once we realized that him and Belle were going to be a nice pair, it wouldn't have mattered whether Crackerjack ended up as a great riding horse or not. [Gault] decided to keep him."
Nine months after his arrival, Crackerjack's bloodwork finally indicated that his health had stabilized sufficiently to assess his under-saddle knowledge. Savage began by simply walking him on the miles of trails adjacent to the farm.
"It's just his favorite thing in the whole wide world," she said. "We were ecstatic that he liked trail riding because that is what Polly likes to do best. Then he went through water and over some logs. And then we thought, well, maybe he'd like to do other things, just to enrich his life."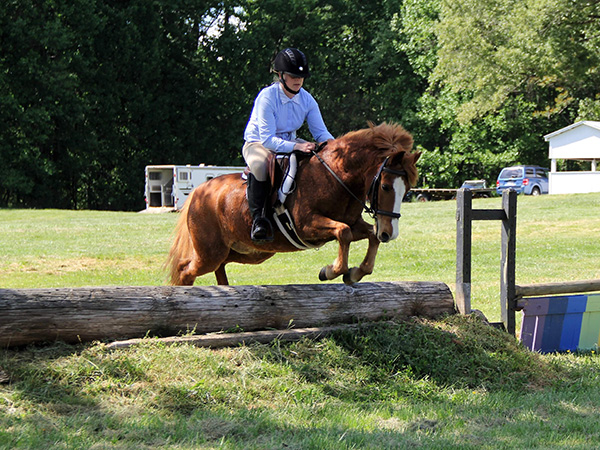 Savage continued to ride Crackerjack three or four days a week, mostly hacking with Gault and Belle but occasionally working over pole exercises in the arena. Once or twice a month, she tested Crackerjack over a full course, and she was surprised to find that he took her to the fences just like the pony jumpers she remembered from her junior years.
"He's the old kind of pony jumper," Savage said. "He is like a Corvette. This horse definitely has done something with his life before, and I thought, it might be fun to have a little pony to go out with."
Savage grew up in New England, competing in the 3'6" equitation and junior jumper divisions under the tutelage of Mark Jungherr. Though her "heavy competing days are over," she started to wonder if Crackerjack might like to try a horse show.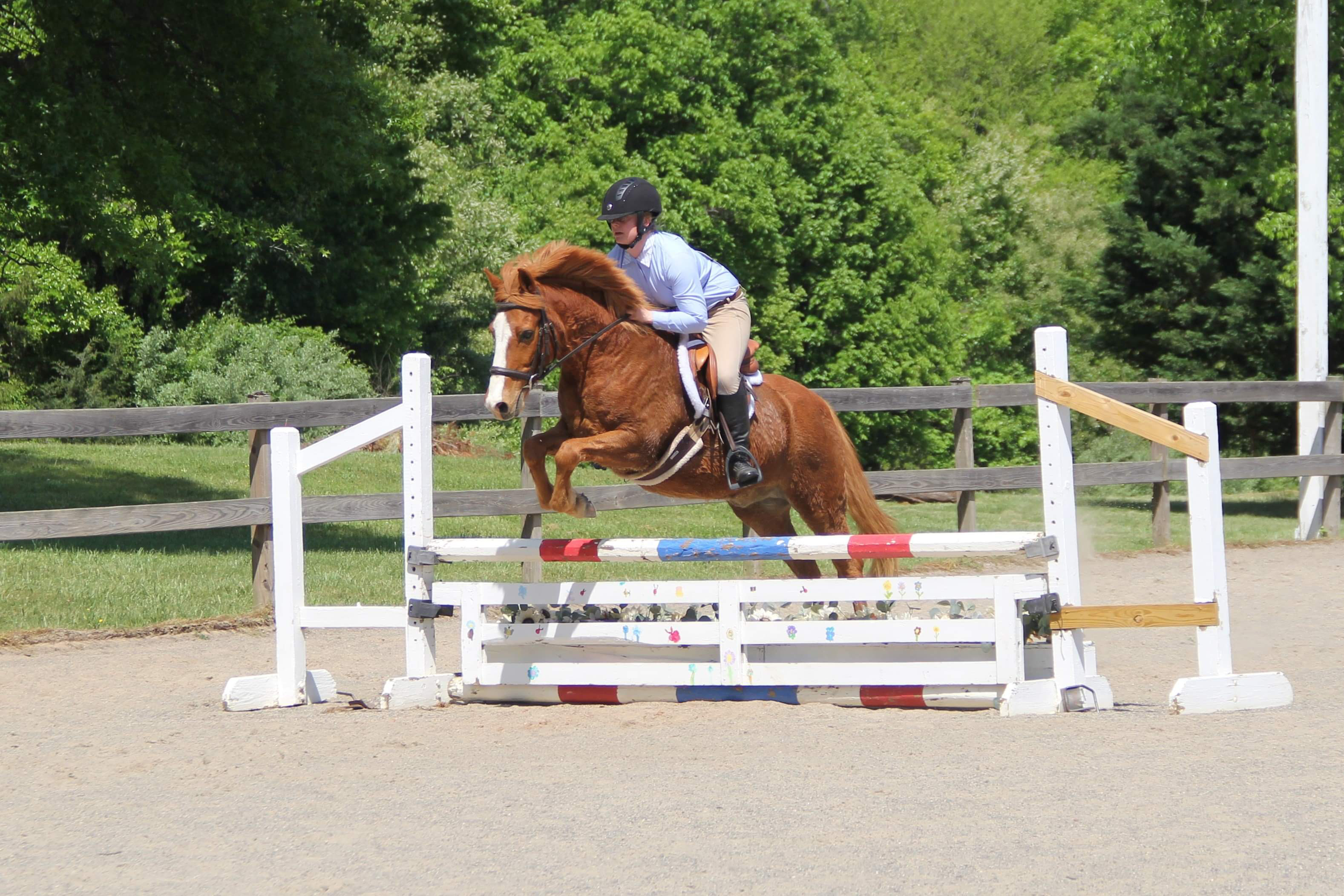 In early May 2021, Gault and Savage brought Crackerjack to a schooling show held at Touch Point Farm in Culpeper, Virginia. The tone of the show was relaxed but the quality of riding high, Savage said, as many local riders were using it to prepare for June's prestigious Upperville Colt and Horse Show. In general, the women had an open mind about the day's outcome.
"His favorite thing to do is hop on the horse trailer and go; he loves to be off the property," Savage said. "I figured if he likes to do it, we might as well do it. But if he didn't enjoy doing it, we wouldn't. If we got to the horse show, and he thought it was the worst thing ever, we'd just go home, and that's fine."
Though they tried some hunter ring classes earlier in the day, the real goal was to compete in the 2'6" jumper division that afternoon. Crackerjack defied all expectations, earning three second-placed ribbons and capturing the reserve championship in the division.
"That was his debut, and it may be small potatoes, but we were very happy with that," Savage said. "For a little rescue pony to have a good day out, that's great. Hopefully that is our first of many ribbons to come home with."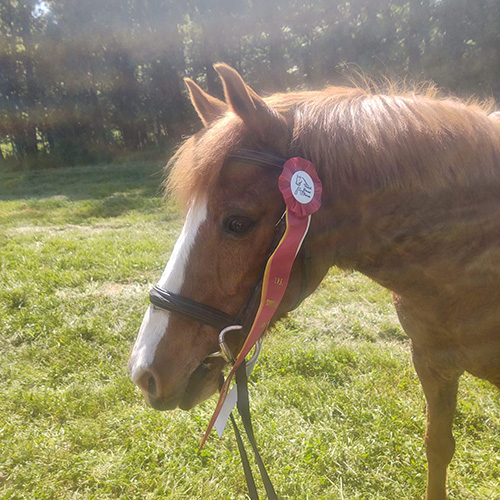 Looking forward, Savage hopes to compete Crackerjack over some slightly larger fences and maybe even find a junior willing to compete him at Upperville in the future. With her own schedule consumed by training carriage horses and running her farm care and consulting firm, Better Call Mol, Savage is happy to ride and compete Crackerjack purely for fun.
But more importantly, Savage hopes that hearing stories like Crackerjack's will inspire other riders to take a chance on a rescue horse.
"Crackerjack is one of those rescue horses that got bounced around, and luckily Polly took a chance," she said. "He's really blossomed into something fun. Most rescue horses, at some point, were very valuable, but they end up in these situations, and people do find them and take care of them. Rescue horses are great animals, and if people just take a chance with them, you can find the surprise in the box. There are happy endings."