On a raw, gray morning in late November 2009, a long line of trucks made their way down Jim Cummings Highway in Bradyville, Tennessee, just outside of Nashville. Led by a black SUV with the green Cannon County Sheriff's Department logo emblazoned on the door, the string of vehicles turned into the driveway of a rundown, 120-acre farm where at least 50 equines were living in poor conditions.
The mood was grim but determined. Over the preceding weeks, law enforcement had received multiple reports from local residents who were concerned about the well-being of the horses. Children playing nearby claimed to have seen dead horses in the woods. A joint investigation by the Tennessee Department of Agriculture and the Cannon County Sheriff's Office followed; later, they called the emergency services division of the Humane Society of the United States to assist. And on that gloomy morning, just before the Thanksgiving holiday, this team of officials was ready to take action. Behind them, a fleet of trailers stood at the ready; they hoped the owners would willingly surrender those animals in greatest need of assistance and provide care for the others.
Upon arrival, law enforcement found 84 horses—primarily Tennessee Walking Horses, Quarter Horses and Spotted Saddle Horses—in emaciated condition and at least 15 others who had already died. Some were so weak they could barely stand; one young foal leaned against the stall wall for support, collapsing to the ground when he attempted to nurse. In a story published afterward in the local paper, one eyewitness described the animals as "more like taut skin pulled over a skeletal frame" than horses.
At first the animals' owners—father and son Charles Eugene Howland and Charles Clint Howland—were uncooperative and did not allow officials to fully search their property. But officials had seen enough. Cannon County Sheriff Billy Nichols obtained a search warrant that allowed rescuers access to the entire property, and within hours the Howlands were arrested. For the rest of the day, a team including representatives from the HSUS, United Animal Nations and Volunteer Equine Advocates worked to evacuate every animal from the property.
The 84th horse to load that day, as the moon became bright behind dissipating clouds, was a young overo paint. Unlike many of the animals who seemed wary of humans, the gelding was calm. But he simply didn't want to load onto the trailer. Eventually, through a combination of treats, patience and the sheer will of his exhausted rescuers, he stepped onto the waiting stock trailer, bound for the Tennessee State Fairgrounds in Nashville, where the herd was being triaged.
The volunteers named him Charlie. And though Charlie didn't know it then, his life was about to take a dramatic turn for the better.
***
When Laurel Carrion moved to Mount Juliet, Tennessee, in 2004, she had never ridden a horse—she had never even considered it. But she liked the idea of raising her three children in the country, so she bought a 5-acre farm. Before long, the farm was home to a pair of pygmy goats, and then almost without meaning to, a Shetland pony for the children followed. Of course, when Carrion had gone to meet the Shetland, he had a friend—a walking horse—and Carrion felt she couldn't leave him behind. So, she bought the walking horse, too. Though she now owned two horses, Carrion admits that, at the time, she literally had no idea what she was doing.
"I didn't know how to put a saddle on, what a hoof pick was—nothing," she says with a laugh. "But that was how I discovered that I have a thing for horses."
Soon, Carrion's daughter, Claire Perrigo, joined Pony Club, and they both learned the basics of riding and horse care. Later, Carrion began taking lessons, and both mother and daughter acquired additional mounts. As the years went by, Perrigo gravitated toward eventing, eventually competing through the preliminary level, while Carrion preferred the western disciplines.
By the time the Bradyville 84 were rescued—five years after her own arrival in Tennessee—Carrion was a confirmed horsewoman, and she was horrified by the stories she read about the condition of the animals. When a neighbor mentioned that the Humane Society was looking for volunteers to help with the animals' care, Carrion didn't hesitate. She and her friend made the 30-minute drive to the fairgrounds, where the herd was still stabled. A local Tractor Supply Company store had donated 84 blankets, and the women were asked to grab a blanket, find a horse that would fit in it, groom the animal and put the blanket on.
"I took this pink blanket and just happened into Charlie's stall," Carrion says. "He had pretty bad rain rot, and as I started currying him, you could tell he was very itchy, so he really enjoyed it. I was just taking my time. When I finished brushing him, he turned and looked at me. I swear, he kissed me on the nose—he touched his mouth to my nose, and I just thought, 'What am I going to do now?'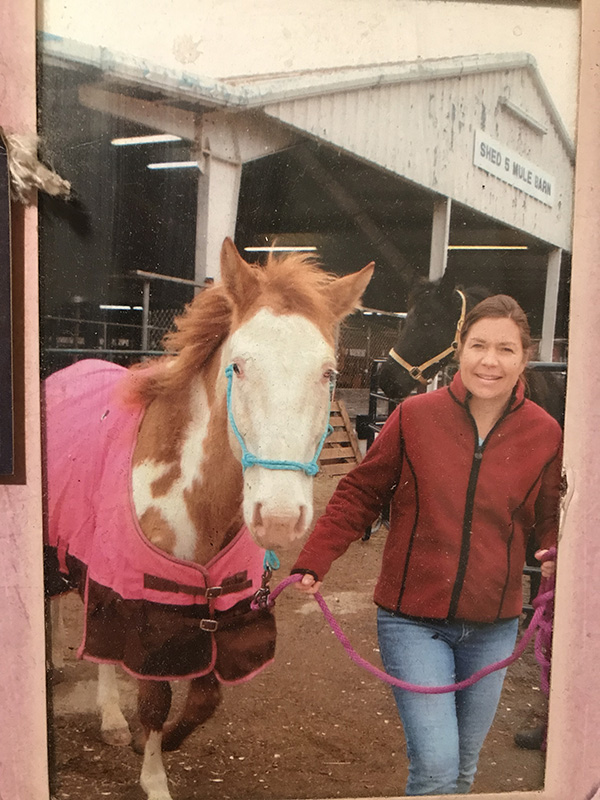 The Howlands, after being arrested and charged with 84 counts of misdemeanor animal cruelty, relinquished ownership of the herd to the Humane Society, which was working with local rescues to place the animals into new homes as their health stabilized. In need of groceries and some TLC but otherwise healthy compared to others in the herd, Charlie was released directly into Carrion's ownership.
However, the young paint still had a long road ahead. Charlie's body condition score was rated below a 2.5, and because his body had gone into "starvation mode," he had lost any muscle tone he may have had. Due to the neglect, his exact age was undetermined, but veterinarians guessed he was no more than 3 or 4. Carrion wasn't certain what, if any, training Charlie had had, but based on his willing demeanor and confidence around humans, she assumed that someone, at some point, had spent some time working with him.
With Charlie at home gaining weight and recovering from his ordeal, Carrion concentrated on taking western lessons on her Appendix Quarter Horse, Breeze. One day several months later, she brought Charlie along and asked colt starter Mark Bennett to spend a little time with him, to see what he knew.
"We put the saddle on, and Mark got on him," says Carrion. "Charlie planted all four feet, and Mark is like, 'Well, I don't think he's broke.' "
Carrion knew that she was not yet at the point where she could safely and confidently start a green horse by herself—but she also knew Charlie wasn't physically ready for that challenge yet. She brought him home, focused on improving his overall body condition for several more months, and began reading everything she could find about natural horsemanship and colt starting.
"I bought a stack of Clinton Anderson DVDs and a round pen," she says. "Charlie and me lived together in the round pen for months. That's how we started. Then I sent him to Mark for two weeks to start him. When Mark gave him back to me, he said, 'I have a feeling this is going to be your horse of a lifetime.' "
At the time, Carrion was more focused on her work with Breeze, and she didn't have any specific ambitions for Charlie. But when Breeze contracted an ultimately fatal case of EPM, it was her growing partnership with Charlie that helped Carrion move through her grief.
"I started doing anything and everything with [Charlie]," she says. "I took western lessons with my Quarter Horse trainer. I started doing stock horse shows with him. I did a few trail competitions, then I took him up to Big South Fork in the mountains and trail rode him.
"He's just really calm. You can put anybody on him and do anything with him," she adds. "He's up for it—he's just that kind of horse."
***
Though Carrion remained a committed western rider, her daughter Perrigo was focused on eventing. Soon, Carrion was shipping Perrigo's horse to weekly lessons with an eventing coach, and she decided it might be easier to simply start taking her weekly lesson at the same time.
"But I said, 'I'm not going to switch to English,' " Carrion recalls with a laugh. "That only lasted maybe six months, and then I bought a $500 saddle at the second-hand store and a pair of short boots. I thought, 'I'm not going to jump, but maybe I can start doing these schooling shows in dressage.' "
She admits that at first, she "didn't know what she didn't know" about dressage. At their first schooling show—Carrion's first English competition—Charlie scored an 84% in introductory, test B.
"I didn't even know enough to know that no one gets an 84%," she recalls with a laugh.
But that early success boosted their confidence. When Perrigo began training with eventer Jenna Schildmier of JMS Eventing in Bon Aqua, Tennessee, Carrion made the switch, too—and Charlie's dressage skills began to progress in earnest.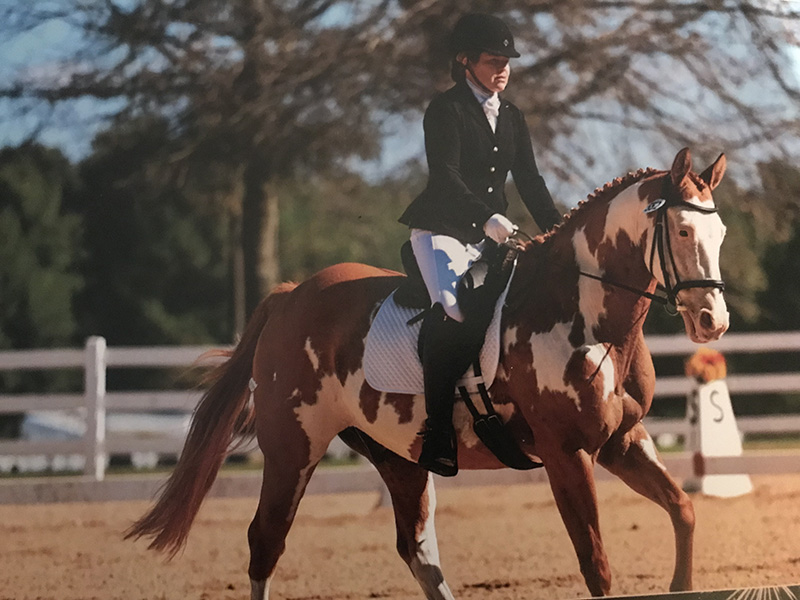 "Since then, me and Charlie have just taken off," says Carrion. "We would not be where we are without Jenna. It is in my will that all my horses will go to her—and she says that everybody will be for sale except for Charlie."
But Schildmier credits Carrion with giving Charlie the foundation he needed to be successful, no matter what discipline he focused on. She was immediately impressed by Charlie's generous temperament, both on the ground and under saddle.
"Teaching Laurel has been very different because she brings such a strong horsemanship and training side to her lessons," says Schildmier. "I don't work with a lot of straight dressage people. This has been very fun, to work with someone with her interests. It has been a lot more about teaching her the little things, like as an English rider in different tack, how to use her body differently
"Charlie is probably one of the neatest, kindest-souled horses I've ever come across," she continues. "He's really fun to work with because you can just feel how much he wants to be a team with you. Even with me, who he doesn't know as well, you can feel him thinking, 'What is this person going to ask me.' He's always trying to figure it out."
With Schildmier's help, Carrion and Charlie moved up to training level and then first level, competing exclusively at local schooling shows. After acquiring a jacket and tall boots, the pair entered their first USEF-recognized dressage show in 2020, earning scores to the mid 60s at first level. At the end of the season, Carrion asked Schildmier if qualifying for the 2021 Great American Insurance Group/U.S. Dressage Federation Region 3 Championships was a possibility.
"She said, 'Absolutely,' " recalls Carrion. "So that was my goal last year."
The pair qualified with scores earned at just two shows, and in October 2021, they made the four-hour trip to Atlanta to compete at the championships. It was only the fourth sanctioned show of their career. Although they didn't place, the journey that led them to regionals was worth more than any ribbon for Carrion.
"I was so happy and proud," says Carrion. "He was an unwanted horse, that wasn't even broke and was free, and we are competing against imported horses. When I came out of the ring, I just started crying. It was a bucket-list moment. It was one of the top ten high points of my life, along with having my children.
"It's not that often you have a horse you can take into the mountains of the Cumberland plateau, then take into a dressage arena, then you could put a 5-year-old kid on him," she continues. "He's the same horse anywhere you take him. I could probably sell him for $20,000 now, but I wouldn't take any amount of money for him. To be able to take Charlie into the woods behind my house and canter on a loose rein—you can't put a price on that."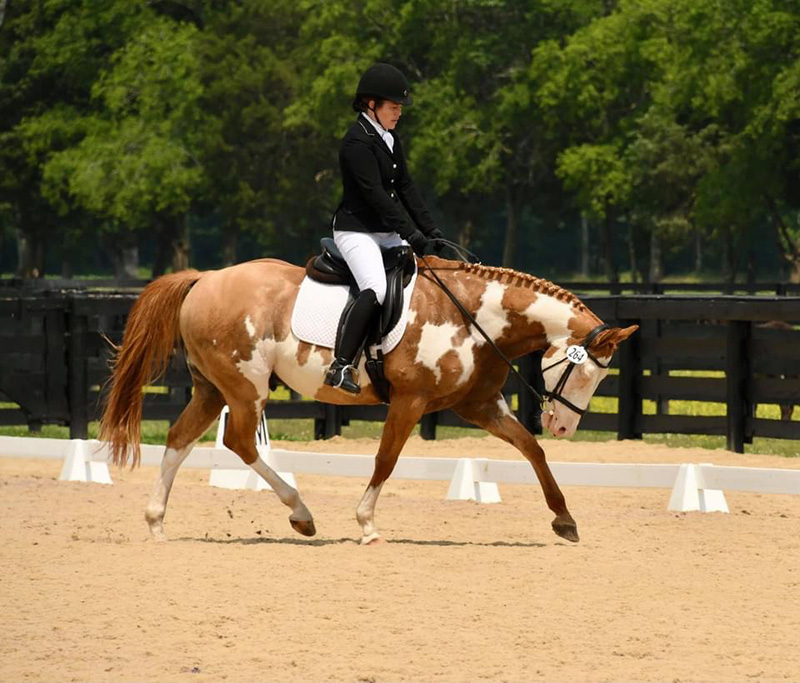 The lessons Charlie has taught Carrion gave her the confidence to adopt a second rescue, a bay gelding named Pocket Change, who was part of a herd of 43 Thoroughbreds found abandoned in Lexington, Kentucky. Where Charlie is steady, "Pocket" is not, and every day Carrion finds herself applying the skills she first developed by working with her longtime partner.
"If you want to compete, you can buy a horse that is already trained, or you can learn and train it yourself," she says. "If I hadn't done this with Charlie, there is no way I could have adopted Pocket. Charlie gave me the experience and tools to be able to carry it on to another horse."
Today, when Carrion goes for her lessons with Schildmier, it is Charlie and Pocket on the trailer. Having a second horse to ride gives her extra practice time as she learns new movements such as shoulder-in, which will be required to reach her next goal with Charlie: showing at second level.
"I hope for them that we can put in the right effort, training and time, and that they will get to that goal and do it happily together," says Schildmier. "Even if they are not the most competitive, if they could just be strong enough and happy enough and have enough harmony to do it joyfully together, I would love that for them."
But both women are watching Charlie closely for any signs that the increased work is too much.
"I probably won't ever have a Charlie again," says Carrion. "I try to show him the respect that he deserves. As he gets older, he'll need me as an advocate, taking extra special care of him. He deserves that.
"There is just sometimes a connection with a rescue horse," she continues. "I feel like that day in the stall, Charlie just picked me. There are some things in life you can't explain on a cognitive level. He truly is my once-in-a-lifetime horse."