Lexington, Ky.—Nov. 10
One of the horses that went down centerline in the Grand Prix freestyle open championship at U.S. Dressage Finals is not like the rest—Cheval Noir competed with Pam Wangenheim-Hawkins nearly 16 years after he was rescued from a pregnant mare urine facility in Canada.
"They usually kill the babies, and he's one of the lucky ones that got rescued," Wangenheim-Hawkins said. "A rescue group pulled him, and we got him from the rescue when he was 2."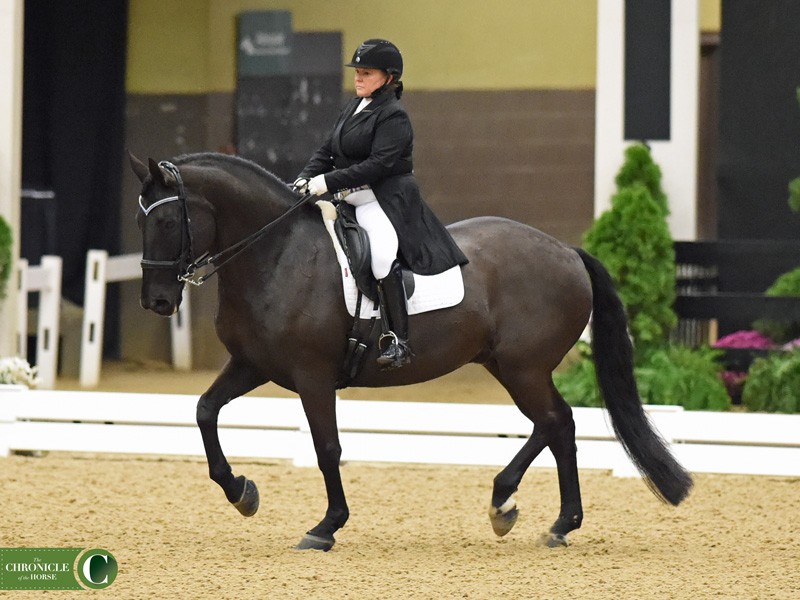 Wangenheim-Hawkins is a dressage trainer based in Moorpark, California. She had a client in her barn who wanted to buy a horse for their daughter.
"My client didn't have all kinds of money to buy a fancy horse, and if I have a client who doesn't have a lot of money to spend we will go find them something," Wangenheim-Hawkins said.
"I've rescued tons of horses from slaughter houses," she added, motioning to a couple of clients. "I found her horse for $200; I found her one for $500."
"Chevy" had been lightly handled on the ground when Wangenheim-Hawkins first met him.
"I picked him because he was nice and safe and cute for this kid," Wangenheim-Hawkins said. "We knew he'd be a project, but what was so neat about him, mentally at 3 years old he was already showing at training level with the kid. He has a fabulous brain."
But Chevy then took time off due to serious issues with his feet.
"I was told to put him down at 4 because they said he had navicular and had all this stuff," Wangenheim-Hawkins said. "And I said, 'How about we just give him some time off and take his shoes off,' because I was pretty convinced he was just heel sore, and we gave him the time off and here [he] is now, 18 and going strong."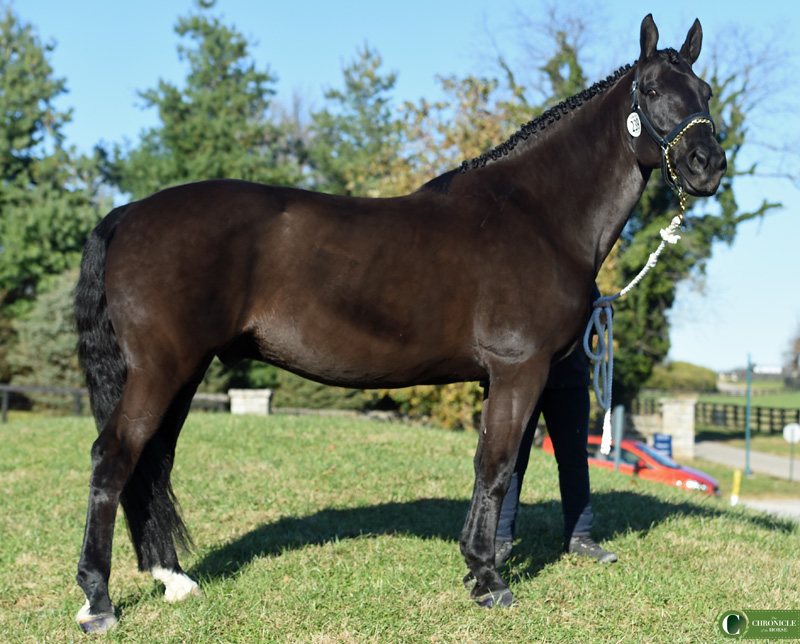 When the client who owned Chevy stopped riding, Wangenheim-Hawkins kept the horse in her barn by leasing him to a working student. That rider competed up to fourth level with Chevy before moving on, and that's when Wangenheim-Hawkins started seriously campaigning the horse.
"I went to his owner and said, 'I worry about what would happen to him out there being a draft cross and doing dressage,' " Wangenheim-Hawkins said. "Even though he scores well he's not a super easy horse to ride. He's not hard in a deliberate way, but he has rough gaits, and I didn't want him to have a bad future.
"I wanted a contract that keeps this horse in my barn so nothing happens to him," Wangenheim-Hawkins continued. "And she's so sweet and said, 'Absolutely, let's do it.' "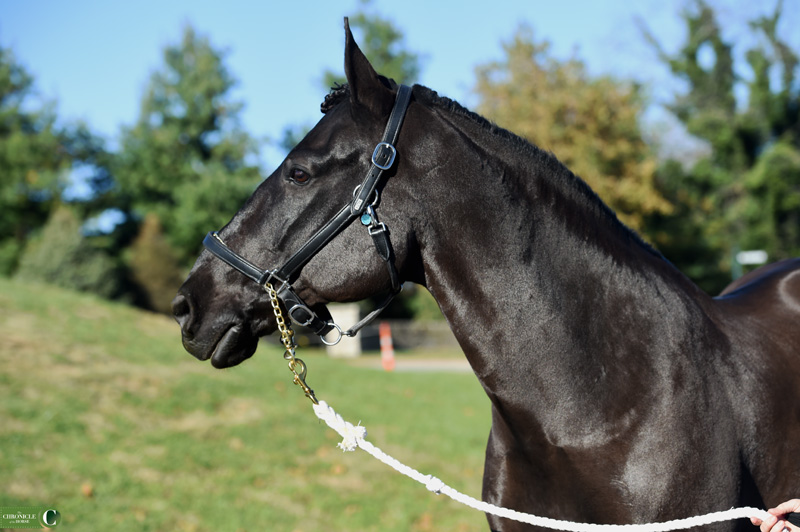 Wangenheim-Hawkins started riding Chevy at Prix St. Georges.
"He did really well, and it was really easy for him, so we went to I1, and that was super easy for him too," Wangenheim-Hawkins said. "We just kept moving up the levels, and we got to Grand Prix!"
Chevy did his first Grand Prix with Wangenheim-Hawkins in 2015.
"Our first year at Grand Prix we were just OK, maybe a 60 here and there, but he did complete my gold medal with USDF," Wangenheim-Hawkins said. "Then I started doing the freestyle, and I'd be so excited to just get a 65 at Grand Prix, and then he gradually started getting 66. Then 67. And now at freestyle we've earned a 70, and that was at regionals. One judge gave us a 70, and I was so excited."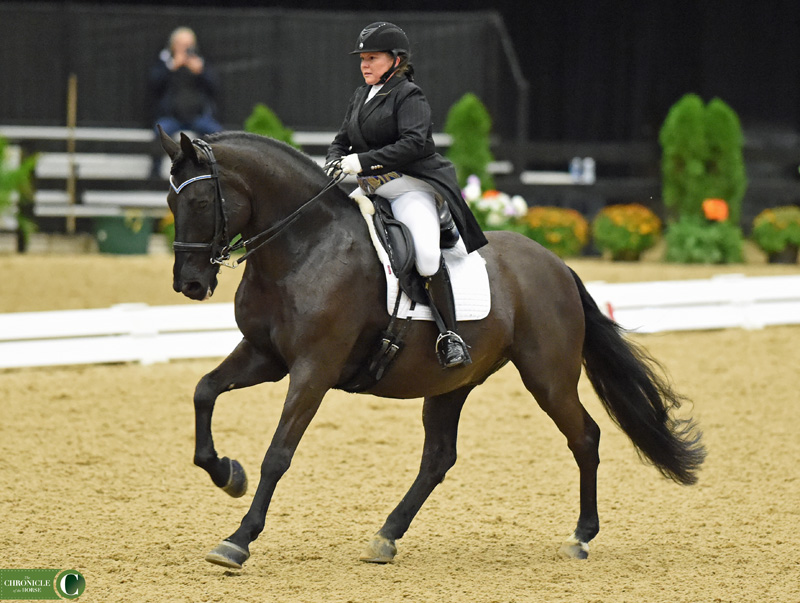 It's Wangenheim-Hawkins' first time showing at U.S. Dressage Finals, and she's just happy to be here with her partner of the past 16 years and her clients who have come to cheer her on. They scored a 62.93 percent in their freestyle.
"He's really smart. He has really good passage and piaffe for a horse not bred to do this, and he has really nice changes. The ones came pretty easy to him," Wangenheim-Hawkins said. "We've just had a lot of fun with him."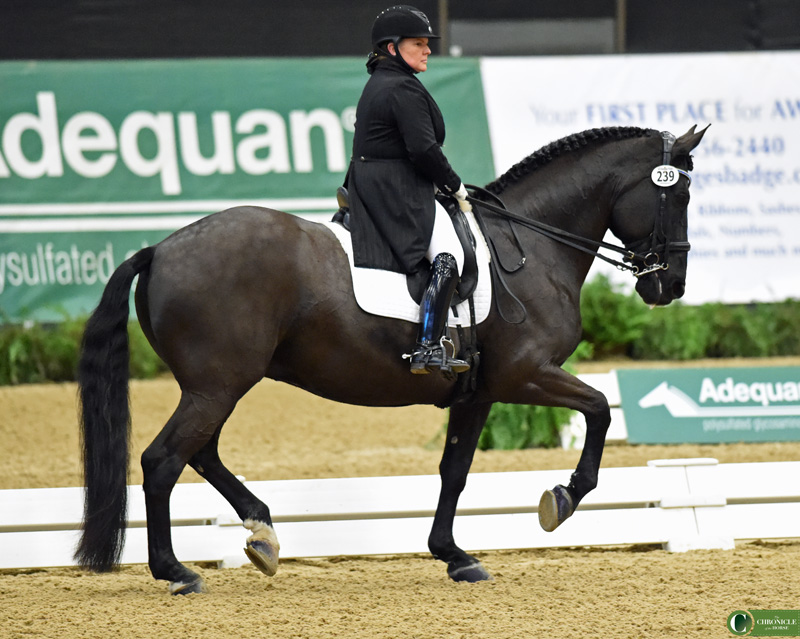 Want more from U.S. Dressage Finals? We've got plenty more stories, click for all of the Chronicle's coverage.
Click here for full results from U.S. Dressage Finals and check out the Dec. 10 magazine for more in-depth reporting.