Wayne, Ill.—Aug. 25
When Manatee came to Jami Kment's barn four years ago from a student who had moved on to a young horse, the plain bay off-the-track Thoroughbred was meant to be a lesson horse.
But as he settled into his new home, Kment began thinking he could make a good mount for her daughters Kylee and Lexie Kment.
Kylee rode the 16-year-old gelding (Man From Elderado—New Traditions) to third in the children's division at the U.S. Dressage Festival Of Champions last year, and he returned this year with Lexie to top the same division.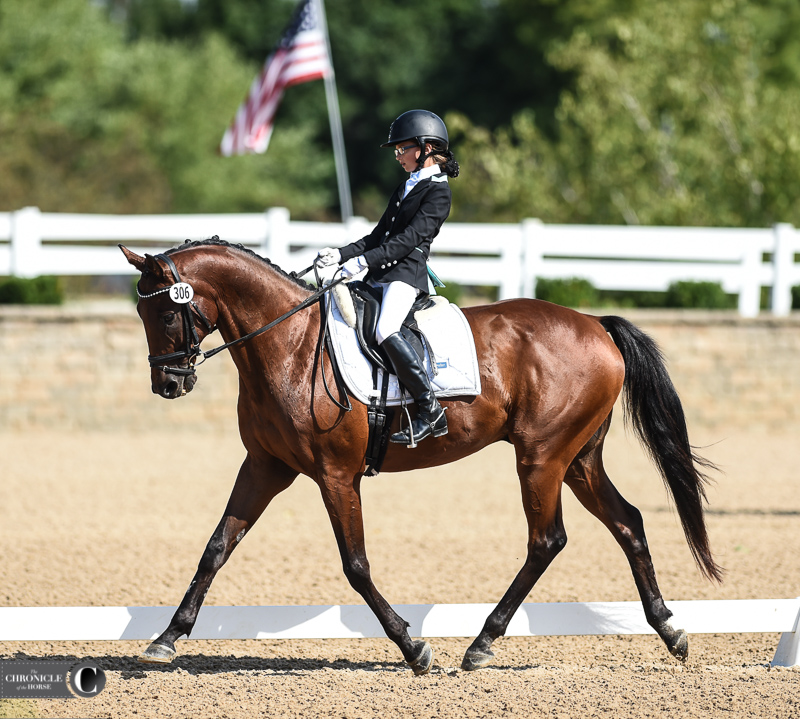 "It truly hasn't sunk in yet. Last year when she was here I told myself that I was going to be here someday and that I was going to be able to do it," said Lexie through tears. She won the team test yesterday (71.02 percent) and was third today in the individual test (68.15 percent). "We got him as a horse that we could just ride and hack on and have fun, and it's cool to see how far he could come."
Lexie, 13, Palmyra, Nebraska, said Manatee can be pretty lazy at home, but every once in a while his race horse tendencies come out, including during today's awards ceremony.
"We got very close to that chair, but we were able to get around it!" she said.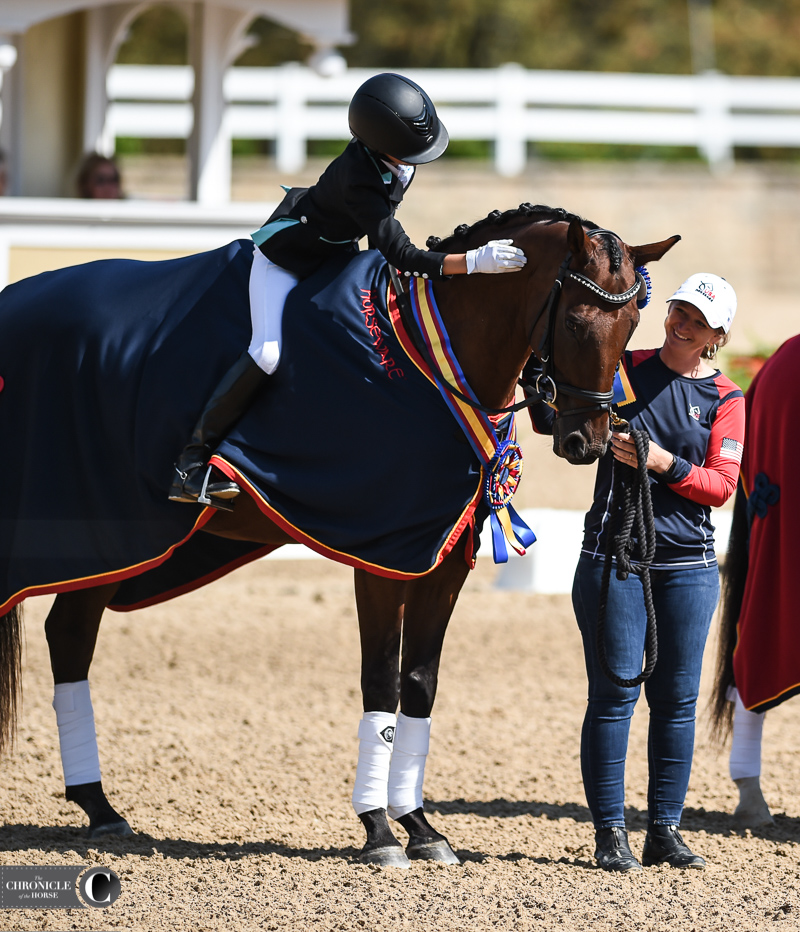 "Today's test was a little less energetic because he says that yesterday, 'I did great, and now I get to be done!' He was a little less energetic and a little stiff, but we worked through it," she said.
Jami was competing in the Intermediaire I championship this weekend and enjoyed spending time more time than usual with Lexie in a show environment.
"She's used to me having so many clients that she's very self-sufficient," she said. "Yesterday my freestyle was right after her awards. It does take some juggling just getting both horses presented well, but it's so fun to be able to show together."
"It's really fun because normally at shows there's a lot of us, so it's nice to be able to be here and spend so much time with her," said Lexie.
Watch Lexie Kment's individual test via USEF Network.
Jami said Lexie is very independent and a good listener. "What's really cool about Lexie is that I maybe help her once a week, and I've sat on the horse one time in the last two years,"she said. "She does the hard work. I'm able to work with some top people. Debbie McDonald's my coach. She comes to every lesson she can, and she absorbs. I think that's a real testament to what a hard worker she is. It doesn't come naturally for her. She has to work hard for it. She does such a good job with it."
Manatee lives out 24/7 and usually goes barefoot. He enjoys lying down in the pond in his pasture and playing in the water. He just got shoes on two weeks ago in preparation for the championship.
"In the barn he is exactly like a manatee," said Lexie. "He is so lazy. He falls asleep in the cross ties. He drags his feet, so he doesn't normally have to get his hind feet done because they're already filed down."
"We just always liked him," Jami added. "We bought him to be a lesson horse, and the girls have just grown into him, and he's developed really nicely, so now he gets to be a champion."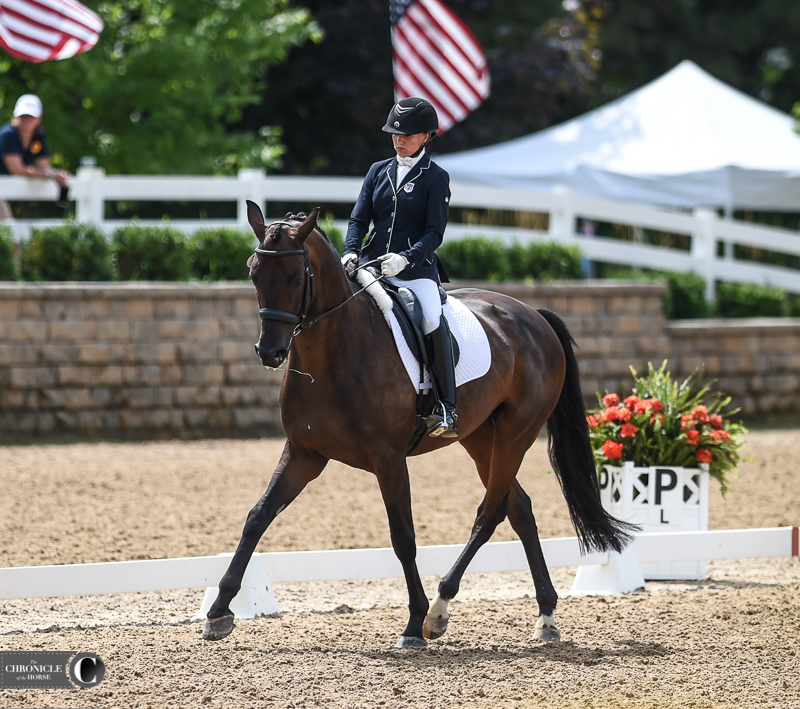 Mackenzie Peer capped off her weekend at the Festival Of Champions by taking home the reserve championship in the junior division on Saturday and winning the gold medal in the USEF Dressage Seat Medal Finals, 14 -18, division today on Nicole Helland's Quantum MRF, a 10-year-old Hanoverian gelding (Quaterback—Revlon, Rohdiamant) on a score of 90.0.
"It was just fantastic to go from being reserve champion to end with champion," she said. "It was just the icing on the top. He tried so hard all week, and it was a long week, so to have him continue to give me his all at the end, it was really unbelievable."
Peer mastered the pattern in the equitation class, which included a leg yield to a canter transition on the long side in both directions. She'd ridden the pattern at her regional championships, so she was confident when it was announced.
Watch Peer's pattern via USEF Network.
"One of my favorite things is how the leg yield turns into the canter transition, because I think it sets up the horses super for the bend through their body," she said.
Peer, 18, Overland Park, Kansas, trains with David Wightman and will head off to work for him this fall.
She said her biggest equitation bad habit is not keeping her elbows close to her body.
"It think it's a super important class," she said. "This is a sport where it's a partnership, and some people have the opportunity where they can go out and get very nice horses, and that's super fun for them to ride well. I think that's good, but I also think that it's important to focus on the rider. I want to become a trainer, so to continue in this sport, I think that showing how well you can ride and that you can keep your horse listening to you; that's a good thing for people to see and for you to know if you're on the right track with what you're doing."
Miss any of our coverage? Click here.
For full results, click here.
For the schedule, click here.
USEF is live streaming the event, and tests are available on-demand here.
We'll have much more from the Lamplight Equestrian Center in our Sept. 23 print edition!
2019 Festival Of Champions - Sunday
Lindsay Berreth / Aug 25, 2019 3:13 pm