Harrisburg, Pa.—Oct. 13
Anisette knew exactly how she wanted to celebrate her repeat victory in the medium pony hunter championship at the Pennsylvania National. After she left the main arena in the Farm Show Complex, the 12-year-old Welsh Pony cross (Cusop Jovial—Northwind Katrina) beelined it for the table near the ingate that has goodies for the horses. Anisette stuck her head enthusiastically into the basket holding apples and gave one a nice chomp.
That apple was well deserved because not only did she top her division, but she and Tessa Downey also took home the grand pony hunter title as well.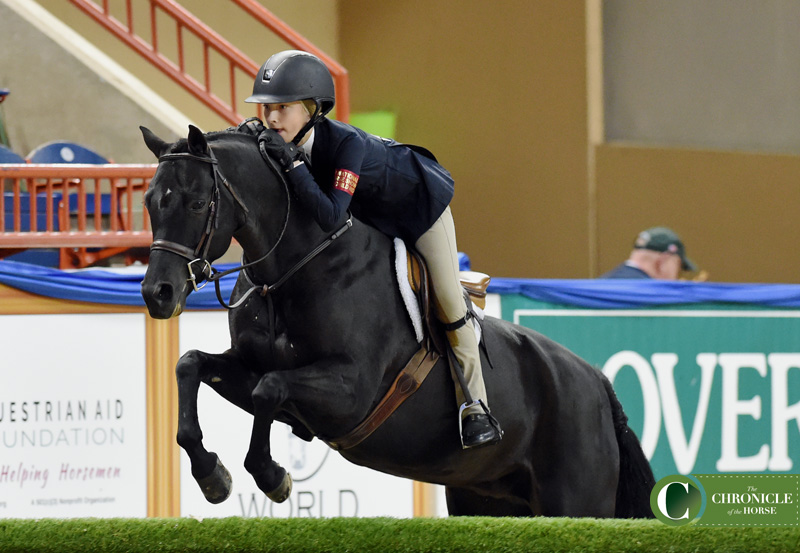 "She's kind of rude, but she means well most of the time," Downey said.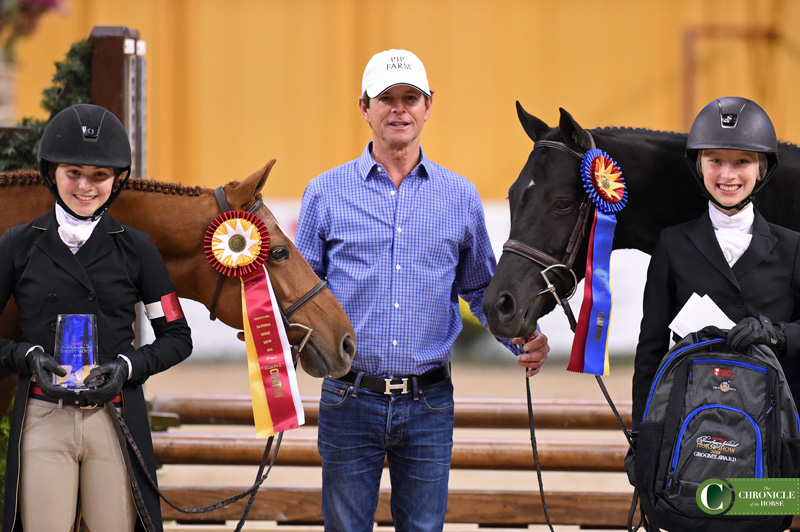 The 13-year-old from Houston has had a standout year after she topped the medium division at the USEF Pony Finals (Kentucky) in August, but even then she didn't have any illusions that her success would automatically transfer to this show.
"I was super nervous going in because Caroline Signorino, who rode her last year, did super well on her, and she was amazing last year," said Downey. "My goal was to jog in every class, and I did. That was super exciting because last year and the year before I was always decent, but I was never up there, so it was super exciting to be up there this year."
A Win Of A Lifetime
No one was more excited to come home with a Pennsylvania National tricolor than Josephine Rose. As the results came in that she and His Way had topped the large pony hunter division, Rose started celebrating by the ingate, hugging her friends and trainer with wild enthusiasm. And when she walked back into the main arena, her smile never left her face.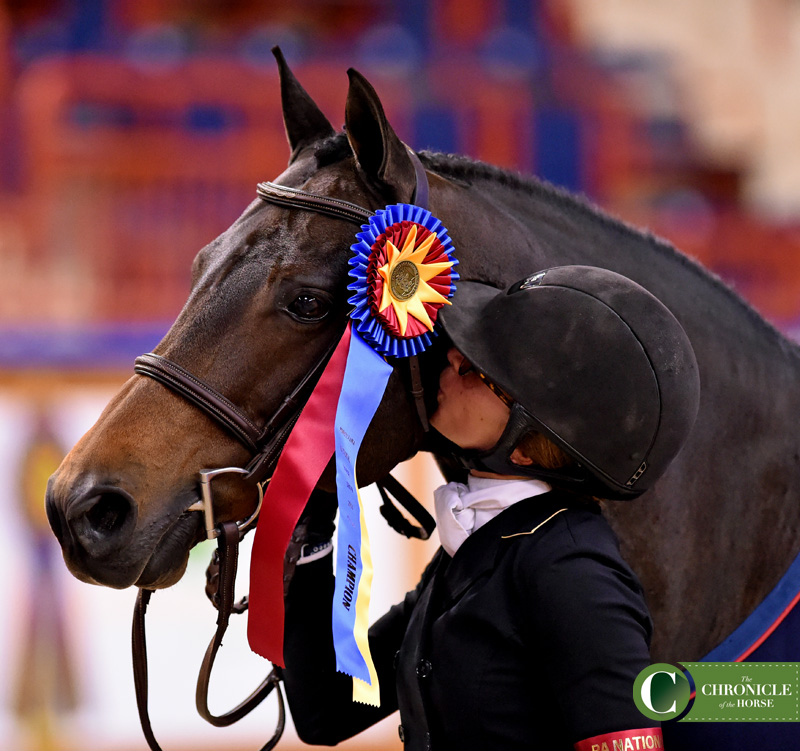 "[I'm] on cloud nine; this is incredible," she said. "I never saw this happening when we were coming here. It's incredible. I'm so happy."
Points in the large ponies were spread across the board, so there was no clear winner heading into the stake class. Rose and "Winnie", an 11-year-old warmblood, topped the conformation over fences class and were fifth in the under saddle but finished out of the ribbons in the handy and the stake.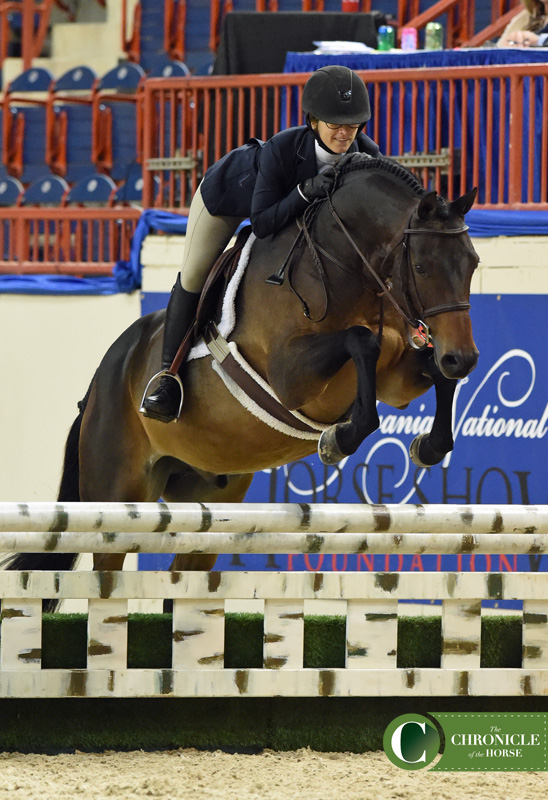 After going early in the stake, Rose went back to the barns and watched the livestream to see if she should make the trek back to the arena.
"As we were watching they were like, 'We should probably tack up the horse,' and I was like 'No, not yet; I don't want to get my hopes up,' and so then we were running down here, and I was just so excited."
Same Win, Different Pony
Alexa Lignelli is no stranger to accepting the tricolor for the small pony hunter division after topping it for the past two years with iParty. But this year it was Rollingwoods Knee Deep who took the top honors.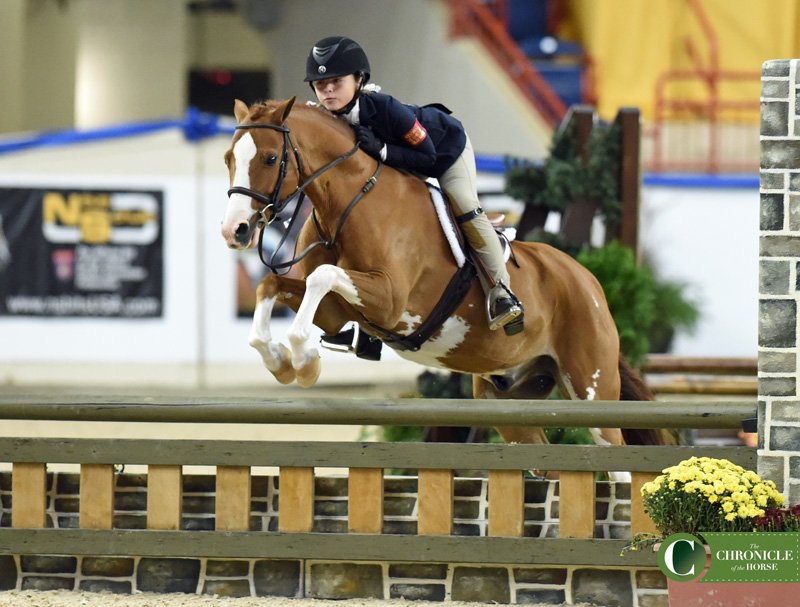 Few people aren't familiar with "Henry," a 16-year-old Welsh Pony (JD Cops And Robbers—Rollingwoods Lorna Doone) with his infamous knee-high stockings and loud belly spot, but for as much as he's won over the years, this is his first time topping the division in Harrisburg.
Though both "Henry" and iParty finished with 26 points, Henry had more points over fences to take the win over his barnmate.
"It is such an honor to ride them, and it's just incredible to be in the ring with them," said Lignelli, 11. "They are so trustworthy and so compassionate [to] everyone they meet; it's a real joy to ride them."
The Chronicle will be on-site at the Pennsylvania National bringing you beautiful photos, interviews and more, so check back throughout the competition. Don't forget to follow the Chronicle on Facebook, Twitter and Instagram @Chronofhorse. We will have full analysis of the competition in the Nov. 5 issue of the magazine.