Laura Dampf knew there was something special about the palomino mare Althea the moment she laid eyes on her three years ago. "Thea," then 3 years old, was a beautiful reminder of the palomino-colored horses Dampf grew up around. So when she realized Thea had the scope and movement of a show hunter, Dampf committed to turning the young horse into a top competitor.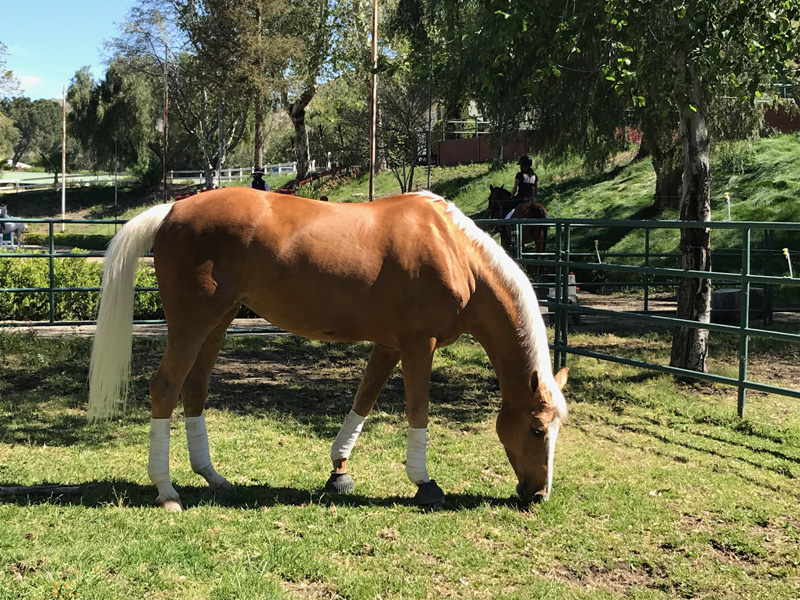 "When I was a kid, I got this backyard [palomino] pony out of a field, and we made him into our show pony hunter; he won everything," said Dampf, 61, Topanga, California. "So, I was like, 'Wow, maybe I can do this again.'
"I said, 'Well I'm going to get [Thea], and we're going to make this horse something and show the world that just because she's a palomino doesn't mean she can't be a show hunter and do well," Dampf added.
In a world full of bays, grays and chestnuts, the uniqueness of a palomino is right up Dampf's alley. While she looked forward to breaking in the now 7-year-old Westphalian mare (Ivory Coast—Tourbillion) with trainer Crystal Theisen, Dampf never imagined that the horse would come with a bevy of baggage.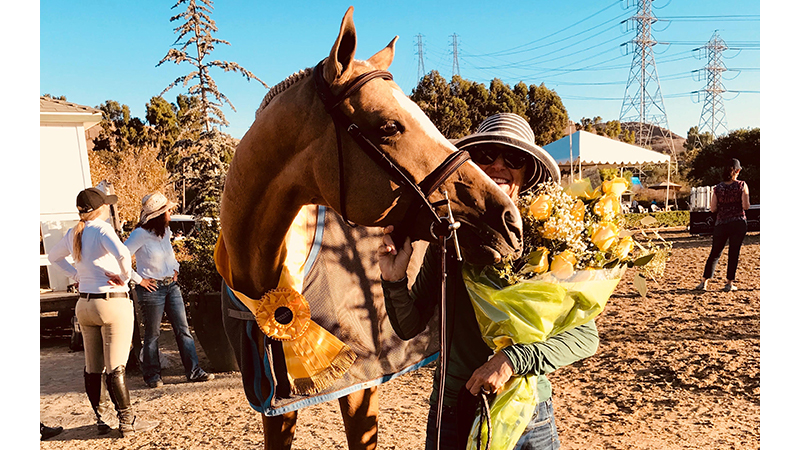 "She was very green; she wasn't even 4 yet, but they tried to make her a jumper, and they overfaced her," said Dampf. "I didn't pay a lot of money for her at all; they thought she was a complete disaster of a horse, so they weren't asking a lot of money for her."
When Dampf first tried Thea, there was nothing out of the ordinary. It was only when Dampf brought Thea home to Jubilee West in Lake View Terrace, California, that she recognized something was wrong.
"They really beat this horse up," said Dampf. "They put a tail bag too tight on her tail; a quarter of her tail is almost dead. They almost had to amputate it, but we ended up being able to save it, but she doesn't have hair that grows out of that section which is why she needs a tail extension when we go in horse shows. She had ulcers when I got her, bleeding ulcers because she was so stressed."
While Thea was as sweet as could be on the ground, the mare was hesitant about entering the ring and fearful of going near the ground poles.
"We had to just let her know that everything was OK," she said. "We did have to have one of the grooms stand behind her, following her to the ring to make sure she goes forward. And in the ring, when she wouldn't go near poles or certain areas, we just were very patient with her, and we were stern. We just worked and realized that she needed confidence, and she needed love and to be understood."
Thea now turns heads wherever she goes. People who knew Thea before Dampf took over the reins find it hard to believe that she's the same horse.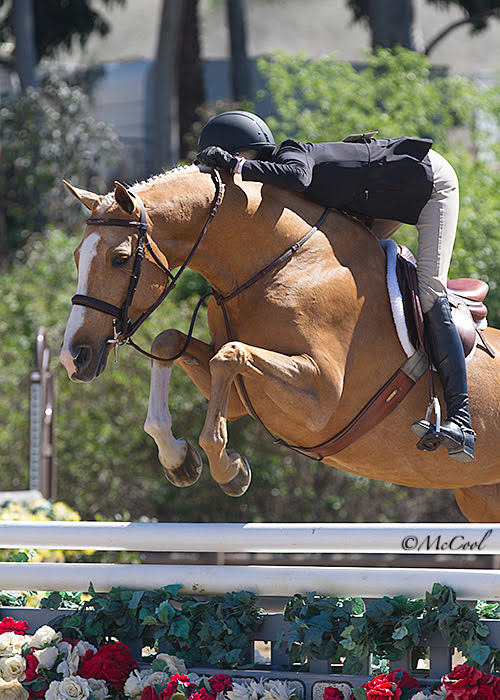 "When I start showing her, she had changed; people didn't recognize her," Dampf said. "They were like, 'Is this that horse? They hated her. She was a puke.' And it's like, 'Oh no. She was mistreated.' "
The horse once classified as disastrous surpassed all expectations in the show ring. Thea showed lightly at 2'6″ in 2016 before moving into the rated divisions the following season. Last year, she earned the U.S. Equestrian Federation's reserve Horse of the Year title in the 3'3″ young hunters, money won.
It's not difficult to catch the eye of spectators when you're a rare commodity like Thea. For Dampf, it would be nice to see more palominos in the show ring, but for those hoping to get the ride on Thea—she's not for sale.
"I think that it's hard to find one that is the fancy mover and jumper that she is," said Dampf. "And the way she looks—she's gorgeous. She's a conformation horse as well, so I think that's the reason. People now know her, and everyone else is trying to find one, and they're just not as nice. It's just like any horse; it has to have the movement and the jump and the attitude and everything to be successful."
Horses have always been a part of Dampf's life, but Thea has filled a particular niche.
"She challenges me, and she comforts me," said Dampf. "She's helping me go through stages of my life that are challenging when you get to be in your 60s, and you start to realize, 'What am I going to do?'
"She helps keep me positive, which is really important, and appreciating that she's not perfect, and I'm not perfect," she added. "It's like she's a reflection of me. I'm not saying she's going to be my last horse, but she's my keeper. She is the horse that I will never sell."