There are three fresh faces in the top three positions at the Adelaide CCI**** (Australia) after the Pryde's EasiFeed dressage phase. Katie Taliana currently sits in first place with a score 31; Emma Bishop sits in second with 31.5 penalties, and Lauren Brown rounds out the top three on a 32.3.
Taliana is a member of the Generation Next High Performance squad for eventing and has previously worked for Zara Phillips in the United Kingdom.  She purchased her beloved horse, Trevalgar II, in the UK for 1000 pounds and brought him back to Australia.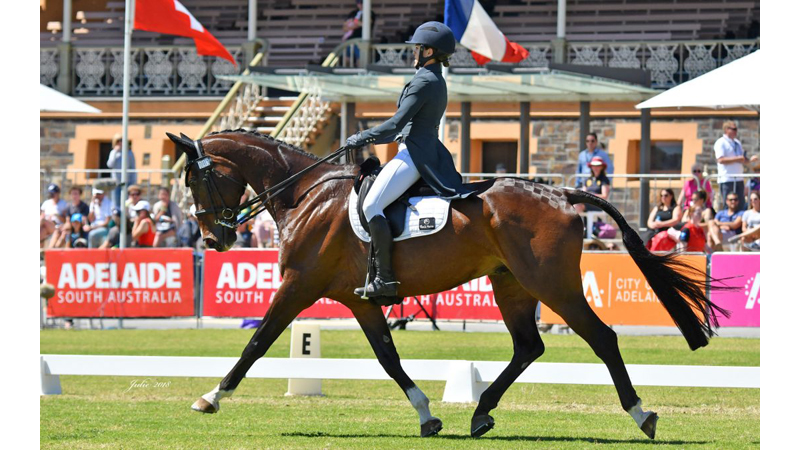 "He is amazing; he is such a good boy and will do anything I ask of him," said Taliana. "He's been a bit tricky over the last 12 months, but he was back to his normal self today.
"I'm a bit excited. I'm stoked actually," she continued. "The first time I came here, I really wanted to do well in the dressage, and I came fourth.  This year, he has just got better and better, and I'm really excited."
Bishop is also a member of the Generation Next HP squad for eventing and first competed at Adelaide in 2002 when it was a CCI***. She also won the 2017 Adelaide CCI** on Warrego Marco Polo.
This is Bishop's first four-star competition for several years—her last CCI**** was 10 years ago.  Her horse CP Issey Miyake, named after a brand of perfume, is nicknamed "Rose."
Brown is riding off-the-track Thoroughbred, Skys Da Limit.
"He was skinny and useless as a race horse," she said. "He came 25 lengths last in his first trial and just got worse from there.  But I just had a connection with him. It has never happened with any other horse, but I thought, 'He is going to be good'.  Everyone thought I was crazy, as he was skinny and out of proportion – but I knew he was going to be good."
The girls were all excited to be sitting in the top three spots after the first day but agreed tomorrow was going to be a tough one. Taliana believes the cross-country course is tougher than last year, but she's going to be confident and stick to her plan.  The cross-country phase is Trevalgar II's favorite, so she's looking forward to it.
Thousands of equestrian fans are expected to flock to Adelaide's beautiful parklands to enjoy the Qantas cross-country day tomorrow, where the competition and stakes will be high and the battle for the lead continues.