Washington D.C.—Oct. 21
John French couldn't have had a better trip to the Washington International Horse Show. He brought five horses, and all five won classes and earned open hunter tricolors over the last two days at the Verizon Center in downtown Washington, D.C.
"I should quit now!" joked French, who came east from San Jose, Calif., for the first three shows in the fall indoor circuit. "Even if I'd been planning to go to [the National Horse Show (Ky.)] I should quit!
"It means a lot," continued French, who last won leading hunter rider honors in 2007. "This is where I grew up. When I was a kid, Washington was the biggest show you could go to. The [National] was too far, but here you could come and watch. It's my favorite show. I love being in the city, the whole ambiance of being here."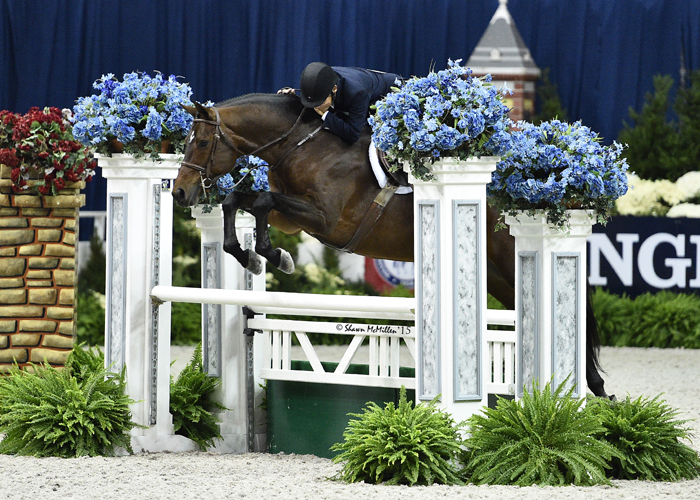 Boss and John French earned the grand hunter championship at Washington. Photo by Shawn McMillen Photography.
Boss, owned by Laura Wasserman, earned the biggest prize of the day, claiming the grand hunter title after topping the green conformation division. The first year green horse lives at Archie Cox's Brookway Stables in Southern California and meets up with French at shows.
"He's so pretty—he probably gets 10 bonus point for that," he said. "He goes like a real hunter. You don't have to bridle him up and he has a great expression. His ears never go back."
The 9-year-old Dutch Warmblood (Samba Hit II—Vulana) sealed the top prize with a win in today's green conformation hunter stake. He also earned the reserve in the first year green hunter division behind another French ride, Sochi.
That horse won two classes at Capital Challenge (Md.) three weeks ago then fell ill. He ran a fever and lost weight, so French let him recover under veterinary supervision at Rolf and Jennifer Bauersachs' farm in New Jersey. He was back to himself in a few days, and came to Washington feeling 100 percent. Sochi topped the first year green stakes class today and earned the grand green jumper championship as well.
"I didn't even ride him in the ring," said French of Lee Kellogg Sadrian's 6-year-old Holsteiner. "I just trusted. I didn't want to stress him out and work him too hard. He was a little fresh, but I think the judges liked it because he was jumping so high over the jumps."
French also earned the high performance title aboard Center Court, ahead of Ken and Selma Garber's Mindful. For the second year in a row Mindful earned the Protocol trophy as the high performance hunter who earned the most points between Washington, The Pennsylvania National and Devon (Pa.).
Center Court, owned by the Hiller family, has been a star on the West Coast derby circuit, and he showed that he could maneuver around the snug Verizon Center as well.
"He's really a first year horse," said French. "He's brave, but he's not used to going in an indoor ring. Last night in the handy he got a 92—that's the round I want to buy. That was the [highest-scoring] round of the show."
The only person to sneak ahead of French in the championship race is Scott Stewart. Stewart rode two Betsee Parker-owned entries to championships, with Lucador earning the regular conformation title and Cameo topping the second year division. Still French was right on his heels, with his two other rides, piloting Ranger to reserve in the second year green division, and Fine Design to reserve in the regular conformation division.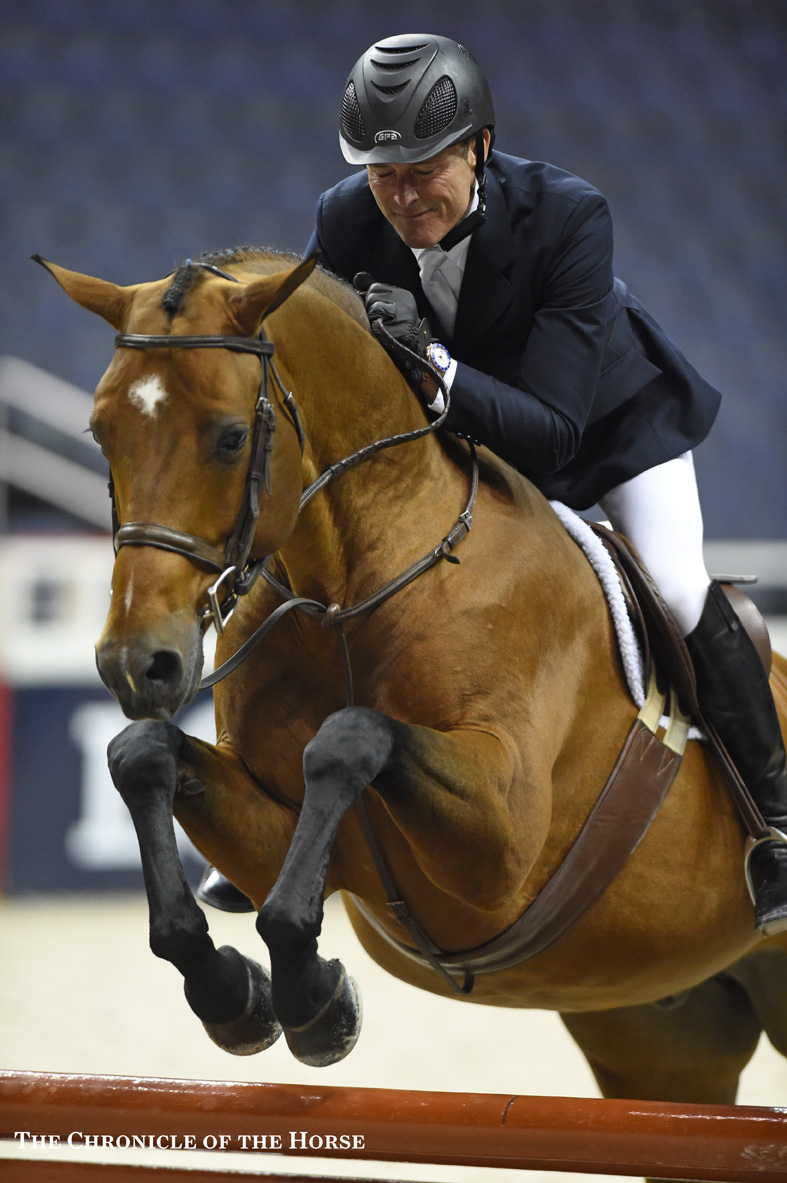 Lucador and Scott Stewart won the regular conformation hunter championship at Washington. Mollie Bailey photo.
On A Hot Streak
Some horses have favorite shows, and lucky for Becky Gochman her horse, Last Call, always shines in Washington. Last Call earned the amateur-owner hunter, 36 and over, and grand hunter titles for the second year in a row. Gochman also earned the leading amateur-owner hunter rider title—her fourth in five years.
Gochman said that sometimes "Finley," a 14-year-old warmblood of unrecorded breeding, can be a touch particular, but he felt comfortable and happy at the Verizon Center.
"He can get a little up in the classes," said Gochman, New York City. "If it doesn't feel right, we don't do it. At Harrisburg and [The Hampton Classic] it didn't feel right; he felt a little spooky. I think it's okay every once in a while to say 'We'll try it again another time.' I want this to be fun for my horses and I want it to be fun for myself.
"It's been a lucky show for me," she continued. "I am so happy because it is a good way to end the year and now the horses get to go to Florida and relax."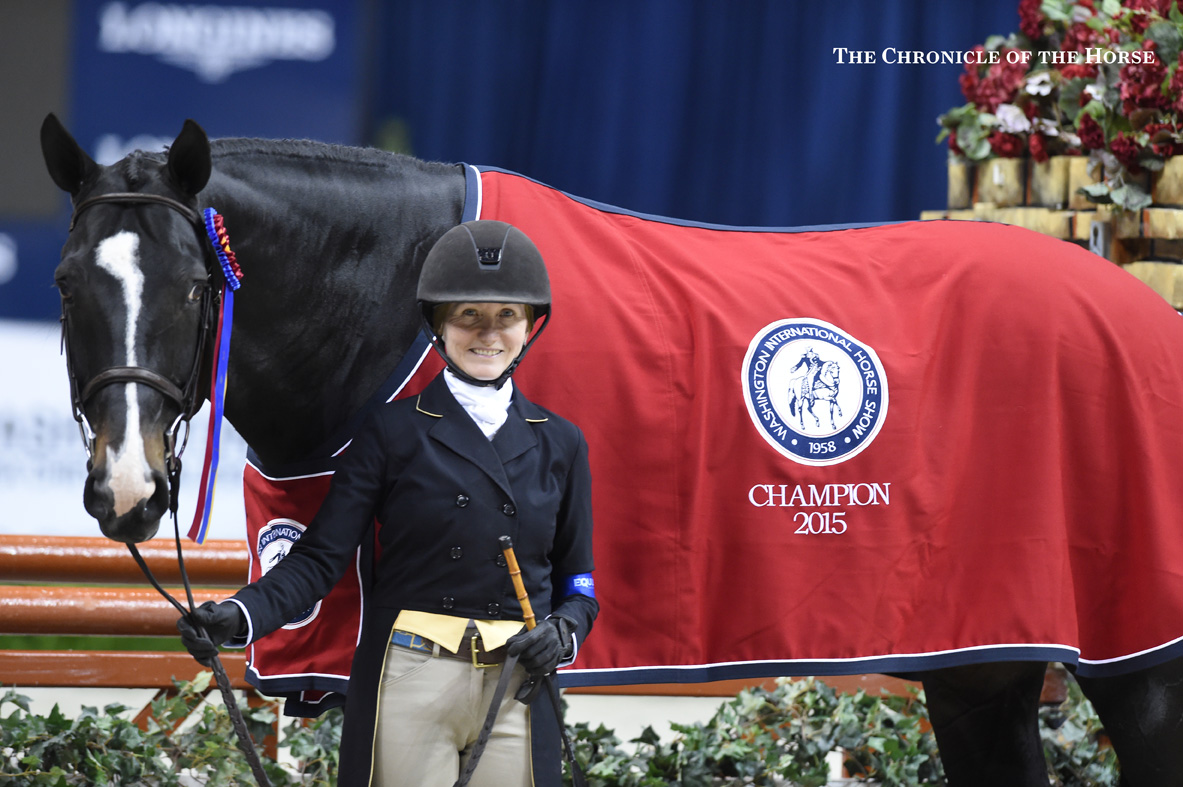 Becky Gochman piloted Last Call to the grand amateur-owner hunter title for the second year in a row. Mollie Bailey photo.
Gochman was kicking herself after going first in her stake round on Last Call, and going off course, jumping the wrong last jump. She rebounded on her second horse in the division, Empire, who jumped to fourth in that class. John Ingram and Airport 48 topped that class and the handy earlier in the day to seal the reserve championship.
"I'd sat in the stands and watched the youngers go, and the last two jumps were very similar, and I said to myself, 'I can see myself going off course here,' " she said. "I don't know if I made it happen, but it happens sometimes. I was pretty disappointed in myself because Last Call gave me a really good round. But I have to look at the whole picture.
"When my kids go off course I have to be forgiving and when I go off course I have to be forgiving of myself too," she continued. "But the horses were great."
Unlike Last Call, the winner in the amateur-owner, 18-35, division wasn't a seasoned mount. Chablis may only be 7 years old, but he marched around the Verizon Center as if he'd been doing it for years. He and Kelly Tropin finished fourth in both their jumping classes today, coupled with a win over fences yesterday and second in the under saddle gave them the amateur-owner, 18-35, division.
Tropin, 24, paired up with Chablis last year thanks to trainer Peter Lutz.
"I enjoy the process with a young horse," said Tropin, who also trains with Mary Manfredi. "We've done a lot of young horses together. This horse that really has something that's extra and really special."
Tropin lives in New York City and puts plenty of miles on her car driving to work in Connecticut, where she's an economist at a hedge fund, and to Davenport Stables in North Salem, N.Y., where she squeezes in dinnertime lessons as often as she can.
Winner Makes a Clean Sweep
It was almost impossible to miss Daryl Portela and her horse, Winner, at the Washington International Horse Show. The pair walked into the ring to accept multiple blue ribbons today and swept all three over fences classes to walk away with the low amateur-owner, 36 and over, and grand low amateur-owner hunter titles. Those blues boosted Portela to the leading low amateur-owner rider title.
"He's been an awesome horse, he's amazing," said Portela, Fort Lauderdale, Fla. "So it's very exciting—he loves this horse show, I like this horse show, its exciting to be in the city, it's a lot different, but he really likes this horse show."
Portela skipped Washington last year because her trainer, Jimmy Torano, judged the competition, and this year she made it a goal to come back strong.
"I'm pretty consistent on [Winner]," she said. "I know him really well now and I trust him, so I try and just go in and have fun. I'm very competitive, so I kind of beat myself up, I'm really hard on myself."
After her successful trip to Washington, she and Winner are now setting their sights on the National, then they'll head back home to Florida.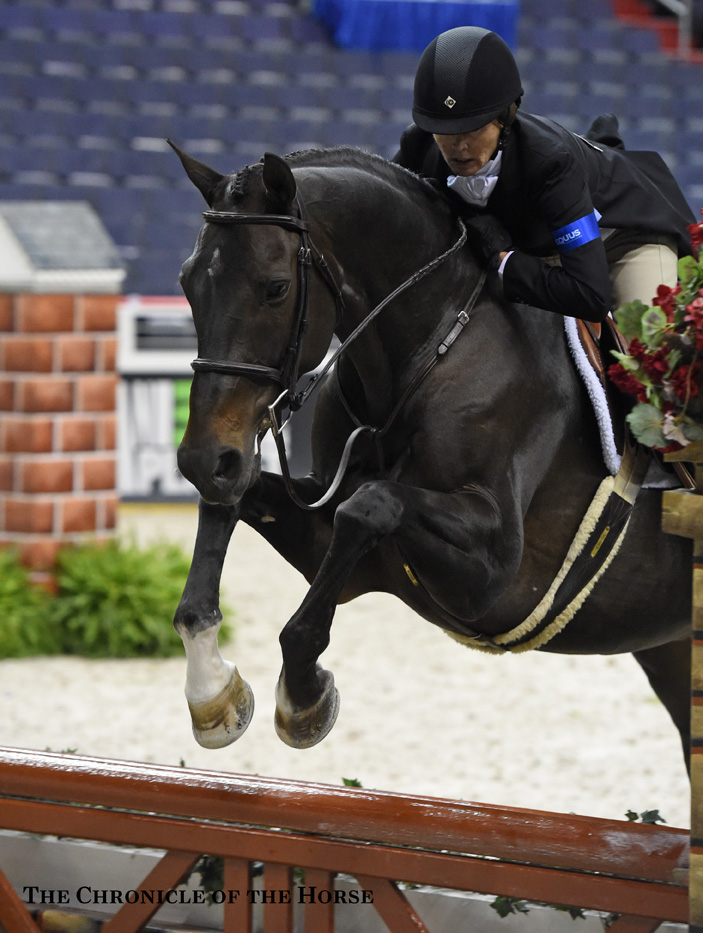 Winner and Daryl Portela earned the grand low amateur-owner championship at Washington. Photo by Mollie Bailey.
While Winner and Portela have been regular winners on the fall indoor circuit, the other low amateur-owner champion is a Washington newcomer. Certainty has been improving steadily this season, which culminated in the low amateur-owner, 18-35, title today with owner Nicole Lyvere. Lyvere, Lakewood, Colo., worked hard to keep her own nerves in check, knowing that Certainty would feed off her energy.
"He's kind of a high-strung horse," she said. "I was worried he'd be a little frantic and get worried, but surprisingly he's matured big time. We kept it together."
Lyvere trains with Cindy Cruciotti of Serenity Farm, and Carleton Brooks has been giving her a few extra pointers at indoors that helped her and Certainty relax.
"If you scratch his withers like a mare would do for her foal they take a deep breath," she said. "I did that and I could feel him relax at the back gate, and that's a big thing for him. He can get super frantic and that helps keep him calm."
This is Lyvere's first full season with Certainty, and she's hoping to step up to the 3'6" division next year. She's also hoping to pilot him in some USHJA International Hunter Derbies as well.
You can find full results here.
Want more Washington? Catch up with the winners of the $10,000 WIHS Children's and Adult Amateur Hunter Championships.

To read in-depth coverage of the Washington International Horse Show, pick up the November 9th issue of the Chronicle of the Horse magazine.