Lifelong horsewoman Priscilla "Penny" Denegre, of Middleburg, Virginia, is an avid foxhunter, top side-saddle competitor, and mother of a professional horsewoman. Now in her late 60s, she has no plans to slow down: In 2024 she will become president of the Master of Foxhounds Association, and she's on the board of the Land Trust of Virginia. A joint-MFH of the Middleburg Hunt, she's also a regular in the show ring.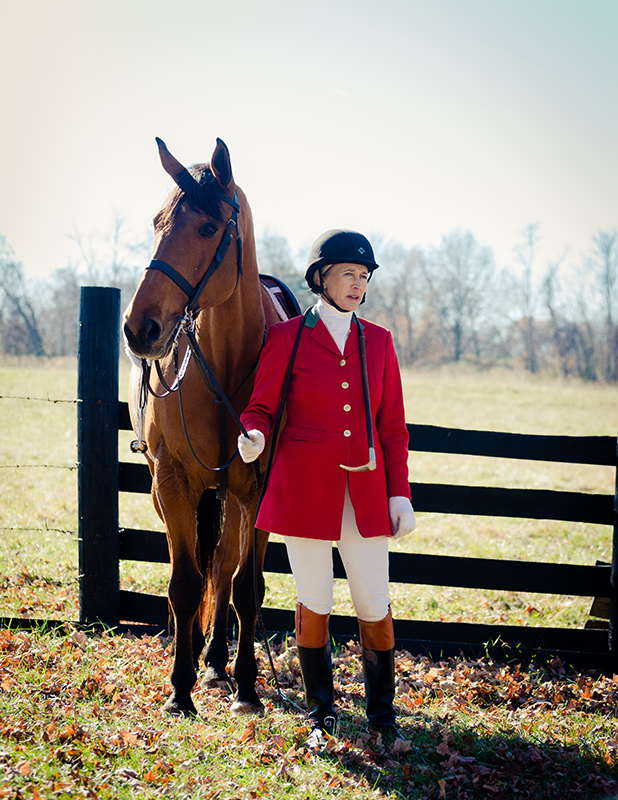 How did you get involved with horses?
My mother Priscilla "Pat" Rogers rode and showed some and was an avid foxhunter. She got my sister [Hillary Rogers Brooks] and I involved as soon as we could sit on a horse. We both attended the Junior Equitation School run by Jane Marshall Dillon; I started there when I was 4, and she had a wonderful program for kids. My mother was keeping her horse there. My sister was four years older, and we both took lessons there.
My sister died of breast cancer about 10 years ago. My mom was aging at that time, and it was hard for her to lose a child, and the three of us were pretty close.
Do your husband and daughter ride?
My husband John Denegre and I have been married for many years. He used to ride, and we hunted together. He has his colors and so forth, but he had a hip replacement. He took up track driving because he thought it was too dangerous to ride! I tease him about that, but it was on his "bucket list." He rode for a long time.
Our daughter Alden is married to Gavin Moylan, who is a horse professional, and they have a horse business together and are now based out of Wellington, Florida.
When did you start riding side-saddle?
My mother gave me the saddle when I graduated from [Duke University, where she majored in history and French]; it was my graduation present. She and I had always been fascinated by it, basically because of its ties to hunting, and we loved the appointments and all of it. Back in those days it was very difficult to find anybody who taught side-saddle, but thankfully I knew Smokey Everhart, who gave me some lessons and pointed me in the direction of some books, and I pieced it together and figured out how to do it.
I had an amateur horse who we thought would do it well, but he didn't hack quietly. My mother had a hunt horse that we found out years later had already been taught to carry someone side-saddle, but we didn't know that at the time. He had a check ligament injury that prevented him hunting anymore, so he became my side-saddle horse, and obviously he took to it well. I rode some horses that belonged to other people. One was Speculation, owned by Rose Marie Bogley, and he was a wonderful horse. Then we bought some of our own and kept going.
I bought a horse named True Blue through my then-trainer Charlie Evaskov, from Kelly Klein; he had a good, strong back. You need a horse that will really put their back into it and has good, strong conformation. I showed him for 10 years, which is remarkable in and of itself, and he won the [U.S. Equestrian Federation] Ladies' Side-Saddle National Horse of the Year seven times. He was really remarkable. It was about 1990 that we started, and that was the first year that side-saddle had its own year-end award as a recognized division.
Do you ride aside in the hunt field?
Yes, I have. I had a very nice horse, a lovely hunter, and he was just a terrific hunt horse. You want one that will take care of you, and he would go anywhere and do anything; he had all the gears and was light on his feet. He was a Thoroughbred and had been a race horse; he'd go slowly or fast when you wanted. I led the field, but I haven't done that side-saddle because I think when you have a job like that you have to stay out all day. When you're riding side-saddle, occasionally you like to cut the horse a break and bring them home early, and you can't do that when you have a job like that.
Gavin (who wasn't my son-in-law yet) was my trainer and found my mare Garnet for me. She had been imported as a dressage horse, and he knew that I liked beautiful movers. I was doing the amateurs, and I bought her to do the 3'6″ division. We did baby greens and everything to bring her up the ladder, and I eventually said she'd do well as a side-saddle horse. She was national champion for five years. I've had other horses as well. It's been a wonderful journey with the horses I was lucky enough to have.
What's your involvement with the MFHA?
I'm the first vice president of the Masters of Foxhounds Association and will be inducted as president in January 2024. I've been on the board since I became director of my district, which was a six-year appointment. Then I became second vice president. This is a nine-year commitment: three years each as first and second vice president and then three years as president. I feel a huge responsibility, and I'm honored that they should have nominated me. It's been a lifelong pursuit—I started hunting when I was 9—and I hope I can be worthy of their trust in me.
I should also mention that just this past weekend I was inducted as a Legend of the Devon Horse Show (Pennsylvania), which was also quite an honor.
Who do you admire most in the horse world?
There are so many! Some you admire for their ability to get the best out of a horse; they seem to be able to find the right button to push to unlock the "secret," and there are some that you admire for bringing on young horses, green horses. That's a really tough question!
I will say that Mrs. Jane Marshall Dillon was amazing. She started so many kids with horses: Joe Fargis and Kathy Kusner, all started with her. I think she gave us the right start and the right attitude about how to treat animals.
Which horse(s) have been most important to you?
Of course True Blue and Garnet, and I have a horse now that I just love. We do the adult amateurs. I had a bad accident in 2017 out hunting, and I haven't shown side-saddle since then. It was a freak accident, and it happens.
I haven't really had a suitable horse, but this one was coming along and has really come back. We're going to Washington [International Horse Show (Maryland)] to do the adult championships. Her name is String Of Pearls, and she's done quite well. We won this class in 2019, and we've won hunter classics here and there at some nice shows. She's definitely a favorite.
How many horses do you currently have?
Too many! I have 13 or 14. Some are retirees, and I have some young horses. Garnet had three babies, one of which I did sell, and I have a broodmare that I own with my daughter, [and that mare] lives here with me in Virginia. Most of the retirees are hunt horses, but I have a jumper that belonged to my daughter and got her to the next level in her jumping; she got her to the mid or high jumpers. I have three hunt horses that I currently hunt.
Do you have any pets?
I always have retired foxhounds, usually two at a time, and we help them through the last chapters of their lives. We don't have them too long, but many of them I've known from hunting and watched them through their careers. Having them live with us on our sofa is something I really enjoy. Middleburg has American Foxhounds, and they tend to want to please, so they make good pets. If they make a mistake and you say no once, they never do it again; they're very responsive. I've had about 12 of them now. You have the satisfaction of knowing you've given them a good end to their life. They retire at 8 or 9 and live a few more years, and you want them to be happy.
They're very loving, sweet hounds. I actually had one that lived with us for a while that we were rehabbing from a torn tendon. It was a hunting injury. She was of a bloodline that I really wanted to preserve; I loved her mother, and this was the only puppy out of that female, so my husband and I, with help from one of the local vets and others, got a program going to rehab her. She's out hunting again now, but while we were rehabbing her, during her rest period, we bred her, and when the puppies were weaned, we started her in an exercise program on a leash for five minutes a day. Eventually we jogged and cantered her half an hour twice a day from a golf cart. She's back at the kennels and doing amazing; she is just a remarkable animal. Now when I'm standing around getting hounds ready, she'll come up to me and say hi, then she goes right back to Richard [Roberts], the huntsman, because she loves her job. Hopefully she'll retire with me when she's done with her career. I had hoped that story would end well, but it couldn't have ended any better. It's almost like she understood what we were doing.
You're also involved with the Land Trust of Virginia. Can you talk about why that's important to you?
I'm on the advisory board for the Land Trust and have been on the MFHA Conservation Committee. I'm not currently on that, but we reviewed applications for their conservation award when I was on that committee. I was on the board of the Goose Creek Association years ago, which is a local organization. When you're as involved in foxhunting as I am there's no way not to be involved in conservation because it's so connected with having open space and places to ride. It goes hand-in-hand with that sport. I would even say foxhunters have a great influence on conservation.
What is the last book you read?
I'm interested in history, and I read one called "The Boys In The Boat" about the men's rowing team that competed in the 1936 Olympics in Germany under Hitler's rule; that was a fascinating book. I also recently finished a biography of Queen Mary, who was Elizabeth's grandmother—George VI's mother. She was a fascinating character, and I think in many ways misunderstood. She was a strong woman, and I think strong women are often seen as cold and heartless, not warm and fuzzy, and I think that was unfair. She was devoted to duty and her country, like Elizabeth was, and she was an interesting character.
What kind of music do you listen to?
All kinds, though I would say as I've gotten older I do like classical. My life is busy and complicated, and I find classical music relaxing and ordered. But I listen to all kinds of music. I used to play the piano, but that would be a long time ago.
What is always in your refrigerator?
Broccoli. My husband will get a big kick out of that. It's the one vegetable that's always fresh, not necessarily seasonal. I steam it in the microwave.
What would be your perfect vacation?
As I said, I like history, and I also enjoy sightseeing and travel. I enjoy traveling to an interesting country and learning about its history.
Do you have any superstitions or lucky charms?
I have a very simple bracelet that was my grandmother's, and she gave it to me years ago. Of course you can't wear that in an appointment class, but I wear it when ride it astride, and when I'm riding side-saddle I give it to my daughter, and she wears it for me.
---
This article ran in The Chronicle of the Horse in our Nov. 7 & 14, 2022, issue. Subscribers may choose online access to a digital version or a print subscription or both, and they will also receive our lifestyle publication, Untacked. 
If you're just following COTH online, you're missing so much great unique content. Each print issue of the Chronicle is full of in-depth competition news, fascinating features, probing looks at issues within the sports of hunter/jumper, eventing and dressage, and stunning photography.