Tallahassee, Fla. – March 13
Clayton Fredericks had quite the morning before his CIC** show jumping rounds this afternoon.
When his CIC* horse Subiaco stopped at a double combination, Fredericks was thrown onto his neck and busted his chin open. After re-presenting, the gelding stopped again, and they were eliminated.
One bloodied white shirt, six stitches and four staples in his chin later, he headed into show jumping in third place on FE Money Made and had a rail. Then the pressure was on with the leader, FE Bowman.
But he put his bad luck behind him to jump a double-clear over William "Fuzzy" Mayo's course and clinched the win. Caroline Martin also jumped double-clear to remain in second with Effervescent, while Jessica Schultz and Lock N'Load also moved up to finish third.
"[Subiaco] was jumping really well, and jumped really big into the oxer in the double. He crashed through it. Then for the life of me, I was still going forward and was on the approach to the triple bar and the judge rang the bell," he explained. "What do you have to do? You have to stop. I'm looking at him and was thinking, was something wrong with the horse? My chin was bleeding. Then they set the double up, and I had to jump it again, and then he stopped. He was a bit shell shocked I think. That was a bit of a traumatic start to my day. So, got some stitches and back here. It couldn't have gone wrong today. I was thinking after all the dramas I had this morning, Bowie had to jump clear for me!"
Bowie, an 8-year-old Wurttemberger gelding, completed his first advanced at Rocking Horse (Fla.) in February, and Fredericks dropped him down at Red Hills to have a confident run.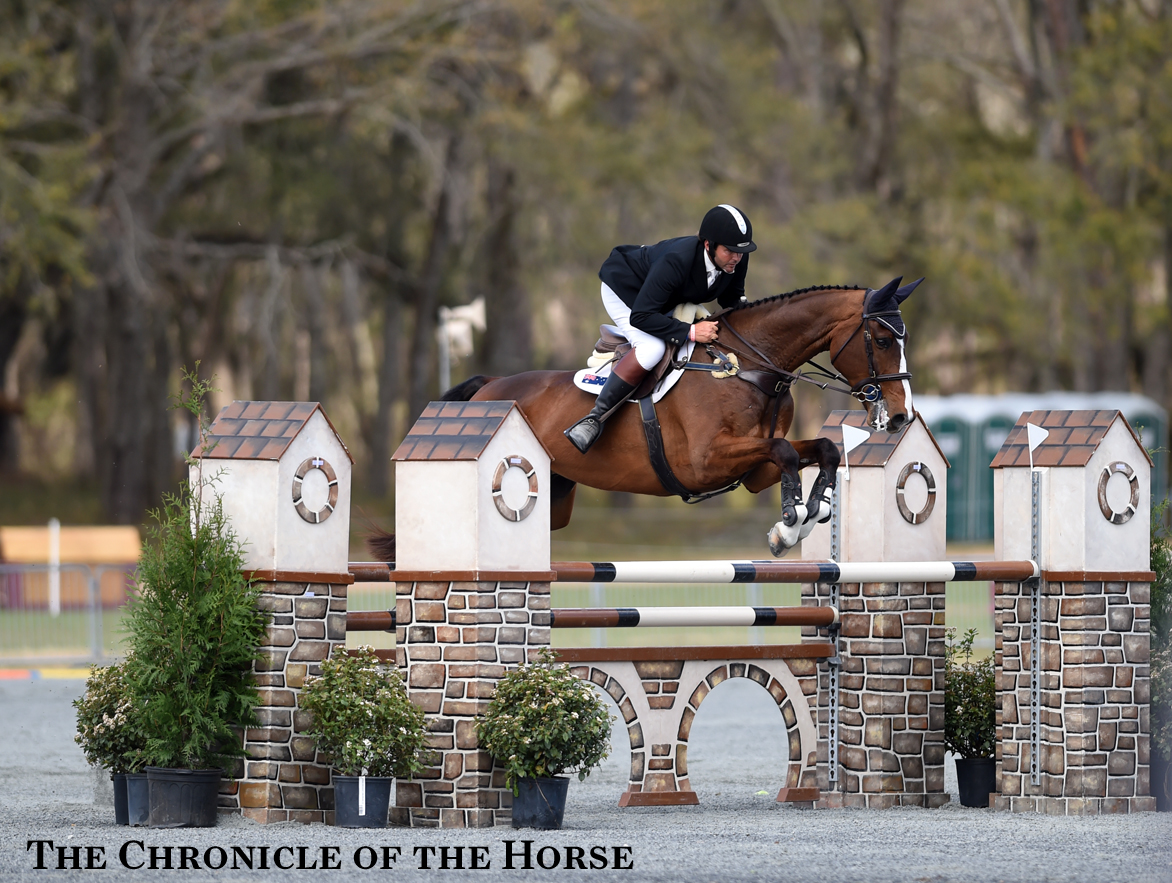 Clayton Fredericks rode with a busted chin to clinch the CIC** win on FE Bowman. Photo by Lindsay Berreth.
He's a bit of a spooky horse, but Fredericks has seen a big improvement this season. "He's really starting to mature," he said. "You can see it doesn't take much to set him off. In the parade I nearly took the poor ring crew guy out! It's been an interesting day."
Fredericks has kept busy over the last couple of years as coach of the Canadian team, but he's found time to enjoy competing at the higher levels of the sport. He said after the Ocala CCI** (Fla.) he'll back off competing again as his commitments to the team ramp up ahead of the Olympics in Rio.
"This sport is tough," he said. "You just have to keep taking a deep breath and remembering why you're here and enjoy the good bits because there's a lot of other stuff that goes on as well that's not so good. It's nice to have to maybe struggle a little bit and get your mind on the job and work through that process again. I think it actually helps me with my other guys to coach them a bit through that as well."
He also noted it keeps him sharp and current on the state of the sport. "And physically I've lost a bit of my beer gut, so it's even better!" he said with a laugh. "But really, I have enjoyed this little stint back in competition. We've still got the Ocala event to go, but after that and really now the focus is on the Canadians and going to Rio."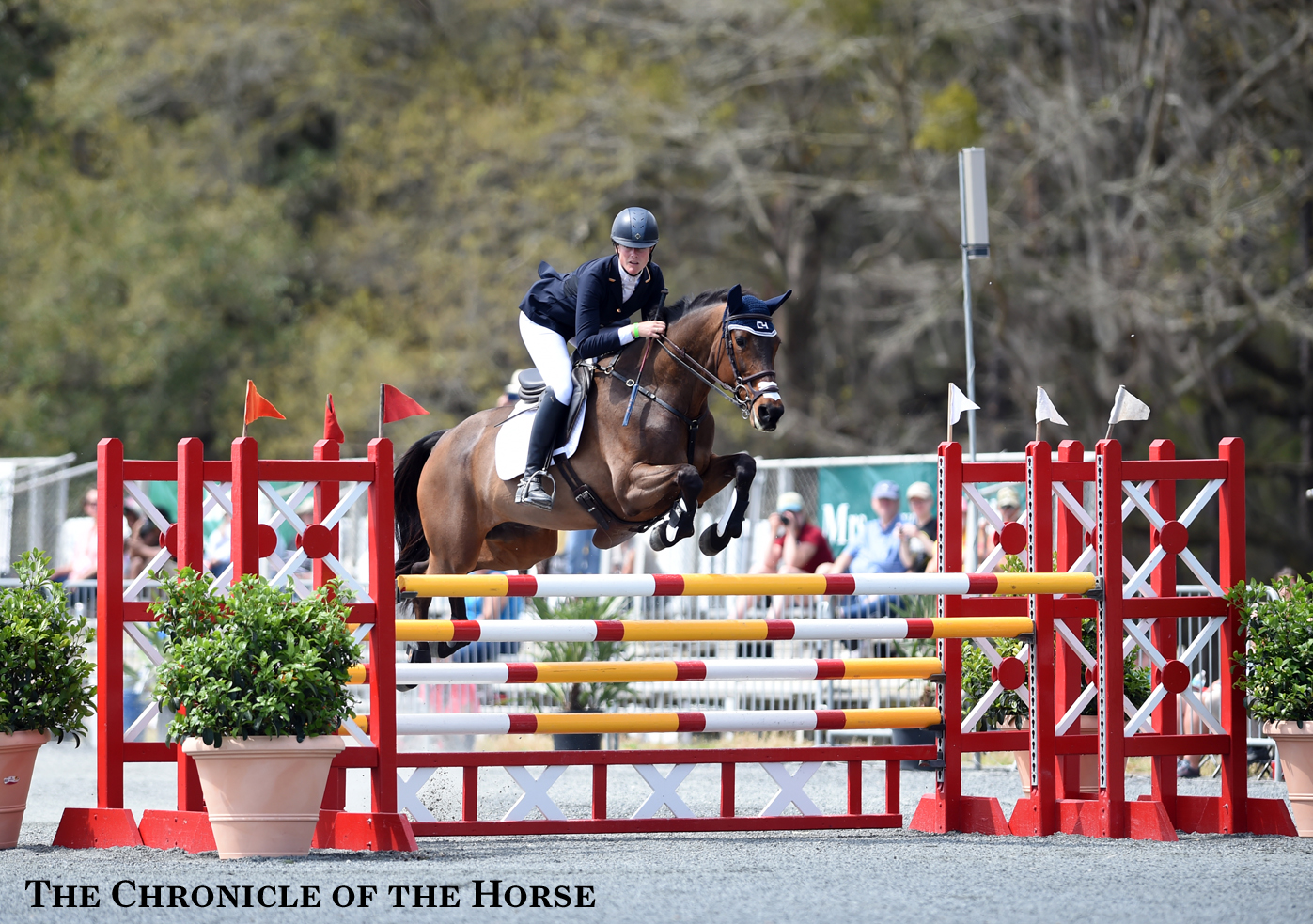 Lauren Kieffer and Veronica won the advanced division for the second year in a row. Photo by Lindsay Berreth.
Lauren Kieffer took home the win in the advanced division with Veronica for the second year in a row, finishing on 48.5 ahead of Ryan Wood and Woodstock Bennett.
"She felt super out there," said Kieffer of her cross-country ride on Saturday. "She was kind of mad that everyone went before her in the barn. I try not to get too comfortable with her, but I just kind of cruised around and let her go at her own pace, and it worked out well."
Wood was riding for redemption after a fall at Pine Top (Ga.) last weekend with the green "Bennett."
"We fell at Pine Top last week, so we cross-country schooled a couple of times and he was great. I was happy to get him home clear," he said of his cross-country ride. "[Course designer Mike Etherington-Smith] is a master. The course gave a really good feel, and I'm glad I came down. The horses are going to come out confident and ready for the next one."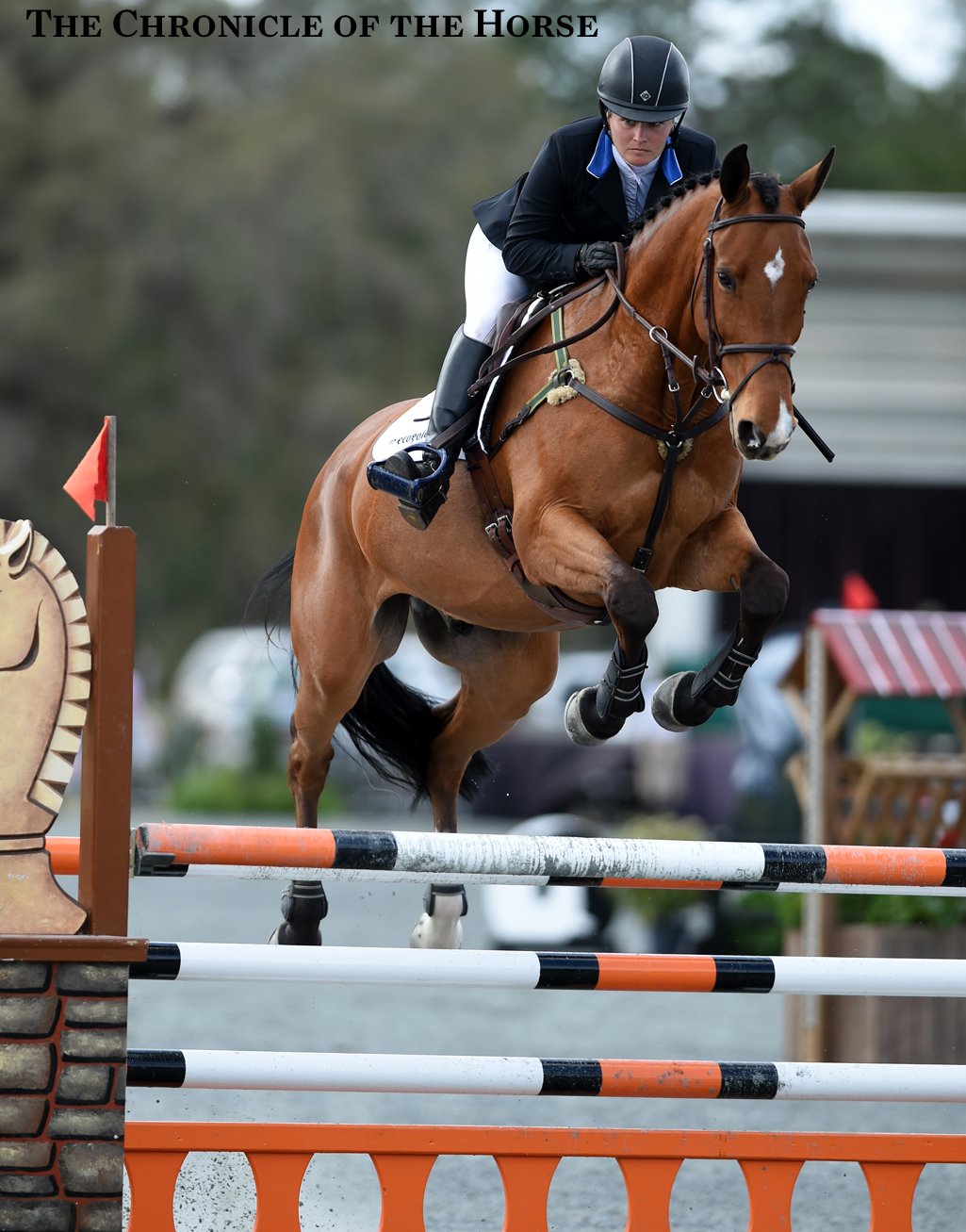 Hannah Sue Burnett and Alonzo III won the CIC*. Photo by Lindsay Berreth.
Hannah Sue Burnett clinched the CIC* win with Mary Ann Ghadban's 11-year-old Dutch Warmblood gelding Alonzo III.
A new ride for Burnett, Alonzo was recovering from an injury when he came to her barn in 2014. He was given a year to heal and has come out strong this season. He'd previously jumped to the CCI** level in England and had been campaigned briefly by Sharon White.
"I got to know him really well and took my time bringing him back," said Burnett. "I didn't know very much about him because Sharon didn't have him very long. I just really love him. He's adorable. He has such a cute personality, and he stepped up to the plate so much this weekend. I had no idea that he would put in such a nice test. Cross-country he just pings around, charging at the jumps. He was all excited and loves the crowds. To ride he's like a firecracker. He really understands the phases. In the barn, he's the favorite. He's easy going—a really nice horse to have in the barn."
Full results are available here.
Miss any of our coverage from Red Hills?