A new fence on Mike Etherington-Smith's CIC*** cross-country course at the Red Hills International, held March 9-11 in Tallahassee, Florida, caused confusion after it came apart multiple times on Saturday afternoon.
Fence 10A, a ramp into the water made of rails, was fitted with a MIM clip on the top rail, which was activated once by three-star rider Erin Pullen on Tag. However, no penalty for a pin was reflected in the scoring.
Technical Delegate Wayne Quarles explained that the jump judges hadn't marked the pin on the score sheet. But when photos from the event surfaced that showed the rail falling and course builder Tyson Rementer changing the clip, officials reviewed the results.
"Following discussion with Erin, she accepted that she should have the 11-point penalty," said Quarles. "She remembered that her horse had hit it quite hard but was not aware the rail had fallen."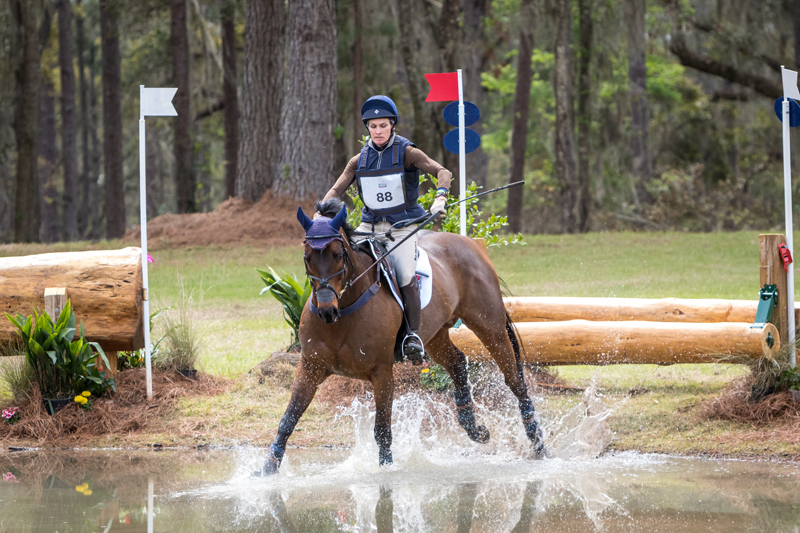 Typically results are final 30 minutes after final posting to allow competitors a short period to protest. "However this correction was made after that time due to a discrepancy between what the fence judge reported and what they wrote on their sheet," said Quarles. "The competitor agreed that if the rail dropped, she deserved the score."
Quarles said the current jump judge booklets can be a challenge, especially for national classes, because they don't have a column to mark for the pins, so officials have to depend on jump judges to write in a description of what happened in the information block on the sheet.
But Pullen wasn't the only three-star rider to keep the course builders busy at 10A. Joe Meyer had a stop on Clip Clop, and the horse got his hind feet between the ground line and the middle rail of the jump. The ground rail rolled back, Meyer represented without it being replaced, and he finished the course with no other problems. He received 20 penalties for the stop, but as he didn't activate the frangible device, he didn't incur that penalty.
Etherington-Smith said he designs many jumps so the rails can roll out of the way should a horse get trapped. Ideally if a rail came loose, he'd replace it before the rider continued.
"I always put MIM clips on fences that can have a mechanism on it," he said. "I'm a great believer that if we can we should do it. I put [rails] on the support posts, and I put a small wedge just to stop them rolling off [if they're hit]. If a horse stops and slides into the fence and gets his legs between the rails and pulls back, the rail will come back rather than it being secured with a rope and not pulling back. It's a risk-management initiative."
Three-star competitor Shelby Brost also had a stop at 10A and dislodged the ground rail. She jumped into the water on the second attempt, jumped the B element, then retired.
Quarles noted that for national divisions at all levels, if a competitor activates a pin he or she does not receive 11 penalties. EV141.1 Faults At Obstacles says, "activating a frangible device, no penalties."
Jonathan Holling, a four-star rider, chair of the U. S. Eventing Association Cross-Country Safety Committee and the U.S. Equestrian National Safety Officer, explained why the USEF national rule doesn't award 11 penalties.
"We want course designers and builders to be able to innovate and come up with new ideas," he said. "One of the ways [to do that] is being able to do that in competition. The way the rule and the guidelines are written, if a course designer comes up with an idea that they think is reasonable and safe, and the president of the ground jury and the TD agree is reasonable and safe, they can introduce that technology, that idea, in the competition. Because any of those ideas would be as safe as what we're already jumping at a minimum, there's no increased danger to it, but there is a possibility, when you're doing something like that at a national horse trials—it doesn't have to be approved like it does at FEI—you could have a false activation basically.
"But what you can get a penalty for is dangerous riding [25 points, elimination or a warning card under EV112]," he continued. "If you break a pin because you rode dangerously, they can give you a dangerous riding penalty. It was a conscious decision made when the rule was put forward to leave it that way, so there was room for innovation at the horse trials."
Etherington-Smith, a member of the Fédération Equestre Internationale Risk Management Steering Group, wasn't aware of the USEF rule regarding frangible pins, but he thought the national rule should be in line with the FEI in order to accurately record data.
"We're collecting all this information and looking at it, so we need to know if any mechanisms are activated," he said. "Personally I would penalize, but I'm not implying criticism of the federation. The reason I say that is if you jump a lovely clear round and are in second place behind the winner who has activated one of these mechanisms and hasn't been penalized, who's jumped the best cross-country round?"
Holling pointed to the frangible ProLog, which was developed by Mike Winter, Kyle Carter and Barton Aul, as an example of innovation. He said USEF officials are happy with the way the rule is working, and there are no plans to bring it in line with the FEI rule for now.
"You have to innovate somewhere, so that's the idea there," he said. "You want to be able to have a place where ideas can be tested and worked on in real world environments. If the designer comes up with something that the ground jury or the TD don't think is safe, then they'd have to have a conversation about whether or not it should be used, but the number of times that something like that actually gets put in is not very often. But we'd like to leave it open so that when there is an idea we can do it."