PAID PROMOTION
Founded in 1914, Foxcroft School is a college-preparatory boarding and day school for girls in grades 9-12 and post-grad with a mission of helping every girl explore her unique voice and develop the skills, confidence, and courage to share it with the world. With a nationally known riding program, the School offers opportunities for student equestrians of all levels to train and compete while living and learning in a supportive, welcoming school environment.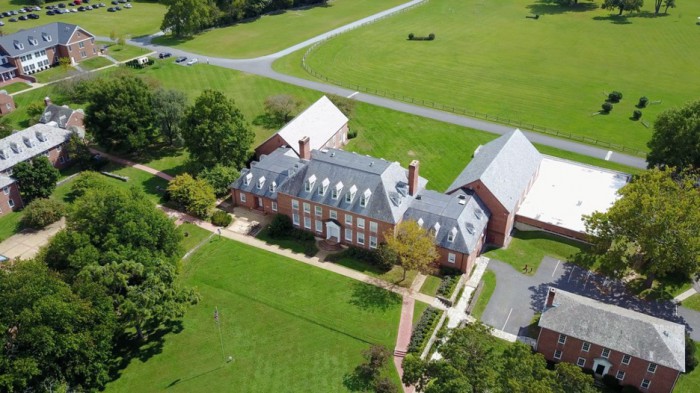 Horsemanship and the responsibility that goes with it have been an integral part of the Foxcroft experience since the School opened. From our School's founder (and first riding teacher) Charlotte Haxall Noland to current Director of Riding Kate Worsham, Foxcroft's riding instructors promote the philosophy that the sport helps develop character and the ability to make good decisions.
Averaging over 30% of the student body population each year, riders can compete regularly at local and rated shows or take lessons and ride for pleasure on campus. The program encompasses the disciplines of hunters, jumpers, equitation, and foxhunting (including a special partnership with the local Middleburg Hunt). Riders can compete on the School's Interscholastic Equestrian Association (IEA) team throughout the year and, most recently, two riders advanced as individuals and earned top-three finishes in their respective classes at Zone 3 Finals.
Throughout the year, students can take mounted lessons in groups of 1-3 riders at the beginner, novice, intermediate, and advanced levels. Beginner classes emphasize activities such as grooming and basic horse care, as well as mounted skills including stability of position and control of the horse in a group setting. Riders at the Novice level continue to practice exercises on the flat and over cavaletti to strengthen their base of support and help stabilize their hand and arm positions. Intermediate and Advanced riders focus on maintaining their form while learning more intricate flatwork and jumping exercises. Riding lessons satisfy a student's physical education requirement for the season; some students choose to participate in another sport as well.
Set on Foxcroft's beautiful 500-acre campus set in the middle of Virginia horse country, the Jean DuPont McConnell Stables and Riding Arena are home to approximately 35 school horses, along with 60 stalls, 2 tack rooms, a 100' by 200' indoor arena with state of the art footing, and grooming and farrier stations. Outdoor facilities include Big Track (the large grass arena with the best views of campus), a large sand arena, and miles of well-maintained trails.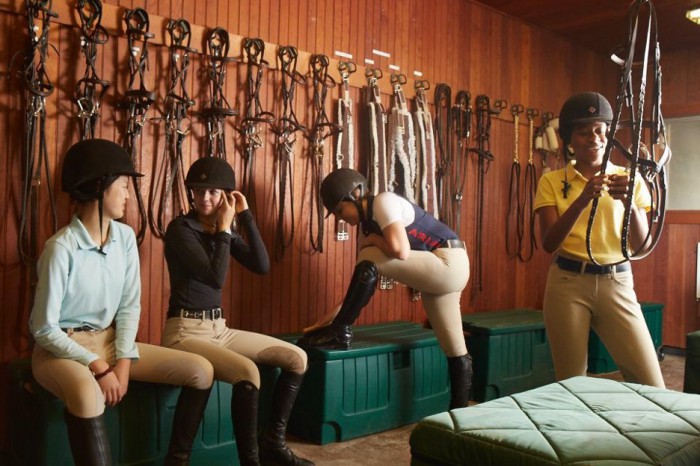 Lessons learned in the riding ring carry over into academic classes and other realms, resulting in well-rounded students with a variety of interests — which is something Class of 2022 graduate Virginia Bonnie experienced herself. "In my eyes, school and academic curiosity are invaluable in achieving a healthy balance," she offered. "While I love the horses endlessly and I want to continue to learn and develop, being able to step back, think about something else — it makes me better and more thoughtful on both fronts." Last year, Virginia earned a gold medal at the FEI Jumping Nations Cup Youth Final in Kronenberg, Netherlands; took first place with her U25 team at the $25,000 Hermès Under 25 Grand Prix Series Team Event; and was champion in the High Junior Jumpers during week four of the Winter Equestrian Festival. In her academic and artistic pursuits, she was elected to the School's chapter of the Cum Laude Society, named an AP Scholar, and earned three Silver Keys and one Honorable Mention in the regional Scholastic Art and Writing Awards. With the right programs in place, Foxcroft students can achieve amazing things.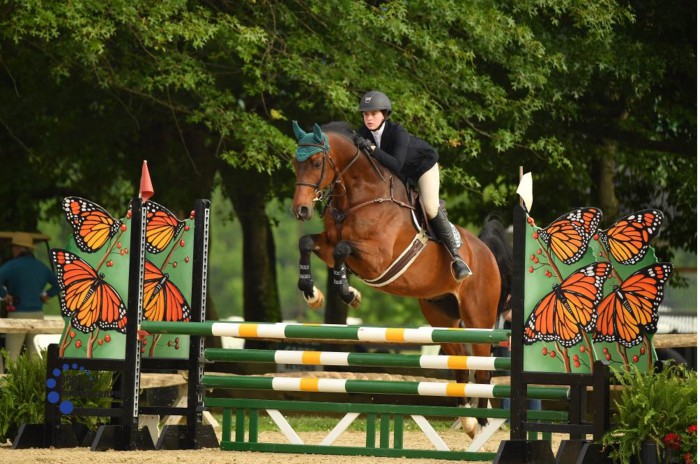 For accomplished riders like Virginia with a demonstrated talent and passion, Foxcroft's Exceptional Proficiency (EP) program allows them to spend time away from school to train either with a Foxcroft trainer or with an outside trainer, compete, and pursue their personal dreams while receiving the academic support to meet their academic goals. The flexibility and support offered by the EP program are unparalleled. "As a show jumper and member of the EP program, I spend three to four months away from school each year," reflected Wilhelmina M. '23, who traveled to Florida during her junior year to compete at the Winter Equestrian Festival and raised funds for the Susan G. Komen Foundation at the Great Charity Challenge. "I have now been away from school for one month and in all my years of prolonged absences at different schools, I have never felt more loved and looked after than I do at Foxcroft."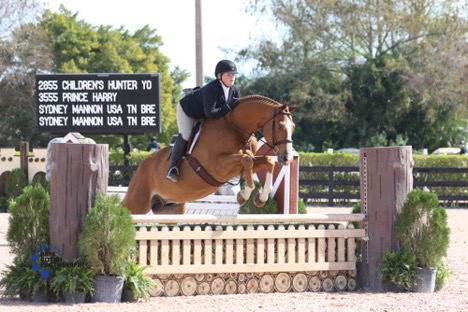 Foxcroft's academic and residential life programs are designed for how girls learn best. The academic program offers over 70 courses, including Advanced Placement and post-AP offerings, and a STEM program that inspires girls to pursue studies in fields where women are underrepresented. Among the five dorms on campus, every student — day or boarding — has a dorm room and bed, fostering an inclusive community and residential life experience.
Experience the best in girls' boarding schools: visit Foxcroft and explore our riding program today! To learn more, visit our website at www.foxcroft.org or contact our Admission Office at admission@foxcroft.org or 540.687.4340.
This content was paid for and provided by Foxcroft School. The views and opinions expressed in this article do not necessarily reflect those of The Chronicle of the Horse.