Devon, Pa.—May 24
No matter who you are or how long you've been coming to the Devon Horse Show one thing's for certain. Everyone wants to win the R.W. "Ronnie" Mutch Equitation Championship. It's no easy feat to take that title though. It's all about consistency, and this year it was 18-year-old Paige Matthies from Lake Leelanau, Michigan, who added her name to the coveted trophy with a win in the Washington International Horse Show Jumper Phase and a pair of red ribbons in the Dover Saddlery USEF Medal and the Platinum Performance USEF Talent Search.
Here are five facts about Matthies:
1. This is only her second year showing at Devon.
"It's always been a dream [to win this]," said Matthies, who trains with Ken and Emily Smith as well as Melissa Hirt. "Last year was my first year at Devon, but I've been watching it for many years, so I've always had a goal for this to happen."
"We've been preparing for this Devon for a couple years," said Ken. "We tried to get her here two years ago. and it didn't work out. Last year we had a pretty good show in the eq but a little inconsistent I'd say. And this year we really made a plan—she came to Kentucky last week and really tried to be prepared as best we could. Melissa had the horses absolutely in perfect shape. Paige was in a really good place in her brain, rode very, very consistent, and we couldn't be happier."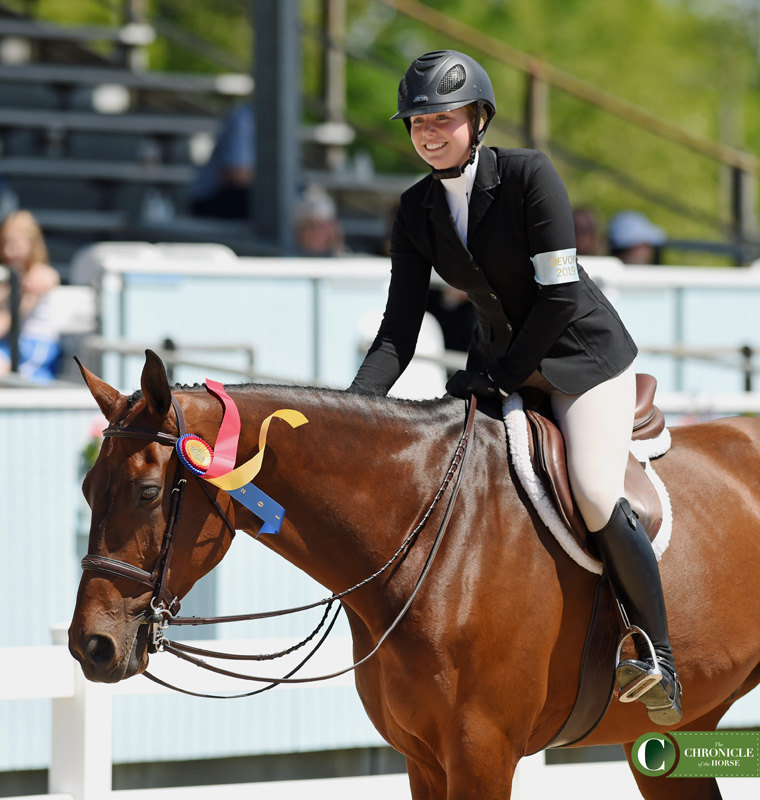 2. She showed two different horses in the four equitation classes.
Matthies has a pair of equitation horses, Conto Blue and Blurred Lines. She got both of them about 2 ½ years ago, but "Blur" is much more experienced.
"[Blur] is 13 now, so he has been the one that I've sort of relied on for the bigger classes like here or finals," she said. "I did him in three of the four classes here.
"['Blue'] is the sweetest horse I've ever been around on the ground and in the saddle. He always wants to please," she said. "I got him through Ken about 2 ½ years ago, of course with the help of Melissa, and it was really nice to have him come here and perform as well as he did."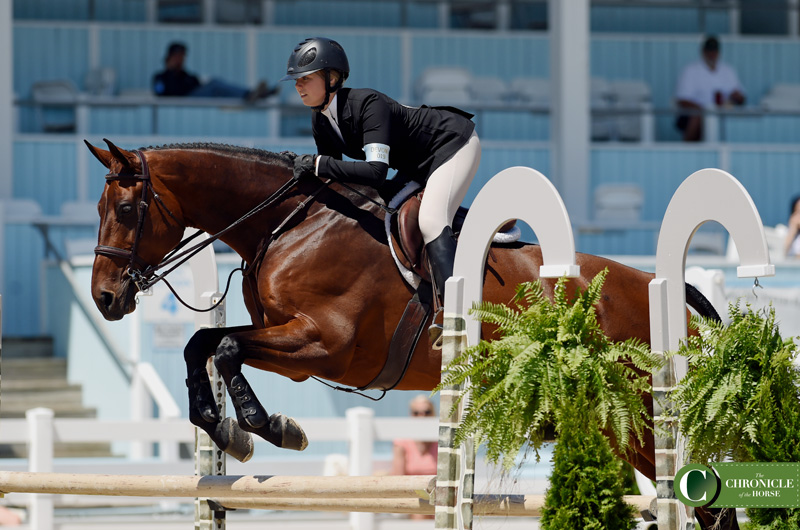 3. She's most proud of her USEF Talent Search round.
"The first one that I did was the Washington jumper phase, which I won with an 89, and that was my first class here, so I was very happy to start this week off like that," she said. "But my favorite was probably the USEF Talent Search which I was second in because I've always wanted to do well in that class here, and the USET is a big deal to me, so I was very happy with that."
4. Her equitation career will continue after this fall.
Matthies recently signed to compete on the Auburn University (Alabama) National Collegiate Equestrian Association team.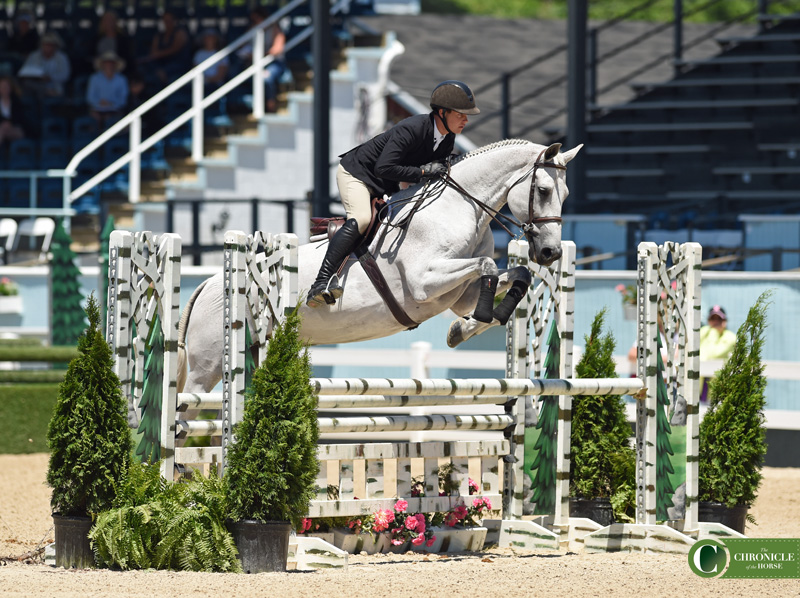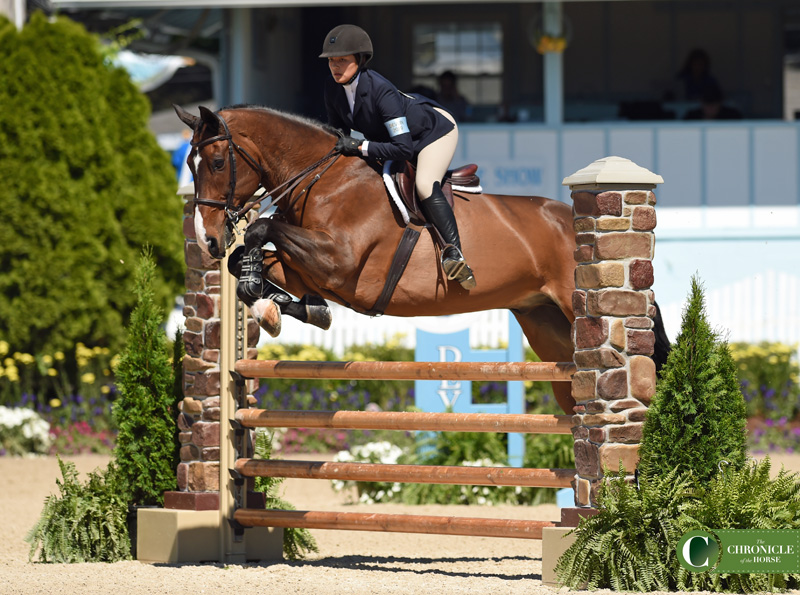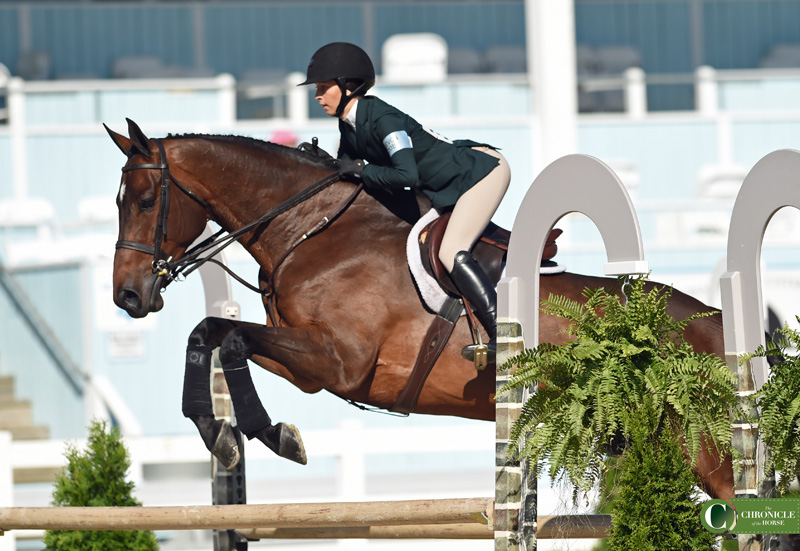 The Chronicle will be on site all week bringing you beautiful photos, daily reports and more. Don't forget to pick up a copy of the June 17 issue for more in-depth stories from the winners. 
Important Links: Devon Horse Show website / Order of go and results / The complete schedule of classes and exhibitions / Live streaming / All of the Chronicle's coverage