Amateurs competing in hunter/jumper, eventing and dressage, among others, will not be allowed to teach beginner lessons under proposed changes to the U.S. Equestrian Federation's so-called "amateur rule"—a reversal of course a task force studying the issue made in response to member feedback.
Allowing amateurs to teach introductory lessons was one of five proposed rule changes discussed Wednesday during a USEF Amateur Task Force Rule Change Update And Survey Results webinar. That's where task force member Lisa Blackstone brought viewers up to speed on state of the rule change proposals first rolled out in an Aug. 2 webinar.
Since that initial webinar, almost 9,500 people—90% of whom were USEF members and 75% of whom were amateurs—responded to a survey about proposed changes to the amateur rule. Responses came from 19 different affiliates, though members of the U.S. Hunter Jumper Association accounted for a full third of respondents.
As a result of the survey and member feedback, four of the five proposed changes will go to the Nov. 21 USEF board of directors meeting for approval. If approved, the amateur rule changes would take effect for the 2022 competition season. Three of the proposals address renumeration for amateurs; if approved, a current rule that allows amateurs to receive non-monetary tokens of appreciation valued at less than $300 will be removed, Blackstone said.
Allow amateurs in specific breeds and disciplines to teach introductory lessons to non-competing riders.
The original proposal, which would have allowed all amateurs to teach introductory lessons, didn't receive universal support across the breeds and disciplines. Generally speaking, respondents who compete in breed-restricted competitions, such as Paso Fino, Arabians and Morgans, wanted to allow it, and respondents from most disciplines—including hunter/jumper, eventing and dressage—did not. Amateurs who teach would be strictly regulated, but it still makes many uneasy (see below).
"I think this rule offers more oversight than we've ever had before in any amateur rule," Blackstone said.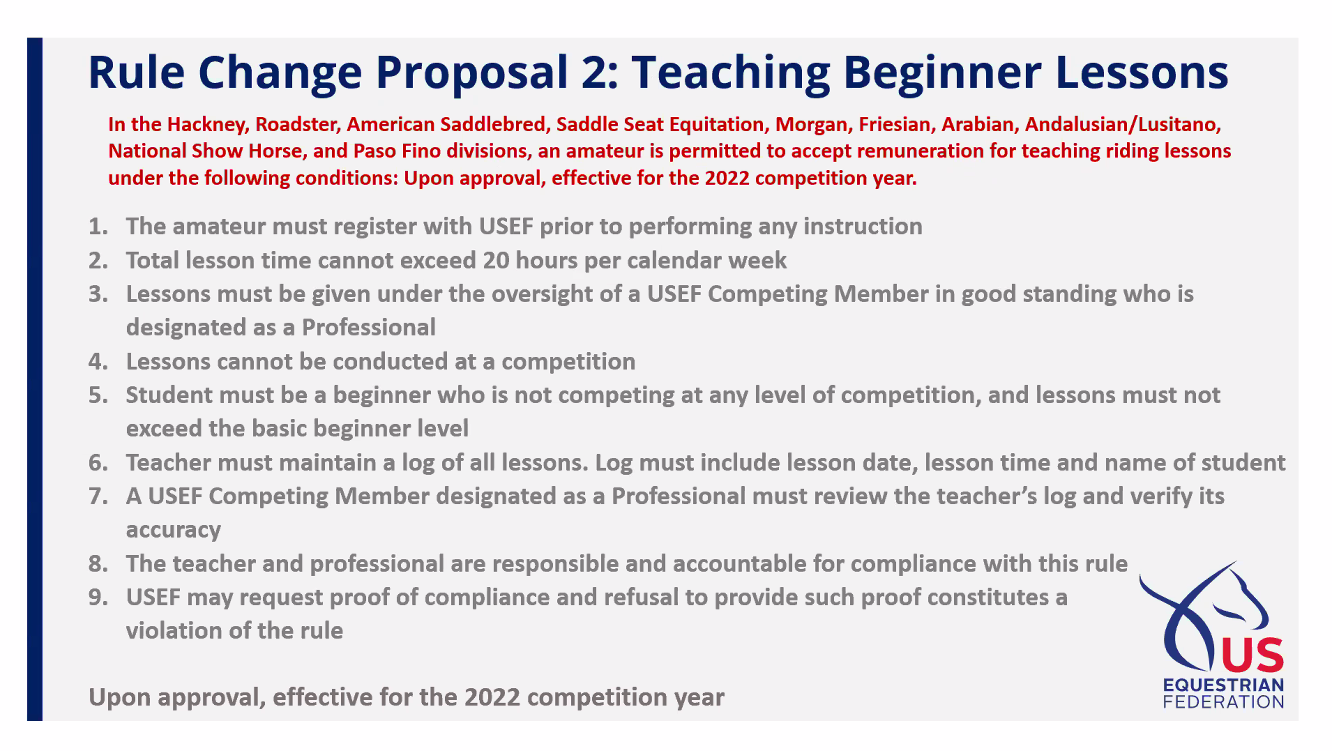 In response to the survey results, the task force is recommending that this rule change be applicable to the breeds and disciplines that want it, namely American Saddlebred, Arabian, Hackney, Morgan, Friesian, Paso Fino, National Show Horse and Andalusian/Lusitano breeds, and the saddle seat equitation and roadster disciplines, Blackstone said, but not to the other groups, such as hunter/jumper, dressage and eventing.
It wasn't immediately clear how this would apply to someone who competed at, for example, both USEF Arabian shows and open USEF dressage shows.
Let amateurs be social media influencers and social media brand ambassadors.
Task force member Caitlin Creel, an amateur rider who is earning her master's degree in social media and mobile marketing at Pace University (New York), laid out what amateurs would and would not be able to do regarding social media marketing.
According to the rule change proposal, an amateur can accept remuneration for posting and promoting products on social media as a social media influencer and/or social media brand ambassador. Amateurs can wear manufacturer marks, barn or stable branding or branded equipment required by a class sponsor to participate in a competition. For example, Hermès, which sponsors the U25 series at the Winter Equestrian Festival (Florida), requires competitors to wear a saddle pad branded with their logo in the class. Amateurs cannot accept remuneration for commercial brand exposure in competition or on competition grounds, so they cannot be paid for hanging up a sponsor banner at their stall. Fifty-eight percent of respondents agreed with this proposal, while 29% did not, and 13% were unsure.
Creel distinguished between three similar but distinct groups, and the definitions would be included in the rule should it pass.
Social media influencers have built a reputation for their knowledge, content creation and expertise on a specific topic and may be paid for those posts.
"In order for somebody to reach social media influencer status [it takes] years and [many] hours of work dedicated to their own personal brand to be at a point where a company feels that they could have a certain influence over their following to purchase a certain product," Creel said.
Social media brand ambassadors are "superfans" of a brand or product who may or may not be getting paid to promote that product. Brands may give brand ambassadors a discount code they can share for the company's products.
"Typically [social media brand ambassadors] are not being paid," Creel said. "They're just sharing to their unique social audience so that they can talk about this product which they love."
Sponsored athletes—who would not be permitted to be amateurs under this rule—are people paid by companies, sponsors and/or owners to compete and perform, leveraging their exposure in competition.
"Ian Millar back in the early 2010s was sponsored by Canadian Pacific Railway," Creel said, giving an example. "He was paid in the six figures to represent the brand yearly. With that, he was required to wear the CP brand in the ring whether that be a show jacket or a saddle pad, but additionally he was also required to attend CP client events, dinner parties, a gathering of some sort. … On top of the monetary value that he was getting in trade for his presence, it was very much about his athlete status and what he was doing competing in the ring."
Let amateurs longe.
While this rule change proposal originally was framed as "allowing amateurs to do paid barn work," amateurs always have been allowed to groom, bathe, clip, braid, tack and untack horses and clean stalls for money. Longing, which was previously prohibited as it was considered training by some, was added to the list of activities that amateurs may now include in their paid barn duties, assuming the rule change proposal passes.
This was a popular change with 88% of respondents supporting this amendment, 8% voting against it and 5% unsure.
Any professional 25 years or younger may reapply for amateur status after a three-month waiting period.
Professionals who would like to return to amateur status normally must wait a year from when they stopped doing professional activities to apply for amateur status. If this rule change passes, young professionals will only have to sit out three months before applying for an amateur card.
"This is designed to keep our young adults engaged in the business without having an onerous one-year waiting period," Blackstone said. "This is about, maybe they made a mistake trying to decide they wanted to become a professional then realized they don't.
"Comments indicated that our young adults need a grace period to try the sport professionally, and if they find that they no longer want to do that, let them get back to being an amateur quickly and stay engaged in the sport," she added.
The survey found 76% of respondents were in favor of this rule change proposal, 16% opposed it.
Raising Junior Age Rejected
A fifth rule change proposal, raising the top end of the junior age to 21, has been tabled and will not go forward to the USEF board of directors meeting. Only 39% were in favor of this proposal, with 47% opposed and 14% unsure.
The task force plans to look into other ways to allow athletes aged 18-21 to experience some of the same opportunities as professionals without having to retract their amateur status in order to do so.
What's Next?
The four rule change proposals that are moving forward as extraordinary rule changes will be submitted to the USEF board of directors, and the board will review any committee feedback or recommendations for amendments to these rules.
The survey also asked respondents what other aspects of the amateur rule need to be addressed:
42% percent want to see the "family rule" prohibiting amateurs from competing any horse that a family member receives remuneration for reviewed.
50% said current rules that allow licensed officials—such as judges, stewards, technical delegate or course designers—to retain their amateur status should be reviewed.
37% said the U.S. Supreme Court's recent ruling that the National Collegiate Athletic Association was violating antitrust laws, which opened the door for collegiate athletes to receive compensation, should be examined and its impact on USEF's amateur rule clarified.
For its part, the task force already had identified four future areas to address: the family rule, licensed officials, the NCAA ruling for amateurs, and better defining interns, students and apprenticeships.
"[Interns, students and apprentices] seem to be used interchangeably in the Rule Book, but I think they can be cleaned up and simplified," Blackstone said.
Have thoughts you want to share? The USEF Amateur Task Force is still taking feedback at amateurtaskforce@usef.org.