Wellington, Fla.—March 3
Sixteen hours. Two wins. One horse.
Canadian show jumper Tiffany Foster couldn't have envisioned a better start to the CSIO 4* week at the Winter Equestrian Festival (Fla.) with Artisan Farms LLC's Brighton.
After winning the second section of the Carolex Stables CSIO Welcome Wednesday evening, Foster and the 10-year-old Dutch Warmblood gelding (Contendro II—Van Ed, Quick Star) topped a field of 59 to win the eighth round of the $35,000 Ruby et Violette Challenge Cup Thursday afternoon in Wellington on a final time of 61.26 seconds. Beezie Madden and Vanilla were second (61.36 seconds), followed by Todd Minikus and Babalou 41 (61.91 seconds).
"This is the first time I've really put the jets on, and he rose to the occasion," Foster said of Brighton, a horse Artisan Farms acquired as a 7-year-old from the Netherlands' Hester Klompmaker. "It's very exciting for the future."
It's Nations Cup week in Wellington, as the $150,000 FEI Nations Cup CSIO 4* is set to take place Friday evening with a showdown of seven teams fielded from the United States, Canada, Colombia, France, Ireland and Mexico. With that marquee event on the schedule, the WEF Challenge Cup, typically held in a Table 11, Sec. 2(a) format, with riders who jump clear returning for a jump-off, the class was amended to a speed class, with riders competing against the clock. Brighton's game is speed, and the change proved to his strengths.
"He actually doesn't have a huge stride, so for me to do the leave-out numbers is very fast, and in a class like this, that's really beneficial," Foster said. "There weren't a lot of turns or options. It was more about the numbers and who had a lot of ground speed and who could cover those going fast. Having a little bit of stride where you could push for those lines was really helpful, but you needed to have a careful horse who will also leave the jumps up. Luckily, I have one!
"He understands that when you go in the ring, you go fast, and you go clear. I'm just going to keep going like this, and hopefully it keeps working!" Foster said.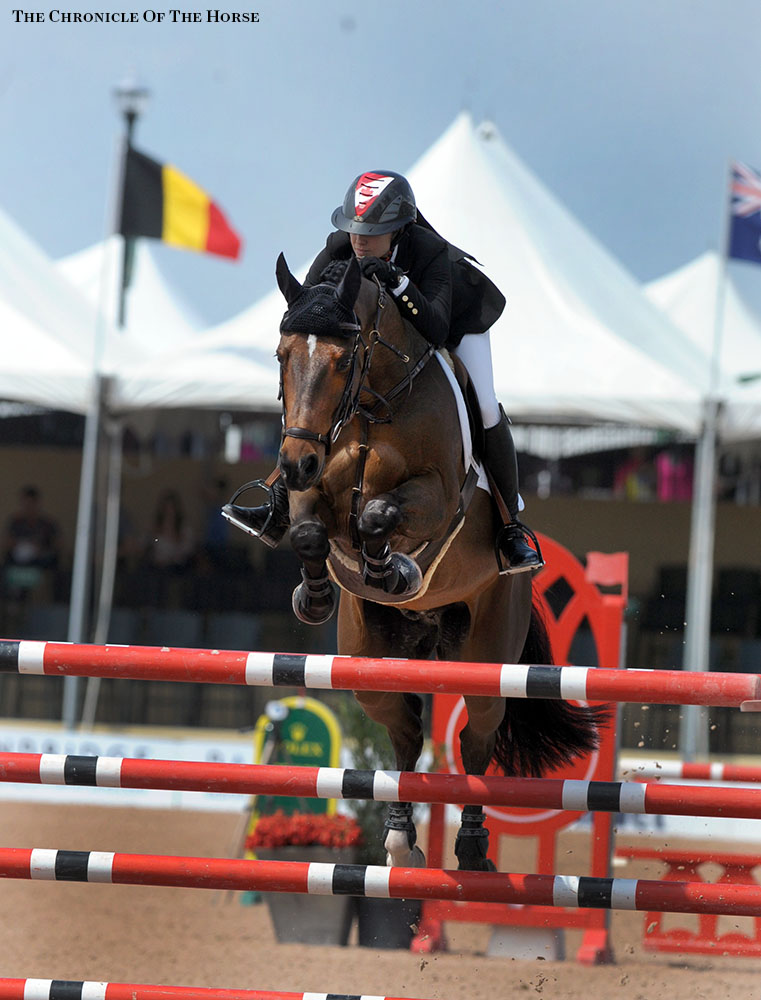 Tiffany Foster and Brighton
There were 20 clear jumping efforts in the WEF Challenge Cup, with each rider trying out to outpace the next. The bogey fence proved to be in the final line of the course, part of an oxer combination in which riders had to ride out of a forward five-stride line before steadying to get out of a double. Numerous riders had the back rail of the oxer, while several others took down multiple rails of the fence, but all incurred their faults when trying to pick up the pace, including fastest four-faulters Laura Chapot and Quointreau un Prince, who would have finished second were it not for that particular rail.
"The last line was the most difficult line in the whole course, because the five-stride set into the combination was set very long," Foster said. "In a normal class, you would always do six strides, but because it was a speed class, you had to take a little bit of a risk and go for the five. You needed a horse that could stretch across the oxer coming in, continue on a flat stride and still be able to back up at [the out]. My horse is really good on a flat stride, so that line actually suited us, because it was going to ride really fast."
Foster and Brighton, 53rd in the order, had the advantage of knowing the time they'd have to catch, as Minikus and Babalou 41, and then Madden and Vanilla, held the lead through much of the class.
"He's a really cool horse, because he has no idea what it means to go in the ring and school. He only likes to go at speed," Foster said. "[In the welcome class], I wasn't even trying to go fast. I was just going along at his speed, and that was enough to win, which was cool. But this was a little more what I was trying to do. He was at speed."
"He'll probably jump next week in this class, and we'll probably keep him at the 1.50-meter and 1.55-meter level for now with a few grand prixs, maybe a three-star grand prix," Foster said. "Then we'll take him to Europe with us and go to [Spruce Meadows] Calgary and just keep going."
She will take her time asking more of the gelding, but he has answered every question so far.
"He has yet to tell us there's something he can't do, so I would like to think that with a horse like that, you'd like to be able to go all the way," Foster said, "and if you do, you end up with a real competitor and a real careful and fast horse that you can win classes on."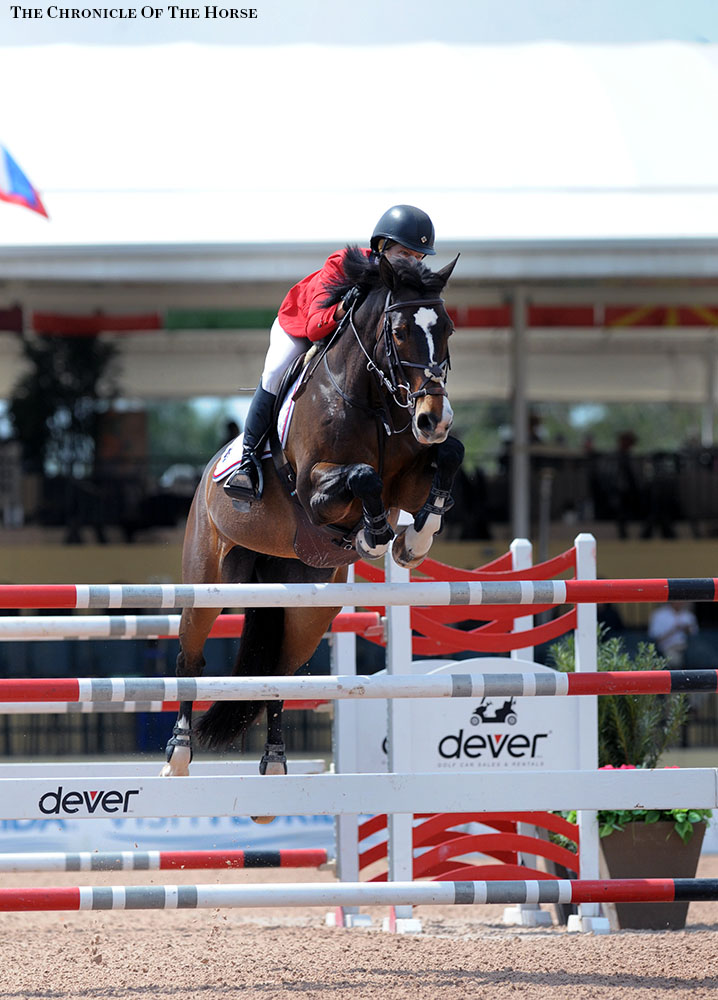 Runners-up Beezie Madden and Vanilla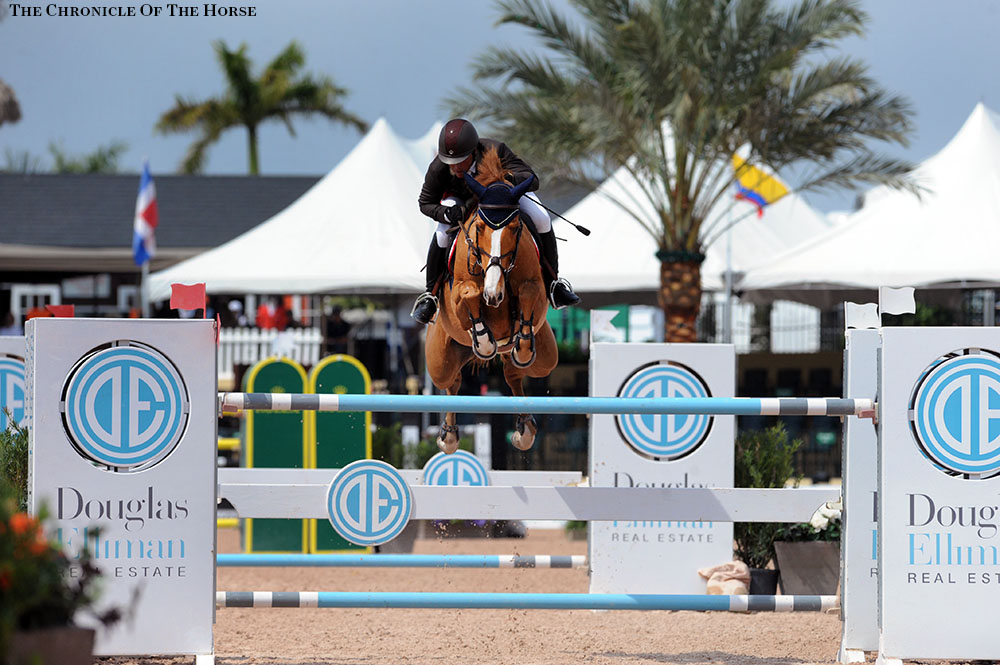 Todd Minikus and Babalou 41 finished third.
Follow along with all of the Chronicle's coverage of WEF 8 CSIO 4**** Nations Cup Week at chronofhorse.com. For complete results of the $35,000 Ruby et Violette WEF Challenge Cup Round 8, click here.