As a lifelong Area I resident and competitor, I was saddened to learn that the iconic event at Groton House Farm in Hamilton, Massachusetts, would no longer be held. Event organizer Ann Getchell said that while the decision made her sad, "It was fun while it lasted, but nothing lasts forever."
Many of us senior event riders will fondly recall the butterflies experienced upon entrance to the historic Winthrop family farm, the drive flanked by beautiful old trees. Arriving at Fitch's Corner (New York) or Stuart Horse Trials (New York) gave me similar nervous excitement! These events were no small affairs, often running several hundred horses.
For a time, Groton House Farm ran two events for upper and lower levels on back-to-back weekends. The cross-country tracks were of the "run and jump" vintage, often long and truly testing. At Groton House, the tent stabling was also the site of nightly gatherings, food provided for competitors and their support crews. Groton House Farm became one of the most popular events in the Northeast, hosting selection trials that for years saw budding and established Olympic talent on the roster.
As with many large events with a long and storied legacy, the weather gods weren't always kind. I competed at all of these sites in sweltering heat and torrential rain, with the schedules sometimes adjusted a few times to give horses the best conditions they could.
Area I was home to several legacy events that no longer exist. In addition to Stuart and Fitch's Corner in New York, there were Stoneleigh-Burnham, Shepley Hill, Over The Walls, King Oak Farm and Ledyard, all in Massachusetts, and Dornhoff in Vermont, all popular destinations for Area I riders and beyond. So what happened, and why has Groton House joined this list?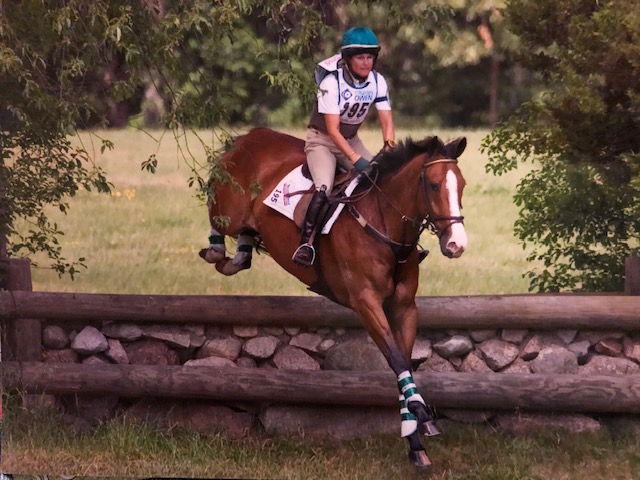 Of note is the fact that all these sites, with the exception of Stoneleigh-Burnham School, were private farms.
To gain better understanding of the "lifespan" of these events, we have to look at the history of our sport. It is readily acknowledged that Area I (Massachusetts, in particular) is considered the birthplace of eventing. The U.S. Combined Training Association, predecessor of our U.S. Eventing Association, was formed in Boston in 1959. Combined training was a niche sport in its early years until Neil Ayer really lit the fire with the first major international competitions at his Ledyard Farm in Hamilton in 1973.
Recognizing the foxhunting and military foundation of the sport, Neil helped found the classic three-day event in this country. He had the vision to hire Jack Le Goff in 1970 to develop and train USET riders at their headquarters, also in Hamilton. The '70s and '80s were truly a magical time for the sport, and Area I could rightly be considered to be "the heart of eventing." Groton House Farm, a mere 10 minutes away from Ledyard, ran its first recognized events in the late '70s, with Neil Ayer doing the cross-country design. The USCTA also was housed in Hamilton.
The Ted Stevens Olympic and Amateur Sports Act in 1978 had an important impact on the profiles of international riders and the profitability of riding as a team member. By asserting that amateur status was no longer required for competing internationally, riders were now free to openly operate as professionals.
When Le Goff retired as team coach in 1984, team training at Hamilton also dissolved. Advanced level competitions continued at Groton House Farm, but more riders headed primarily to Area II (Mid-Atlantic states) for better year-round training, a longer competition season, and better opportunities for taking on students and clients. The newly hired Capt. Mark Phillips traveled the country to train his international riders instead of working out of team headquarters.
The USCTA moved its office to Leesburg, Virginia, in 1996, a further indication that New England was no longer considered the epicenter of the sport. The long (or classic) format ran for the last time in 2005. Additionally, many one-day horse trials began running show jumping prior to cross-country for ease of scheduling. Professionals embraced the one-day horse trials for the opportunities offered to get multiple horses and students out more frequently at lower costs for travel and accommodations. More events came on the eventing calendar, especially in Area II.
There were now numerous options to compete in the Northeast on any given weekend in the summer. The larger "destination" events in Area I like Stuart, Fitch's Corner and Groton House Farm still ran over several days but began to see dwindling entries when other events were scheduled in Area II.
Traveling south to take advantage of friendlier winter weather training conditions seemed to take off in the '90s. The competition calendar has continued to expand to accommodate the influx of horsemen, and we now event 50 weekends a year. Area III (South Carolina, Georgia, Tennessee, Mississippi, Alabama and Florida) sees the biggest influx over the winter months. Back in the days of the long format, it was common to compete through the spring and recommence with the upper-level horses mid-summer to prepare for fall championships. The concept of time off seems to be less utilized today with the 50-week season, but that's a different topic.
How did all this impact Groton House Farm and many of the other events that no longer run? As the professionals became more vocal about competition conditions they considered to be preferable, dressage and show jumping on grass was frowned upon. All-weather footing has become the surface of choice (even though our counterparts in the British Isles regularly compete on grass). Nearly every event that no longer runs in Area I did not have all-weather footing for those phases.
Is it reasonable to expect these footing options on private property? Horse trials organizer Heidi Stuart Vahue spoke to this issue when asked about Stuart Horse Trials, which ran for 25 years: "Dressage was difficult on grass. Riders wanted sand rings, and our landowners understandably did not want sand rings in their backyards."
Regulations have tightened on stabling, warm-ups, staffing and space available. Groton House Farm organizers were made aware that their landmark water complex would no longer be in compliance with updated cross-country specs as a drop into water followed by another drop is no longer allowed. As Fédération Equestre Internationale events have gained popularity and momentum, the two sets of officials required add considerable cost to the budget. The cost and effort of upping the work involved to host these events seems to be beyond many organizers' capacities.
Speaking of effort, a recurring theme mentioned by past organizers is burnout. "I'm tired," Ann Getchell told me. "Don't forget that I'm super old."
As an event organizer myself, I can attest to the exhaustion of running an event. Throw in a few disgruntled and (seemingly) entitled riders who don't seem to fully understand or appreciate the efforts of so many to produce an opportunity for them to compete, and you have a recipe for burnout.
Consider the fact that many of these private farms also had generational and family issues impact their longevity. While the parents may have put considerable time and expense into their competitions, many times the children don't always have the same interests, and the event is not as important to them. Loss of land is one of the leading issues facing equestrian sports, and one of the most common reasons for losing property over which events have run is sale and typically development of that land.
Probably the most difficult thing that Groton House Farm had to face was the impact the COVID-19 pandemic had on their event preparation and their volunteer crew. They canceled their event in both 2020 and '21 due to COVID.
"To bring the event back from a two-year dormancy was going to be very difficult in all aspects," said Getchell.
The cross-country would need a nearly complete overhaul, and Ann's volunteer pool had changed and diminished severely. She anticipates continuing to hold unrecognized events at Groton House Farm with her daughter, Sarah Getchell, strongly involved.
Certainly, making the decision not to run an event after several years could not be considered an easy one.
"It was complicated," as both Ann and Heidi expressed. It's hard to identify any few single causes as to why Area I seems hard hit when actually there are other big events in other areas—Essex (New Jersey), Radnor (Pennsylvania), Richland Park (Michigan)—that have closed their doors for a multitude of reasons. The prevailing factors appear to be burnout, development and family issues, which largely seem out of the control of riders.
In the rear-view mirror, here a few of my own observations: Riders can have an impact in a positive fashion. Don't be the competitor the organizer hates to see drive in the driveway. Thank the people who have made the opportunity to compete a reality, and better yet, offer to help as a volunteer. Even if you're competing, the work before and after an event can be overwhelming, and I promise you, there is never enough help. Get your students and clients involved! Be respectful of the privilege of competing on private property. Don't leave a mess, and reach out with thanks after the competition. The interaction riders have with landowners and organizers has the potential to be a "straw breaking the camel's back." Do your part to encourage and assist. Be tactful in criticism, and weigh the impact of your complaint.
We want to keep events (even those outside Area I!) running for as long as their lifespan will allow. Pointing fingers and criticizing is often ill-advised when the emotional decision has been made to close doors. Be a positive influence on those who have and continue to work so incredibly hard to keep events running.
---
Carol Kozlowski is a nationally known event rider, instructor, U.S. Equestrian Federation "r" judge, coach and sport leader. Educated with a bachelor's degree in science and a U.S. Pony Club A rating, she is based out of her farm, Mothersfield, in Avon, New York.
An active competitor for over 30 years, Carol has been long listed for the Olympics, short listed twice for the Pan American Games, named several times to the national Developing Rider Program, and was a national preliminary champion. She's ridden eight horses at the advanced level and continues to bring along young horses. She has extensive experience coaching young and adult riders at major competitions.
She was co-named the Chronicle's 1997 Eventing Horseman of the Year for spearheading a five-year effort to change an FEI rule regarding minimum weight required in three-day events.
She's served as the president of the U.S. Eventing Association and president of The Genesee Valley Riding and Driving Club. She currently sits on the U.S. Equestrian Federation board of directors.