Harrisburg, Pa.—Oct. 22
Daniel Coyle, 21, had never jumped Fortis Fortuna indoors before, and he had only jumped her in one open grand prix.
But none of that stopped the young Irishman from topping the field of seasoned competitors at the $100,000 Grand Prix de Penn National at the Pennsylvania National Horse Show.
"I just wasn't overly sure about the mare if she was fit to handle that big a track, and I'm over the moon with her," Coyle said.
The young professional rides for Sue and Ariel Grange out of Lothlorien Farm in Caledon, Ontario, and had mostly been focusing on the under-25 grand prix classes with the mare before trying his hand in the open divisions.
Daniel Coyle and Fortis Fortuna. Photo by Ann Glavan.
Coyle had to settle for second place twice at the Pennsylvania National Horse Show before he was able to take the top call in the final class of the horse show, and it was Leslie Howard who denied Coyle the victory on both occasions.
"I wasn't very happy the first two nights, Leslie beat me both nights," Coyle said with a grin. "But tonight was the big night, and I would have sacrificed everything for it. I had a great show and I couldn't be happier."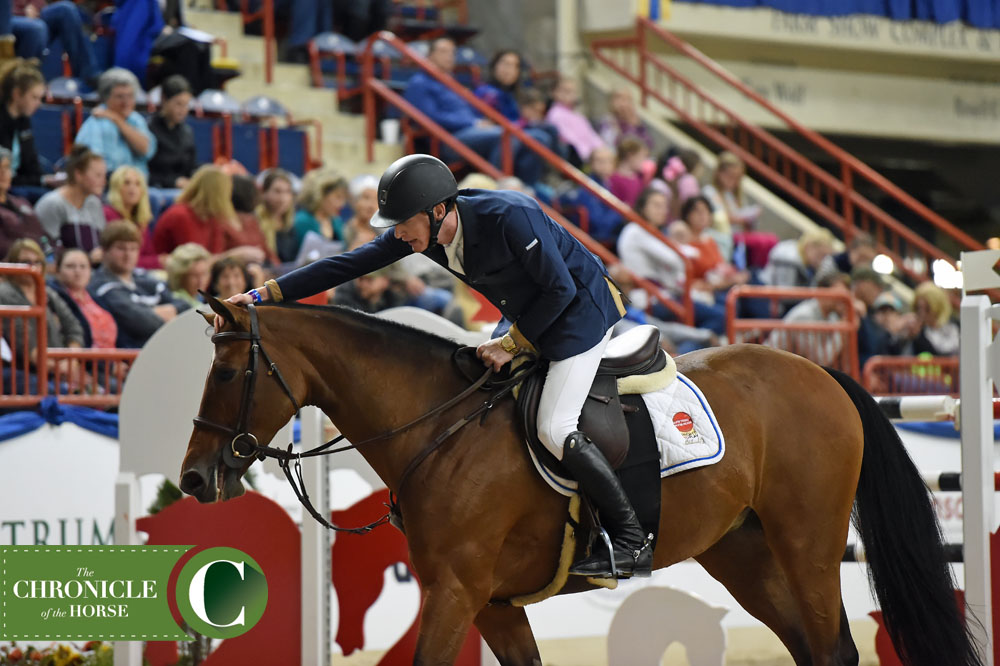 Daniel Coyle gives Fortis Fortuna a good scratch after a clear round. Photo by Ann Glavan.
Coyle plans to show the mare at the Royal Winter Fair (Toronto) in November before giving her a bit of rest before the winter season in Wellington, Fla. Coyle is not sure how hard he will campaign the mare over the winter, but one thing is for sure: she proved to him Saturday night that she's ready for the big leagues.
"I'm starting to believe now she could do that more than just one [grand prix] every now and again," Coyle said. "She's a great horse and I'm happy to have her."
Taking second to Coyle was Callan Solem and VDL Wizard.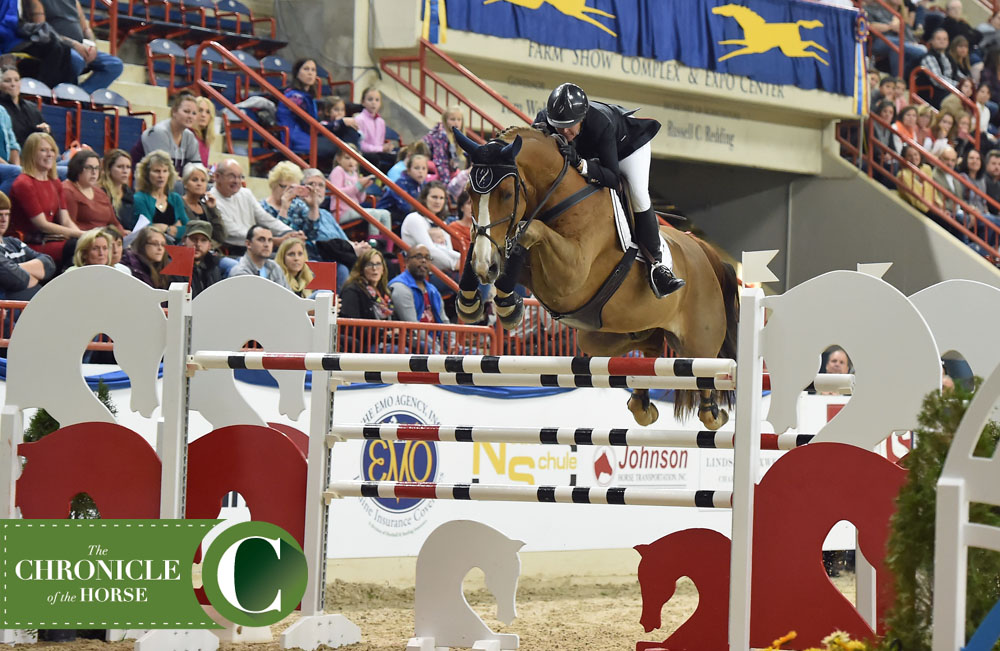 Callan Solem and VDL Wizard. Photo by Ann Glavan.
"He blew us away, it wasn't even close, he trashed us!" Sollem said of Coyle with a laugh (he bested her time by almost 2 seconds).
"But I was thrilled with Wizard," Solem continued. "I've done this a lot longer than Daniel here, I've been doing it for 20 years, and to get to do it on a horse like [Wizard] is remarkable. It's really special for me, because I've had a lot of generous horses but never one as capable as that, so I'm having a great time."
Colombian rider Ilan Bluman placed third in the grand prix aboard the youngest horse in the field, the 8-year-old Ladriano Z.
"My horse is really, really slow, and he's too big and too slow, too young, and its his first time doing an indoor, but look at me. I'm here!" Bluman said with a grin.
See all of the Chronicle's Pennsylvania National coverage. Click here for full results from the Pennsylvania National Horse Show, and don't forget to check out the Nov. 7 issue of The Chronicle of the Horse for more in-depth coverage from the show!