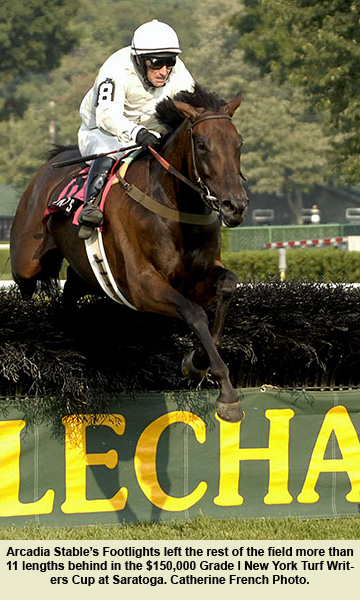 She thrills rider Xavier Aizpuru and trainer Roger Horgan by stepping up for a Grade I win in Saratoga.
Arcadia Stable's Footlights did not need a lot of fancy footwork to keep the boys at bay in the $150,000 Grade I New York Turf Writers Cup, Aug. 30, but carrying 29 pounds less than the favorite certainly didn't hurt the scopey mare.
A small field of eight entered the coveted race in Saratoga Springs, N.Y., with the highly touted Mixed Up (Danielle Hodsdon) the quick favorite. The handicappers loaded up the little horse owned by William L. Pape and trained by Jonathan Sheppard with the most weight at 162 pounds.
Polaris Stable's Preemptive Strike (Paddy Young) was next on the heavy list at 152. Even the other mare in the race, Calvin Houghland's Sweet Shani, was at 145, and she hasn't even won a race in the United States yet.
Whether it was luck of the draw or indifference to Footlights' recent accomplishments, the handicappers completely overlooked the stakes winner and granddaughter of Northern Baby, giving her 7 pounds less than what she won with on July 26. This gave her the lightest weight of all at 133 pounds.
Footlights' jockey Xavier Aizpuru was able to make the low weight, though he admitted it was not an easy task. Even EMO Stable's Orison would have run at 144 pounds, but he had a mild colic and was a late scratch.
Trainer Roger Horgan instructed Aizpuru to keep Footlights out of trouble and near the front. With the ground so hard and the 90-degree heat and humidity so oppressive, Horgan didn't want to let the frontrunner get too far ahead.
As expected, Preemptive Strike ran off with the lead, dragging Mixed Up not far behind on the 23⁄8-mile course, but by the ninth fence, both horses had nothing left in their tanks and drifted back, with Preemptive Strike pulling up.
Before the ninth fence, Footlights took the lead and never looked back. She just gained lengths with every fence, and soon she was all alone, more than 11 lengths ahead of the others at the wire.
Longshot Timber Bay Farm's Underbidder (Jody Petty) placed second, and Mill House Farm's The Looper (Cyril Murphy) took third.

Hard To Beat
This is Footlights' seventh win out of 30 starts and the first Grade 1 steeplechasing win for both her and Horgan.
Aizpuru was in awe of the new Grade I stakes horse.
"She jumped flawlessly. I never looked back," he said. "I didn't realize how far ahead she was until the end. It would have been hard to beat her even if they were close; she was that good. I could not have asked for a better performance. This is a huge step up for her and great for her owners."
Andre W. Brewster of the Arcadia Stable syndicate is the principle owner of the 7-year-old mare. He also owns most of Rum Squall and Bubble Economy. This win has boosted Arcadia to the second-best seat in the National Steeplechase Association's leading owners category with $250,280. They are right behind Pape, who has $266,787 going into the fall season.
Though Footlights might look like the complete profes-sional on the course, back in the stabling area, it is an entirely different story. Horgan started training the mare in July for Jack Fisher, who was unable to get the number of stalls he needed at Saratoga. Little did Horgan know that keeping Footlights happy was going to be such an undertaking.
"She does not enjoy the travel, the track and the detention barn," Horgan said. "If we could not have gotten Roscoe in the detention barn, we might not have ever gotten her to quiet down."
Roscoe is the Fishers' donkey, although Footlights claims him as her own. Horgan and Aizpuru said it took a Herculean effort to get Roscoe special permission to be in the stall with Footlights.
"She has to have Roscoe," Horgan said. "He's sort of like her goat only he's a donkey. We did not have him for the first race. He's worth his weight in gold. It almost did not work out. We would have been peeling her off the ceiling without him. She's just not happy with the track environment, so we do what we can to help her."
Horgan would like to continue training the mare through the fall.
"Logistically, it's a nightmare," Horgan said. "I live in Saratoga. Of course, I would like to take her to the [$150,000] Belmont [N.Y.], but I don't know. She is so honest and really takes to jumping. Traditionally, if you get a filly that is genuine and takes to it, you will do well."
Fisher said he doesn't know who will be named trainer this fall.
"Roger certainly has done well with her; we will have to see," Fisher said.

Confidence Builder
Beverly Steinman's Dark Equation (Matt McCarron) won his second race this summer in the $68,000 allowance hurdle, Aug. 29.
The 6-year-old son of Polish Numbers left 5 lengths of day-light between him and second-placed finisher Armata Stable's Dynaway (Murphy).
Trainer Doug Fout said the conditions were ideal. "He likes it rock hard, and it was," Fout said. "They have been breaking records on the flat all over the place at Saratoga. He needed a confidence builder after the Pennsylvania race where he got boxed in and was second, and this was perfect."
Chip Miller is still beaming from his milestone win on Aug. 23, with Fox Ridge Farm's Planets Aligned.
Miller has now joined an elite group of steeplechase jockeys who have hit the 200th win mark. At 200, Miller sits in eighth place, right behind his sister, Blythe Miller, who earned 202 wins before retiring in
2002. The 37-year-old is the highest-ranked jockey who is still riding. He is joined by Matt McCarron with 169 wins (11th place) and Colvin "Gregg" Ryan (18th place) at 140 wins.
They all still have some racing to do if they want to catch Joe Aitcheson, who raced from 1956 to 1979 and is the leader with 440 victories.
The win was especially sweet for Miller because it was Saratoga.
"I really thought I was running for second- or third-placed money," Miller said. "Especially up against Jack [Fisher's] horse Rum Squall. But when Mr. Voss says he has a horse and it's ready, it usually is."
A veteran, Miller doesn't like to get a lot of instruction from a trainer. "I ride by feeling out the other horses, knowing the other riders and the courses," he said. "Steeplechase riding is a bit of fly-by-the-seat-of-your-pants anyway. You never know what may happen. You need to be able to adjust your strategy pretty quickly in a jump race."
He admited the wait for this win has been a real monkey on his back since getting his 199th at Radnor (Pa.) in May.
"I think I have thought about all the races I have not won since then more than anything else," Miller said. "Some of those races I just did not ride as intelligently. You know you went to the front too soon when your horse does not win. There are days when riding races is really easy and others when it is like learning Chinese."
Miller, who not so long ago was talking about being semi-retired and settling into training, said he has ridden some of his best races this year.
"I have been very lucky this year. I have been asked to ride some of the best horses," Miller said. "That's what keeps me going, when you ride really great horses regularly.
A really good horse like Hip Hop or a good novice like Irish Embassy is what gets my blood going. That's what makes me eat a salad instead of eating a bowl of pasta."
But his eight wins this year have not all been hurdlers, and winning the Virginia Gold Cup on Irvin S. Naylor's Salmo was huge for the Pennsylvania native.
"I hope, as I get older and grayer, I never forget what a thrill it was to win that race," Miller said. "It's not just because the race was the first $100,000 timber race, but because the horse jumped flawlessly and did everything right. Anyone who has ever ridden a timber race knows that not every fence is perfect and certainly not at 4 miles."
Sarah L. Greenhalgh