Wayne, Ill.—Aug. 28
Young horse producers in the United States are a valuable part of a horse's training. Whether they're U.S.-bred or imported, every horse needs a strong start and a good set of basics so they can move up the levels, however far they make it.
While these trainers don't often get the spotlight, they get a chance to shine at the Markel/USEF Developing Horse Dressage National Championships.
Katryna Evans grew up and was based in Colorado for many years before heading to Germany to get her Bereiterin certification in dressage and jumping. She spent six years learning and apprenticing at a large training and sales barn before bringing her skills home.
An opportunity to work with Dr. Cesar Parra in New Jersey in January was too good to pass up, and she's been bringing along several of his young horses since then.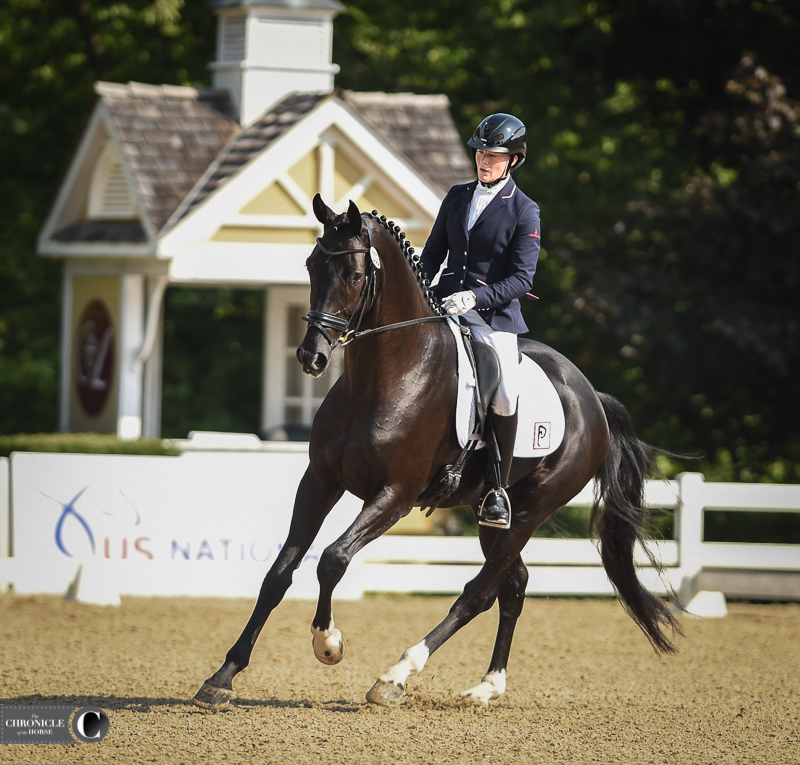 One of those, Fontenay, has proven to be particularly special, and the judges agreed today at the U.S. Dressage Festival of Champions, awarding him the overall championship in the 4-year-old division. He earned an 8.64 on his test today to finish second, and won the preliminary test on Friday with an 8.94. It was Evans' first time competing at the Festival of Champions.
"The test itself, I did start to run out of steam, the poor guy; we've only had him a few months, but he has just been taking everything in stride, and I know that his owners [Parra and Gina Raful] are both so excited to have him here and happy that it all came together so wonderfully," said Evans. "He really just has the greatest mind and even though he lost a little steam, he still was really trying hard. I'm sure that as he gets a little stronger and used to it, the sky is the limit."
Evans says she's never had a 4-year-old as rideable and manageable as the Hanoverian gelding (Fürst Jazz—Dakota, Don Frederico), and she's hoping to continue to produce him.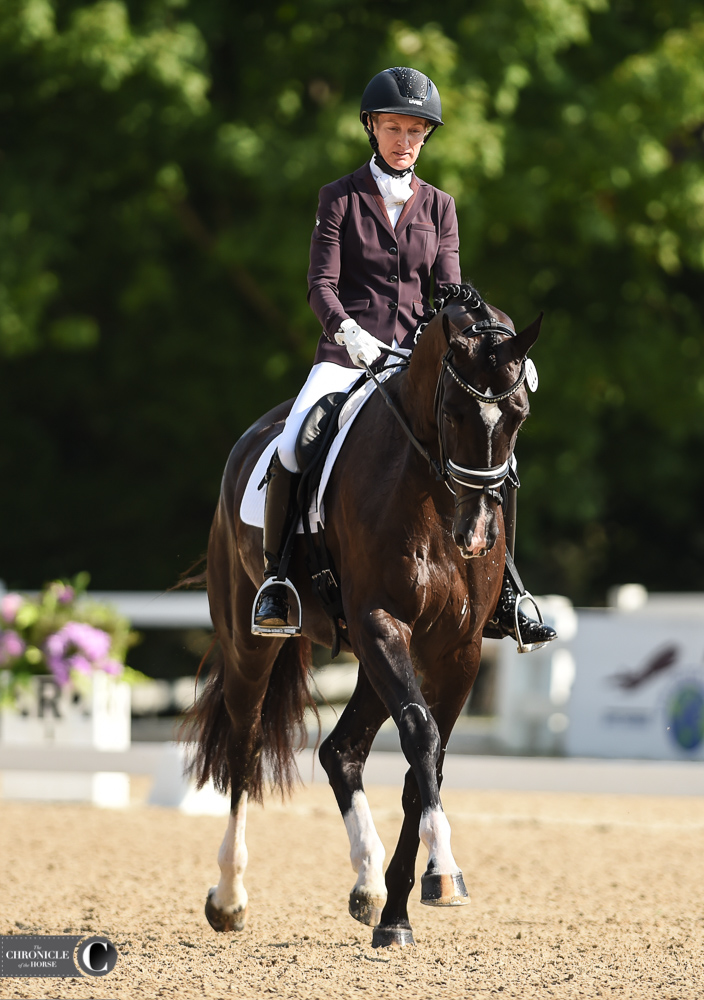 "It's astounding what this horse does so willingly and pleasantly; he's big, almost 18 hands," she said. "He's still got some growing to do, but it's amazing how well he is proportioned and how balanced he is even with that, and being a 4-year-old. It blows my mind. I've never sat on a horse that has been so coordinated and with such a good mind from the get-go. It's a lot of fun."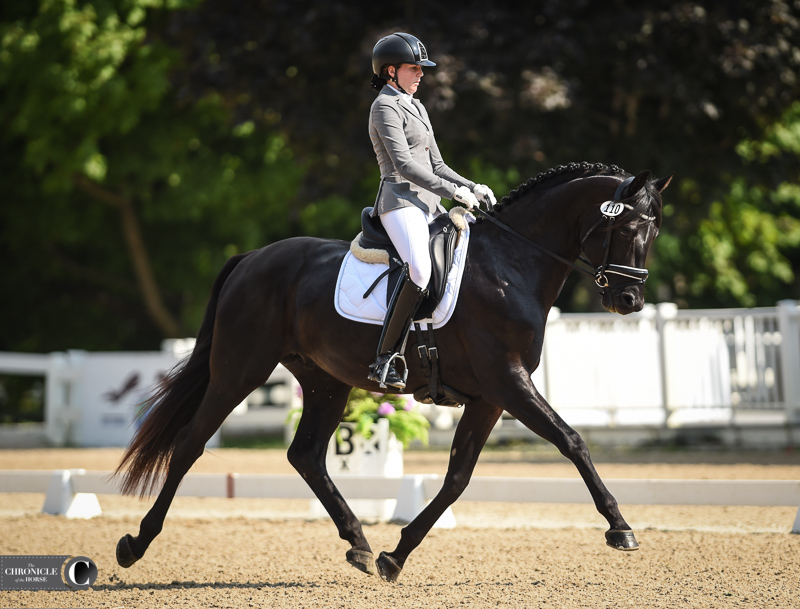 The crowd gasped as Marcus Orlob's scores were announced with Glory Day in the 5-year-old final test—two 10s, a 9.6 and a 9.5. Even with an error of test, the pair finished as 5-year-old champions.
"I was a little bit amazed," he said. "It's great to get two 10s. Blown away. I think he deserves it. He's a fantastic horse."
While the heat and humidity has been unrelenting all week, the Dutch Warmblood stallion (Grand Galaxy Win—JJ Dolce Gabbana, Deemster) had energy to spare in his final test today.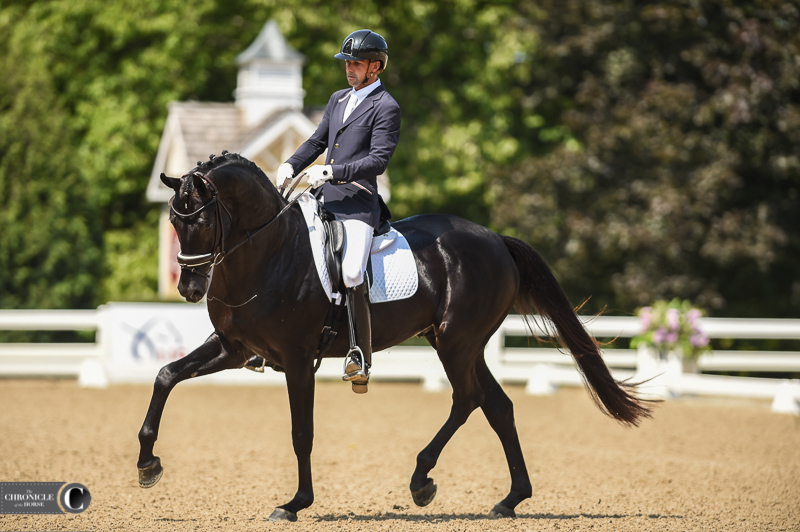 "Unfortunately, or it's a good thing—he's never tired," said Orlob with a smile. "He's very energetic, and he loves to work. He's coming out of his stall every day and giving 100 percent. He was a little bit fresh in the warm up, then the clapping he was more tense, but thank God after halfway around he was quite nice, and he was with me, and I knew I would have a good ride if I didn't mess up. I messed up, and I'm really mad at myself, but stuff happens. I'm glad that I have a good horse that makes up for my mistakes!"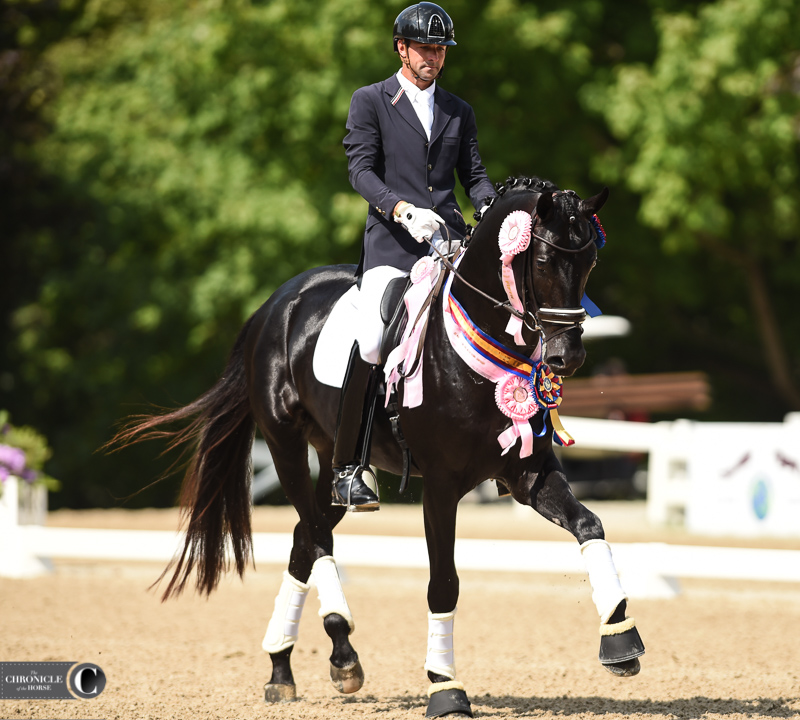 Orlob's based in New Jersey and rides Glory Day for his owner Alice Tarjan, who's been busy this week with several of her own horses.
"I have worked with [Alice] four or five years," he said. "Actually, she called me when she wanted help with Harvest [Tarjan's Developing Grand Prix stallion] when he was a 5-year-old, so then we started working together. Last year before the 4-year-old [year], when [Glory Day] was 3 1/2, he was a bit much for her, and she asked me to take over the ride, so that's why I am riding him at the moment. I think Alice is the dream owner to have. She does whatever is right by the horse and me. It is a very good relationship. The horse is very straightforward. It is a pleasure to work with both of them."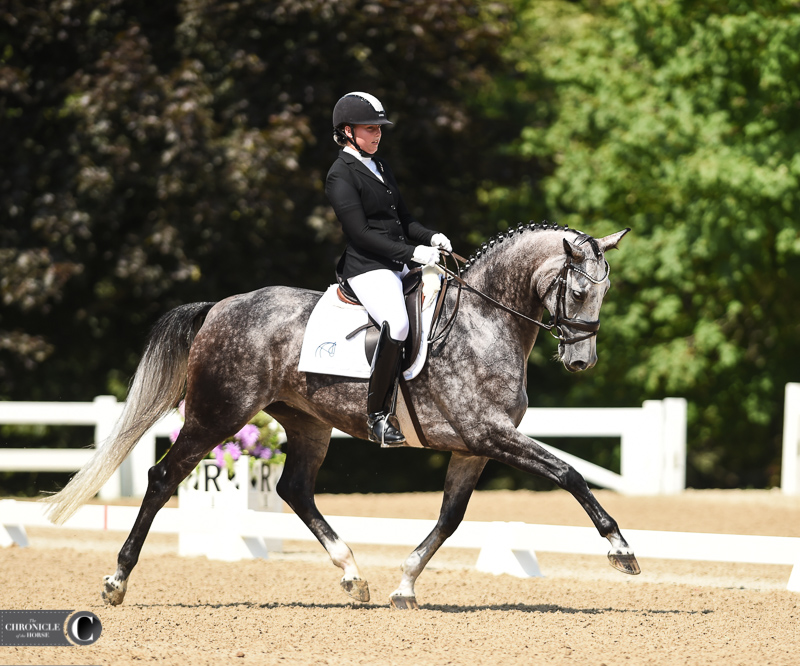 Orlob thinks Glory Day will go far in the sport. "He has such a natural talent for self-carriage—the lightness, the power. I think this will be for sure a good Grand Prix horse," he said.
He enjoys riding young horses because he likes to see the progress. "What I like is usually you see very fast the progress, I think more than an older horse," he said. "I think as a trainer if you keep it playful, they are so easy to get excited, especially 'Glory.' I say, 'Hey, good boy!' and pet him and scratch him, and he is shaking his head. I guess it is also partly because he's a stallion. It's nice with the young horses. I think if you make it playful, they really love to work."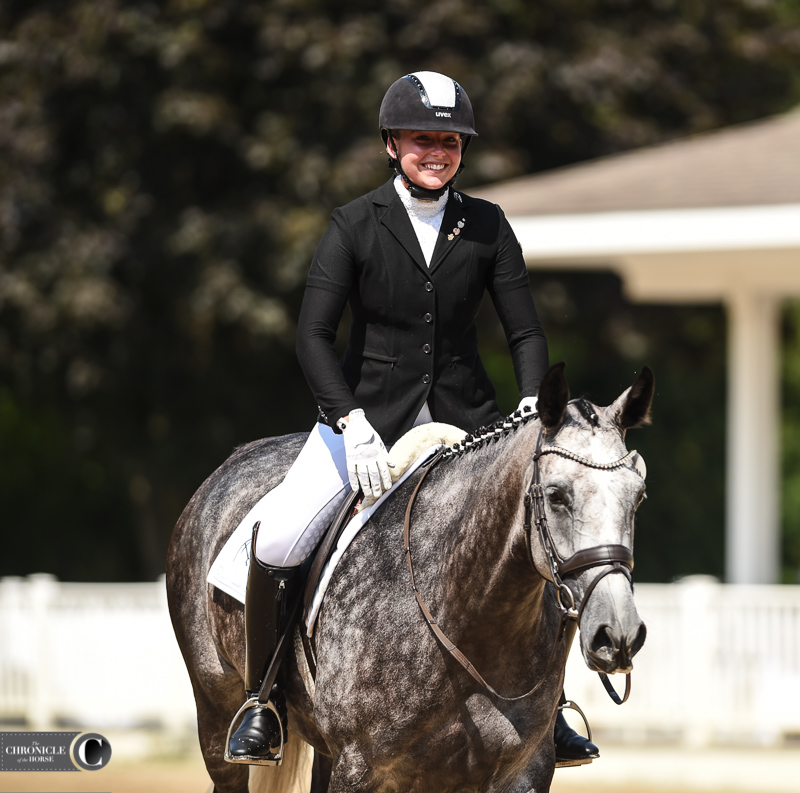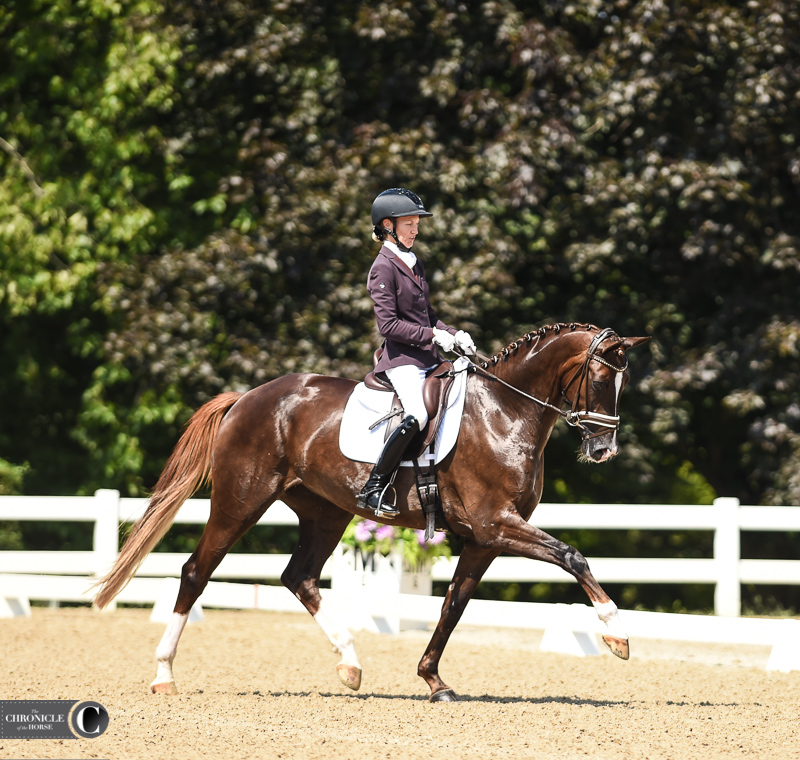 Emily Miles has always been a supporter of the Young Horse classes, and she brought two of her top horses to the Developing Prix St. Georges division this year. In the end, it was Daily Show who earned the championship, while Sole Mio earned third overall. Both horses are owned by Leslie Waterman. Daily Show, a 7-year-old Hanoverian stallion (Danciano—Schwedenlady, Stockholm) topped today's Prix St. Georges test with a 75.41 percent.
" 'Daily' was a rockstar," said Miles. "It was really hot; he's black and big. We warmed him up in an easy quiet way and had to trust that the first three minutes before the test we could knock it into gear, but I thought that today went better than the first day. He had more flow, took up the ring and was just really in front of me. I was so pleased with him. The strength that he showed off in such a big way, I think there is still a ton left in there, and I'm so excited to have two horses like them."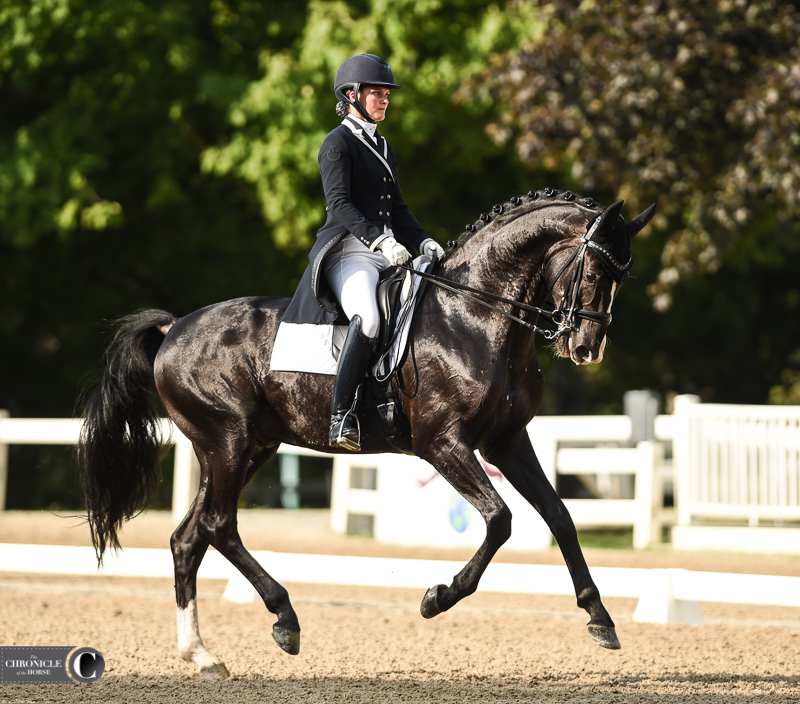 Miles elected to stay home during the COVID-19 pandemic, so both horses were out of the ring for 20 months. While she said her show season started a little rocky this year, each horse has gotten better and better.
"Daily came in ranked 11th, Mio came in ranked 5th, so I had hopes, I thought they could be good, but I am just so excited that they are top three," she said. "I think that the future is bright, and I love this program, and I love being here and showing here."