"He is as cute as a button, and he'll remind you to pay your health insurance on time." Olivia Dixon has a healthy sense of perspective about Satan.
Last summer, the Craigslist posting for "a pony known as Satan" became an overnight Internet sensation, as Kentucky resident Jessica Lynn's sale ad—a hilariously written request to rehome a willful 3-year-old palomino Welsh Cross named Presley, but nicknamed Satan ("Got the first name, earned the other," Lynn wrote)—reached well beyond its regional listing.
Satan was described as the "next million dollar mustang project." He wasn't broke to ride, he was known to rear, buck and kick "a little bit," and it was suggested you only pick his feet "if you [had] a death wish," though an enticing bottle of tequila would be included with his purchase.
The advertisement was humorous, but it wasn't a hoax. Satan was a pony with a troubled past who was in desperate need of a caretaker with patience. Olivia Dixon, a Salvisa, Ky.-based trainer who helps evaluate, rehabilitate and retrain horses at the non-profit Kentucky Equine Humane Center, knew she could be that person, and on July 28, 2014, she took the plunge and purchased America's most infamous pony.
In the year that's passed, Dixon has come to slowly earn the trust of the misunderstood palomino; along the way, her "one step forward, two steps back" rollercoaster journey has inspired others through a strong social media presence.
"It was purely accidental," Dixon says of a Facebook page for "A pony known as Satan" that now has more than 120,000 followers. "I had no intentions of having that many people watch me and wait to see what I do, but it's turned into something that it wasn't in the beginning."
In the beginning, Satan was a pony that simply didn't find the right hands. He went through the auction ring before escaping from his paddock and running loose for six months without being caught. When finally corralled by a farmer, animal control placed Satan in foster care, but that foster home would neglect and starve him, along with 13 other horses, until Lynn and animal control rescued him. The months of trauma took a toll on Satan; when he was placed in Dixon's care, a healing process began.
"I think he could be described as maybe the perfect storm of possibly poor genetics, a very protective and careful personality, a lot of energy and a not-so-great situation," Dixon said. "He's been pressured a lot."
Satan has not yet had a rider on his back and he can still be quite skittish, but he has shown improvement in many areas in his year of training. The gelding has done extensive round pen work and has lunged with a saddle on his back. He has free-jumped over small cavalettis, accepted body massages and even conquered a desensitizing obstacle of brightly colored foam noodles.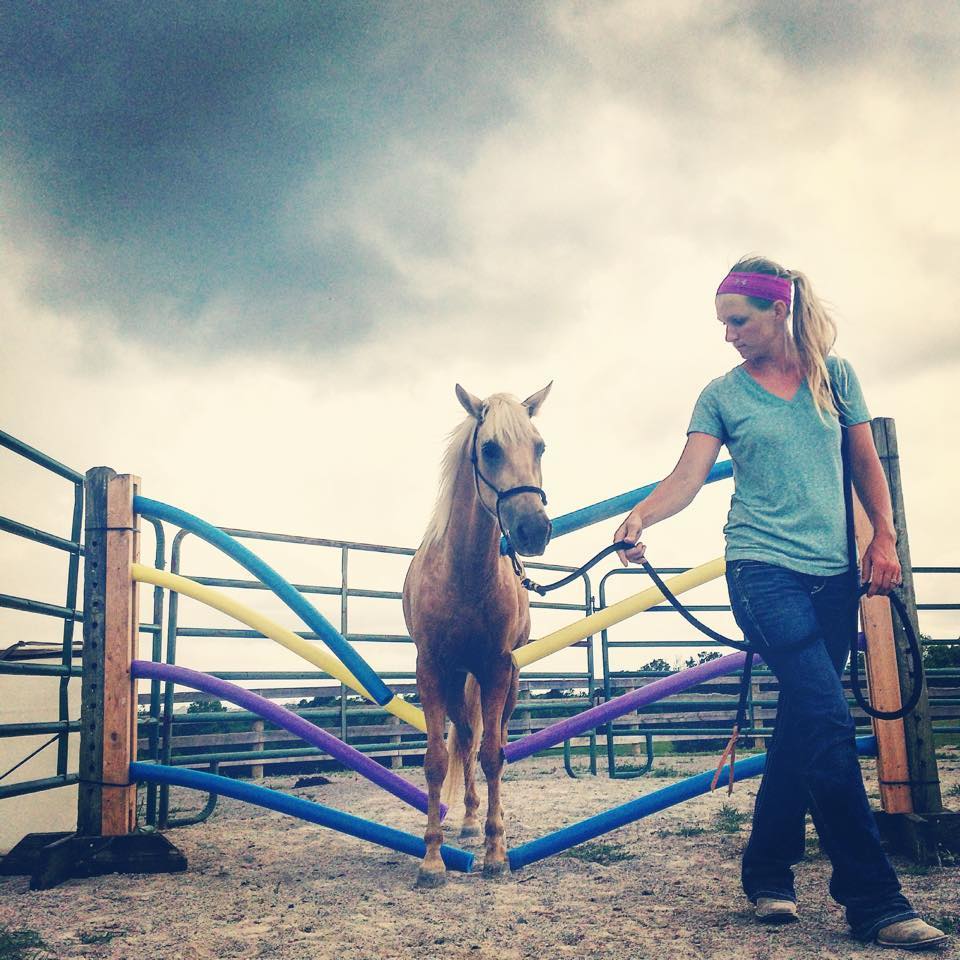 Picking up his feet is no longer a so-called "death wish," and on the recent one-year anniversary of his partnership with Dixon, he proudly sported a party hat between his ears and had garland wrapped around his neck and in his tail.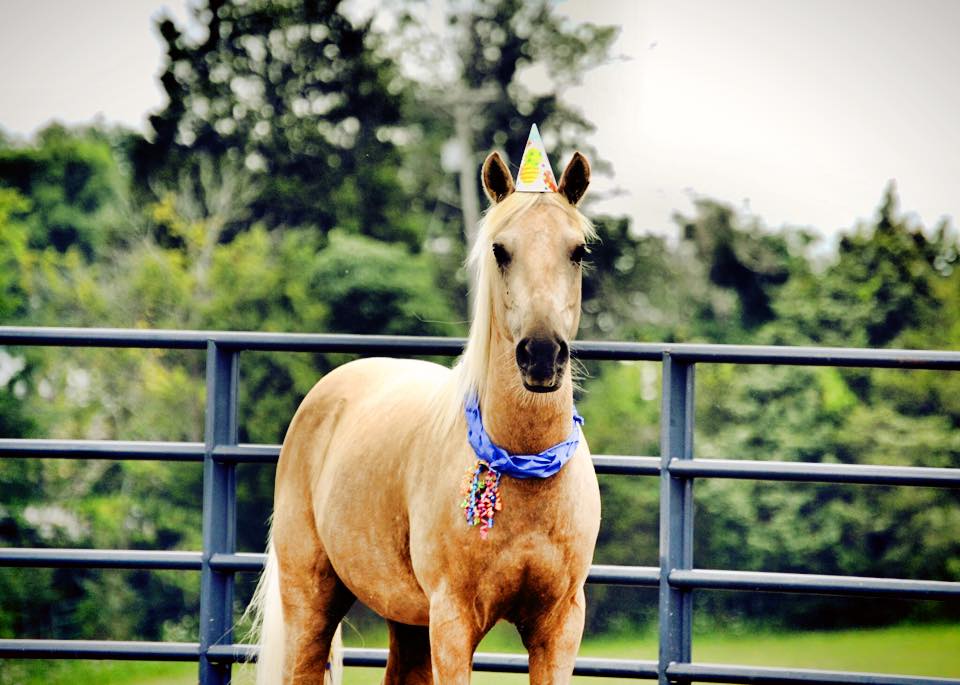 "I don't want to focus on the fact that he hasn't been ridden, because I think he's made great strides for him," Dixon said. "I do feel like he's made improvement, and we have an understanding that I kind of have to ask him more than he can do on a given day, and I just ask that he try. He doesn't have to do what I'm asking. He just has to try to understand. Even if he looks like he's trying a little bit and can't fully complete the task, it's worth rewarding, because the more you reward the tries, the more tries he will give you, and then you can take a step forward the next day."
A day of stretching provided an especially notable breakthrough.
"There was one day when he let me pick up his front feet and I could get him to stretch them out in front of him and then step into the stretch, and that was really, really hard," Dixon explained. "The whole time, you could tell that it took an immense amount of concentration and trust for him, and he was kind of stepping out onto the ledge."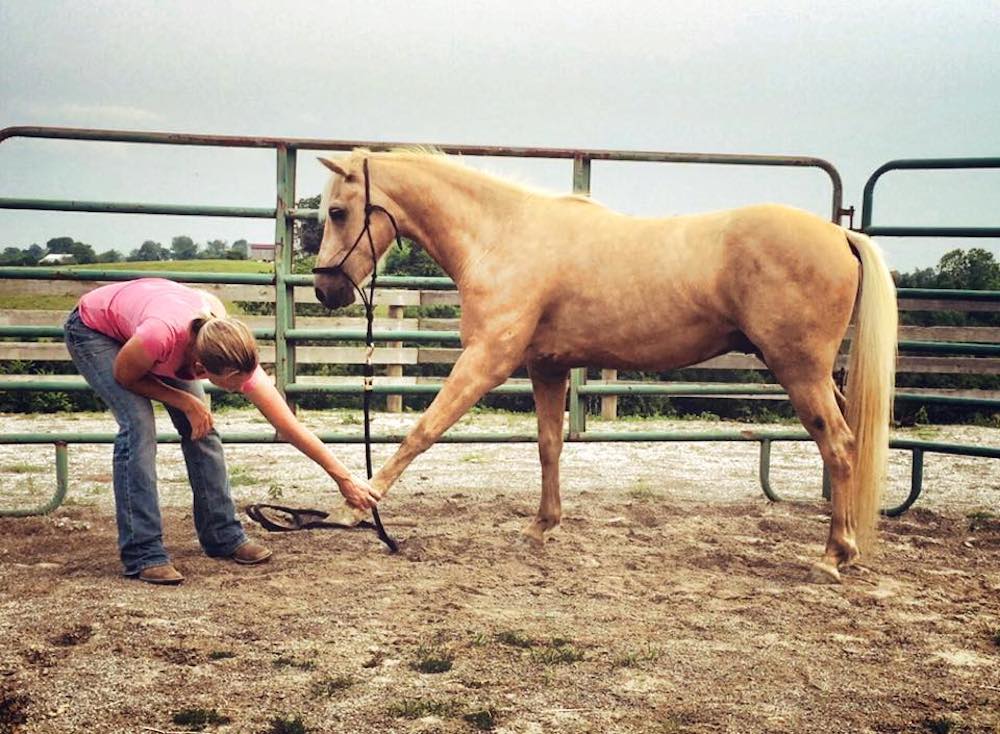 A key to Dixon's success with Satan has been to avoid setting deadlines. With the up-and-down nature of the pony's progression, Dixon has been content to let him develop at his own pace. She believes that due to the traumatic experiences the gelding has endured, moving too quickly, pushing too hard or forcing him to do something that he finds fearful could be detrimental to his long-term well-being.
"I never decided, at the beginning, that I could do "x" amount of work in "x" amount of time," Dixon said. "From having so much experience with rescues, I've really become accustomed to just dealing with what's at hand and dealing with the horse from where they're coming from and meeting them halfway. I'm thankful for any improvement, no matter how small."
That kind of enduring patience has not only benefited Satan, but also many of his followers. Dozens, sometimes hundreds, of people comment on the updates, photos and videos that Dixon posts on Facebook. Many share their own personal stories of how they have been inspired to adopt or foster a rescue (Dixon posts a featured rescue horse every Tuesday), donate to rescue organizations or work harder with their own problem horses. Dixon has found that sometimes the impact of her posts extends even beyond the equine realm.
"One person actually said that Satan's page inspired them to have patience with their autistic child. That's just more reason than I could have ever imagined for the page," Dixon said. "To help people in ways that don't even relate to horses, that's just all I could have ever asked for—to have a positive impact on the world."
Not everyone has nice things to say, but Dixon openly receives the negative comments, too. She is known to respond to even the nastiest of responses with dignity and respect, using it as an opportunity to educate and inform others.
"I welcome anyone to come to the page," she said. "I try to stay very open to criticism and discussion, because you can educate many other people in the process. A lot of people with pages either don't try so hard to keep track of all those comments or don't have time—I almost never can read them all—but I don't want anyone that has a legitimate question to go unanswered."
Dixon admits that she's "never made so little recordable progress with a horse in a year's time," and she is in the process of looking into behavioral research and testing that could potentially help Satan ("I think you should always be open to trying everything that you can to finding answers for him," she said), but she has no plans to give up on the pony.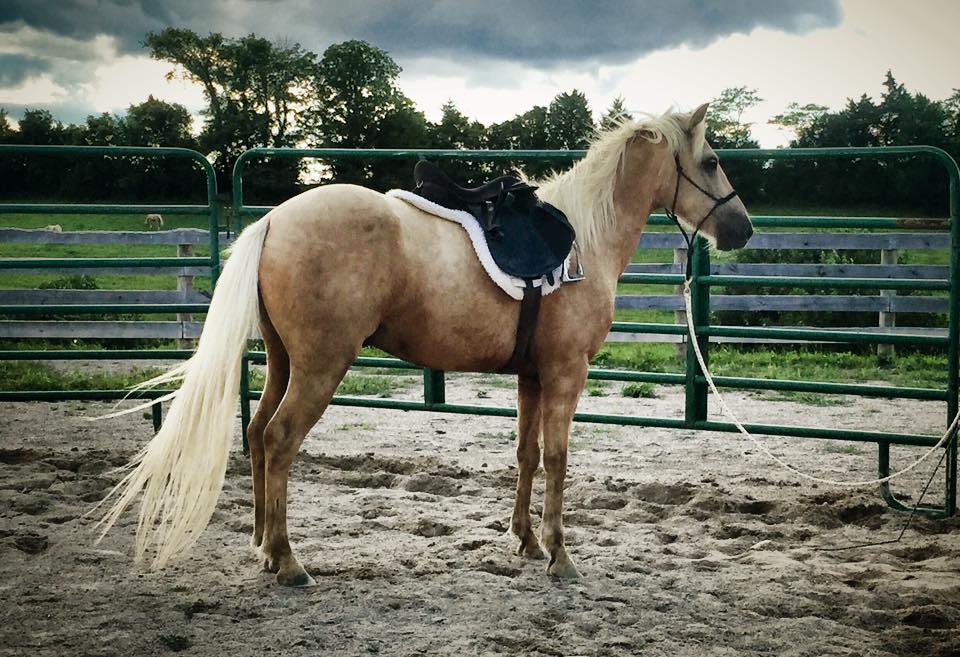 Her ultimate wish is for Satan to eventually have some kind of job in life, but if that never happens, the palomino will always have a home with her.
"I'm really a little bit large to be his permanent rider if he ever is rideable," she said. "If he becomes a reliable horse that can be a show prospect, I'd be more than happy to lease him out to a capable rider. I would love for him to excel beyond what I could do. I don't want to say that he will or won't ever get to that point. I'm just very open as far as the future goes. He's also welcome to stay at my farm forever. If he's never capable of doing anything more than he can do now, it's totally fine."
The text of Satan's original Craigslist posting:
Pony Available at your own risk… Meet Presley (AKA Satan) (Got the first name, Earned the other) American Mutt Pony (AKA Welsh/ QH cross) 3 yr old gelding (still thinks he is a stud) (Gelded 3 weeks ago) 13 hands of fireball He isn't broke to ride and most days barely broke to lead. ( If you can even catch him) *He ran the streets of Garrard Co for 6 months before Animal Control could even catch him. * He DOES rear buck and kick a little bit. Even a bite on occasion (Especially if you try to touch him) You can pick up his feet (if you have a death wish. )
He would excel as a bronc prospect (for little Cowboys) or maybe to be good at just being a lawn mower. Or ( if you don't value your life) a trail or show pony.
His drug of choice is Ace.
He also likes eating you out of house and home and getting fat on air.
But he does have some ok things about him. He has that gorgeous color every pays for. He respects fences. He gets along great with other horses. (Especially mares) He is cute as a button. He will remind you to pay your health insurance on time. He loads in a trailer great. (If you can catch him or screw it, just run him in and he loads right up) He loves horse treats (will take them with or without chunks of your hand.) He has had a saddle on once after a tube of ace and a lot of blood, sweat and tears (mostly mine) He is a beautiful mover (while trying to catch him you will see this movement a lot)
So if your looking for your next million dollar mustang project he is your man!!
$200.00 fee (so the "canners" AKA meat buyers stay away)
Will sell on a NO buy back contract! !
Come on all you professional horse trainers he could build you a resume that will get you a tv show if he doesn't put you in the ground trying… So if you are up for the challenge PM me…
Don't miss out on this amazing opportunity to show the world your as crazy as people think you are!!
Free bottle of tequila with purchase! ! (You will need it)
Only "Very" experienced need apply!!!
God Bless