Introducing the newest blogger to join the Chronicle's string of talented writers: Michael Dignelli. Along with his brother, Andre, Michael co-owns Heritage Farm in Katonah, N.Y., where multiple talented hunter/jumper junior stars have learned to ride. Michael manages the daily operations and business of Heritage and lives on the farm. He grew up riding and showing alongside Andre and will be sharing his experience of developing an off-the-track Thoroughbred prospect.
In the fall of 2014 I saw a few posts on Facebook about an event at Pimlico Racetrack for Thoroughbred horses off the track, or OTTBs as they are called. A makeover, this event was held over a weekend in which unfortunately I had a conflict with the USEF Talent Search Finals—East at Gladstone, N.J. It was not possible for me to attend and watch, but I was interested, very interested.
I grew up with Thoroughbred horses, the show horses of my beginnings with horses were Thoroughbreds. To me there is something incredibly beautiful about a quality Thoroughbred in peak condition. I have seen many of the famous Thoroughbred show horses of the mid- to late 70s through the early 90s compete as hunters, jumpers and equitation horses—Jet Run, Touch of Class, Idle Dice, Simpatico, Pressurized, Albany, Sandsablaze, For The Moment, Johnny's Pocket, and the best of all, Gem Twist.
These were all Thoroughbreds—some raced and some probably didn't. My brother Andre and I had some of our own, some better than others. Andre rode a lanky grey OTTB named Silverado in the equitation and two good jumpers, Harbor Wind and Wandering Wind. They were related and both owned by Judy Richter.
So, my search was on—I wanted to find a Thoroughbred for this year's Retired Racehorse Project Thoroughbred Makeover to be held in Lexington, Ky., in October. Two weeks ago I purchased a 4-year-old Thoroughbred gelding, bay with just a few little markings on his head.
Oh yes, he was skinny, with rain rot and his shoes falling off. He was in the rough for sure, but I have to say there is something about him that attracted me to him as a prospect. I watched a few videos posted of him on YouTube, then I requested more, more photos, a vetting (clinical and some due diligence).
I pulled the trigger, and he came home! It was not possible for me to go to see him and try him. The seller was nice and patient she took many photos for me and I viewed at least 15 videos—some were short clips taken with a phone, others were as per my request small courses and flatwork. I do not recommend to anyone that buying off tapes is a good idea, but I had no choice. I just couldn't go to North Carolina to see him, no way no how—too far and too busy.
So this blog will be his story, succeed or fail, whatever way it goes, a journey of a failed race horse and the effort to retrain him. Join me and "William, or Bold Charger (War Chant—Royal G G, Royal Academy), and let's see where it goes!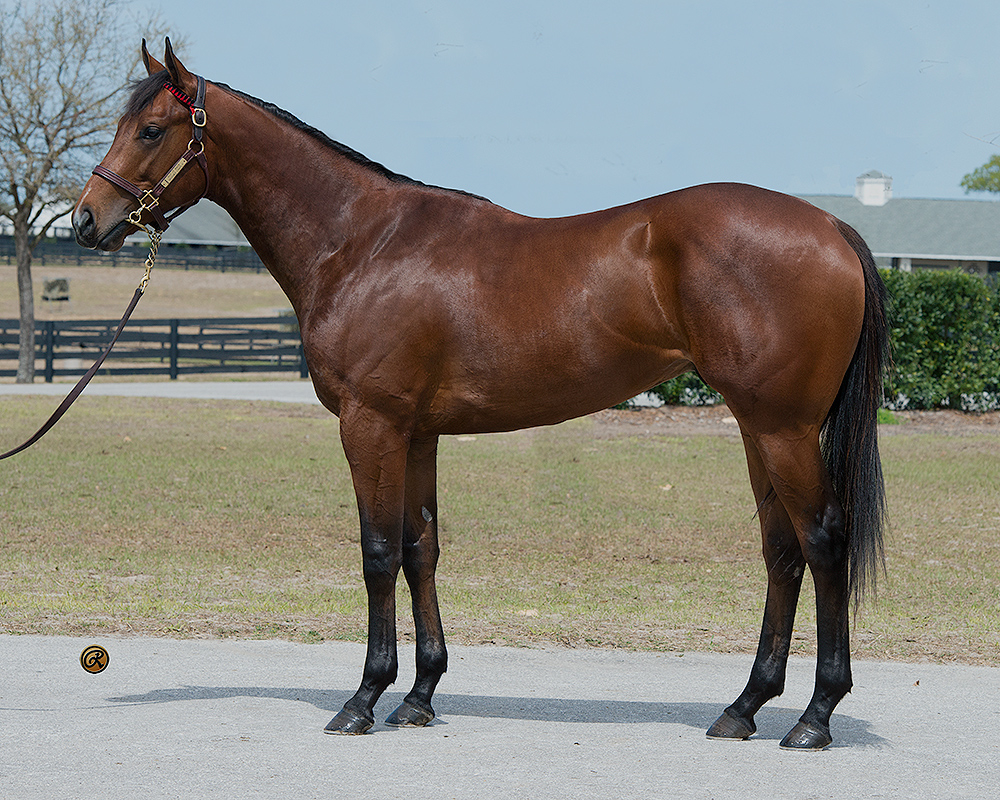 Bold Charger as a yearling.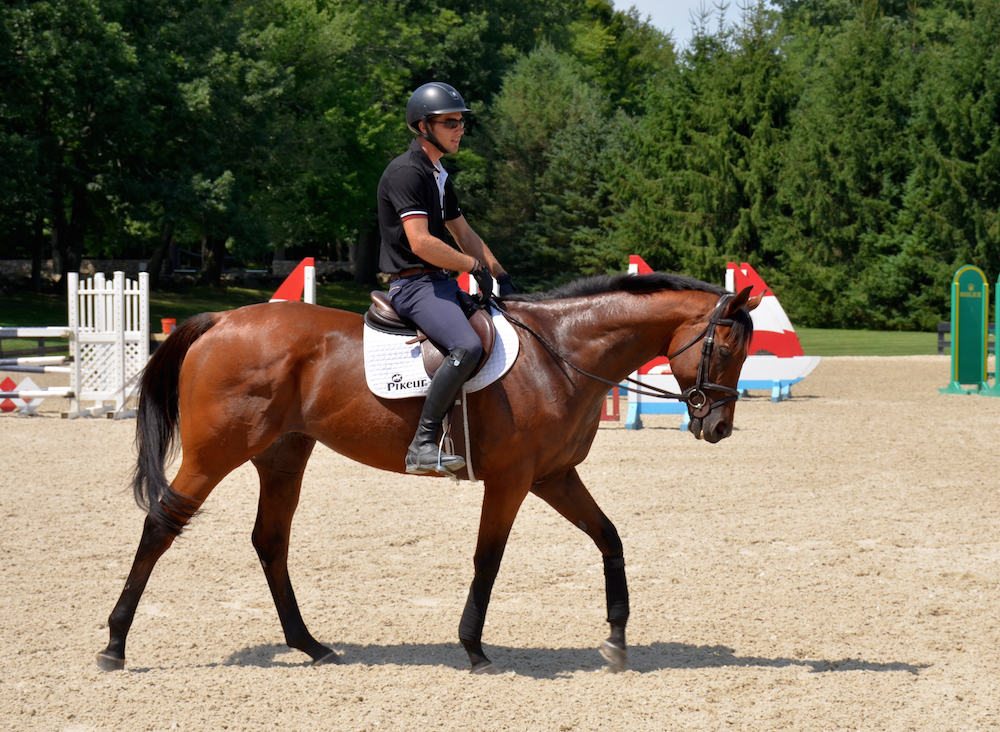 Heritage rider Oakley Clark taking Bold Charger for a spin. Photo by Michael Dignelli
Bold Charger on the track…