London—Dec. 14  
He's long been one of the fastest riders on the circuit, and the French speedster Julien Epaillard showed the rest a very clean pair of heels as he galloped to victory in the eighth leg of the Longines FEI London World Cup qualifier at Olympia in London.
At the tail end of an afternoon of tough sport there were only four qualified for the jump-off from a star-studded field of 36. Last to go, Epaillard was chasing the target-time set by 2016 winner, Great Britain's Scott Brash, who broke the beam in 37.34 seconds.
But that wouldn't be quick enough to hold back the flying Frenchman.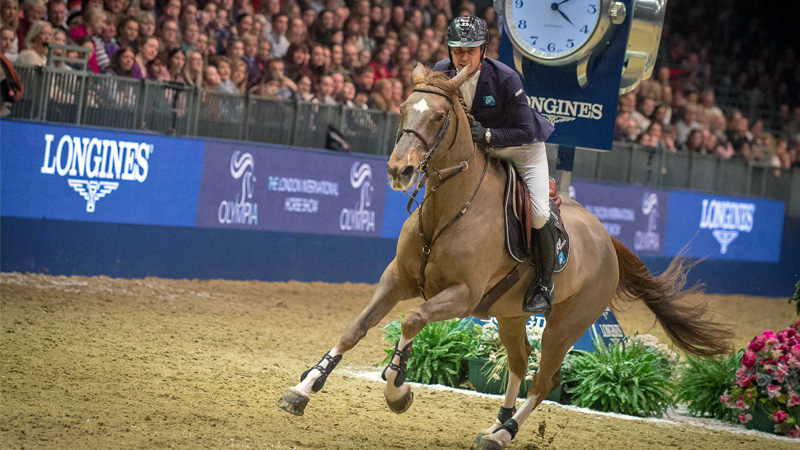 Epaillard stopped the clock in the winning time of 36.91 seconds. And he had extra reason to celebrate as he is the first French winner of the FEI World Cup™ at Olympia in 32 years.
"I saw Scott go—he started quickly but I thought he was a bit careful over the last two fences so I had nothing to lose and I took a lot of risk at the last two jumps and it worked!" said Epaillard.
The first-round track set by Bob Ellis proved very testing indeed, with horses and riders barely having time to draw breath between fences and often running out of steam towards the end of the course. This summer's newly-crowned individual European champion, Sweden's Peder Fredricson, led the way against the clock with H&M Christian K, producing a cautious second clear in 41.34 seconds. And although Australia's Edwina Tops-Alexander posted a quicker time of 41.05 seconds with her young horse Inca Boy van T Vianahof, the lady who topped the previous round at La Coruna (Spain) also left the door open for the remaining pair.
Brash's 16-year-old mare Ursula has all the experience in the world, and as the London 2012 Olympic team gold medalist set off it seemed a back-to-back double of Olympia wins was well on the cards. But he underestimated the threat from Epaillard. "I kind of thought he would be faster, but I was hoping he was going to have a jump down which he didn't have!" Brash said after his French rival stole the show with Toupie De La Roque.
"I know Julien well and I knew how fast he would go, so fair play to him," said Brash. "Ursula was fantastic and, although I would love to breed a foal from her, while she's jumping like this, she certainly isn't ready to retire."
Epaillard has been riding his bold and brave 10-year-old chestnut mare since March. "She comes from the Hecart family, who are my neighbors and have been very good to me. I'm really pleased that we are doing our best together!"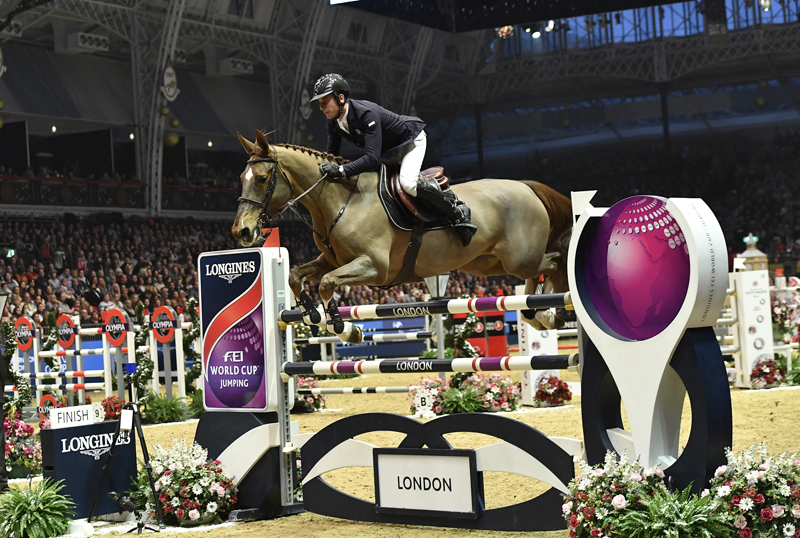 Meanwhile today's third placing sees Tops-Alexander move to the head of the Western European League table, tied with Frenchman Kevin Staut and now well-qualified for the 2018 Final in Paris next April. After today's win, that is Epaillard's target now.
"I really want to qualify for Paris so I will go to the next qualifer in Mechelen [(Belgium) on Dec. 30th] and then Bordeaux[(France) on Feb. 4]. To ride at the Final in my own country would be fantastic!" he said.
See full results of the Longines FEI London World Cup qualifier.