"Flying fossils" — that's what we used to call the over-50 division. We were young then. Gray hair, wrinkles and creaky joints were so far out on our horizons we never thought it would happen to us. Well it did. I'm a solid 15 years into Flying Fossil-hood and, yes, I'm still riding.
Could there be a more vexing word than "still"? I hear it every time riding comes up in a conversation with people who've never felt their heart quicken at the sight or smell or touch of a horse. "You're still riding?" they ask.  At that point "still" is still in lower case. But when jumping enters the equation, their voices hit the shift and bold keys: "You're STILL jumping?"
Yes, and sort of, is my answer. I am still riding, every day in fact. And much to the displeasure of my sons and husband, I can't foresee a time when that is not the case. I am also sort of "still" jumping; if you consider crossrails and weenie verticals jumping.
But age isn't the only reason I've scaled back over fences. I had a couple of head injuries chronicled here, followed by a series of horse injuries not chronicled on these pages and an inappropriate horse or two in between. Every time I got close to returning to the 2'6″ division, my horse either tore a suspensory or voiced too strong an opinion about me picking my way to a fence. I now have a sound horse who thinks it's his moral obligation to get me to the other side of the jump, and this one can really take a joke. So my goal, once again, is to get back to the 2'6″ special adult division.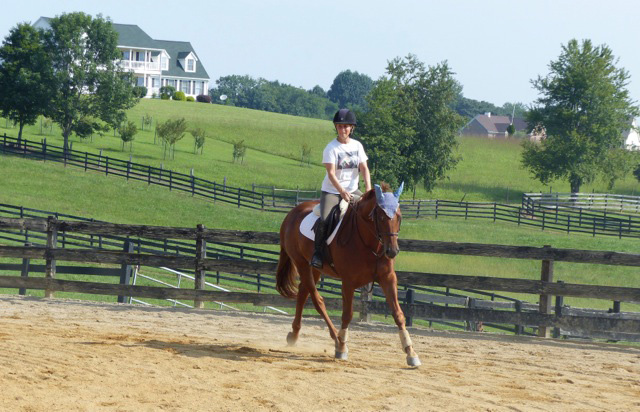 I'd be fooling myself if I said age wasn't a factor in how long it takes me to get there. I used to have a trainer who said every fall from a horse takes a scoop of courage from your courage bucket. My courage bucket, mini-sized to start with, has been seriously diminished over the years, and my timing, which I've always had to work hard at, is even slower.
But determination is like facial cartilage—it grows with age. On the negative side, my long nose is longer. But on the positive side, my determination, which started out over-sized, is now in full-blown Jack Russell mode. As a writing teacher, I've seen repeatedly that drive trumps talent. My uber-determined student writers were always the ones who progressed further than anyone else. So I will get back to the special adults….eventually.
I'm not alone in riding through my golden years. Of USEF's nearly 74,000 members who compete, 13,000 are over 60, according to USEF's Director of Marketing and Communication Julian McPeak. (And 35,000 of them are hunter/jumpers; 3,500 of those are over 60.)
Yes, I've upped the age limit for Flying Fossil-hood by 10 years. At 50, you barely have wrinkles, let alone aging issues that impact riding. And that's what I'll be writing about in upcoming columns. I will talk to doctors, sports psychologists, trainers and, of course, fellow Flying Fossils to share their wisdom, thoughts and concerns about riding and aging.
For Billie Rae Croll, 38, head trainer at Mane Gait Equestrian Center just south of Lexington, Virginia, teaching older students is all about restoring or installing courage.
"Kids don't have any fear," Billie Rae says.
"But the older ladies keep telling you about what happened 47 years ago. They have a real hard time letting go of yesterday," adds her mother, Anne Russek, 64, who manages the barn and also teaches lessons.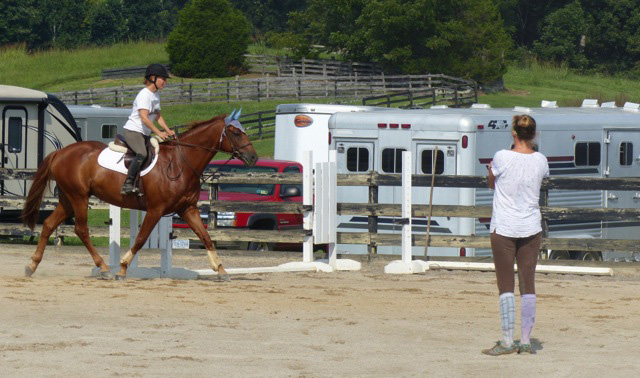 Guilty as charged. I try not to fixate on yesterday's horse-related injuries, but they do affect how I ride, especially in jumping. It is a struggle to push those thoughts out of my head as I approach a fence. However, I'm rediscovering what I learned 10 years ago while researching a novel about two people who literally rewrite their pasts: Memory is malleable. There are numerous studies that show good memories override bad ones. So the more I jump my new metronomical horse, Pete, the less I think about previous disasters. And the more courageous I become. Granted, we are still doing crossrails and small verticals, but I'm cantering courses now. When I first got him three months ago, it took all my courage just to canter him around the ring on the flat.
The key is baby steps.
"Most of my older ladies start out with no courage," Bille Rae says. "So the first thing I have to do is keep them safe. And then we take it really slow. It might take a year to let them jump. If you did that with a kid, they'd go to another trainer. I enjoy teaching my older adults. They are doing it because they want to. They are dedicated, and they work harder than the kids."
About 80 percent of Billie Rae's students are women over 60. Her own mother started as an exercise rider on the track in her teens and is "still" riding 50 years later.
"There's a whole generation of women who had to give up riding or never got to ride in the first place because their families couldn't afford it or they lived in cities," Anne says. "They were always cowgirls at heart. Now they have time and the finances to pursue their passion. And to give them credit, they're doing a sport that is primarily promoted as something to do when you're young."
Amen to that. How many ads do you see in this magazine or any other horse magazine featuring older riders?
I took Pete to Mane Gait Equestrian Center recently to ride him in one of Billie Rae's older adult group lessons. We were five female riders aged 59 to 72 or 328 collective years of riding humanity.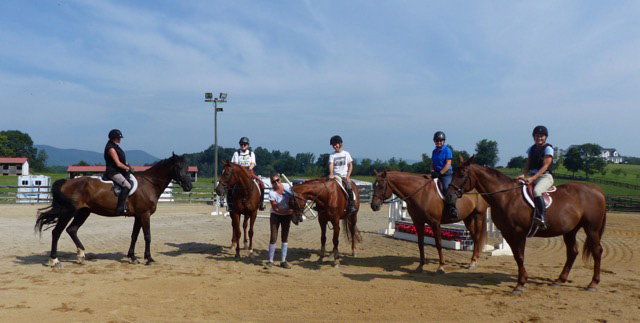 The youngest and oldest—Sue Charlton and Lynne Williams—are fox hunters who struggle less with courage than I and the other two riders in our group, but they do struggle.
"Achey hips," says Lynne, 72.
Kris Greiner, 68, was surprised to hear that. It's just the opposite for her. After breaking her pelvis roller-skating with her grandchild five years ago, she still feels out of alignment—until she gets on a horse. "Riding has always done more for me than physical therapy," she says. "I wake up feeling 68, and when I'm finished riding, I feel 38."
Like me, Beth Gianakouros, 64, wants to get back to the 2'6″ division she rode in when she was younger. But trying to make the wrong horse work for seven years stripped her of any confidence.
"I loved him," she says, "but sometimes we don't love wisely."
She finally gave him back to his original owner and bought a more appropriate horse.
"The bottom line," she says, "is you have to have a horse you trust, and you need a trainer who's going to support and encourage you and push you within your comfort zone but not beyond. You need a trainer who doesn't tear you down but builds you up. Because riding is 90 percent in your mind. If you don't think you can do it, then you can't. If you think you can, you can."
Beth has spent the last two years conquering her fear of getting hurt with her new horse, Captain G, slowly building from cantering poles on the ground to crossrails to small verticals. Just last week she jumped 2'6″ for the first time in many years.
"Confidence is much harder to come by now," she says, "because you know if you fall, you're going to break like an egg."
So yes, our bones are thinner; our timing is slower; our tolerance for heat is far less, yet there we were, five Flying Fossils baking in the summer sun, cantering our horses first over poles, then small crossrails, then bigger crossrails with flower boxes, cheering each other on. And it was sweaty, not-as-timid me, who took Billie by surprise when I asked her to make the crossrails bigger and more formidable with the addition of her boisterous flower boxes. What my old trainer failed to mention about that courage bucket is something I'm just starting to realize. You can replenish it.
But I'd be a fool to deny that riding at 65 carries greater risk. So why do it? Because we are still those people whose hearts flutter when we see or touch or smell a horse. We are "still" horse crazy after all these years.
---
Jody Jaffe is the author of "Horse of a Different Killer," "Chestnut Mare, Beware," and "In Colt Blood," featured in People Magazine and translated into German, Japanese and Czech. She is also the co-author of the novels, "Thief of Words," and "Shenandoah Summer."  As a journalist, she was on the Charlotte Observer team that won the Pulitzer Prize, and her articles have been published in many major newspapers and magazines including The New York Times, The Los Angeles Times and Washingtonian. She is currently working on "The Adventures of Hot Flash and The Invisible Woman," a novel about female superheroes with wrinkles. She lives on a farm south of Lexington, Virginia, with her husband, John Muncie, and nine horses.
Read all of Jody's columns for the Chronicle.