Ema Klugman, 23, caught the horse bug abroad and got serious about it after moving to the United States, thanks largely to the Seneca Valley Pony Club (Maryland). The Clarksburg, Maryland, rider, who competes for Australia, trained with the late Packy McGaughan and now trains with Marilyn Little and Hilary Moore Hebert. She will be aboard her longtime mount Bendigo, a 19-year-old Thoroughbred-Trakehner by Refuse To Lose.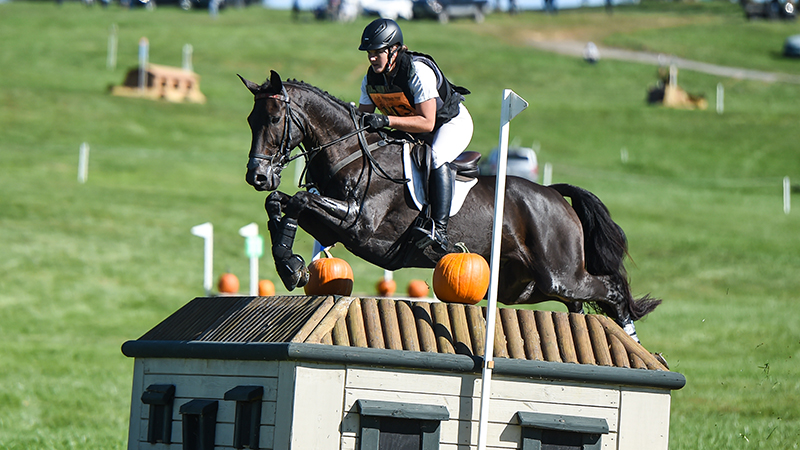 Technically I'm an Australian citizen, though I got my U.S. citizenship six months ago, after being on my parents' work visas and having a green card. I was born in Florence, Italy, where my mom was, at the time, working for the United Nations. Shortly after, probably when I was 6 months old or so, we moved to Canberra, Australia, but I don't remember it that well because it was only for about a year. Then my whole family moved to Washington [District of Columbia]. I have lived here most of my life.
When I was 7, we moved to Nairobi, Kenya, because my mom was working for the World Bank. That's actually where I first learned to ride. I had a pony named Hedgehog and a pony named Trevi who took me around my first show jumping shows and Pony Club. We didn't really learn any horse management. We learned the basics [of riding], but it was pretty rough and ready. We learned to trot, then the next day learned how to canter, then the next week we were jumping.
When I was 10 years old, we came back to D.C. When I was 12 or 13, I lived in New York City for a year. We kept doing Pony Club up there, then moved back to D.C. I've been in [the area] since then. For the last four years I've been studying public policy and history at [Duke University (North Carolina)], and I graduated summa cum laude in December 2019. Luckily, I graduated a semester early, before the pandemic hit. When I realized I could complete my credits a semester early I did so I could work for Marilyn [Little].
At school, normally I just woke up at 6 a.m. and went and rode; I usually had two horses with me when I was there. I would get back at 9 and only like half the people on campus would even be awake. If you want something badly enough, you kind of make time for it. For my mental health I needed the horses too. You can't study a lot, get good marks, have two horses at the advanced level and go to a lot of parties, so the last thing I didn't really do. I don't think I missed out on that much.
I'm going to George Washington University Law School (District of Columbia) in the fall. My long-term goal is not to only be a full-time horse professional. I want to ride at the top level for a long time, but I don't want to be broken from getting bucked off 3-year-olds when I'm 30.
I'm a nerd; I love thinking about policy and legal things. I think if I rode horses all the time, and that was the only thing I thought about, my brain would be starved.
An Improbable Prospect
Bendigo is a bit of a strange story. I bought the horse when I was 14 years old, and he was 10. He was kind of an older horse to buy to be an eventing prospect; he hadn't done an event before that. He was barefoot and had never worn shoes in his life, and he was definitely on the feral side. But he was a great jumper, and we knew that when we tried him. My coach Packy McGaughan said, "If you want a challenge, this would be the horse. He'll probably go preliminary." We said, "Great. We want to go prelim. That sounds awesome."
I got my A Pony Club rating on him and obviously was eventing him. Each time we moved him up a level, Packy would say, "I'm not sure how this is going to go, but he looks good, and he's training well."
He was surprised when we went clear at the first intermediate. He was even more surprised when he went clear at the first advanced.
It wasn't obvious that this was going to be my five-star horse. It was kind of a bit of a fairy tale. He doesn't have all the scope; he doesn't have all the gallop, and he doesn't move well. You wouldn't pick him. But he tries so hard, and he's really good at digging in. When he feels a bit tired, or he doesn't know what to do, he just tries to guess the right answer.
Bless him, he's a bit of a neurotic horse. He doesn't like to be stabled. He can be quite hard to manage, and he goes off his food sometimes. He's a bit of a bizarre character, but I think we have a good relationship. I forgive him when he gets a bit nervous, or he can be hard to ride in the warm-up area, because as soon as he goes in the start box, he's ready to go.
He also has a very good relationship with my mother, Jeni Klugman, who takes him on trail rides and grooms for me at the shows. We're a tight-knit little unit.
I think you don't know about a horse until you get them up to the top level. It's hard to know what their mental capacity is in that regard. When the chips are down, are they going to try to pick it up for you? If you slip the reins going into the water jump, are they going to find the next jump for you, or are they going to say, "You weren't doing it right; I'm going to run out?" Of course I've had plenty of problems and a learning curve. But I'm so confident in his willingness to try for me. I know that if we both hold up our ends of the bargain, we'll be OK. He's just been a real friend, through ups and downs when other things aren't going right in life. He's always there and has a smile on his face and is just a super guy. I would be nowhere without that horse. I've learned a lot from him, especially about patience and humility.
I've been to the Kentucky CCI5*-L as a spectator twice. I was telling a friend the other day the second time I went I was looking at the jumps and thinking, "These don't look that bad. I can probably do this in 10 years." That was probably five years ago. I didn't think Bendigo would be doing it; I was thinking when I was more established. But stars have aligned with that horse; he's become an incredible cross-country and show jumping horse. We know each other like the back of my hand. I'm excited he's the one to take me the first time.
I'm looking forward to the finish timers of the show jumping and giving my horse a big pat at the end. Just getting to the end of the competition will be a big relief and a milestone, particularly with that horse, who is an unlikely horse to do that level.
My goal is to get the end of the event and have a happy horse. I'd love to have a double clear, but I also know a five-star is a different animal. I'm just going to roll with the punches and see how it goes
---
A version of this article ran in The Chronicle of the Horse in our April 19 & 26, 2021, issue and has been updated.

Subscribers may choose online access to a digital version or a print subscription or both, and they will also receive our lifestyle publication, Untacked. Or you can purchase a single issue or subscribe on a mobile device through our app The Chronicle of the Horse LLC.
If you're just following COTH online, you're missing so much great unique content. Each print issue of the Chronicle is full of in-depth competition news, fascinating features, probing looks at issues within the sports of hunter/jumper, eventing and dressage, and stunning photography.