New York City—Sept. 22
One of the most anticipated events of this year's Rolex Central Park Horse Show is Olympic gold medalist Charlotte Dujardin's freestyle exhibition with Valegro on Saturday evening.
We caught up with Dujardin to chat about her and Valegro's trip over, how she's been spending her time since arriving in New York, and why she chose her "How To Train Your Dragon" freestyle for Saturday.
How was your trip from England?
We had a really good flight over. We arrived here late afternoon Monday. Jet lag was a bit of a killer, but otherwise it was perfect. Valegro got here really safe and fast.
Why did you decide to bring him to Central Park?
He's actually only done two shows this year—not a lot of competing. We really wanted to save him for the Olympics. He's done two competitions, but we thought it would be really nice for everybody and for the sport to bring him over here for people to see.
He's not competing, but it's still nice for people to get to see him. Not everyone gets to travel and see him competing, and so it's good for them to see him in a test in real life. It is amazing how emotional people get when they see him.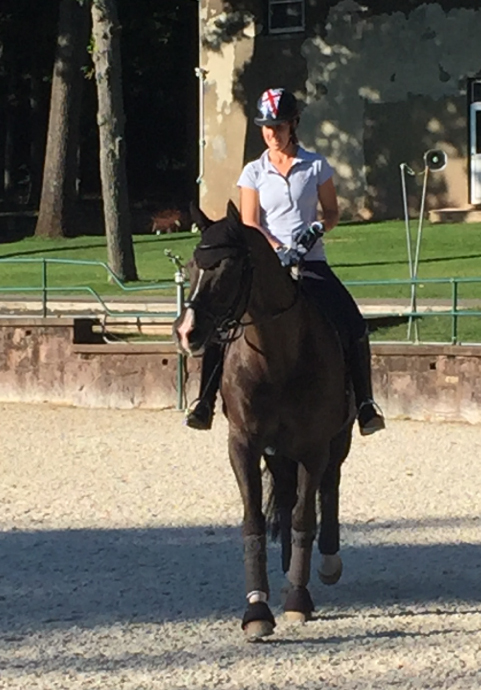 Charlotte riding Valegro at the USET Team headquarters in Gladstone, N.J., before heading to Central Park. Photo courtesy Charlotte Dujardin.
Is it emotional for you doing your freestyle here since Valegro's retirement was officially announced last week?
I'm not actually riding my Olympic freestyle; I'm riding another one. I guess to me it's not sad because I've still got him, he's not moving anywhere, and I still get to ride him and do everything I want to do with him.
For the sport, it's great he's done what he's done. He's done so much for our sport, but now I think it's nice he can go out there with no pressure and just enjoy himself.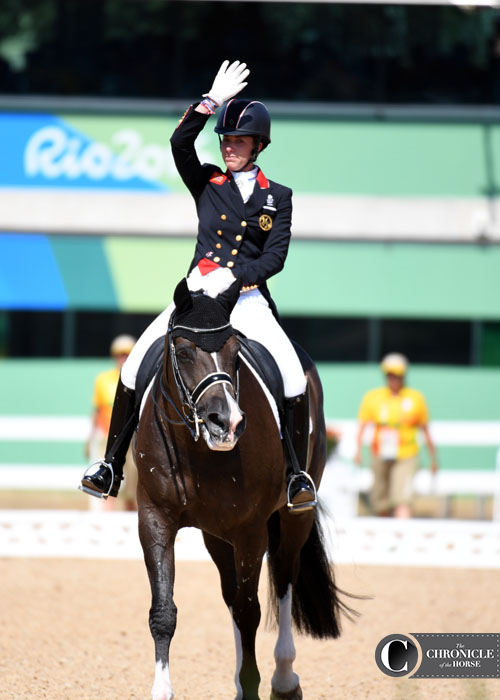 Charlotte Dujardin and Valegro are crowd favorites. Photo by Lindsay Berreth.
Why did you choose the "How To Train Your Dragon" freestyle for this venue?
It's one of the first ones I did, and I absolutely love it. It's been an amazing freestyle to do. I've loved all of mine, but my London one finished at the London Olympics, and my Rio one was for Rio. This music, it's music I really enjoy riding to, and I think people really enjoy it as well.
I hope that all the fans enjoy it, and I thank you for all your support.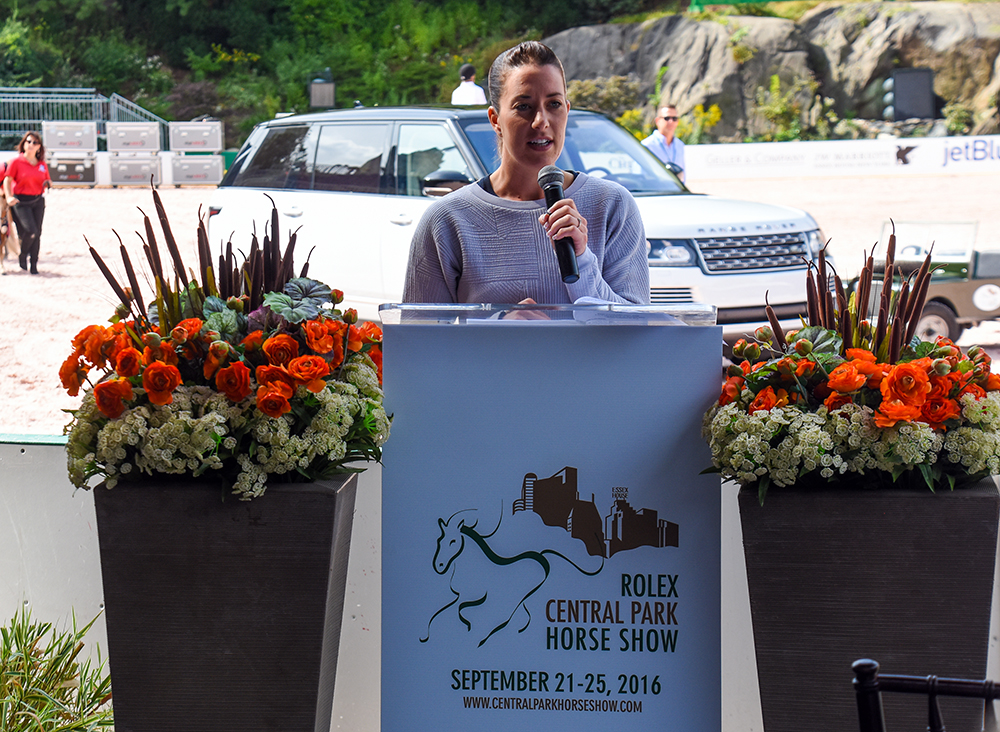 Charlotte Dujardin at the Rolex Central Park Horse Show. Photo by Meg Banks for the RCPHS.
How have you been spending your time in New York?
Yesterday was quite interesting! I think we got done over with our tickets to see the Statue of Liberty. We got sold some dodgy tickets, by some dodgy guys, and they dumped us off in some industrial estate. They left us cooking in the sun for two hours, and then we got our boat ride, and then we got dumped back there with no lift back, and we had to walk 4 miles back.
We've done loads of shopping. I actually need to currently get another bag to take home with me. We've been in Times Square and done sightseeing. We've had an amazing time; it's an amazing place to be.
There are still a few tickets left for Saturday night, which includes Valegro's freestyle and the CDI freestyle as well. Buy tickets here.