Lexington, Ky.—April 30
Derek di Grazia's cross-country courses are known for being unrelenting, but apparently no one told Michael Jung.
"That was just 11 minutes [of] fun," Jung said Saturday after crossing the finish on fischerChipmunk FRH 11 seconds under the optimum time of 11 minutes, 4 seconds.
""I'm very proud of my horse," he said. "I'm absolutely happy. FischerChipmunk is a great horse with a lot of talent, super quality. Yesterday, the dressage and today in the cross-country, he's so powerful; he's so fast on the flat, great jumping, with the brain, always with me."
Though it was the 14-year-old Hanoverian's first five-star, the pair made quick work of the course, as one of only three to finish double-clear.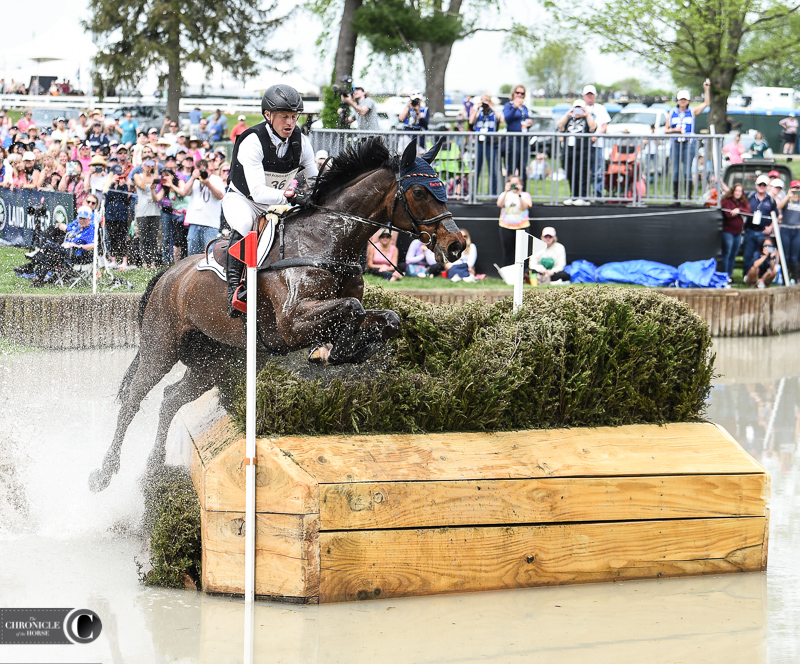 "I had just a really great rhythm," he said. "On the last combination [the Mighty Moguls at 26AB], I take a bit of time, on the last water [Cosequin Cove 23ABC], I take a bit of time, but he's so fast on the gallop track; it's just amazing to feel this power."
Jung started the weekend in a familiar position, taking the lead with a dressage test that scored 20.1. He goes into Sunday's show jumping with more than two rails in hand over second-placed Boyd Martin and Tsetserleg TSF (29.3).
Jung got the ride on "Chipmunk" in early 2019, and since then they have won individual silver and team gold at the 2019 Longines FEI European Eventing Championships (Germany) and competed at last year's Olympic Games in Tokyo.
Chipmunk (Contendro I—Havanna, Heraldik I) has a strong show jumping record, but Jung's not counting on a win just yet, although if he did, it would be the 11th five-star victory of his career.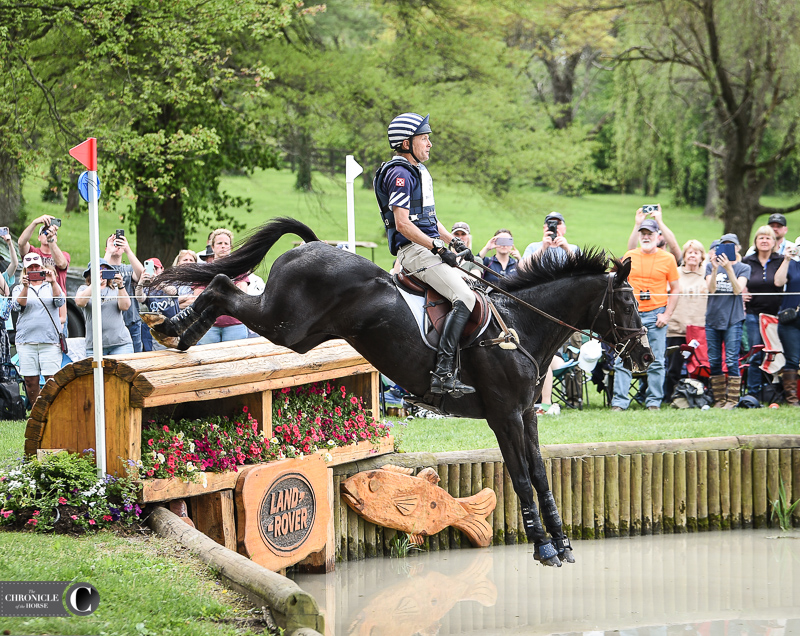 "For the moment, we really enjoy this, then we look forward to tomorrow," he said. "He's a great jumper. He jumps many times clear rounds, sometimes one down. He's a great horse. Mistakes always can happen, but he makes me very proud. It is an amazing feeling."
Martin was likewise very pleased with "Thomas' " performance. Last year the pair were in contention for the lead before falling at the 26B, the Mighty Moguls. But with a double-clear round, they moved up from sixth and are now leading the Land Rover/USEF CCI5*-L National Championship as the top-placed U.S. pair.
"I gave him a big pat after!" he said of getting past the Mighty Moguls this year. "I went past this big dent in the ground where I crashed last time. I just eased up a bit last time mentally, and [this year] I just said to myself, 'OK, keep riding every step until you cross the finish line.' "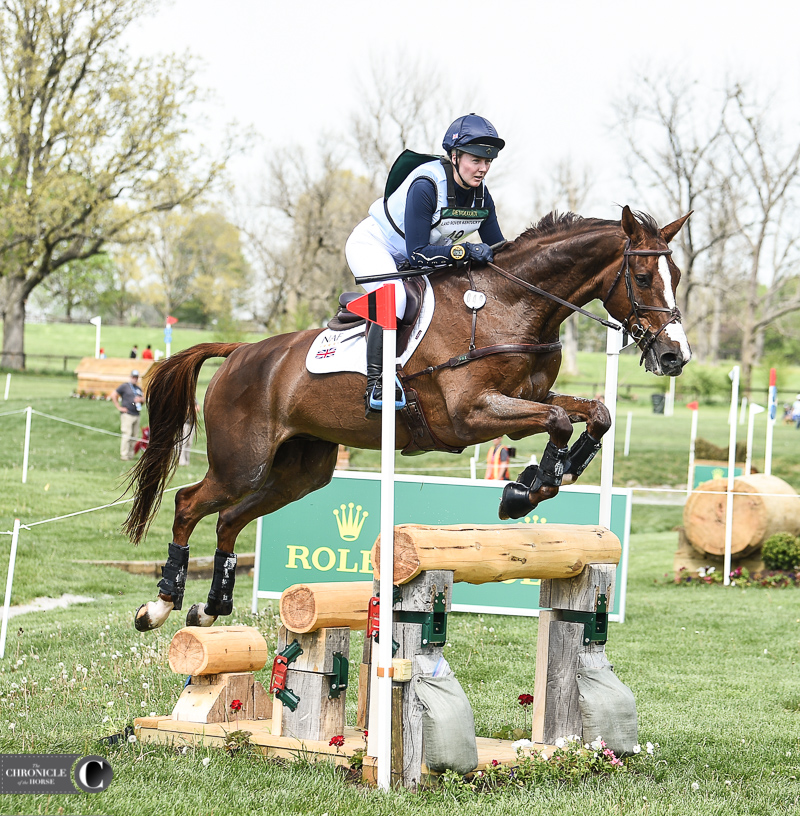 Martin admitted that when he initially walked the course, he felt di Grazia had softened it from the previous year, but watching earlier pairs struggle proved it was still a massive test.
"My fellow was brilliant," he said of the Turner family's 15-year-old Trakehner (Windfall—Thabana, Buddenbrock). "We've got a good partnership now and a good connection with each other, and it was smooth sailing for Thomas today. I felt like he did the time well, and I couldn't have been happier with him. I feel like we're in a place in our career now where he really knows his job, and it's a matter of guiding him and trying to give him a good shot at all the jumps."
Following dressage, British young rider Yasmin Ingham and her five-star first-timer Banzai Du Loir sat in fourth, and with just 2.8 time penalties cross-country, they've moved up to third overnight. They will go into show jumping on a 30.9.
"That's just a complete dream come true to have such an amazing round around there," she said. "As I was just saying before, it's the horse's first time at this level, a five-star, so I was very much trying to make sure I showed him the fences correctly, and I wasn't taking too many risks anywhere.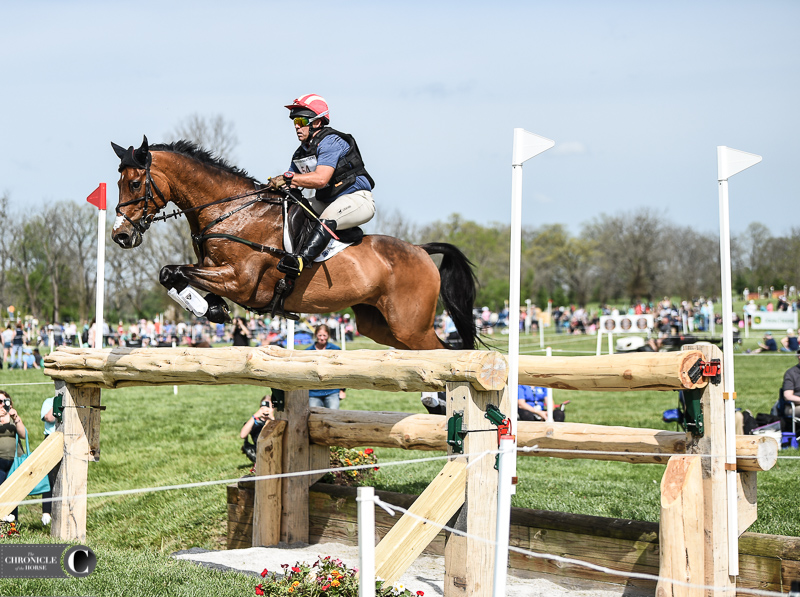 "In the future, with the more runs he has at this level, it could be so, so exciting, with him being quite fast," she said. "I didn't really take any major risks out there—it was very much precise with the lines and things. It was just nice to get the coffin out of the way, that was a really tricky fence on the course, and as I said he's a quite careful jumper so I really needed to get that away and I could keep riding on."
At 24, Ingham is the youngest competitor in this year's field, but she had a successful young rider career and was a double gold medalist at the 2013 FEI Eventing European Championships for Young Riders & Juniors (Italy). With "Banzai," an 11-year-old Selle Francais gelding (Nouma D'Auzey—Gerboise Du Cochet, Livarot) she won the 8- and 9-year-old championship Burnham Market CCI4*-S (England) in 2020 and the 2021 Blenheim Palace CC4*-L (England).
"He is such a character," she said. "He's a really quite tall horse. He covers the ground massively, he's got an amazing, amazing jump, so I'm really quite lucky to be sat on such a powerful weapon."
Third place after dressage, Buck Davidson and Carlevo added 10 time penalties to drop to fourth, and second-placed Sarah Bullimore and Corouet had a runout at 26A, just two from home, to drop out of contention.
Davidson is now in the reserve spot for the national championship title.
"Sometimes out of something bad, something good comes, and he's never jumped that well all the way around," he said. "I think I'm better off at the brushes to keep coming and give him more room, which sort of hurt me at the lake a little bit, and the end here I sort of felt like the gas tank was coming to empty, so I thought I'd go around that corner and keep galloping, and I thought, 'Oh boy, here we are, we're on four Carlevo, come on!' And he actually likes it that way, so he's never jumped that well; he never gave me a funny moment. He's not a race car, but that's about as fast as we're going to go."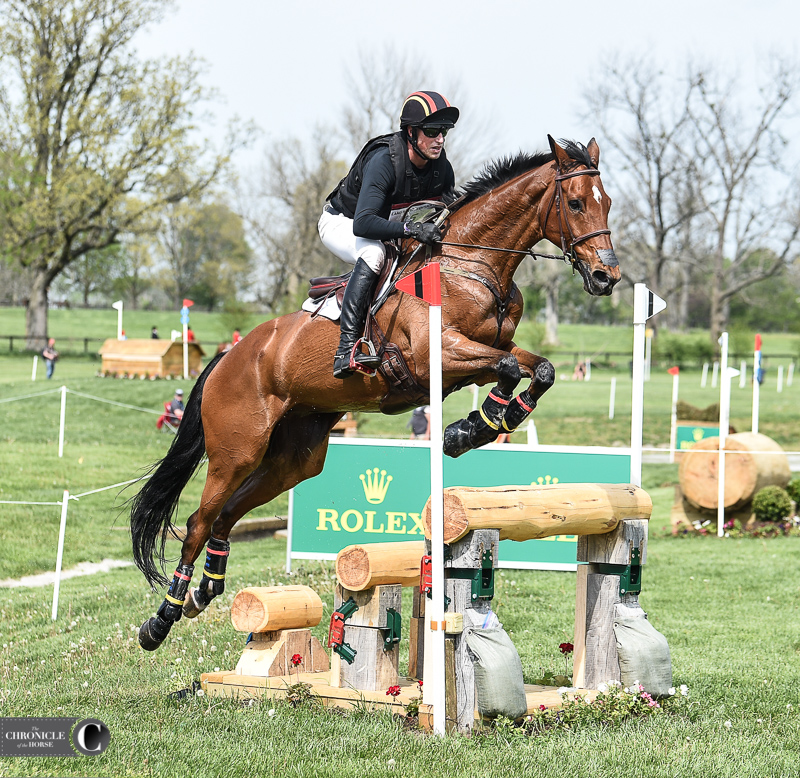 Forty-three pairs started the cross-country today after Lauren Nicholson (Vermiculus) and James Alliston (Paper Jam) withdrew. Thirty-two pairs completed with seven picking up 20 penalties. One pair had 40 jumping penalties.
Four pairs retired and seven were eliminated on course. Five of those were rider falls, and Ashlynn Meuchel and Emporium both took a hard fall at 19C, a corner in the water at the Head Of The Lake.
The gelding was down in the water and there was a 30-minute hold while he was sedated and taken by trailer to Hagyard Equine Medical Institute across the street from the Kentucky Horse Park for further evaluation. Meucheul posted on social media later Saturday that "Theo" seems relatively unscathed so far and was up at the clinic.
Tamie Smith's Fleeceworks Royal came up lame after jumping fence 11C, EEI's Challenge Accepted, and was transported to Hagyard where she's eating, resting and under observation, according to Smith.
The final horse inspection starts tomorrow at 7:30 a.m. Five-star show jumping starts at 2:30 p.m.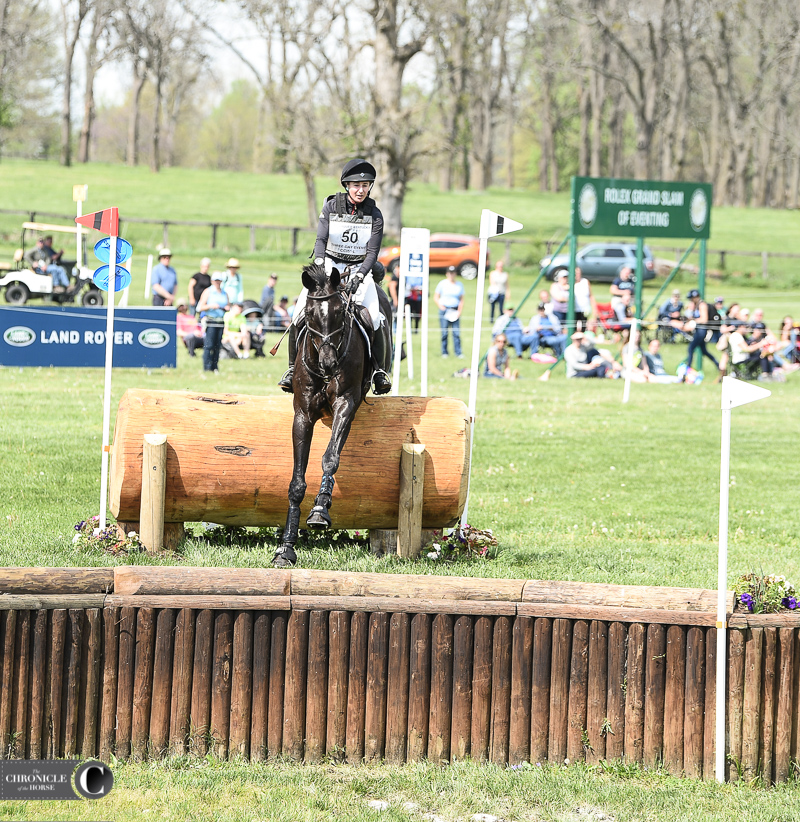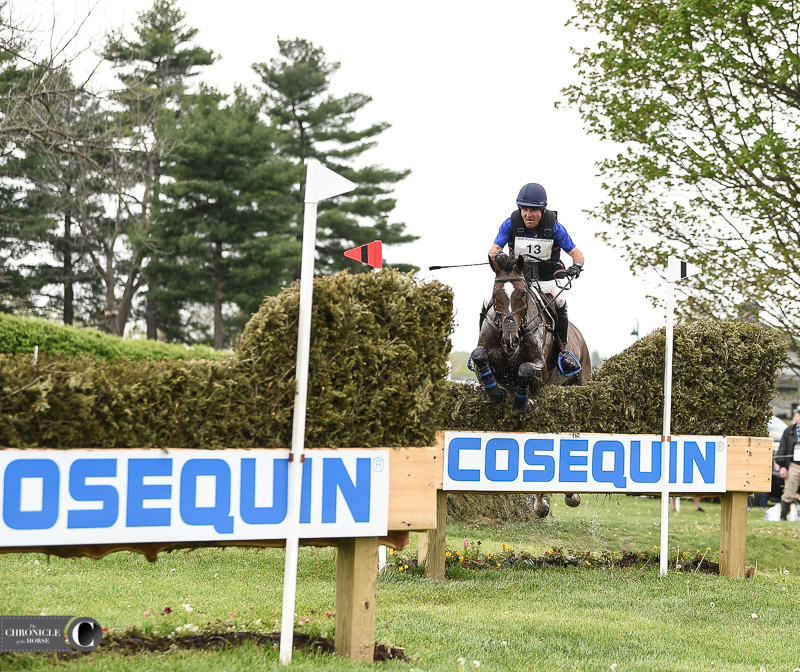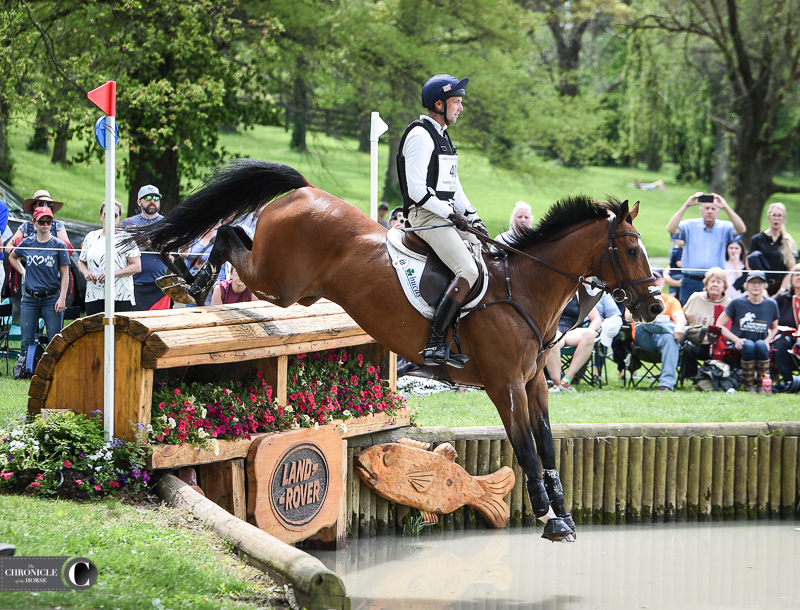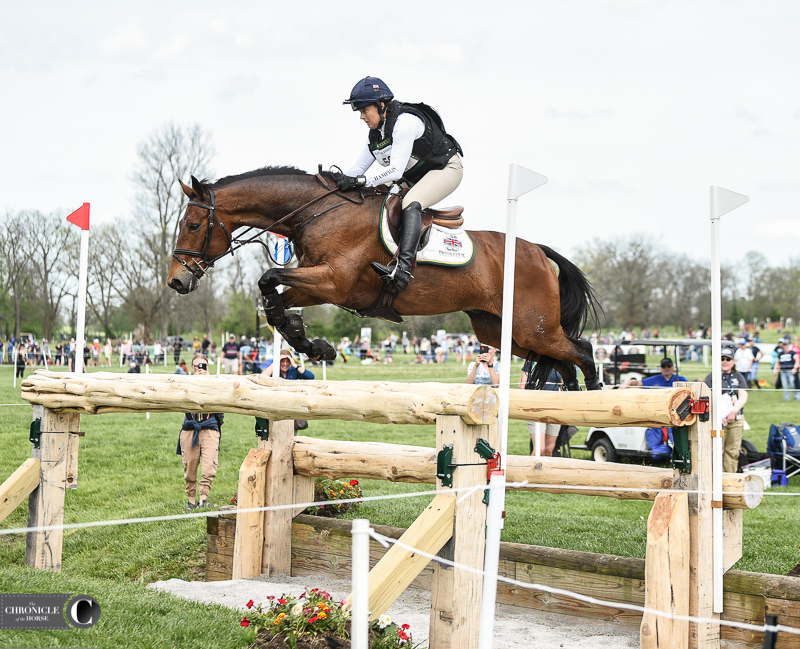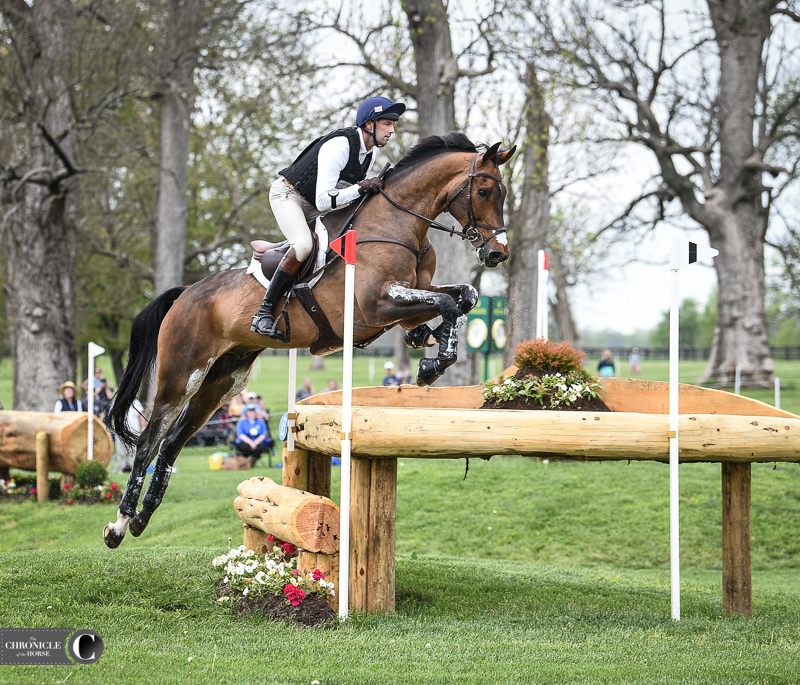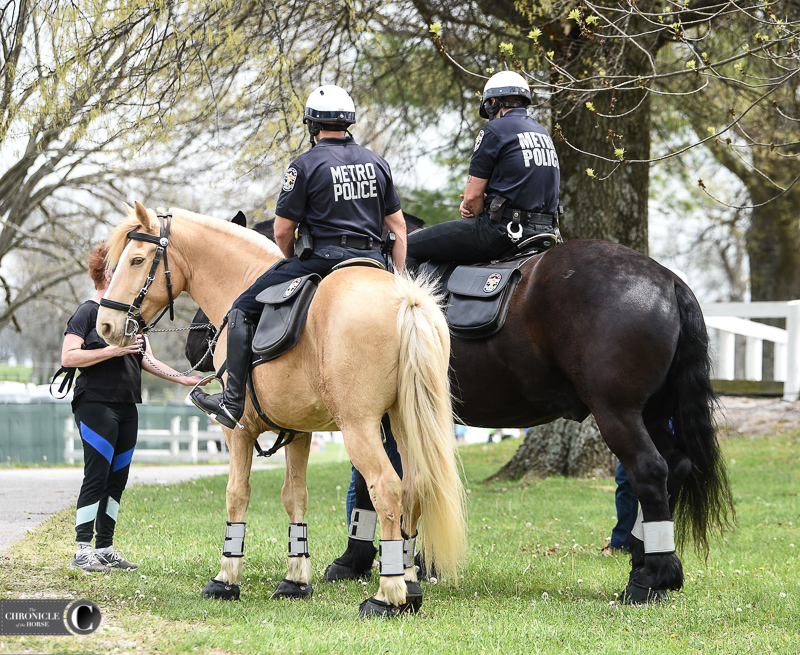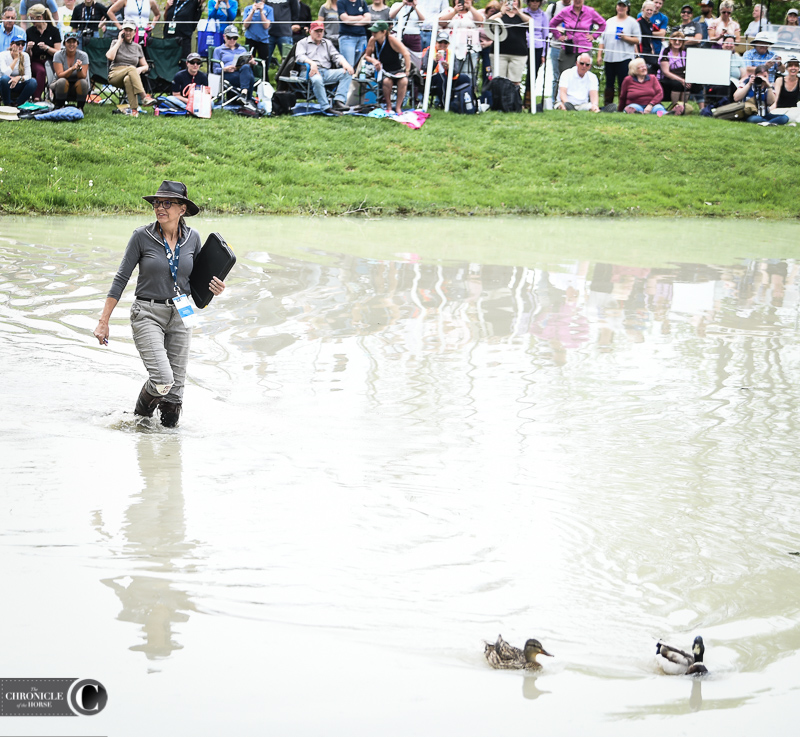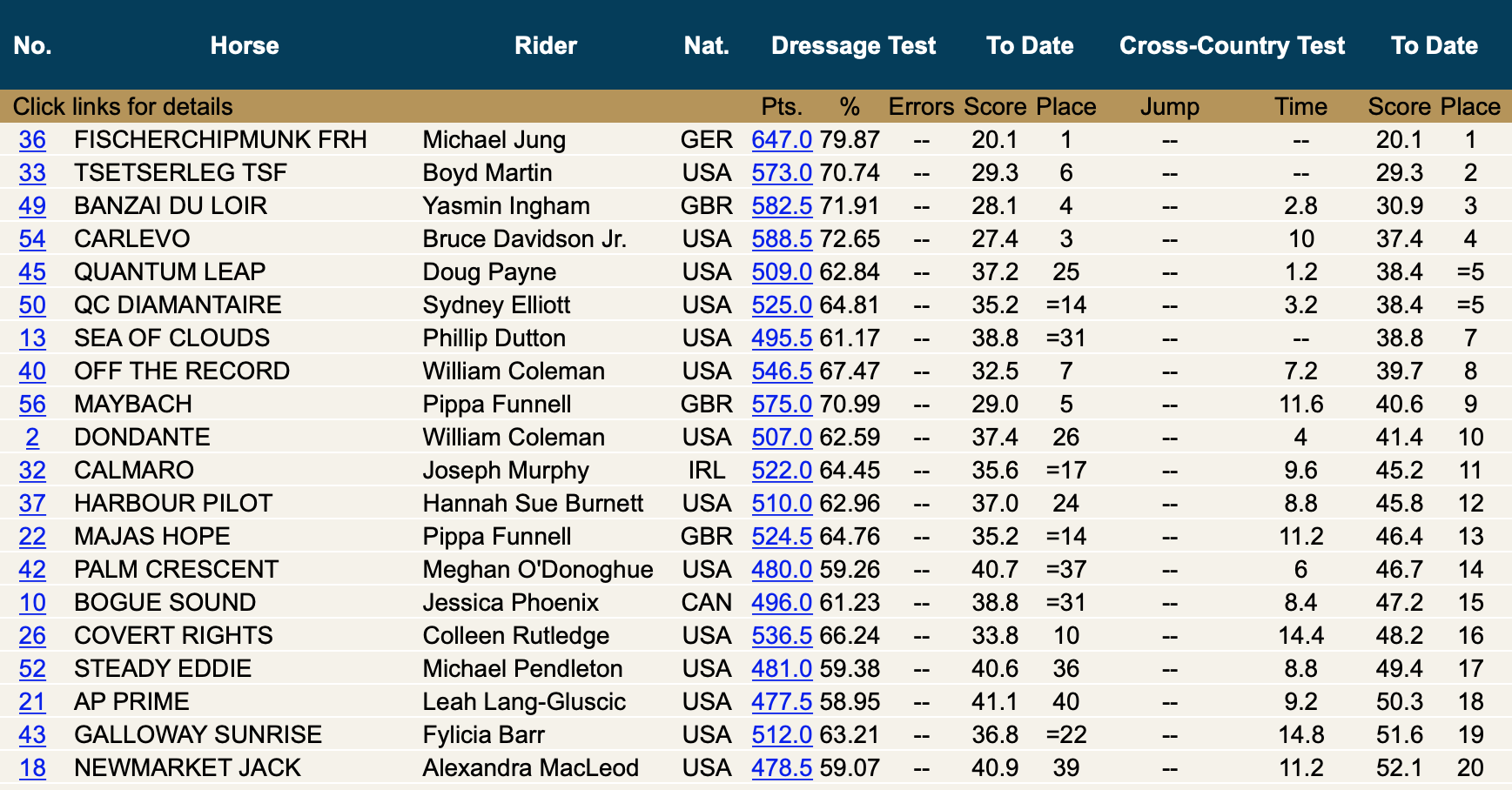 Looking for more info? Check out what you need to know here.
Results I Course Walk I Live Stream I COTH's Coverage I Schedule I Ride Times
The Chronicle of the Horse will be on-site all week for the Land Rover Kentucky Three-Day Event bringing you reports from each round of competition, beautiful photos and stories from the competitors. Follow along with all of our coverage here, and be sure to read our May 23 Kentucky Results issue for more in-depth coverage and analysis of the event.