Lexington, Ky.—April 27
All 73 horses presented at the Rolex Kentucky CCI**** passed the first horse inspection prior to dressage.
Three horses were held but passed on re-inspection: Ryan Wood's Frankie, Liz Halliday-Sharp's HHS Cooley and Matt Brown's Super Sox BCF. Canada's Rachel McDonough didn't present Irish Rhythm.
Many riders took advantage of the occasion to show off their fashion sense, but where they got their outfits from proved as entertaining as the finished presented product! Join the Chronicle on the Rolex "red carpet" (or grass jog lane) for our version of, "Who are you wearing, where did it come from, and how many minutes/hours/days ago did you pick it out?"
Kid's Choice: Jessica Phoenix and Abbey GS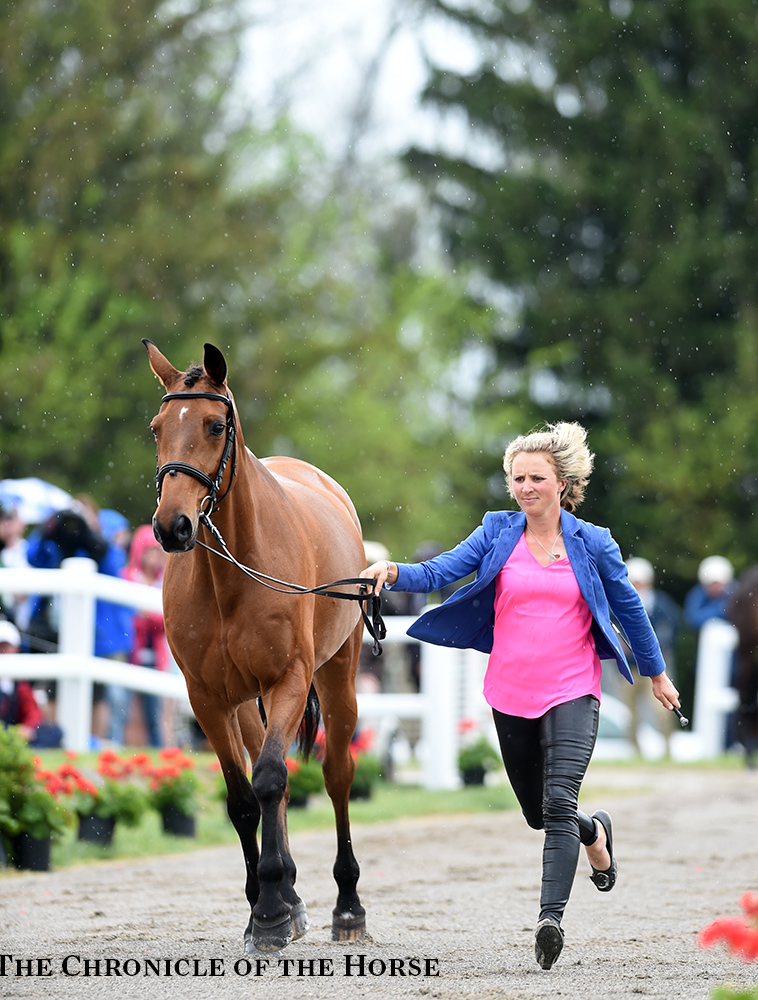 Canada's Jessica Phoenix presented three horses (Abbey GS, pictured, A Little Romance and Pavarotti) in a pair of skin tight metallic leggings, a flowy neon pink top and blue blazer, all bought in the same shopping trip at L.A. Express.
"I had my children with me, and I had five minutes," Phoenix said. "I have to go in and get an outfit, and this is what I came out with!"
Thrifty And Fabulous: Lillian Heard and Share Option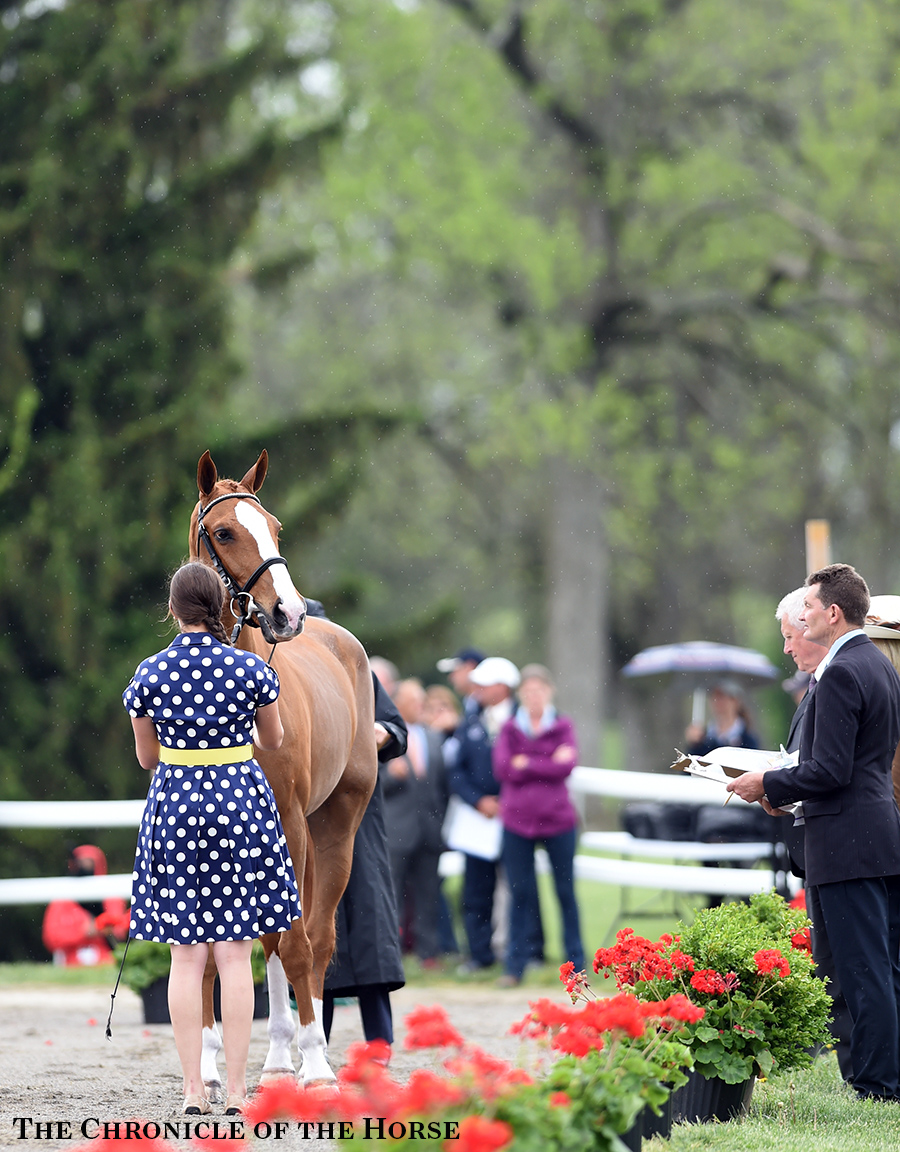 U.S. rider Lillian Heard presented three horses (Share Option, pictured, FYI and LCC Barnaby) in a very spring-inspired dress from Nordstrom Rack.
"I got it on the sales rack at Nordstrom Rack, and I got $10 off because it was missing a button," Heard said, striking a few poses for laughs on her way up the ramp. "But I really liked it!"
Friends With Fashion Sense: Holly Payne Caravella and Santino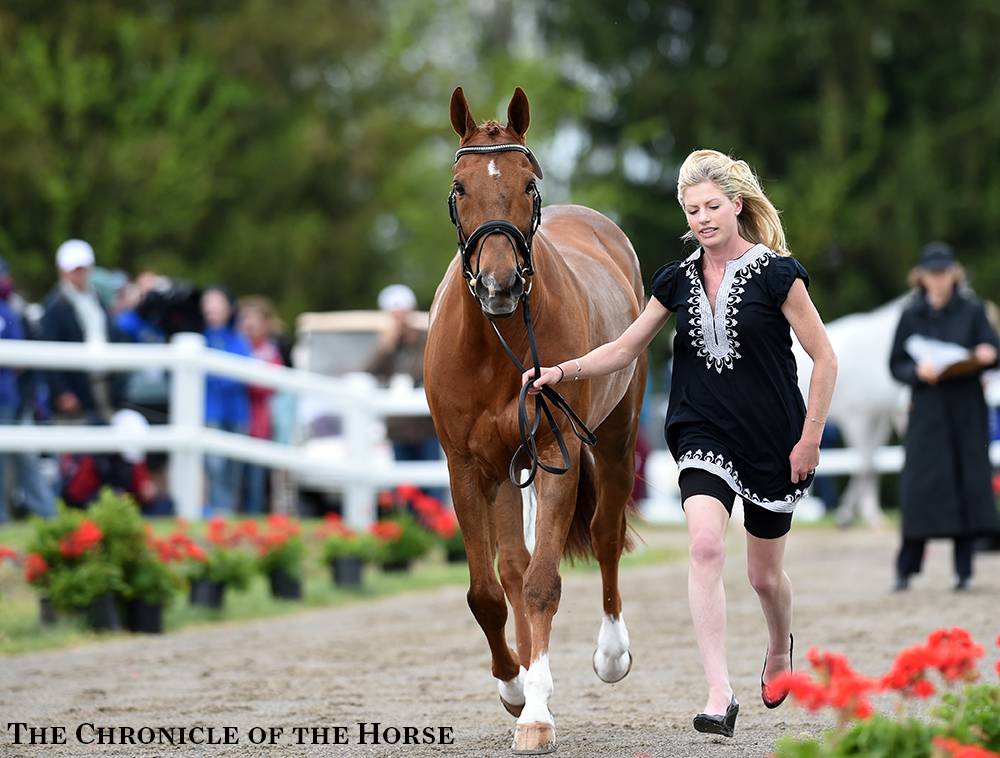 U.S. rider Holly Payne Caravella presented two horses, Never Outfoxed and Santino (pictured), in a borrowed dress from a fashionista buddy.
"It's out of my friend Shelby's closet; it's like Shelby's boutique," Caravella said with a laugh. "I grabbed it on Friday. I went shopping in her closet and grabbed some outfits."
NAJYRC Fashion Team For The Win: Angela Grzywinski and Novelle
U.S. rider Angela Grzywinski presented one horse, Novelle, in a royal blue dress her Area V NAJYRC team picked out for her while she was shopping for jog outfits for them.
"We have a rule, no dresses, and I don't actually really like dresses for jogs because they're kind of tricky," Grzywinski said. "But I saw this dress, and it was one of those I saw on the hanger, and I'm like, 'Man I like it,' and the girls said, 'Just put it on and see what you think,' and it was comfy, and I could run in it, and it's classy, I'm not going to have a wardrobe malfunction.
"Then the shoes, I've never done heels before ever," Grzywinski continued. "And I thought the dress is kind of quiet and plain, so let's dress it up with some shoes. So they're really, really tight, because I didn't want anything bad to happen."
From The Fork To Rolex: Ashley Johnson and Tactical Maneuver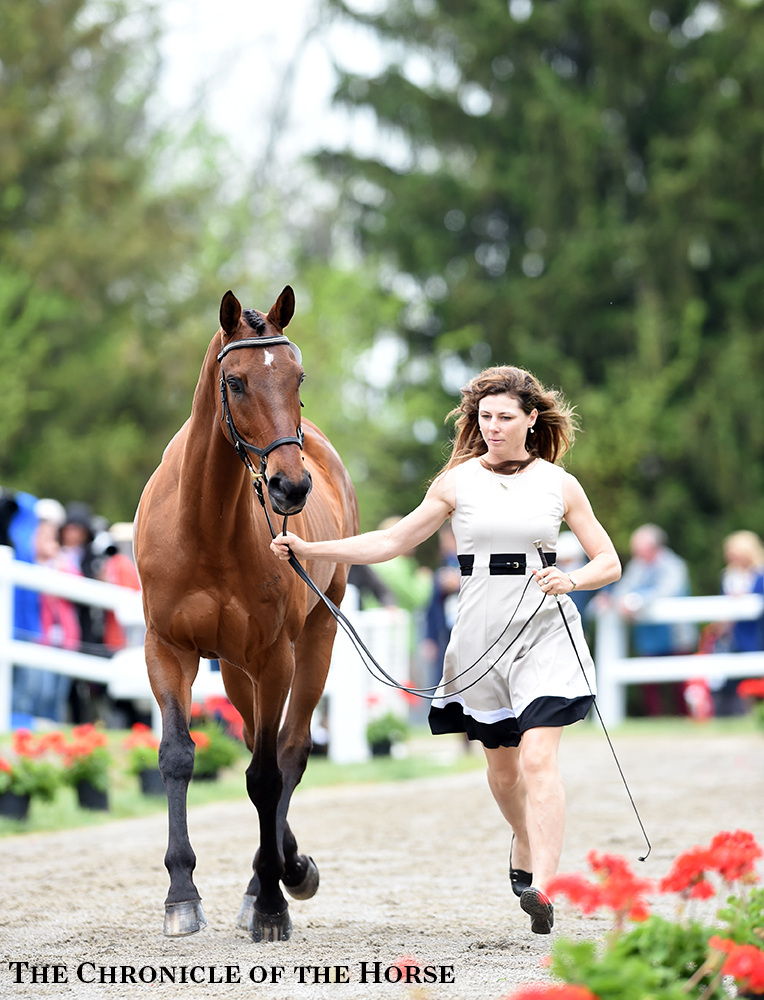 Ashley Johnson presented her one horse, Tactical Maneuver, in a dress she picked up at another competition.
"I got it at the Fork. My groom helped me pick it out," Johnson said. "I liked it because I could run in it!"
Showing Off The Skechers: Courtney Cooper and Who's A Star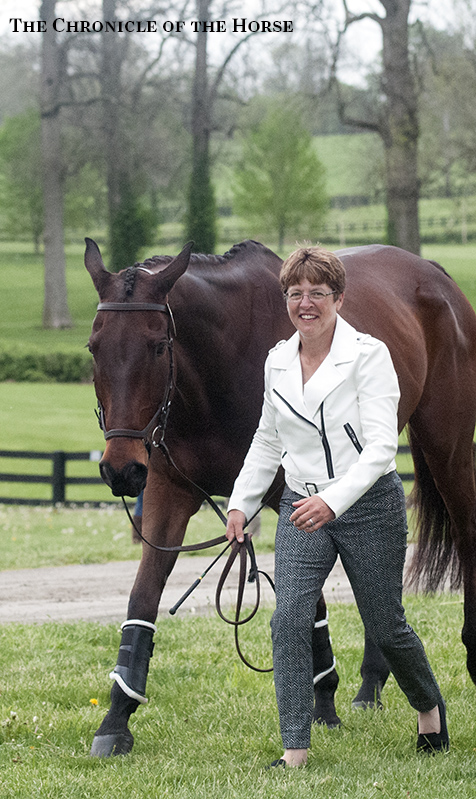 Courtney Cooper presented one horse, Who's A Star, in a pair of dark Skecher shoes and a pant-and-jacket combination she had a whole bunch of help putting together.
"My groom and working student and I went to the mall, and they were fantastic. They were like, 'Yes, no, yes, no, maybe, no,' " Cooper said. "And then we finally put it together, we had the basis for the outfit, and then we had a sort of thank you dinner for all our people who helped us, and we did a fashion show, and we actually put together different outfits, and they said, 'The white coat, definitely take the white coat.' "
Mom For The Last-Minute Save: Elinor MacPhail and RF Eloquence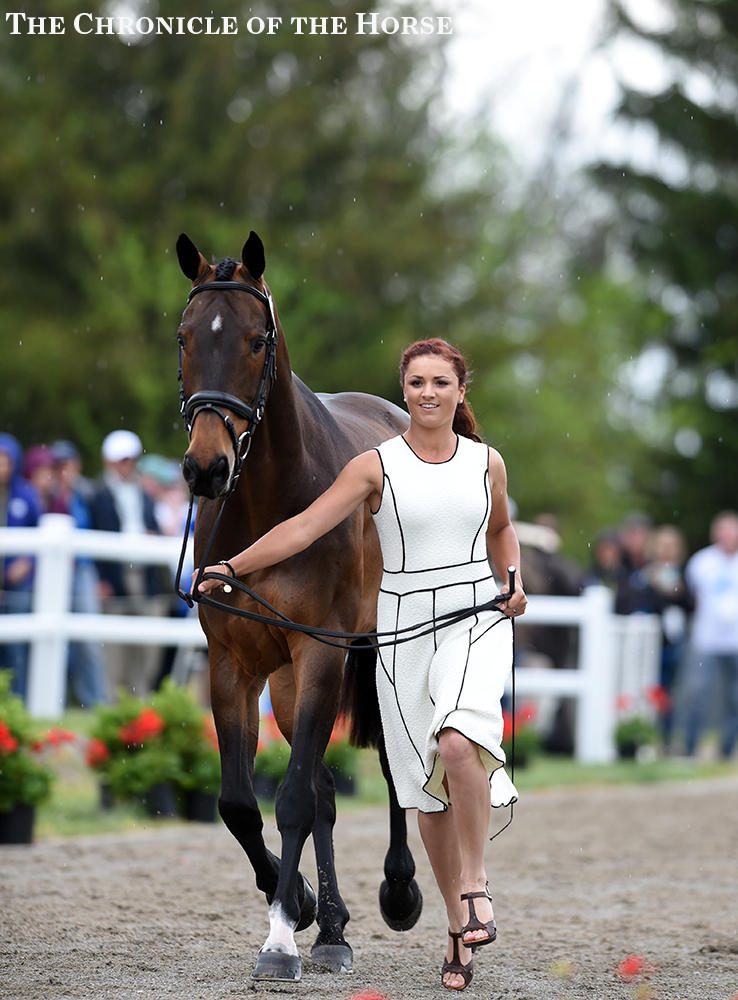 Elinor MacPhail presented RF Eloquence in a dress she stole from her mom.
"We wear the same size, luckily!" MacPhail said with a laugh. "It was last minute. I picked it like two hours ago."
Bringing A Little Lone Star State To Kentucky: Avery Klunick and In It To Win It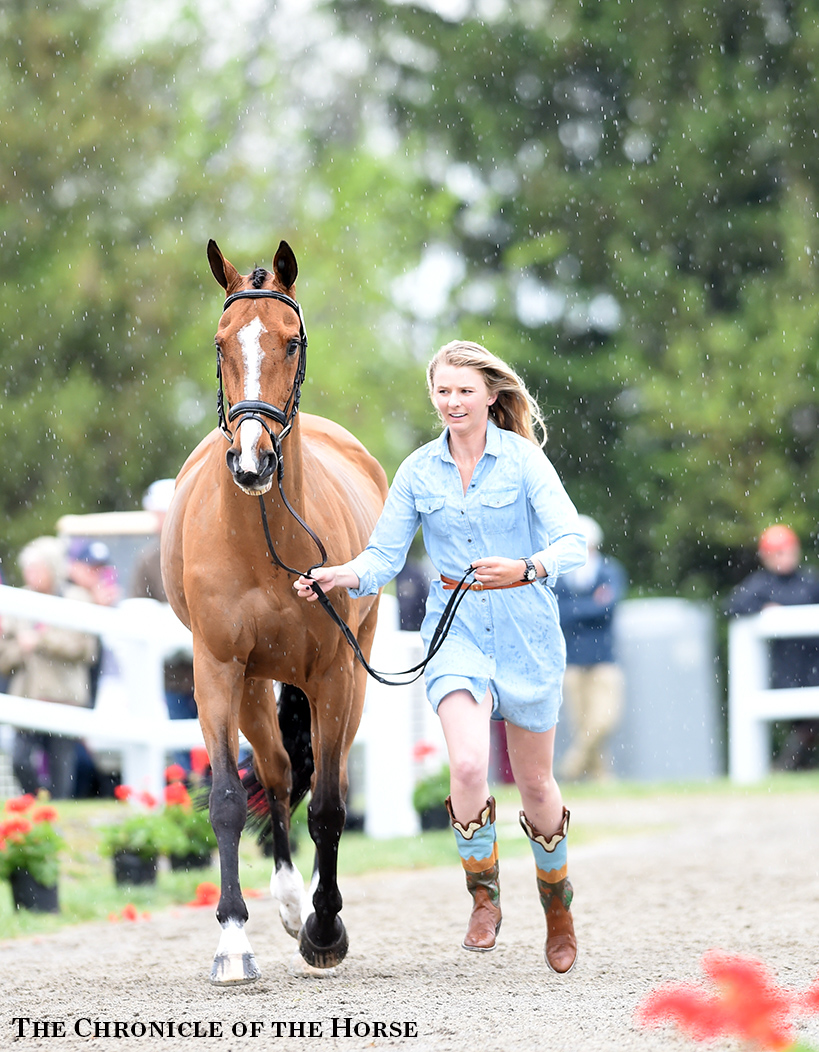 Avery Klunick presented In It To Win It in a belted denim dress and fabulous pair of custom cowboy boots (which she ran in, in the rain, all the way to the jog).
"We cantered the whole way here," Klunick said with a laugh. She didn't realize how soon she was coming up in the order, but luckily a pair of cowboy boots are perfectly hardy enough for a brisk jog.
"I got these boots for college graduation. It's a family tradition, and we all get cowboy boots for graduation," Klunick said. "I just graduated college in December, and I got these, and I was like, 'Oh yeah, I'm going to wear these at Rolex. They're going to be awesome.' "
Runway Mom: Leah Lang-Gluscic and AP Prime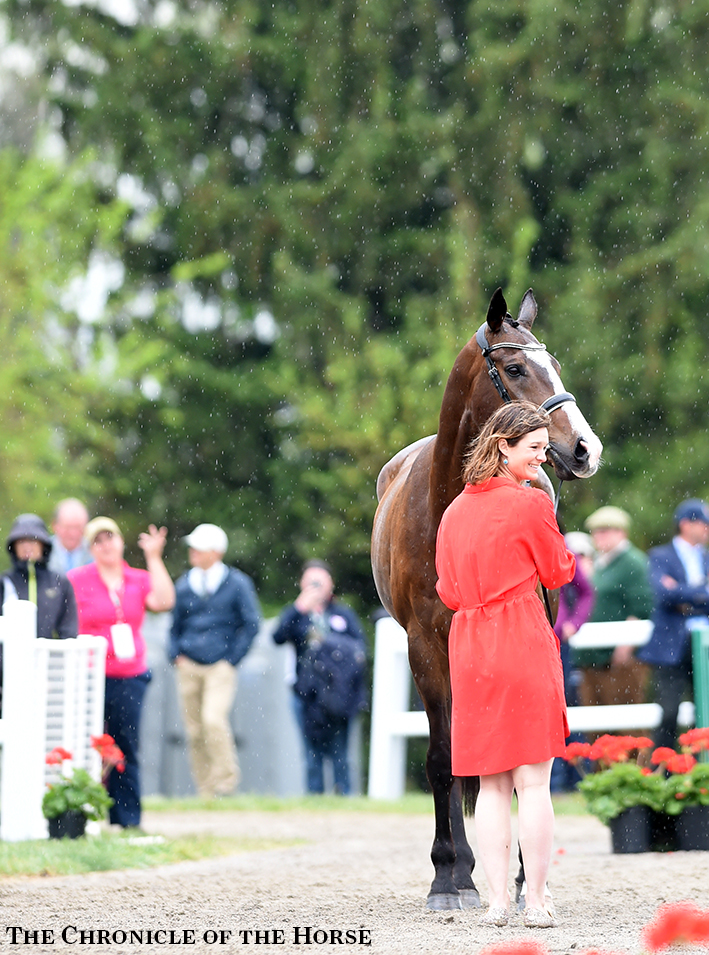 Leah Lang-Gluscic jogged AP Prime in a bright red dress and very sparkly shoes, with gold jewelry accents.
"I went shopping in my mother's closet, literally, she's very stylish," Lang-Gluscic said with a laugh. "She basically just brought anything she thought would be apprpriate and had it hanging in the hotel closet, and I went rummaging. This is a DVF silk dress, Jimmy Choo sparkly flats, and I just got a jewelry sponsor for the jog, Susan Hanover Designs, so it's really cute stuff."
See all of the Chronicle's Rolex coverage.