April 22—Lexington, Ky.
All horses presented at the first horse inspection for the Rolex Kentucky CCI**** were accepted.
Two horses were held—Laine Ashker's Anthony Patch and Kristin Schmolze's Ballylaffin Bracken—but both passed on re-inspection.
Kyle Carter withdrew Madison Park before the jog today, bringing the total number of horses who will continue on to 75. Forty-eight horses will compete in tomorrow's dressage, which kicks off with Colleen Rutledge at 9:30 EDT. The balance of the competitors, starting with Lillian Heard with Share Option, will ride on Friday. (Want to see the draw order or times?
But the story on horse inspection day isn't just who passes, it's also about the beautiful horses showing off on the jog lane—and of course it's about the rider fashion as well. We checked in with some of the competitors about how they chose their outfits. (And don't miss photos of many of the riders in the gallery!)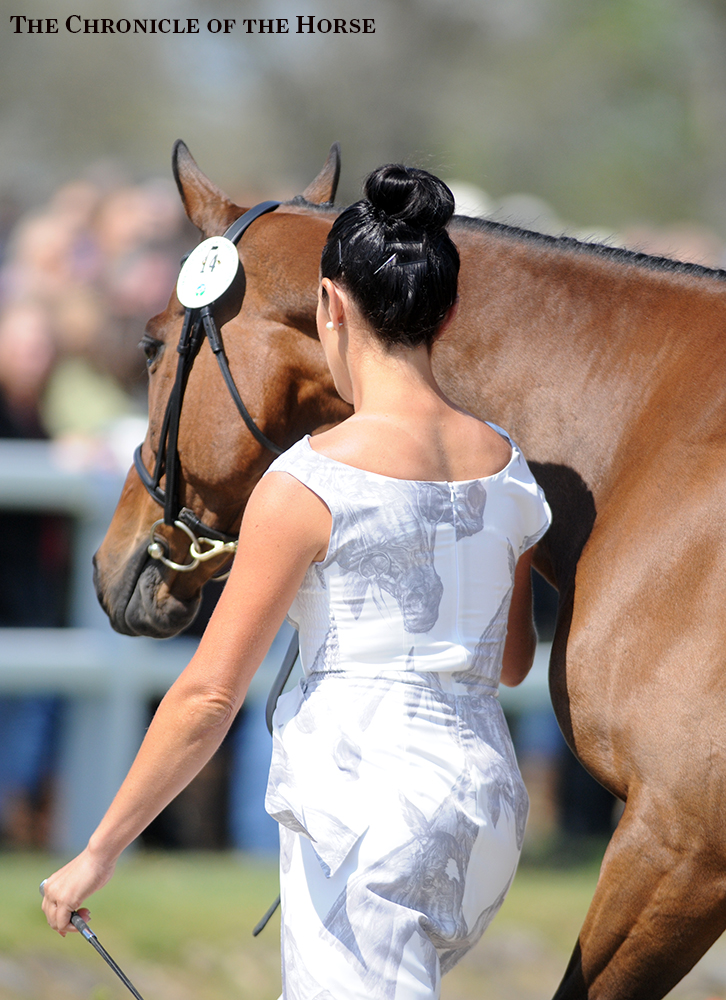 (Laine Ashker and Anthony Patch)
Dressing For Success
•Will Coleman let his wife Katie Coleman (née Thorton) give the final OK on his linen jacket/pink tie combo. "Katie makes all executive decisions on my outfits," he said. "You can take any critiques to her."
•Elisa Wallace donned the dress she wore for the dress rehearsal for her wedding for today's jog. "I figured it's good luck," she said. "I'm still married."
•Rolex first timer Leah Lang-Gluscic had something borrowed, something old and something new. She started with a two pieces from sponsors: a shirt from Gersemi and a belt from sponsor Stefano Laviano. She donned a skirt from her days as an investment banker ("It's a little looser on me now than it used to be," she said), and she borrowed black shoes from her mother this morning.
•Kiwi Emily Cammock didn't get caught up in the hubbub of all the jog fashion. She ran out and bought her shirt and slacks for the jog this morning.
•Allie Knowles donned a borrowed dress and an eye-catching yellow fascinator from her sponsor, Fashion At The Races, to jog . "I thought it was only appropriate to represent the home team here in Kentucky," she said. "My dress has Churchill Downs on it; I'm riding an off-the-track Thoroughbred, and it's the week before the [Kentucky] Derby. The fascinator was always the plan. I sent a picture of the dress to my sponsors and let them send me pictures of options. They sent some huge ones and some smaller ones, and I thought this was perfect."
•Knowles also has another fashion superstition: She and her longtime groom Kasey Odell brought matching wacky socks for each phase of the competition. Tomorrow, they'll have on ostrich socks.
•Rolex veteran Gina Miles may win thriftiest jog outfit. She got her entire outfit (and gummy bears for her kids) for less than $50 during a last minute dash to the store.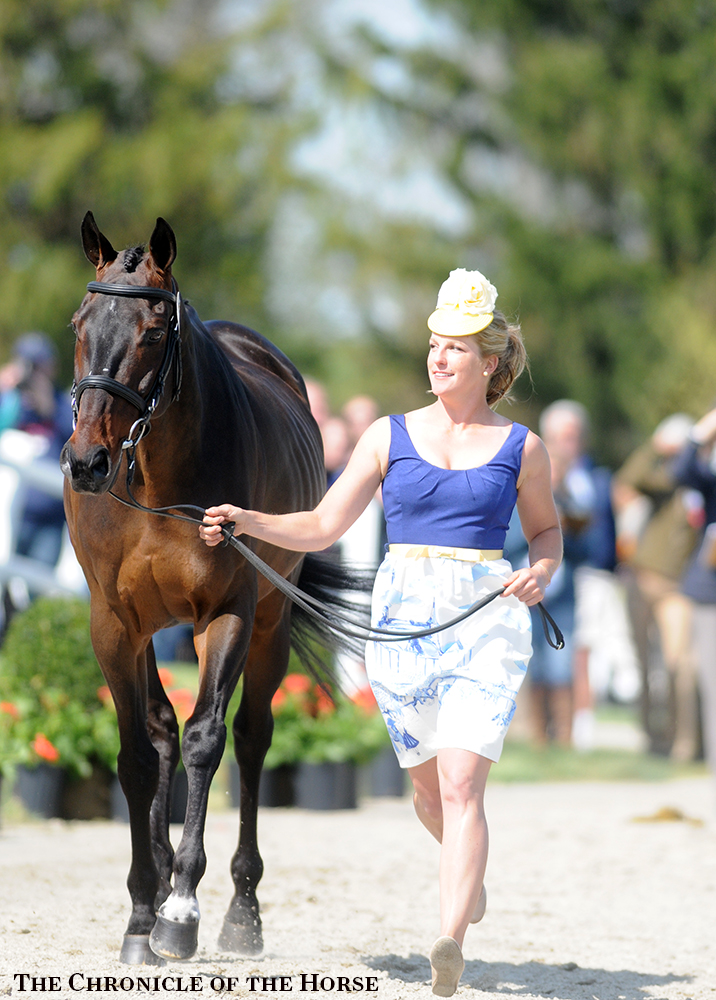 (Allie Knowles and Sound Prospect)
Other Rolex Jog Tidbits
•Miles almost didn't show up for her first trip to Kentucky since 2008. SVR Ron suffered a stone bruise and an abscess shortly before she was scheduled to fly to Kentucky. Two days before her flight SVR Ron was still sore, so she cancelled his trip.
Last Wednesday, the day she was due to leave, she jogged him on a whim, and lo and behold, he was perfectly sound, reigniting her hopes to get him to the Bluegrass State. But there wasn't a flight to be found, and by the time she'd decided to have a go it was too late to send him over land comfortably. Luckily he was able to hitch a ride with the horses at the Longines World Cup Final flying from Las Vegas to Europe, getting off during a refueling in Lexington.
"If it was my first trip to Rolex I would have been freaking out," said Miles. "But every horse that makes it up this jog strip has had something. Maybe not quite that crazy, but in the last two weeks the wheels start to fall off."
•Cammock and Dambala had the longest trip to get to Kentucky. Cammock lives on the South Island of New Zealand, and she flew with her New Zealand-bred Thoroughbred for 42 hours, from Christchurch to Sydney to Shanghei to Alaska to New York. She stayed with Boyd Martin after Dambala got out of quarantine on her way to Kentucky.
Cammock's Kentucky dream started in 2001 when she was working for Kim Severson. "I had to stay at the barn," said the Adelaide and Badminton CCI****s veteran. "I'd always wanted to come—it's something I've always wanted to tick off."
•Caitlin Silliman may be a seasoned competitor ready to make her third trip around Rolex, but when she pulls into the Kentucky Horse Park she feels like a little kid again.
"The competition this year is insane with all the Europeans here," she said. "I'm still so starstruck from riding around the arena with all of them. It's not so long ago that I was a kid here chasing them around to sign my hat."
Follow along with the Chronicle as we bring you news, photos and tidbits from the Rolex Kentucky CCI**** at coth.com, and on Facebook and Twitter. And be sure to follow the Chronicle on Instagram, where guest grammer and Rolex Kentucky rider Laine Ashker is giving our followers a glimpse behind the scenes this week.

For full coverage check out the May 11 issue of The Chronicle of the Horse.