It's not all that unusual for top mares to reproduce via embryo transfers, but Jan Ebeling's 2012 London Olympic Games partner, Rafalca, is two weeks out from actually delivering her very own first foal.
"We knew from the beginning at some point we were going to breed her when we were done riding her," Ebeling said. "And I said, my input and my wish was that I have one baby, the first baby, grow up with her mom in the field, because when I wake up I want to look out the window and see that mare with a baby. So that wish was granted."
Ebeling said he and the team of owners behind Rafalca (his wife, Amy Ebeling, Ann Romney and Beth Meyer) first tried to breed Rafalca following her retirement ceremony at the Central Park Horse Show (N.Y.) in 2014.
"She was going so well. She was so sound, even at her last exhibition she was like dynamite," said Romney. "It was the best she's ever gone, so we knew she was really healthy and fit, and we all just thought how fun it would be to have a baby."
But the mare didn't take then.
"We were a little disappointed. We thought, you know, maybe she's just too old," Jan said. "Maybe it's not going to happen. And then our vet said, 'No, I think we just need to try next year again. I think I can make it happen.' "
Together with the owners, Jan selected Connaisseur, a Dutch Warmblood stallion (Con Amore—Donna Clara, Donnerhall) who had fresh semen available, which was a priority for Jan to better ensure Oldenburg mare Rafalca (Argentinius—Ratine, Rubinstein), now 19, would take this time around.
That was 10 months ago.
"I'm standing right here looking at her, and she's just huge," said Jan, who called from his Moorpark, Calif., farm with Amy and Romney standing with him, all admiring soon-to-be mama Rafalca. "I don't really care whether it's a filly or a colt, I just want her baby. I just want to look at it. I mean that horse has given me so much; she's been such a hard worker, and she's really catapulted my career into the limelight, and I just really enjoy having her."
Jan said they were still riding Rafalca, mostly at the walk and for fitness, up until just over six weeks ago. Now the mare spends her days in a pasture with an older retired gelding ("He's in love with her, and she bosses him around," said Jan.) and her nights in a stall.
"She is. She's it," Jan said. "She's my darling and my super horse."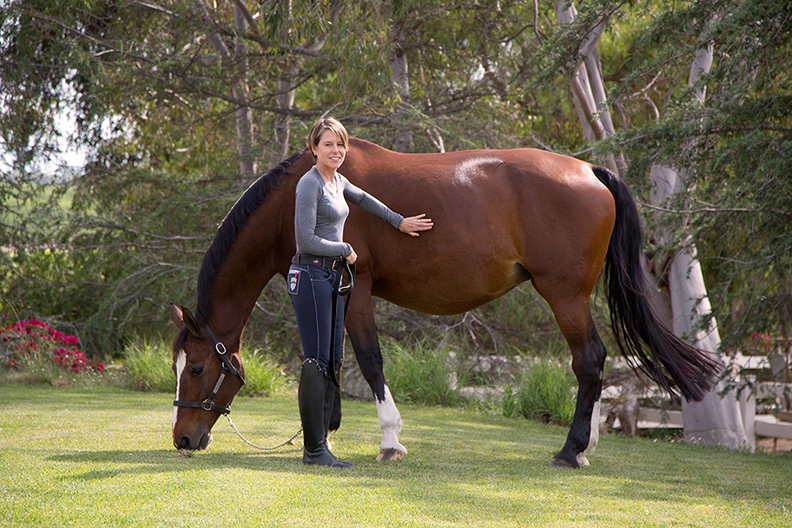 Amy Ebeling with a very pregnant Rafalca. Photo by Kevin Lynch.
Amy is equally excited to see what little bundle of joy Rafalca drops in about two weeks.
"Last night we came up into the barn, Jan and I, to do night check, and I have to say I had tears in my eyes," Amy said. "Because at the end of our barn is where Rafalca is, and we started at the side where the stallions are, and we ended up at where the mares are, and he just stayed there for maybe five minutes, just snuggling with her head in his arms.
"What was really special about it is that it's such a mutual feeling between the two of them," Amy continued. "If you ever see the two of them together, Rafalca never takes her eyes off of Jan when he's around, even now when he's not riding her anymore or anything. It was such a magical team."
Both the Ebelings and Romney will be heading off to a horse show in Del Mar, Calif., next week, and they're hoping their plump little mare will hold off having her baby until they get back.
"We're super excited," Jan said. "Everyone's excited, but I think I'm tops—I'm most excited."
The Ebelings and Romney said they plan on having three more foals with Rafalca—in their ideal world, two by embryo transfer and another carried by Rafalca.