In the first day of five-star Nations Cup action at CHIO Aachen (Germany), the NetJets U.S. Show Jumping Team was unable to repeat its 2021 victory, settling instead for sixth place, while the Dutta Corp. U.S. Dressage Team sits mid-pack after its first day of competition.
Germany, anchored by Andre Thieme and DSP Chakaria who produced a pair of double-clear rounds, thrilled a hometown crowd of 40,000 by winning the Mercedes-Benz Jumping Nations Cup of Aachen CSIO5* on a final score of 5 faults. Belgium was second on 8 faults and Great Britain third on the same number but with a slower combined time.
The NetJets U.S. Jumping Team finished sixth of eight countries on a final team total of 27 faults. The team consisted of Lillie Keenan and Argan de Beliard, Chloe Reid and Souper Shuttle, Adrienne Sternlicht and Cristalline, and McLain Ward and Kasper van het Hellehof, led by Chef d'Equipe Robert Ridland.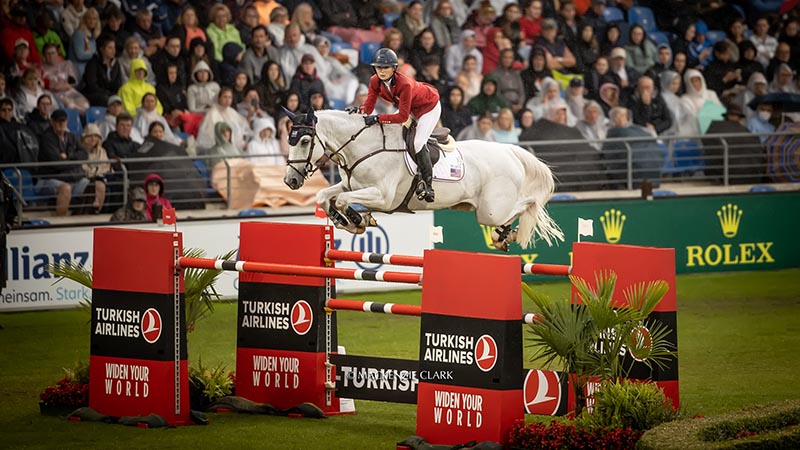 Keenan (New York City) and Argan de Beliard, a 12-year-old Selle Francais gelding (Mylord Cathargo*HN—La Belle Normande, Ahorn) owned by Chansonette Farm LLC, were the first U.S. combination to test the 14-effort Frank Rothenberg-designed track set to the maximum specifications. Their pathfinder effort, which netted 4 faults, proved to be the best of the U.S. in Round 1.
Reid (Ocala, Florida) and Souper Shuttle, an 11-year-old Hanoverian mare (Stakkato—Luise Marie, La Zarras 2) owned by Live Oak Plantation LLC, dropped two rails for a total of 8 faults. Sternlicht (Greenwich, Connecticut) and Cristalline, a 14-year-old Bavarian Warmblood mare (Cristallo 7—Mona Lisa, Caretello B) owned by Starlight Farms LLC, dropped an unfortunate back rail and crossed through the timers just over the time allowed for a total of 5 faults. In the anchor position, Ward (Brewster, New York) rode Kasper van het Hellehof, a 12-year-old Belgian Warmblood (Emerald—Hadise Van Het Hellehof, Nabab De Reve) owned by The Kasper Group LLC, in the stallion's Nations Cup debut. They executed the round with precision but dropped the first and last of the triple combination to add a late 8 faults in the round, moving the team forward on 17 faults.
In the second round, Keenan delivered the only clear round of the night for the U.S. Reid and Souper Shuttle and Sternlicht and Cristalline each dropped two rails for 8 faults apiece. Ward and Kasper van het Hellehof produced a strong effort in their return to the ring, jumping clear but adding 2 time faults to their score.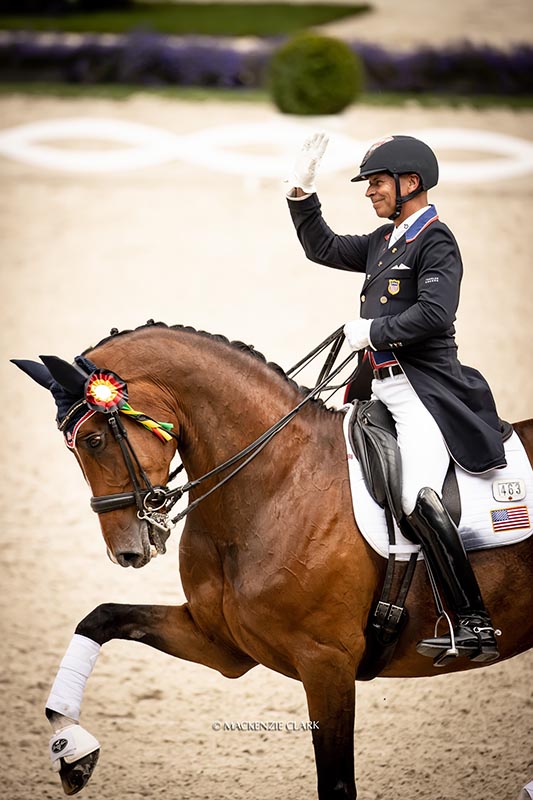 Peters Best Of U.S. In CDIO5* Grand Prix
The Dutta Corp. U.S. Dressage Team completed their first day of team competition in the Lambertz Nations Cup by contesting the FEI Grand Prix test in Deutsche Bank Stadium in front of a large, enthusiastic crowd. The team ended the day in fifth place of eight teams on a score of 218.28.
Catherine Dufour helped Denmark to an early lead in the competition with her winning test aboard her Longines FEI Dressage World Cup Final partner Vamos Amigos, a 10-year-old Westphalian stallion she co-owns with Sarah Pidgley. Their 81.54% score helped their nation to a day-end total of 229.74. Germany sits a very close second with 228.49 points while the Netherlands are in third on 219.60 points.
For the U.S. team, lead combination Katie Duerrhammer (Greenwood Village, Colorado) and Quartett, a 14-year-old Brandenburg gelding (Quaterback—Donnerwunder, Dream of Glory) owned by Kylee Lourie, produced a 71.45% in their first appearance at CHIO Aachen. The score put them in 23rd individually at the end of the day.
Ben Ebeling (Moorpark, California) rode Indeed to a 64.34% and 35th place. Indeed, a 14-year-old Danish Warmblood mare (Hofrat—Gorklintgards Indeera, De Niro 6) owned by Vantage Equestrian Group II LLC, is a relatively new ride still for Ebeling, with the pair only debuting their partnership earlier this year, as she was previously ridden by Ebeling's father, Jan.
The most senior partnership on the team is that of Charlotte Jorst (Reno, Nevada) and her 19-year-old Dutch Warmblood stallion Kastel's Nintendo (Negro—Rodieni R, Monaco), who have been competing at the FEI level together since 2014 and completed more than 150 CDI classes together. The duo received a 71.56%, the second highest score of the team results, to put them in 22nd place overall.
The best U.S. result came from anchors Steffen Peters (San Diego) and his Tokyo Olympic partner Suppenkasper, who earned 75.26% and seventh place. The duo produced strong canter work and received high marks for their changes and zig zag. Suppenkasper, a 14-year-old Dutch Warmblood gelding (Spielberg—Upanoeska, Krack C) owned by Four Winds Farm and Akiko Yamazaki, were making their European debut this year ahead of their bid for team selection for the 2022 Blue Hors FEI Dressage World Championships in August.
The dressage team combinations will return Saturday for the FEI Grand Prix Special to determine team medals, with the FEI Grand Prix Freestyle CDIO5* scheduled for 10 a.m. Sunday local time (4 a.m. Eastern Daylight Time).
 Visit the CHIO Aachen website for full results, schedules and start lists.
For all of the Chronicle's CHIO Aachen coverage, click here.