It's Monday afternoon, the beginning of my third week at HITS Ocala (Florida), and I am enjoying a pleasant afternoon rest after lunch. I am so grateful to be here. The weather has been beautiful. My three wonderful horses have been able to settle in quickly due to the nice paddocks and quiet, relaxed atmosphere of the permanent barn we're in. I work with kind, supportive owners, a well-qualified groom, a skillful assistant and a capable working student.
A few of the show days have been a little long but not terribly so. The horses have been properly taken care of, hand-grazed daily in addition to their turnout, and we still have had time to watch some great riding on exceptional horses. We were even able to enjoy a day away from the show to go kayaking at Silver Springs State Park. What a life!
Our horses are a little behind the ones that have already been showing, but they've had some very special moments. It is gratifying to be able to train outside in big rings with good footing instead of riding around in a small indoor in Virginia with weather that isn't conducive at the moment for riding outside or for the horses to have enough time in the paddock. It's also great to be here to watch these excellent riders and try to emulate them in our own practice and competition. Hence the special moments.
One of the horses is new, so we're still figuring out what he needs to show his best: how much prep, which bit to use, what kind of ride he prefers in the show ring. Another is an ex-stakes placed hurdle horse learning to be a hunter and let go of his past life, and the third is a solid children's/adult hunter. All three have been giving their best, allowing us all to enjoy the journey of learning to ride and train among other top horses and riders.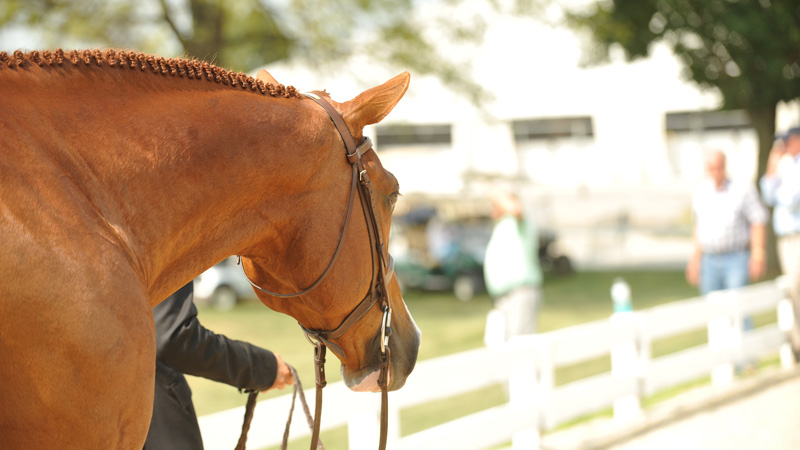 Less Is More
This easy situation has been giving me time to reflect on when horse showing and running a training business was an exhausting, anxiety-producing endeavor. Not enough sleep, 14-hour days, rarely seeing my family, no social life, just so tired that it just isn't fun anymore.
I think about some of the great sayings from famous horsemen: "Less is more"; "Use as little as it takes but as much as you need"; "Ride the balance, and the distance to the jump will just show up, trust it." Good horsemen rely on these ideas when training their horses so they stay relaxed and learn their job well. A happy horse will trust you and give you his best. Why don't we apply these ideas to ourselves and the people who work with us?
I so appreciate the life I've had working with horses. It's given me structure, taught me self-discipline and focus. I love working outside and can't imagine a job at a desk. I love the connection I feel riding a horse, especially that moment when everything just comes together perfectly. All athletes talk about being in the zone, but it's so much more amazing to be in that zone with a horse, another species. I can't imagine doing anything else, even though I have questioned my life decisions in the past, probably in times when I pushed myself too hard, when I had been injured, or when I just did not have enough hours in the day to do everything correctly.
When I was young, my elders questioned my choices. I was warned that I would not be able to make a living riding horses. I did not have the background of others who chose my path, such as people whose parents were in the business or those with money behind them who could start with a good horse and good show mileage. Well-meaning adults asked me what if I got hurt; wasn't I going to sacrifice my social life and family? I was told I was going to have to work too hard, with no days off, and that I really should go to college first.
I convinced my father that I was just going to take a gap year. (I'm still on it.) I left home on Long Island to go to Middleburg, Virginia, real horse country, so that I could work and learn from any top pros who would take me on. Like a young horse, I thrived on physical exertion. I rode up to 15 horses a day, starting with galloping race horses in the morning, retraining Thoroughbreds for different careers, exercising field hunters, and breaking babies in the afternoons. I learned something valuable from every horse I swung a leg over, and I got to take lessons from and work for some amazing horsemen and horsewomen.
While working at the track I found my horse of a lifetime, Simbalu. This amazing horse was the first that I got to bring along from the race track and show through the regular working hunter division. This stallion created a business for me servicing mares, breaking and showing those babies on the line, and starting their careers as show horses. Thanks to this special horse, I was making a living. But at what cost? I was running a breeding, training and showing business out of my friend's farm, West Riding in The Plains, Virginia. The days started at 6 a.m. and sometimes went until 8 p.m. But I told myself that's what I signed up for. I believed that I had to sacrifice, suffer, work to the bone in order to follow my passion. That passion became a grind because I was out of balance.
Maybe that's why I broke my first bone at age 28. But I kept going. It took a few more injuries and then getting sick with Lyme disease in my 40s to finally make me stop and listen to the message that the universe was trying to send me: Slow down. Less is more. Find the balance.
Good horsemen take great care of their horses. Their horses are fed the highest quality food, given ample turnout,and conditioned properly to do the job at hand. They get acupuncture, massages, feet packed, legs iced and wrapped after a hard day. Water and hay are always available to them. They get days off, breaks in routine so they stay fresh. Good horsemen don't overtrain; they reward their horses by giving. "Horses learn from the give." Do we do this for ourselves or the people that we employ?
Bizarrely, Lyme disease was a gift because it made me stop sabotaging myself with poor self-care and incorrect philosophy. I asked myself why couldn't I follow my passion without sacrificing my wellbeing? In my time away from the grind, I learned about energy healing, took time to explore my passion for art, and floated down the river in a kayak with my non-horsey husband and son. We all need more than a day off to do our laundry, check our finances and run errands. We need days to see that there is more to life than horse shows, to get proper exercise and care. We need time to find other things that inspire us, to keep us fresh. We all deserve to enjoy life, to be balanced in body, mind and spirit.
Finding and maintaining the balance in life as a professional horseman is a lifelong challenge. Achieving that balance is the first step to finding joy. For me what works best is having a good team in place and appreciating that team: athletic horses with good minds (because you are only as good as what you have in the barn), owners who allow me to do what is best for the horses, and the right number of people who help keep those horses happy and care for them well so that no one is over stressed. Showing kindness and gratitude for everyone involved, both humans and horses, makes this a joyful way of life for all.
---
Sue Lyman has been riding, training and showing hunters in the Middleburg, Virginia, area since 1985. During this time she broke, started, retrained and competed many successful horses including Simbalu, Rox Dene, Irregardless, Townsend and All In One. Sue served on the USHJA Professionals Committee from 2008-2012. She has served on the USHJA Horse And Rider Advocates Committee since 2013 and became chair of that committee in 2021.
---
This article ran in The Chronicle of the Horse in our March 21 & 28, 2022, Issue. Subscribers may choose online access to a digital version or a print subscription or both, and they will also receive our lifestyle publication, Untacked. 
If you're just following COTH online, you're missing so much great unique content. Each print issue of the Chronicle is full of in-depth competition news, fascinating features, probing looks at issues within the sports of hunter/jumper, eventing and dressage, and stunning photography.