Las Vegas—April 19
It was perhaps the most dramatic last fence of a World Cup Final. Steve Guerdat came around the corner to the Longines oxer, saw a ridiculously long distance, and started kicking and flapping his elbows.
Albfuehren's Paille left the ground, stretched out, and then crashed through the back rail. Guerdat seemed to be doing the math in his head as he galloped through the finish timers. He'd had two rails. Had he won? He shrugged up into the stands at his friends.
Then the audience went wild with applause and a smile broke over Guerdat's face. He HAD won. He'd come into the last round with a remarkable 9-fault cushion after no one had jumped clear over the second track today. So, his two rails might have made him practice some basic math, but they didn't prevent him from winning his first FEI World Cup Final.
Guerdat said that his first rail—early in the course—was a bit of a surprise, and that once he'd jumped through the troublesome triple, he relaxed a bit. But as he galloped around the turn to the last, he heard calls to him to go faster, to avoid time faults. "They told me go, go, go," he said. "I knew I could have the last fence down as long as I didn't have time faults. So I went as fast as possible to the finish line. Unfortunately, there was a big fence in the way!"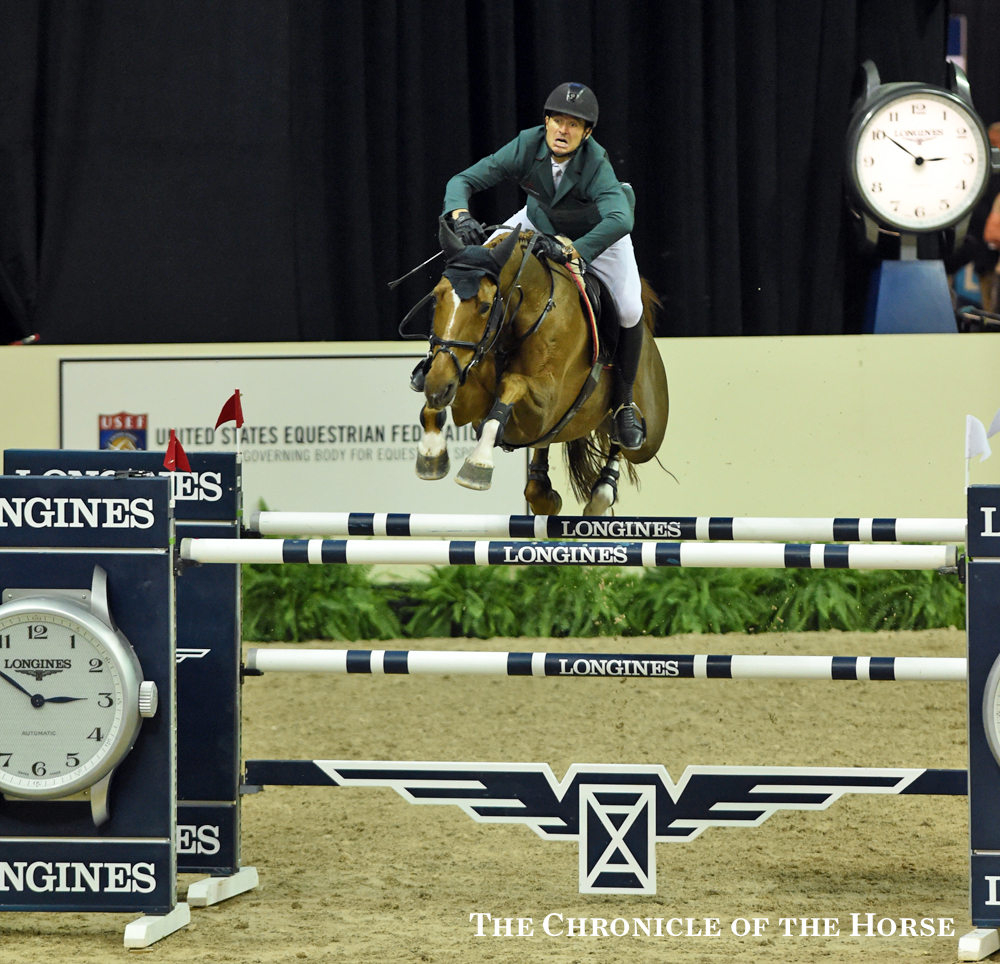 Steve Guerdat and Albfuehren's Paille over the final fence.
As he stepped up onto the podium to hoist the trophy, Guerdat was quite obviously delighted. He pumped his fists over his head repeatedly with an ecstatic smile on his face. This win, this title, they've been a long time coming.
Guerdat has come so close to this World Cup win so many times before. In 2012 and in 2013, he took second place after losing in heartbreaking fashion in jump-offs. Both those second places were to U.S. riders—Beezie Madden and Rich Fellers. In addition, Guerdat has been in the lead in the World Cup Final going into the last day multiple times, only to see the title slip away with rails in the last rounds. Since 2005, he's competed in nine FEI World Cup Finals and been in the top 10 of eight of them.
"I just feel blessed to be able to live this moment," Guerdat said. "Of course, I am not alone; there are so many people to thank for me being here. I don't know what to say. This is a long time I've been trying to win this. I have come close many times, but I couldn't finish the thing."

Albfuehren's Paille and Steve Guerdat on their way to the Longines FEI World Cup Final win.
But now the 2012 London Olympic Games individual gold medalist can add "winner" to that record. His clear round in Round 1 of today's tough tracks put him out in front of the pack quite dramatically—with 9 faults to spare. Fellers and the indomitable Flexible had been tied with Guerdat for the lead when the day started, but when Flexible had 8 faults in Round 1, and then another 8 in Round 2, they fell from contention. The 2012 titleholders, who were markedly the crowd favorites, ended up in seventh overall.
"I know the horse very well, and I plan every round according to what I think is the best ride for his abilities and his size," Fellers said. "I just planned to execute like I always execute. I felt like I was happy with the way I rode and was really super happy with the way he jumped. Just having him competing at this level in the sport this late in his career, every round is a blessing."
No one jumped clean in Round 2 today, but with 4-fault rounds, Penelope Leprevost of France and Bertram Allen of Ireland kept in the hunt and took second and third.
Allen, at age 19 and jumping in his first World Cup Final, jumped with one rail in Round 1 and, in hindsight, could have snatched the title away with a clean round over the second course. But he admitted that he wasn't happy with his riding in Round 2, and another rail came down to keep them in third.
"I knew that I was in a good position going into today," Allen said. "In the first round, I made a mistake and we had one down. I knew [the standings were] close behind me then the second round was a bad round to be honest. I got too close to No. 2, and we had it down."
Leprevost was particularly thrilled to be in second at the end of the week because her horse, Vagabond de la Pomme, is just 10 and greener. "I brought him here for the experience, and it went very well," she said. They were sixth in the speed leg and ninth in the second leg before having just one rail over the two rounds today.
Madden, the 2012 World Cup Final winner, had to settle for fourth today with Simon after a clear round over Round 1 and 4 faults in Round 2. "I'm so happy with the way my horse went, so all in all I'm very happy," she said.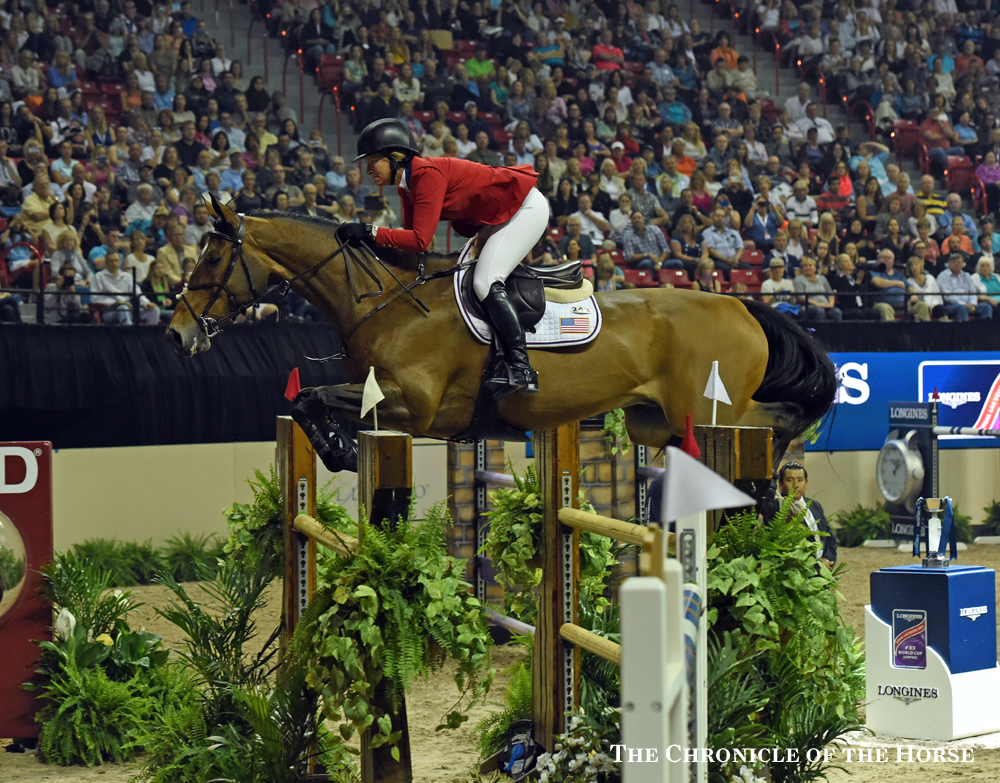 Beezie Madden and Simon placed fourth as the highest U.S. pair.
Fellers and Lucy Davis were the other U.S. riders in the top 10, claiming seventh and ninth. Kirsten Coe took 19th, while McLain Ward pulled Rothchild up in Round 2 after having a rail in Round 1 and then another one in Round 2, putting him out of contention. He placed 20th with that result.
• Did you know Guerdat had another big win over the weekend? In the exhibition Duel In The Desert on Saturday, April 18, he rode a reining cow horse in pursuit of a cow. He and Brandon Buttars, a pro reining cow horse rider, joined forces to win the hilarious competition. Guerdat rode a Paint horse to turn a cow back and forth, and Buttars rode a jumper over a 1.00-meter course. Their win came from combined judges' scores and audience applause meters. Want to see photos of this hilarity? CLICK.
See more photos of the last day of the Final.
You can find full results of the Longines FEI World Cup Final here.
Check out all the Chronicle's Longines FEI World Cup Final coverage here, and our coverage of the Reem Acra FEI World Cup Dressage Final is here.